Bruce Ackley
Bruce Ackley (b. 1948; Detroit)-soprano & tenor saxophones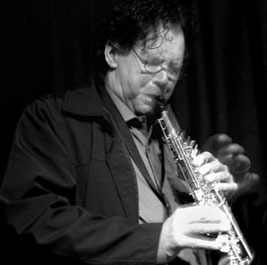 Bruce Ackley was born in Rochester, New York in 1948. Following in his father's footsteps, he began singing in choral groups at age 10. (His father performed in a vocal sextet as a young man in the 1930s.) Bruce sang throughout his school years and finally took up the saxophone in 1970. He formed his first improvising trio that year with friends from his art school days at Wayne State in Detroit, where he studied painting and drawing. In 1971 he relocated to the Bay Area.
Largely self-taught, Bruce studied saxophone briefly with Lee Hester and Noel Jewkes, and clarinet with Beth Custer and Ben Goldberg. Throughout the 1970s he was involved with the emerging free improvisation scene in San Francisco, and formed Sound Clinic with Lewis Jordan and George Sams in 1975. He began playing with Larry Ochs in 1973 and Jon Raskin in 1975, which led to the formation of Rova in the fall of 1977.
Since that time Ackley has mainly devoted his musical life to his work with Rova, with some notable side projects. In 1977 he performed and recorded with the quartet Twins, featuring John Zorn on reeds, and Eugene Chadbourne and Henry Kaiser on guitars. During the 1980s he played regularly with trombone-electronics wizard, J.A. Deane and drummer Joseph Sabella. They formed Planet X in 1992, which performed extensively in the Bay Area and made a recording at that time. Bruce has also performed with the Italian bass virtuoso, Stefano Scodanibbio. In 1996 they performed together with koto-electronics player Miya Masaoko, and the brilliant cellist, Rohan de Seram, formerly of the Arditti String Quartet.
That year Ackley formed a trio to perform his more jazz-oriented original compositions, Actual Size, with George Cremaschi on bass and Garth Powell on drums. This led to the recording The Hearing by the Bruce Ackley Trio, featuring Joey Baron on Drums and Greg Cohen on bass, and released on the John Zorn-curated Japanese label Avant. During the late 1990s Bruce formed Frankenstein, a jazz repertory band that played the music of many of the forward-looking artists of the early '60s, particularly Grachan Moncur III, Andrew Hill, Eric Dolphy, and Jackie McLean—providing him an opportunity to dig into material that significantly impacted Ackley during formative years.
Although he occasionally steps out to work with Bay Area improvisers, Ackley is currently working almost exclusively with Rova, and he is focusing more on writing material for the quartet and thinking about next steps with other musicians.