Donate via Paypal
Dear Rova Supporter:
We're reaching out to you now after a lengthy absence from the scene—our longest in 40+ years of performing, composing, and collaborating. Like all performing and touring artists, we have been greatly impacted by the COVID-19 pandemic, with all concerts canceled for the past ten months and a return date for in-person performance still uncertain. But during this downtime, we've been hard at work on planning Rova's next steps, both during and after the pandemic. We're longing to re-engage with you, and to provide the kind of inspiration and energy that you expect from Rova and our fellow collaborators served by Rova:Arts. And now, as we share some of our plans for the near future with you, we're writing to ask for your support to make this continuing—if modified—work possible.
As we announce upcoming planned activities, we invite you to partner with Rova:Arts to present adventurous music-making in the Bay Area and beyond. Art that imaginatively questions the status quo can provide light in these dark times, and you can provide much-needed support to help us successfully realize these projects.
RovaRadio / RovaTV.

In September, Timucua Arts in Orlando, FL streamed a powerfully shot Rova performance from 2016. Rova will stream other archived performances in the coming months, including:
Carla Kihlstedt's Pandæmonium, presented by Rova at Other Minds 2010

Our large ensemble collaboration with composer and bandleader Satoko Fujii, An Alligator in Your Wallet, presented at the Tampere Jazz Happening (Finland) 2005

Rova performing John Coltrane's masterwork Ascension, re-imagined as Electric Ascension, captured in high quality video by artists Ideas in Motion in Guelph, Ontario, 2012
Creation of a community server to aid in virtual music presentations. The pandemic has made in-person performing and rehearsing impossible, so we are actively developing online solutions for ourselves that will also be available to the broader community. We have established a dedicated server as a platform for the rapidly developing software required to address problems inherent to online musical interactions. We are also in discussions with the Center for New Music and Rent Romus's Outsound Presents to come up with other solutions that are viable, practical and safe. Our plans include live streaming of select Rova rehearsals, quartet concerts and performances of Rova's collaborative projects.
Gino's House. Early in 2019, working with Gino Robair, the quartet recorded a broad palette of sound samples, musical threads, and textures conceived as raw material to be manipulated through post-production processes to create a surprisingly fresh, synthetic sound experience. We are hoping to finish post-production and see this released in the next year.
Popular Tectonics.

Rova continues its collaboration with Tom Djll and Gino Robair, both performing on a variety of electronic instruments. We will perform live as a sextet, and stream previously recorded material.
Live virtual performance of Rova and special guests.

Commissioned works by Miya Masaoka and Wadada Leo Smith, with guest performers percussionist Donald Robinson, and video artist Ikue Mori.
Our projects' success relies heavily on the generosity of our loyal community of supporters. For over 4 decades the quartet has stretched limited funding to make musical magic, resourcefully using contributions to expand the scope of the contemporary saxophone quartet, and to mount collaborative concerts that engage the broader music community. As we look forward to our 43rd season, we ask you to send your tax-deductible contribution to Rova:Arts.

Send a check to:
Rova:Arts
115 Central Avenue
San Francisco, CA 94117
Donate Via Paypal
Thank you! We wish you and yours the best of health in the year to come.

With deep gratitude,
Bruce Ackley

Steve Adams

Larry Ochs

Jon Raskin
Rova T-Shirts!!!
We're offering an elegantly designed t-shirt, celebrating Rova's long tenure on the improvised music scene. Check out the image below, featuring a shot by our friend, Finnish photographer, Lauri Nykopp, which is printed on quality black tees.

THE SHIRTS ARE VERY LIMITED EDITION. When they're gone, they're gone.

Please allow 4 weeks for delivery in the US, longer elsewhere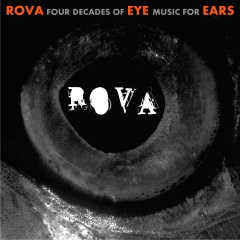 Click here to purchase