About Rova:Arts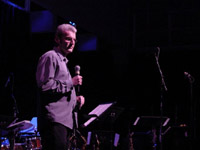 Inspired and informed by the work of the Rova Saxophone Quartet, Rova:Arts administers the ensemble's activities, presents work by other forward-looking artists, commissions new works by established and emerging composers, and furthers the public's understanding of adventurous art through education and outreach.
In December of 2000, Chamber Music America honored Rova:Arts with a Commendation in the 2000 CMA/ASCAP Awards for Adventurous Programming.
In addition to presentation, Rova:Arts' achievements include the commissioning of more than 30 new works for saxophone quartet from artists as aesthetically diverse as minimalist composers Terry Riley and Pauline Oliveros, avant-garde composers Fred Frith and Anthony Braxton, experimental rock musician Lindsay Cooper, and jazz luminaries Jack DeJohnette and John Carter.
---
Rova Saxophone Quartet:
Bruce Ackley
Larry Ochs
Steve Adams
Jon Raskin

Rova:Arts
Larry Ochs, Executive Director

Board of Directors:

Patricia Bourne – President
Matt Campbell – Secretary
Kate Dumbleton – Treasurer
John Lee
Travis Ortiz
John Rogers
Todd Gascon
Matt Schumaker
Larry Ochs
Paul Canales
Jon Raskin


Advisory Board:

Lauren Adams
Taylor Brady
Al Evers
Carla Harryman
Summi Kaipa
Vince Kargatis
Mitchell Korn
Naomie Kremer
Lawrence "Butch" Morris
Derk Richardson
Clifford Stanley
Amy Trachtenberg
Isabel Yrigoyen
John Zorn

Rova:Arts wishes to thank its funders, which include the following:
• San Francisco Grants for the Arts • The William and Flora Hewlett Foundation • The James Irvine Foundation • The National Endowment for the Arts • The Zellerbach Family Fund • The Wallace Alexander Gerbode Foundation • Meet the Composer • Mid Atlantic Arts Foundation.
In addition, Rova:Arts thanks its individual supporters, without whom we couldn't continue to provide our vital service to the new music community:
Rovatiste level:

Baritone level:
Jim Newman & Jane Ivory
Frances Shaw & Bob Perelman
Tenor level:

Alto level:
Clark & Susan Coolidge
Charles & Becky Moore
Mark Morgan
Tim Savinar
Margaret L. Tobias

Soprano level:
Robert & Karne Abra
Margaret Jenkins
Alvin Stilman & Renee Luby
Naomi S. Seidman & John Schott