Steve Adams
Steve Adams (b. 1952; Rockville Centre, NY)—alto & sopranino saxophones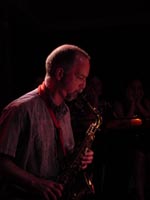 Steve has appeared on more than fifty recordings, and has six recordings as leader or co- leader on the 9 Winds and Clean Feed labels, the latest of them being Surface Tension by the Steve Adams Trio.
Steve has performed the premieres of numerous classical compositions, including Prisoner of Love by Robert Aldridge for soprano saxophone and piano, Thomas Oboe Lee's Saxxologie... A Sextet for saxophone sextet and Louie MCMLV for saxophone quartet, and Passing Time by Jon Nelson for tenor saxo¬phone and computer-generated tape. He performed Edmund Campion's Corail for saxophone and computer generated electronics with the Berkeley Symphony and at the Ojai Music Festival. Steve has performed Darius Milhaud's Scaramouche and Pauline Oliveros' Outline for Double Bass, Flute, and Percussion at Mills College. He was a member of the 25th Anniversary performance of Terry Riley's In C, which was released on New Albion.
Steve has written more than fifty compositions for saxophone quartet, as well as many others for varied instrumentations. His piece Cage (for John Cage) was performed at the 1993 Bang on a Can festival, and his piece The Gene Pool was commissioned by Meet the Composer and performed at their festival "The Works" in Minneapolis in 2002. His composition Owed t'Don was recorded by the violin/marimba duo Marimolin on their CD Phantasmata . In recent years, Steve has begun creating graphic scores, now numbering more than 40. Steve has also written for theater, having composed scores for seven productions at the California Shakespeare Festival. He received a California Arts Council Fellowship in 2000 and a Meet the Composer grant in 1993, and teaches at Mills College. Steve is a graduate of the School of Contemporary Music in Brookline, MA and studied composition with Alan Crossman, Christopher Yavelov and Thomas Oboe Lee, saxophone with David Birkin and Indian music with Peter Row and Steve Gorn.