Jon Raskin
Jon Raskin (b. 1954; Heppner, OR) - baritone, alto, sopranino saxophones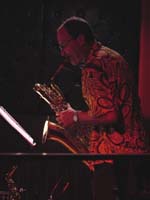 Highlights of Rova founding member Jon Raskin's early career include his '70s participation in new music ensembles directed by John Adams (San Francisco Conservatory of Music) and Dr. Barney Childs (University of Redlands). Before Rova, Raskin served as music director of the Tumbleweed Dance Company (1974-77), was a founding member of the Blue Dolphin Alternative Music Space and participated in the creation of the Farm- an art project that included a city farm, a community garden, Ecology Center, Dance and Theater companies and organized the creation of a city park. Highlights as a member of Rova include composing a collaborative work for SF Taiko Dojo/Rova, working with Howard Martin on the installation work Occupancy, composing music for Mr. Bungle/ Rova, organizing the 30 year Anniversary Concert of John Coltrane's Ascension, performing the music of Miles Davis at the Fillmore with Yo Miles!, the Glass Head project with Inkboat and the ongoing Electric Ascension project.

Raskin has received numerous grants and commissions to work on a variety of creative projects: NEA composer grant for Poison Hotel, a theater production by Soon 3 (1988); Reader's Digest/Meet the Composer (1992 & 2000); Berkeley Symphony commission (1995) and Headland Center for the Arts Residency 2009.

Besides over 30 recordings with Rova, Raskin's recording experience include Anthony Braxton, Eight (+3) Tristano Compositions 1989 For Warne Marsh (1989) and The Bass & the Bird Pond with Tim Berne (1996), Wavelength Infinity- A Sun Ra Tribute, Between Spaces with Phillip Gelb, Dana Reason & Pauline Oliveros, Terry Riley's In C 25th Anniversary, and solo work on the Art Ship Series. His current CDs include Let's go Juke Box Suite (Not Two) with the Rova Saxophone Quartet , JR Quartet (Rastascan) with Liz Allbee, George Cremaschi and Gino Robair, Music + One (Rastascan) an improvisation compendium for improvisers to play along with and Kaolithic Music, Jaw Harp Music recorded in a 587 Gallon Vase (Evander Music) He is working on several new recordings, one with a JR Quartet for release in 2009, a Rova project of graphic scores composed by Steve Adams and Jon Raskin, a compilation from the 2 + 2 series that Phillip Greenlief and Jon Raskin presented at the 21 Grand Performance Gallery in Oakland and a poetry and music project with Carla Harryman called Open Box.

Other groups are The Jon Raskin Quartet featuring Liz Albee on trumpet John Shiurba on bass and Gino Robair, a duo with Kanoko Nishi on Koto and a trio with Matthew Goodheart and Vladimir Tarasov.