Larry Ochs
Larry Ochs (b. 1949; New York)—tenor & sopranino saxophones
Rova Saxophone Quartet: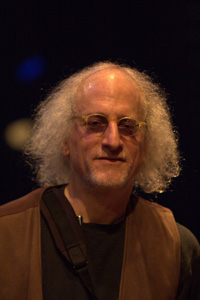 Since 1978, Ochs's professional activities have been primarily centered around the Rova Saxophone Quartet, which has made over 40 European tours and numerous concerts throughout the U.S. and Canada, as well as recording over 30 CDs as a quartet and/or in collaboration with other artists. He also acts as the executive director for Rova:Arts and spearheads most of the local productions.
Other performance groups:
In 2007, Ochs began the band called Kihnoua , inspired by Korean improvised music, with compositions by Ochs. This band features Dohee Lee on vocals and Scott Amendola on drums and electronics, and has included many guests as 4th and 5th members for individual performances, such as Joan Jeanrenaud, Okkyung Lee, Fred Frith, and Zeena Parkins. A CD recording will be released in March 2010 on the CD label Not Two (Poland).
In 2006, the free-improvising trio called Jones Jones began in Oakland with the great percussionist and installation artist Vladimir Tarasov (Vilnius, Lithuania) and the stellar bassist Mark Dresser. A trio recording We All Feel the Same Way, was released in September 2009. So far, this trio has performed in the Bay Area and internationally in Amsterdam, St Petersburg, Moscow and in festivals in the Balkan states.
In 2000, Ochs organized the trio Larry Ochs Sax & Drumming Core with drummers Scott Amendola and Donald Robinson. Black Saint released their first recording in 2002, the same year the trio made its first European tour. In 2004, they embarked on a longer European tour, which included recording sessions, a performance in Venice, and a very successful collaboration with French musicians at Musique Action 2004 in Nancy. The trio's second CD, entitled Up from Under, came out in 2005. The third CD, Stone Shift, was realized as a quintet, adding Satoko Fujii on piano and synthesizer and Natsuki Tamura on trumpet. It was released October 2009. This quintet has toured widely, in the USA in October 2008 and 2009 and in Europe in November 2007 and December 2009.
Ochs' composition The Mirror World (for Stan Brakhage), scored for the Rova Saxophone Quartet plus 13 other musicians, was premiered at Rovaté 2006 and released as a double CD in 2007.
In 2002, Ochs created a special project of works composed for a trio of saxophone, cello and acoustic koto that he recorded in studio with Joan Jeanrenaud and Miya Masaoka. This award-winning recording was released on the Intakt label in May 2004. The artist took this material out as part of a festival tour in that year and in a subsequent tour in 2006. In these touring performances, Peggy Lee replaced Joan Jeanrenaud on cello. Subsequently, the Trio Ochs-Masaoka-Lee released a recording in 2008 on Rogue Arts.
In 1986, Ochs formed the group Room with Chris Brown and William Winant, a trio of saxophone, piano, computer electronics and percussion. The group continued performing and recording until 1994 and was one of the first bands to combine acoustic instruments and computer electronics in formal compositions incorporating improvisation.
In 1990, he and keyboardist Wayne Horvitz formed The International Creative Music Orchestra for the Pan American Goodwill Games in Seattle and made further performances at the Vancouver DuMaurier International Jazz Festival.
In 1991, Ochs suggested a collaboration between Room and The Glenn Spearman Trio, creating a sextet that became an ongoing band that has recorded four CDs as the Glenn Spearman Double Trio.
In 1993, Ochs created a nine-piece group to perform a specially commissioned work, entitled The Secret Magritte, for the Antwerpen '93 Festival. Also in 1993, he organized a saxophone octet that included the Rova Saxophone Quartet members to perform five compositions of his music at festivals in Austria and Germany. In 1994, Ochs joined with Lisle Ellis and Donald Robinson to form the ongoing trio, What We Live, which has toured in the US and Europe and has recorded six CDs.
In 1997, he composed the 45-minute work Pleistocene for a 12 piece ensemble that performed the work at The San Francisco Jazz Festival (as part of Rova's 20th anniversary concert). Also in 1997, Ochs first recorded with the John Lindberg Ensemble. He subsequently toured twice more and also made two other recordings with them in 1999 and 2000.
In 1998, he toured and recorded with guitarist Fred Frith and koto-player Miya Masaoka in a trio called Maybe Monday. This trio released a CD on the Buzz (Netherlands) label in 2000. A second CD with guest Joan Jeanrenaud was released in 2002 on Winter & Winter ( Germany) in time for an eight city European tour. In 2007 a septet release called Unsquare (with Kihlstedt, Parkins, Hemingway and Mori) was issued on INTAKT (Switzerland).
The trio What We Live with Lisle Ellis and Don Robinson continues into its 11th year. Organized by Mr. Ellis in 1996, the trio adds guests periodically. Tours of the USA and Europe with special guest, singer Saadet Türköz, occurred in 2006, and a recording on Fire Museum records with the same quartet was released in late summer. WWL has also released collaborative CDs with Dave Douglas and Wadada Leo Smith.
In all, Ochs has composed some two dozen compositions for saxophone quartet and many pieces for mixed ensembles. His most recent composition for saxophone quartet, a thirty-minute piece entitled Certain Space, was commissioned by Chamber Music America / Doris Duke Foundation. Ochs has also received two commissions by Commissioning Music USA / Meet the Composer Fund. He composed the music for the film Letters Not About Love, which won best documentary film award at the 1998 South by Southwest Film Festival. His monograph, "Strategies for Structured Improvisation" was published in 1999 as part of the book Arcana, a collection of composers' writings edited by John Zorn (Granary Press, New York). He has also composed music for theater and one video play.