Rova: one version of the story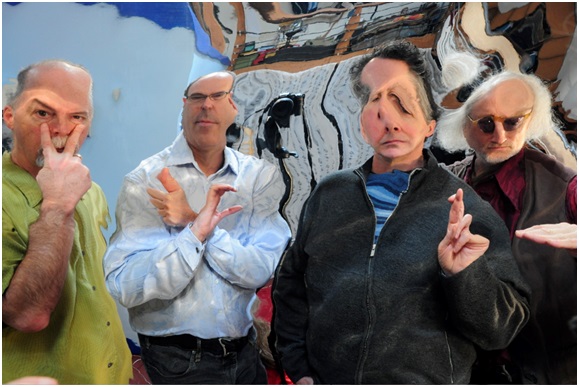 Think of the human voice in music. The most primal of instruments, it can melt you or move you to tears on the spot. Then it's the saxophone, one-step removed from the human voice, and the next most powerful messenger in music. Johnny Hodges, Albert Ayler, Steve Lacy, Pharoah Sanders, Oliver Lake, King Curtis, Tim Berne, John Butcher - to name only a few of the many singular voices on the instrument who, with one short phrase or even one sound, can take your breath away, or excite and inspire you to great heights.
Multiply that power, that capability, times 4, and you have a saxophone quartet. Rova Sax Quartet: a group that can move you the way an Eastern European choir of voices can move you, but also a group with force, a force that can feel as if its tearing the walls of the listening space down, or that can simulate the complex sound of a machine, or one of nature's wild phenomena, or conversely, the almost-silent overlapping sound-patterns heard with eyes closed in a field in the wilderness.
Rova Sax Quartet's musical goal has always been, since 1978, to instigate, to challenge, and to inspire. The group explores the synthesis of composition and collective improvisation, creating exciting, genre-bending music. Rova:Arts, formed in 1986, acts as the umbrella organization for the musicians, facilitating the goals and productions and tours, the collaborations and special projects.
Rova is one of the longest-standing groups in the music movement that has its roots in post-bop, free jazz, avant-rock, and 20th century new music; Rova draws inspiration from the visual arts, contemporary poetry, contemporary dance. We listen closely and deeply appreciate both the traditional and the pop music styles of Africa and Asia. And then there is the blues; always a key.
Most recent recordings:
In Transverse Time (VICTO, March 2018) – Ackley, Adams, Ochs and Raskin all pen works for this 40th anniversary Quartet CD, the first quartet-only CD since 2012.
Saxophone Special Revisited (Clean Feed, 2017) Rova arranges the music of Steve Lacy with guests Henry Kaiser and Kyle Bruckmann
Rova::Orkestrova plays No Favorites (for Butch Morris) (New World, 2016) Rova-member originals for 11-piece ensemble involving both composition and "conduction." …aka "structured improvisation"
Rova Channeling Coltrane: Electric Ascension at the 2012 Guelph Jazz Festival (2016: RogueArts - Bluray, DVD, CD)
Rova: A Short History (2012: Jazzwerkstatt - CD) – quartet originals
Rova + John Zorn: The Receiving Surfaces (2012: Metalanguage - LP) – sax quintet improvisations
Rova: Planetary (2011: SoLyd – CD) – quartet originals
Rova + Nels Cline Singers: The Celestial Septet (2011: New World Records – CD)
A lot of music samples and full discography available at www.rova.org or select music samples at rovasaxophonequartet.bandcamp.com
Rova:Arts produces a bi-monthly email communique with opinions and stories from both Rova members and from other friends in music and other arts fields, as well as Rova news. This e-dispatch – called On Rova's Radar - can be had by signing up to receive it here.
===================================================================
Rova's most recent special project receiving a lot of attention is a concert video: 12 musicians performing Rova's arrangement of John Coltrane's Ascension. Rova calls this arrangement "Electric Ascension." The planned release date is January 7, 2016, ten days before it is performed live in New York City. The concert film began screening at music and film festivals in 2014. Directed by John Rogers, the 5-camera shoot took place at 2012 Guelph Jazz Festival in Canada. The concert film is super high-quality in both picture and sound. Rogers' accompanying documentary on the project - Cleaning the Mirror - explains the whys and hows behind the music. More about this here: Channeling Coltrane
In noting Rova's innovative role in developing the all-saxophone ensemble as "a regular and conceptually wide-ranging unit," The Penguin Guide to Jazz calls its music "a teeming cosmos of saxophone sounds" created by "deliberately eschewing conventional notions about swing [and] prodding at the boundaries of sound and space..." Likewise Jazz: The Rough Guide notes, "Highly inventive, eclectic and willing to experiment, Rova [is] arguably the most exciting of the saxophone quartets to emerge in the format's late '70s boom."
Inspired by a broad spectrum of musical influences - from Charles Ives, Edgard Varese, Olivier Messiaen, Iannis Xenakis and Morton Feldman to The Art Ensemble of Chicago, John Coltrane, Anthony Braxton, Steve Lacy, Cecil Taylor, Sun Ra and Ornette Coleman - Rova began, in 1978, writing new material, touring, and recording, including early collaborations with such like-minded colleagues as guitarists Henry Kaiser and Fred Frith, and saxophonist John Zorn. Also in its early years, Rova shared the stage in collaborations with fellow San Francisco based trailblazers Kronos Quartet and Margaret Jenkins Dance Company. A 1983 tour of the USSR and accompanying PBS documentary highlighted the first five years of Rova's existence.
In 1999, Rova's nonprofit support organization, Rova:Arts, began presenting two annual events in the San Francisco Bay Area:
(1) New Music on the Mountain presented three or four acts outdoors at Mt. Tamalpais every September through 2005. Artists performing there included the Tin Hat Trio, Pauline Oliveros, Wadada Leo Smith, Vinny Golia and Bert Turetsky, Cheryl Leonard, Fred Frith, and Joan Jeanrenaud.
(2) Our continuing series, Rovaté, began as a festival but evolved into an annual collaborative event. Collaborating artists have included:
2017- Beowulf – produced by theater company We Players, with co-producing credits for Rova:Arts and Shinichi Iova-Koga's physical theater group inkBoat, these three San Francisco art groups reimagined and redrew the focus of the classic Olde English play, creating the new work on a long series of indoor and outdoor "sets".
2015 – No Favorites, for Butch Morris­ – a beautiful set of composed works for an 11 piece ensemble of advanced improvisers. One piece is a collage of graphic scores created by Steve Adams and Jon Raskin of Rova. The other two longer works include conduction, Butch Morris' term for visual cues, something Rova has been employing in its series of work called Radar since the early 1980's. Meeting and working with Butch Morris in 1988 was on inspiration for continuing along this path. The first of these 2 pieces was composed by Larry Ochs, the second by by Rova collectively. The ensemble features a string quartet, a power trio, and Rova. Recorded on July 1, 2015, a CD of these works will be released in 2016.
1999 - Maelstrom with Sam Rivers, Doug Matthews, Anthony Cole and a big band of San Francisco musicians.
2000 - Collaboration with Gerry Hemingway
2001- The M'ad Din with Wadada Leo Smith, a string ensemble of San Francisco musicians, and a performance of Rova compositions by John Schott's Diglossia Ensemble
2002 - An Alligator in Your Wallet: Big Band music composed by Steve Adams and Satoko Fujii with Rova as horn section plus Natsuki Tamura, Carla Kihlstedt, Darren Johnston, Mike Vlatkovich, Tom Yoder, Ken Filiano and Scott Amendola.
2003 – the premiere of Electric Ascension with Nels Cline, Chris Brown, Ikue Mori, Carla Kihlstedt, Jenny Scheinman, Otomo Yoshihide, Fred Frith and Donald Robinson plus Steve Lacy's Saxophone Special for sax quartet, el gtr, and electronics. Concert recording released by Atavistic in 2006. (Concert recording and DVD of 2012 performance coming out January 2016)
2004 - The Hear and Now: Jon Raskin's large ensemble piece with Min Xiao-Fen, Kyaw Kyaw Naing, Jiebing Chen, Shoko Hikage, Sang Won Park, Jim Santi Owen and Gino Robair. Co-produced and presented by Other Minds Festival.
2005 - The Mirror World (for film-maker Stan Brakhage) with Gino Robair, William Winant, and a large ensemble of San Francisco musicians. Plus a separate sextet version for Rova and percusssion. Live concert released on Metalanguage.
2006 - Glass Head with inkBoat ensemble dancers Shinichi Momo Koga and Yuko Kaseki and visual artist Eric Koziol
2007 - Eye Music for Ears with Joan Jeanrenaud, Theresa Wong, Mark Dresser, Mark Trayle, Fred Frith, Ches Smith and Devin Hoff performing graphic scores by Steve Adams, Jon Raskin, Fred Frith and visual artist Amy Trachtenberg
2008 - The Celestial Septet with the Nels Cline Singers (Nels Cline, Devin Hoff and Scott Amendola). Studio CD on New World Records in 2011.
2009 - Fissures, Futures (for Buckminster Fuller) with visual artist Lillevan and musicians Rova, Carla Kihlstedt, Charlotte Hug, Joan Jeanrenaud, Lisle Ellis, Thomas Lehn and Kjell Nordesen.
2010 - Pandaemonium composed by Carla Kihlstedt for Rova and 2 readers, co-produced and presented by Other Minds Festival.
2012 - 33 1/3 – with DJ Olive and DJ P-Love. Presented by SFJAZZ Festival.
2013 - Grand Electric Skull – a multi-media concert with Ikue Mori (video) and Gino Robair (electronics and composer/conductor)
2015 – No Favorites (for Lawrence Butch Morris) – large ensemble of 11 musicians plus conductor performing original works by Rova dedicated to Butch Morris
2016 – recreation of Figure 8 from 1993
2017 – coproduction of Beowulf with We Players and inkBoat Physical Theater
Some of these projects have had ongoing lives as exported performances. Electric Ascension has been performed to great acclaim at festivals in Europe and North America with the original band when possible, but with other musicians as well, including Andrew Cyrille, Trevor Dunn, Tom Rainey, Hamid Drake, Rob Mazurek, Lisle Ellis, Natsuki Tamura, Peter Evans, Eyvind Kang, Jason Hwang, Marina Rosenfeld, Thomas Lehn, Zeena Parkins, Andrea Parkins, Elliot Sharp, Peggy Lee and Wayne Horvitz, among others. And in 2013, a fantastic 5-camera concert video has been completed, documenting Electric Ascension as performed at the 2012 Guelph Festival.
The sextet version of The Mirror World with two drummers has been performed in Europe and Japan with many different drum pairings: Paul Lytton and Raymond Strid, Michael Vatcher and Tony Buck, Vladimir Tarasov and Fritz Hauser, Fabrizio Spera and Cristiano Calcagnile, and Samm Bennett and Tatsuya Yoshida. The "big-band" project An Alligator in Your Wallet has had compelling realizations in Japan, Switzerland, France and Finland with Fujii, Tamura and local musicians.
Rova has had other notable collaborations, including a quintet with Anthony Braxton, as recorded on The Aggregate; a quintet with Steve Lacy; a sextet with Fred Frith and Tom Cora; an octet with four Turkish percussionists; the saxophone octet Figure 8 with Tim Berne, Glenn Spearman, Dave Barrett and Vinny Golia; and joint projects with existing bands including Mr. Bungle, Splatter Trio, Yo! Miles, and The Hub. Our most recent joint project with another band is the incredible Celestial Septet, with the Nels Cline Singers (CD on New World -click here).
Some highlights of the last decade include performing with Yo! Miles at the Fillmore in San Francisco; Rova's second tour of Japan with a performance on NHK, the national radio network; performances at festivals such as the Akbank Jazz Festival in Istanbul, the Festival Internationale Musique Actuelle de Victoriaville, Jazz em Agusto in Lisbon, the Leipzig Jazz Festival, the Zomer Jazz Fietstour in Groningen, Holland; the Ulrichsberg Festival in Austria; Novara Jazz in Italy; and the Sons D'Hiver Festival in Paris. Rova's American tours have taken us to venues including Merkin Hall in New York, the Salvador Dali Museum in St. Petersburg, FL and the Redcat Theater in Los Angeles.
The list of composers who have written music for Rova is long and illustrious: Anthony Braxton, Henry Threadgill, Jack DeJohnette, Terry Riley, Alvin Curran, Marty Ehrlich, Mark Dresser, Tim Berne, Annie Gosfield, George Lewis, Fred Ho, Muhal Richard Abrams, Robin Holcombe, Wadada Leo Smith, Lindsay Cooper, Fred Frith, Henry Kaiser, David Lang, John Carter, Chris Brown, Pauline Oliveros, John Butcher, Satoko Fujii and Barry Guy, among others. Rova:Arts has also commissioned musicians who were, at the time, up and coming local Bay-Area composers, to write original music for Rova including Ben Goldberg, John Schott, Dana Reason, Gino Robair, Myles Boisen and Miya Masaoka. In June 2002, Rova was the featured guest at Meet the Composer's national event held in Minneapolis, Minnesota, entitled The Works - a two-day festival of live music and discourse. This honor was presented to Rova as the group most often awarded funding to commission new works. Rova's members have written extensively for the group themselves, and have also created collaborative pieces such as Radar, an improvisational piece based on a system of hand gestures.
Rova:Arts also has produced the Art of the Improvisers series locally, where Rova partners with guests from the local and international community of improvisers for evenings of free improvisations. Guests have included Vijay Iyer, Carla Bozulich, Mark Izu, Lisle Ellis, Sara Schoenbeck, LaDonna Smith, Pamela Z, Tim Perkis, and Vinny Golia.
Rova has been active as an educational force, advocating for improvisational and creative music, with residencies at M.I.T. and the University of Iowa, and workshops at schools and universities including San Diego State University, the University of Denver, Indiana University, the University of Colorado, Northern Illinois University, the Eastman School of Music, Rollins College and Full Sail University.
Now in our 40th season as a group, Rova is still excited about investigating both new and familiar worlds of art-making and performance, and we look forward to you joining us for the ride.