+ 1, Guest Contributor, John Schott, November 2014
Guitarist, composer, band leader, educator, scholar, and all-around working musician, John Schott has been a good friend to the Rovas for decades. His contribution to the Bay Area scene and beyond has been enormous, and his irreverent wit and unapologetic passion for all traditional musics make his contemporary music scholarship all the more engaging. I love to talk with this guy about music: musicians, listening to music, buying music, recording and production of music, composers, side musicians, forgotten musicians, food to eat while listening to music, agonizing over music…you get the idea. Schott's screed below offers unexpected views from the proletarian perspective. You can catch John playing regularly with his trio at the Actual Café, and on December 5, 6 with the Paul Dresher Electro-Acoustic Band with Amy X. Neuburg at Zellerbach Playhouse—both in Berkeley.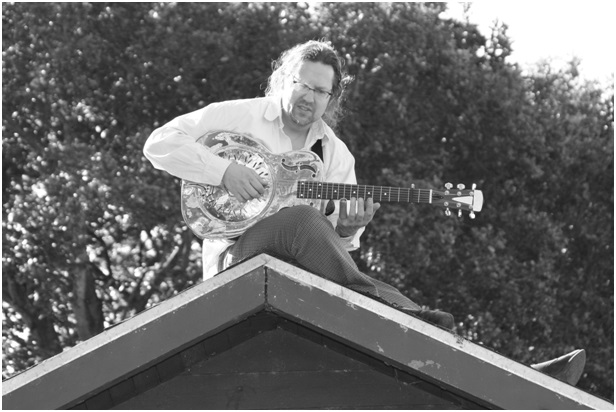 John Schott
Another Day at the Office
Well, it's been a pretty good week for me, as a working musician in the Bay Area. Last Friday I played with my friend John Finkbeiner for a reception for members at the UC Berkeley Art Museum. This is a pretty chill gig, we've done it before: ten minutes from home, play standards for two hours, pick up a check for 30.5 times the amount I made the last time I played for the door at the Berkeley Arts Festival.
We were down on the bottom floor of that cavernous cement relic, the museum, quite far away from the people we were supposed to be entertaining. I would say no one noticed us, but that's not strictly true: there were a bunch of people I knew there, including my friend Jim Sugarman, who works there. He kept throwing things at us from the balcony overhead, mostly crumpled up pieces of paper on which he wrote requests. We were told we could eat of the buffet and its many offerings, but as often happens where there is free food and no crowd control, the wait in line was twenty minutes, not feasible for the likes of us. By the time we finished there was the dregs of the shrimp cocktail. All gigs divide for me along the lines of: I got free food, or I didn't get free food.
A woman came up to us, while we were playing, and said "I am enjoying this very much. You know, I once saw Andres Segovia give a concert at a private residence; I was as close to him as I am to you now." I replied "Wow, how wonderful. And now you can tell people that you saw John Finkbeiner and John Schott, and not only were you this close to them, but you actually talked to them while they were playing! Tell that to ol' Andy!"
The next night I played an Oktoberfest event at a German – sorry, "Bavarian" – restaurant in San Leandro. [SEE MORE…] It's still September, but like other holidays towards the end of the year, Oktoberfest is expanding beyond its officially allotted time. We played lots of polkas, marches, and waltzes, music to invade Poland by. There was a six-foot tall replica of a beer stein there, lederhosen-a-plenty and women dressed like the girl on St. Pauli Girl Beer. They did a traditional German dance in which the men slapped the bottoms of their feet, and the women slapped each other. The band was given several drink tickets, and I felt that if I didn't use them, it would sort of be like not getting paid part of the money. So I had a beer, and then a second one on the break. This, with what I may or may not have smoked earlier (the gig started at one in the afternoon), combined to make me pretty much invincible, as well as a freakishly creative guitarist. It also made me a too-loud guitarist, a guitarist who takes three times as long to tune, and a guitarist who knocks his amp over.
I was subbing for someone that I've subbed for a thousand times, but have never actually met. I've seen him in the band's 8 x 10 promo photo, and he has tattoos on his face. The first time I subbed for him in this band, he left me a joint in the guitar folder with a note "John – have fun!" The violinist on this gig said he had subbed it out to me because "we do it every year, and he haaaaates this gig."
Last night was a Benefit for a Good Cause, in Marin at the JCC. Indirectly, of course, it was a benefit for the Victims of John Schott. The dinner, silent auction and cocktail hour was French-themed, so of course they hired the Baguette Quartette. There was an eight foot replica of the Eiffel Tower there, that we've shared billing with before. You'd be surprised how many company parties, fundraisers, and such have French themed events, and rent the same stuff that everyone else rents. Red, white and blue streamers? Check. Mime in horizontal stripes and beret? Check. Baguette Quartette? Check.
We were told we could have a "vendor's meal" if we waited around for about thirty minutes after the gig. A vendor's meal is what they give the help when what they're feeding the hundred and twenty guests is too good for us. I would have welcomed even this if I could eat it between sets, but I'm not going to wait around for a half hour after a gig unless Alice Waters herself is cooking. So I scarfed up a bunch of little spinach and cheese creampuffs, and had some liver pate on - yes! – baguette. I don't like liver pate, but this was so darned high class that it actually tasted kind of good. If you're hungry, and if you treat gig food as actual currency.
What was cool about this night was that an older African-American man came over and started digging the group. He was very elegantly dressed, and had a pin on his jacket of an acoustic bass. I asked him if he played and he said yes, in fact his group had played this event last year. I laughed and said sorry to take your gig! He laughed and said no problem, they were going French this year, so I told 'em to get you guys! We talked some more, and when we went into Django Reinhart's Nuages, he swooned.
Afterward I was packing up and I heard the Good Cause's director thanking various people on the mike, and she mentioned Harley White. Harley White Sr.! That's who I had been talking to! Harley White Sr. is a venerable bassist who has been playing in the Bay Area for – I'm guessing easily 50 years. He's the bass player on the Edwin Hawkins' Singers hit from 1969 "Oh, Happy Day." He played with Earl Hines' trio when Hines settled in Oakland in the early seventies. A first-call player for many decades, he's played with Sinatra, Harry Belafonte, and Eddie "Lockjaw" Davis, to name just a few. I went and found him at his dinner table, and said that I had just realized who he was, and how happy I was to see him again.
I got to play with him once, at a weird gig in the early nineties. My trumpet-playing friend Joe Karten had been asked to put together a band for a house party, but a party of college-age kids, in the dark living room of a big house in Berkeley. We got Kenny Wollesen to play drums, and he said call Harley White. That's what makes Kenny such a great drummer, that he knew Harley and knew that we might learn something from him, that we might get a little taste in our obnoxious, youthful playing.
He brought his tuba, which he also plays, to the gig and as I recall we played funky Trad Jazz, New Orleans kind of numbers, with somewhat psychedelic improv sections with wah-wah and fuzz guitar. The inebriated party-goers were appreciative but rather stand-offish. Joe and I divided the money between Kenny and Harley; we knew it was worth it. When I mentioned to him last night that we had played this gig he didn't seem to recall it. I can't decide if that's good or bad.