+ 1, Guest Contributor, Glenn Siegel, May 2016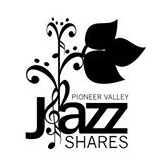 Glenn Siegel produces the Magic Triangle Jazz Series and the Solos & Duos Series at UMASS and has produced A World of Piano, a series of solo piano concerts for the Northampton Center for the Arts. For 27 years he served as Administrative Advisor to WMUA-FM, the UMASS student and community radio station, where he produced a weekly program, Jazz in Silhouette. He is currently putting together season 5 of Jazz Shares.

Over two evenings in the summer of 2012, my partner Priscilla Page and I invited to our home about 70 friends and neighbors who share our love of creative music. I've been producing jazz concerts for almost 30 years for the Fine Arts Center at the University of Massachusetts, Amherst. Each season I would receive many more worthy gig requests than I could honor. With a limit on how many University concerts I could produce each year (six), and without the personal resources to just write checks, I got tired of saying "Sorry, no" to some of my musical heroes. I knew there must be another way to bring these great musicians to town.

The idea I presented at those initial gatherings was simple, borrowed from the farm share or Community-Supported Agriculture (CSA) model, where people pay money to the farmer up front, months before the first tomato ripens, in exchange for a weekly share of the summer bounty. With money in hand (and without going into debt), the farmer can then afford to repair equipment, buy seeds and hire staff. If the strawberries get hit with blight, it's not just the farmer who bears the brunt; the group cushions the loss. We prosper and share the risk together. Consumers are not merely consumers; we are also producers, vital to the endeavor, nurturers of the project. The community decides that it's important to have a thriving, locally based, organic food production system, so we create and support one.

Just as plants are dependent on the sun, clean water and healthy soil to thrive, the music needs paying gigs and an appreciative audience to reach full flower. Pioneer Valley Jazz Shares is helping to build that rich inch of topsoil that stands between us and a barren cultural landscape. We are an all-volunteer, grass roots non-profit, operating outside the corporate mind-shaping machine, dealing directly with musicians working beyond the mainstream.

Jazz Shares operates from the basic premise that people will support the things they value. We here in western Massachusetts are blessed to live in a culturally rich part of the U.S. You still have to ask 100 people before you find one who knows who Karl Berger is, but there are enough of us here to think we could create the kind of jazz world we want to live in. We knew if we waited for a commercial venue or a college administrator to book Mike Reed, Mario Pavone, Fay Victor or Barry Altschul, we'd be waiting forever.

We offer jazz shares to individuals at $125 per season. In exchange, folks receive 10 admissions to the 10 concerts we produce each year throughout Franklin, Hampshire and Hampden counties. (We also offer half-shares.) We have generous business sponsors and we sell single tickets to the general public.

We are currently in Season 4 of Jazz Shares. This year we reached our target of 100 shareholders for the first time. The number of business sponsors (who contribute at $500 and $250 levels) has increased to 14. We have had enough money left over at the end of each season to pay our videographer, buy a drum kit and music stands, and forward a couple of grand towards the following season.

And the music has been slammin'. Our remaining three concerts this season will feature Chris Lightcap's Bigmouth (Tony Malaby, Chris Cheek, Craig Taborn, Gerald Cleaver), Allison Miller's Boom Tic Boom (Kirk Knuffke, Ben Goldberg, Jenny Scheinman, Myra Melford, Todd Sickafoose) and the Michael Dessen Trio (Chris Tordini, Dan Weiss)!

The model is working.

Although many of our shareholders do not know who Karl Berger is, most have an open mind and an adventurous attitude. Because our audience expects to be surprised, we can expose them to new experiences. Although we attempt to have balance in our programming, the dilemma facing most presenters of not wanting to offend or get too far ahead of audience tastes does not affect us.

"We are committed to advocating for a jazz that is continually open to innovation," write Ajay Heble and Rob Wallace in People Get Ready, the Future of Jazz is Now!, "even innovation that threatens to change our previous perspective on the music we thought we knew." We share that commitment.

We are not interested in a music that is primarily nostalgic. The jazz we present is a living thing, entirely dependent on human spirit, creativity and dedication to craft.

"Nostalgia has been a narcotic of choice for people terrified by the unfamiliarity of the ever-changing present," writes Burton Peretti. "Almost regularly in the twentieth century, Americans have expressed disgust with the present and yearned for the imagined 'normalcy' of yesteryear."

I do the programming. Priscilla and I handle most of the logistics. For it to work: 1) you need to be in the music's loop. Our artist fee is modest ($1,000), so bands planning tours need to know your organization exists. 2) You have to have deep roots in your community. I have been presenting concerts and producing radio for a long time in one location. That has put me in touch with many area music lovers. When it was time to convene those first meetings I already had my list of fellow travelers. That first year, we had almost 50 shares sold before we revealed our plan to the public. 3) You need to know how to take care of visiting musicians. Reputation and track record are everything. When the producer is able to put the musicians in a happy frame of mind by showing respect and handling details, the music can soar and musicians will want to play your series. 4) Being only three hours from New York doesn't hurt.

We have shareholders who pick up musicians at the train, work the box office, open their home and make food for the artist receptions that follow each performance. One member has made a unique cheesecake for each of our 40 concerts. (Ask Larry Ochs about the cheesecake.) Other shareholders rarely even attend shows. They are too busy or not much interested in the music, but support the idea of building community through sound.

If jazz is to prosper, we the people who are inspired by its practice need to organize and support it. Never in the history of the music have there been more fabulous musicians, and fewer ways to bring their music to the public. We must be active stakeholders, not passive consumers. We cannot wait for the market to anticipate and fill our needs.

What if there were Jazz Shares organizations providing work to musicians in communities all across the United States? Not dependent on large institutions, benefactors with agendas or fickle funders, but relying on the collective energy and resources of its members, hungry for the next musical challenge?

Pioneer Valley Jazz Shares can be found at: jazzshares.org.