+ 1, Guest Contributor, Allison Miller, March 2016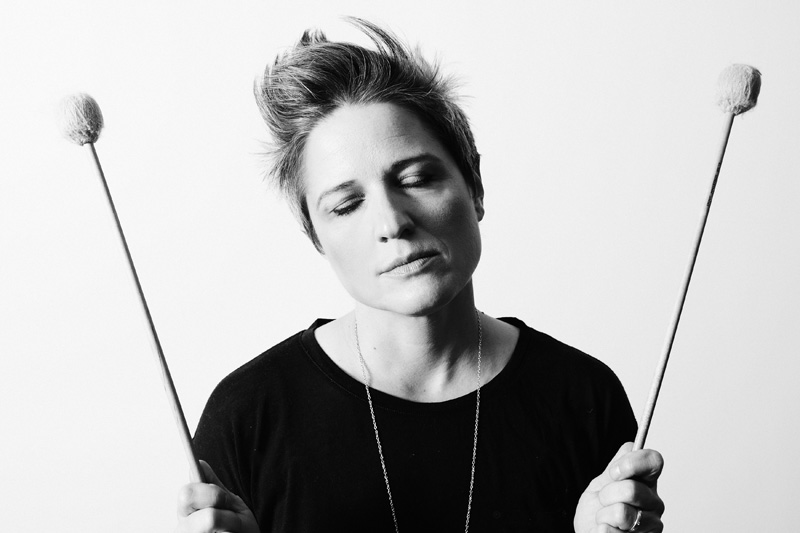 Allison Miller. Photo by Shervin Lainez 2016.



I've been thinking about my earliest musical memories. What exactly pulled me in to living a life dedicated to music? What was my first ear candy? Why did I become an instrumentalist and composer? More importantly, I've been tossing around a question all artists must ask themselves—what is my voice? What am I saying with my art? And is my message being heard? I know that I was so heavily shaped by the music in my life. Music has a power like no other art. It is the soundtrack to life, the accompaniment to you becoming you. Music pulls at your heart and guts—it literally and emotionally moves you forward into your life, sometimes acting as a mirror and showing you exactly who you are.

First, I must say, I was lucky to come from a musical family and I am eternally grateful that, from a young age, my parents exposed me to so many different types of music: Classical, Jazz, Choral, R&B, Funk, Blues and Soul. I soaked it all in ravenously. Music excited me, soothed me, birthed my dreams and fantasies, forced my body to move, and had me running around beating on every piece of furniture in the house. I liked listening to vocalists but what really sparked my excitement were the instrumental parts cradling the melody and lyric. I would walk around singing the bass line of a tune, not the lyric. I'd get lost in the depths of what the instruments were saying. They weren't telling me how I should feel—they were allowing me to feel.

My hungry ears would first take in the bass line and groove, then the melody, and finally the fairy dust sprinkles of pianos, keys, guitars, and horns. I would just sit back and dig the way all the instrumental parts worked together to make a perfect whole. Music was an alternate universe. It made me feel big and dream big.

I also loved the sounds of imperfection, the humanness of it all. The squeaky sound of fingers sliding around the neck of the electric bass, the ringing of snares when a drummer would hit the floor tom, the creak of a rusty old bass drum pedal, an out of tune piano string, a secret gremlin radio frequency hidden deep within the belly of an old fender twin amp.

As I mentioned before, my first influences were from my parent's collection. The magic of the triangle and shaker part in Ben E. King's "Stand By Me." Both parts are so minimal and repetitive yet beautifully congregate all elements of the song, never pulling attention away from the lyric. On Earth Wind and Fire's "Reasons" the band maintains a laidback feel until the split second before beat one where there is momentary tension and release. Pure Magic! And on Sly and the Family Stone's "In Time," I love how the low end distorts throughout the entire song. These are some of the moments that I felt in my body in a way that made me want to create and not just devour music.

As I got older, I made new discoveries. At first I leaned even further into R&B and Soul music, becoming a Prince fanatic. I was especially impressed by Prince's ability to conceive, develop, construct, and birth masterpiece after masterpiece. His early albums are perfect, from beginning to end and the instrumental parts are just as integral to the final product as the vocals. For instance, on "Adore" from Sign of the Times (1985) Prince lays down a minimal but juicy drum groove, sans hi hat. It hits the listener in the gut and gets even deeper as the bassist locks in with the bass drum. The horns and the vocal do a beautiful dance, never getting in each other's way. The organist, laying down a more legato chordal pad for the majority of the song, knows exactly when to throw down some rhythmic punch. The weaving together of all of these parts is just as sexy as the lyric.

Around the age of 15 I had a life altering experience. A friend gave me a copy of Miles Davis's "Miles Smiles." After the first listen I felt a molecular change in my body. This album, more than any music my young spirit had taken in, hit me like a ton of bricks filling me with despair, hope, anger, fear, longing, and curiosity. I had never heard anything like it. I understood, in that moment, why music existed and that it could be powerful enough to inspire a revolution. Later, as an adult, I realized that all of my favorite records came out during the Civil Rights Movement. Freedom of artistic expression is directly connected to Civil Rights. Jazz pushes the boundaries of structure, form, instrumentation, time, and space. Jazz is Revolutionary.

From the opening track, "Orbits," Miles Davis, Wayne Shorter, Herbie Hancock, Ron Carter, and Tony Williams play with absolute intention and purpose, pushing energy through the needle of the turntable, into the amp, out of the receiver, into the speakers, slapping the listener directly in the face. It feels as though they were passionately fighting their way through a dense forest. Their chosen tools: Rhythmic prowess and harmonic dissonance. "Circles" follows "Orbits" and the haunting melody, played by Miles, surrounded by space and gentle harmonic movement from the rhythm section, conjures feelings of relief and serenity, but with an underbelly of anxiety and caution.

How did the Miles Quintet do it? How did they successfully convey their message through instrumental music? I know there is no simple formula, and I'm pretty sure most of it is magic. But as a composer and bandleader, I am always chasing that moment when my creativity aligns with my emotional intent. I turn to my musical heroes and mentors' for inspiration and guidance. I immerse myself in the glory and power of their music.

I'd like to take a look at three musical pieces that I find masterful in their marriage of content and composition--Pieces that have not only changed the way I think about, write, and play music, but also how I live my life.


Triptych, pt. 1 - Prayer, Protest, and Peace: from We Insist: Freedom Now Suite, Max Roach (Candid Records, 1960)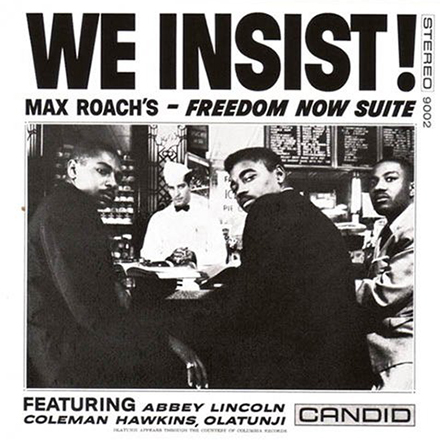 This is a duet between Max Roach (drums) and Abbey Lincoln (vocals). Lincoln is using the voice in its most pure and raw form-without words. This is a three-movement piece. The first movement, "Prayer", starts with a thematic statement from the drums. Roach repeats this theme over and over with slight variation and a pause between each variation. Lincoln enters in a call and response with the drums. She begins in her lower register with tonal moans gradually moving up to her higher register, building in intensity and purpose. Her vocal is extremely powerful. In the lower register, a heaviness and feeling of burden surrounds her vocal. It feels as though she is singing for all those who have been oppressed. But as she moves up the register, her vocal breaks from that heaviness, taking on qualities of urgency and volatility, forecasting the breaking point soon to come.

With a tension filled pause, we are led into "Protest." "Protest" is definitely the most intense one minute and twenty seconds on the album. Roach kicks it off with a frenetic single stroke roll. He quickly works his way around the drum kit in an angry chaotic free for all. Lincoln follows Roach's lead screaming uncontrollably in angry bursts. Rage pours out of the speakers. Listening, I am overcome with feelings of desperation, discomfort, fear, and a need to take action. I was brought to tears the first time I heard "Protest." This minute and twenty seconds is one of the most emotional moments in recorded music history.

Finally, we come to "Peace." Lincoln begins this section with a sigh of relief and exhaustion. As a listener, I am left feeling exhausted too and need space. Lincoln returns to her higher register singing with an undertone of content and accomplishment. She is calmer now and the melodic moans don't feel burdened down by oppression. Roach introduces a new theme. A variation on one of his classic solos "The Drum Also Waltzes" from Drums Unlimited. This new version is in 5/4 held down by an ostinato figure on the bass drum and hi hat. Lincoln sporadically interjects guttural chuckles and deep sighs of relief. They gently marinate on this 5/4-groove fading into, what feels like to me, enlightenment. Abbey Lincoln and Max Roach take us on a journey through pain, hardship, oppression, reaction, anger, rage, violence, and the calm after the storm.


Triptych, pt. 2: Salvation and Reminiscing: from Prepare Thyself to Deal with a Miracle, Rahsaan Roland Kirk (Atlantic Records, 1973)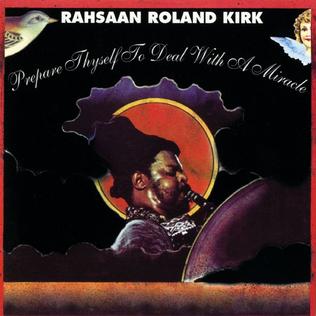 "Salvation and Reminiscing" is a work written by Kirk for a large ensemble -- Rahsaan Roland Kirk on Eb saxophone, Dee Dee Bridgewater and Jeanne Lee on vocals, Sanford Allen, Julien Barber, Selwart Clarke, and Gayle Dixon on violins, Al Brown on viola, Kermit Moore on cello, Ron Burton on piano, Henry Mattathias Pearson on bass, Robert Shy on drums, and Sonny Brown and Ralph MacDonald on percussion, marimba, vibraphone, and timpani.

The introductory duet between vocalist Dee Dee Bridgewater and Roland Kirk is hauntingly beautiful and heart-wrenchingly painful. Technically they embark on a call and response, moving up the scale in major thirds. But spiritually they transcend to another universe, generously allowing us to go along for the ride. Each duo moment is bookended with a written and arranged string interlude -- starting with downward major pizzicato movement and ending with a dissonant cluster of bowed notes in the high register. Both ends of the interludes sections are punctuated with, what sounds like, a chain and other metallic percussion being dropped to the floor.

Like Lincoln, Bridgewater is vocalizing without text. The duo feels like a conversation between an old couple. In my imagination they are reminiscing about good times. There are moments of joy but underlying that joy lies pain, deceit, dishonesty, struggle, oppression, and heartache. But, they have chosen to stay together through all of these years. Remember, this is just my interpretation as I listen.

Once the groove begins with the full rhythm section, string section, and timpani, the conversation transfers to a dialogue between clarinet and vibraphone. The groove feels like a quickened dirge that gets more and more dense as time passes. It moves forward and uplifts as it progresses but is weighed down by the pounding of the timpani. Eventually the ensemble fades leaving only strings and clarinet. Then the strings fade and bass joins the clarinet for a moment of interplay. As the clarinet fades out alone, the end moment is punctuated by the ringing of a meditation bowl. This piece is only five minutes and twenty two seconds yet somehow takes us on an epic adventure submerged in feelings of love, passion, betrayal, pain, heartache, hope, struggle, and peace.


Triptych, pt. 3: Flight of the Bluejay--from Storyteller, Marilyn Crispell Trio, (ECM, 2014)



Pianist/composer, Marilyn Crispell



This composition has had a profound effect on the way I hear, compose, and approach improvisation. Here we have Marilyn Crispell on piano and composition, Mark Helias on bass, and Paul Motian on drums. There are two simple sections to this tune. The A section -- a peaceful, lilting, legato melody that centers around the key of F--and the B section—a short and snappy thematic statement introducing dissonance and playfulness. During the solos, section B only happens on cue. On this piece, my emotional responses are triggered equally by composition and performance. The composition plays with feelings of stability, serenity, and risk taking. It feels like the soundtrack to my life. I walk around the chaos of NYC with a strong sense of inner peace. But, every once in a while, the outside chaos gets the best of me, and I fall off the rails a bit. Sometimes falling is great because it motivates me to take chances and try new things. This soundtrack is solidified by the improvisational interplay between Crispell, Helias, and Motian. There is a beautiful simplicity with which they improvise together, and they have a deep trust for each other and the music. Motian approaches the entire piece freely. He plays out of time without punctuating sections, while Crispell primarily stays in time. Motian provides the chaos underlying the calm. Helias gracefully exchanges dances between Motian and Crispell, masterfully marrying these two concepts. The result is pure magic. It relaxes me and motivates me to put my composer hat on and get to work. This piece makes me want to push my boundaries to create new works.


---
NYC-based drummer/composer/teacher Allison Miller gathers inspiration from a wide array of genres. Coming from the Jazz tradition, she engages her deep roots in improvisation as a vehicle to explore all music. Described by critics as a charismatic and rhythmically propulsive drummer with melodic sensibility, Miller has been named "Rising Star Drummer" and "Top 20 Jazz Drummers" in Downbeat Magazine's acclaimed Critics Poll. Miller's band, Boom Tic Boom, is a 2014 recipient of Chamber Music America's "Presenter Consortium for Jazz Grant" and is proudly sponsored by Mid-Atlantic Arts Foundation.

Boom Tic Boom, featuring pianist Myra Melford, violinist Jenny Scheinman, clarinetist Ben Goldberg, cornet player Kirk Knuffke, bassist Todd Sickafoose, and Miller on drums and composition, is currently celebrating it's fourth release, Otis was a Polar Bear (Royal Potato Family).

Miller is a three time Jazz Ambassador of the US State Department and is on Yamaha's Top 30 Clinicians List. She conducts clinics and master classes throughout the world and is adjunct faculty at The New School for Jazz and Contemporary Music, Kutztown University, Stanford Jazz Workshop, and Jazz Camp West. Her lessons and writings have been published in The Huffington Post, Modern Drummer, JazzTimes, DRUM, Tom Tom, and Drummer UK. In 2008 Miller founded the Walter Salb Memorial Musical Scholarship Foundation in honor of her late teacher and mentor. The foundation annually provides a monetary award to a promising young musician directed toward furthering their studies in music.

For more information please visit allisonmiller.com.