Favorite Street – Jon Raskin
November-December 2015
BOOKS
The Dying Grass
William T. Vollman
This is volume 5 of Vollman's "Seven Dream" cycle that looks at the European invasion of North America, starting with "The Ice Shirt" about the Norse colony in Newfoundland. It describes the Nez Perce relocation from their previous reservation to a new home 1/10 the size because gold was discovered on the land. It is told in the narrative of the individual participants from all sides: settlers, soldiers, various tribes in region. It also reaches back into General Howard's life and his role in the Civil War as the commissioner of the Freedman's Bureau to help freed slaves start a life in the south. I learned that Howard University was named after General Howard. The book touches on race, manifest destiny and religion from all the different narratives which portray the story, and it can be challenge to understand the overall motion of the story. But, it gets at much that is still in play in American life.

Grendel
John Gardner
In 2017 Rova will collaborate with the site-specific Bay Area theatre company We Players, and movement-performance ensemble inkBoat using the Anglo-Saxon poem Beowulf as source material. In the reading group we formed this fall, Grendel was recommended: a retelling of the story from the monsters point of view. The monster, Grendel, is modeled after Jean-Paul Sartre, and much of what Grendel says is drawn directly from Sartre. Grendel lives in a much longer time frame than humans who fascinate and appall him. Gardner's book looks at loneliness, myth, despair and narrative.


MUSIC VIDEO
BLOOD MOON ORCHESTRA AND THE VA'V
PC has joined with virtuoso Van-Anh Vanessa Vo (dan tranh & dan bau), South Bay rapper DEM ONE and filmmaker Christopher PaperSon Woon for "Moving Train", a song and music video featuring fresh sounds and harsh truths. Local musicians doing good work.

Session I Improvisation of Genius of Jazz
CHARLIE PARKER alto sax and COLEMAN HAWKINS tenor sax (date 1950) with: Hank Jones - Piano, Ray Brown - Double bass, Buddy Rich - Drums.
This is a wonderful track, with live footage of some of the jazz greats playing in a relaxed setting.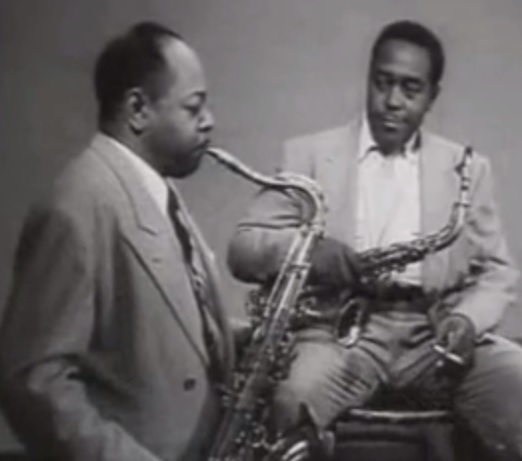 The Bean and Bird, 1950



Krishnam Vande
A beautiful bhajan performed in Brahmnaad Raag Hansadhwani in Art of Living Satsang by 1094 sitar players ranging from 7 to 70, and full section of tabla players with some good solos by guest artists on violin, bansouri and vocals.


FILMS (Theatre and DVD)
Ex Machina (2015) Alex Garland
A great version of the relationship of humans to machines and questions what is human and artificial intelligence. Lots of interesting power dynamics between the Boss/Inventor, Lottery Winner/Everyman and the robot.


RECORDINGS
Julius Eastman
Unjust Malaise
(New World Records)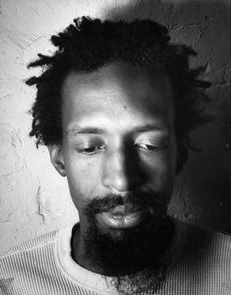 Composer, Julius Eastman


My friend, writer Carla Harryman, recommend this recording recently, and it's been in rotation ever since. It is a 3-disc set of Julius Eastman's (1940-1990) signature works: Stay On It; If You're So Smart, Why Aren't You Rich; Prelude to The Holy Presence of Joan d'Arc; The Holy Presence of Joan d'Arc; Gay Guerrilla; Evil Nigger; Crazy Nigger; and Spoken Introduction to Northwestern University Concert)

It contains vocal, piano and various ensemble pieces—works very different from each other. As the titles indicate, Eastman had a point of view he was committed to. His scores are interesting to see.

Suburban Echoes
Clarke Robinson
Clarke Robinson is an electronic musician and improviser living in the San Francisco Bay Area. A longtime fan of punk rock, avant-garde jazz, and coffee; he now also enjoys synthesizers, electroacoustic improvisation, and tea. We share an interest in the Chimera Synthesizers and this work is a BC16 and were improvised and recorded in a parking garage with battery powered equipment.

Tales of Captain Black
James Blood Ulmer
Tales of Captain Black, an album by American guitarist James Blood Ulmer, features Ornette Coleman, Jamaaladeen Tacuma, and Denardo Coleman, and was recorded in 1978. It was originally available on the Artist House label. This is a great recording of Ornette's ideas. If you don't know this, check it out and if you haven't listened to it in a long time, get reacquainted with some great music.


---
April 2015
RECORDINGS

Cecil Taylor Segments II (Orchestra of Two Continents)
Winged Serpent (Sliding Quadrants)
Black Saint CD

This recording has been in rotation lately and the playing, composing, recording quality is exceptional. It was recorded in Milan at Studio 7 in October of 1984. The clarity in even the most complex moments is a joy. Taylor's playing is especially engaging, and there are a few passages that take my breath away.

Alto Saxophone, Voice – Jimmy Lyons (2)
Baritone Saxophone, Bass Clarinet, Voice – Gunter Hampel
Bass, Voice – William Parker
Bassoon, Voice – Karen Borca
Drums, Percussion, Voice – Andre Martinez
Drums, Voice – Rashied Bakr
Piano, Voice – Cecil Taylor
Tenor Saxophone, Bass Clarinet, Voice – John Tchicai
Tenor Saxophone, Voice – Frank Wright
Trumpet, Voice – Enrico Rava, Tomasz Stańko

Jorrit Dijkstra's
Music for Reeds and Electronics

This was a great project, and I'm especially happy with it because I got to do some electronics as well as play some great music for saxophone, and with a stellar ensemble.

Jorrit Dijkstra – alto saxophone, lyricon, analog electronics
Phillip Greenlief – alto and tenor saxophones, clarinet
Kyle Bruckmann – oboe, english horn, analog electronics
Frank Gratkowski – clarinet, alto saxophone
Jon Raskin – sopranino, alto and baritone saxophones, analog electronics

All compositions by Jorrit Dijkstra
Listen on Bandcamp

The Hear and Now
Jon Raskin

In 2004 Other Minds commissioned me to write a composition for an amazing group of musicians. The performance of The Hear and Now was recently released on OM Music and I couldn't be more pleased that this is available.

The Hear and Now is composed for improvisers and draws heavily on a form of structured improvisation developed by Rova which we have termed Radar. What really differentiates the Radar series from most structured improvisation is that its rules and operations are defined but the performers create the structures and sequence of events; the flow of sonic materials is decided in real time.

Gino Robair, conductor; Min Xiao-Fen, pipa; Kyaw Kyaw Naing, pat waing; Jiebing Chen, erhu; Shoko Hikage, koto; Sang Won Park, kayagum; Jim Santi Owen, tabla tarang
Rova Saxophone Quartet: Bruce Ackley, soprano and tenor saxophones, clarinet; Steve Adams, alto and soprano saxophones, flute; Larry Ochs, tenor and soprano saxophones; Jon Raskin, alto and baritone saxophones.

The score is also available

Websites

Alan Lomax goes online
Folklorist Alan Lomax spent his career documenting folk music traditions from around the world. Now thousands of the songs and interviews he recorded are available for free online, many for the first time. It's part of what Lomax envisioned for the collection — long before the age of the Internet.

The Collected Recordings of Luigi Russolo's (1885-1947)
Intonarumori Noise Machines

Luigi Russolo (30 April 1883 – 4 February 1947) was an Italian Futurist painter and composer, and the author of the manifesto The Art of Noises (1913). He is often regarded as one of the first noise music experimental composers with his performances of noise music concerts in 1913–14 and then again after World War I, notably in Paris in 1921.
Manifesto and Recordings

The Media Burn
Ant Farm, 1975
San Francisco had never experienced a Fourth of July quite like it did in 1975, when a custom Cadillac drove through a pyramid of 45 flaming televisions at the Cow Palace. The Media Burn was a carefully engineered publicity stunt, but it also represents a high point of a Bay Area artistic movement that was fueled by the social and cultural revolutions of the times and ignited by a new technology – the first portable video cameras.

Ali Akbar Khan Lessons

Books
I've been working on putting music to poetry, and the two books I'm currently engaged in with this are The Book of a Thousand Eyes by Lyn Hejinian and The Gardener of Stars by Carla Harryman. Carla and I started working on this project as a performance piece for 2 readers and electronics for the @Now2015 conference at California Institute for the Arts in late March. The performance worked so well that we'll continue the project with additional sections.

I started working on The Book of a Thousand Eyes as a solo piece for electronics and assorted other instruments. It was quite a challenge as a performance and the next reiteration of the work will be with Tania Chen on piano, electronics and voice.

Written over the course of two decades, The Book of a Thousand Eyes was begun as an homage to Scheherazade, the heroine of The Arabian Nights who, through her nightly tale-telling, saved her culture and her own life by teaching a powerful and murderous ruler to abandon cruelty in favor of wisdom and benevolence. Hejinian's book is a compendium of "night works"—lullabies, bedtime stories, insomniac lyrics, nonsensical mumblings, fairy tales, attempts to understand at day's end some of the day's events, dream narratives, erotic or occasionally bawdy ditties, etc. Though they may not be redemptive in effect, the diverse works that comprise The Book of a Thousand Eyes argue for the possibilities of a merry, pained, celebratory, mournful, stubborn commitment to life.

Carla Harryman describes Gardener of Stars as "an experimental novel that explores the paradise and wastelands of utopian desire." The book offers a mythic history of a post-historical city situated in a garden landscape whose inhabitants are engaged in perpetual tending, limitless generation. Their generatings and tendings take place in speculation and dream, practical and impractical invention, desire and copious sex—all facets of a politicized eros and an erotic politics."



---
Favorite Street: Jon Raskin
This is a list of movies, books and recordings that really grabbed me last year. They are not necessarily new works or releases but things that really gave me food for thought, kept in rotation for long periods, or provided a needed distraction.
Books:
Bird Sounds (How and Why Birds Sing, Call Chatter and Screech) Barry Kent MacKay
A wonderful book that explains the science but keeps the magic of how birds sing.
Blindness Jose Saramango
Portuguese Nobel Prize winning author writes of an epidemic where everyone in the town becomes blind and describes the ensuing response to the calamity.
Collapse Jared Diamond
A look at why cultures and civilizations collapse in history. The author starts with the Bitterroot Mountains in Montana, because of his first hand knowledge of the problems in the area, and uses this framework to look at other places in history.
Europe Central William T. Vollmann
This is a series of stories just prior and during World War II about Germany and the Soviet Union. The stories are of artists, poets, generals and weaves a narrative that gives shape to a conflict that isn't given much attention in typical depictions of the war. If you love Shostakovich this is a must read.
Late Victorian Holocausts (El Niño Famine and the Making of the Third World) Mike Davis
The massive famines in the late 19 th century and early 20 th century in China, India and Africa were completely unknown to me before I read this book. Besides describing these, Mike Davis tracks the science that led to our understanding of El Niños, and how the world economy brought about by European imperialism disrupted the historic responses to this weather pattern in many places in the world, thus causing famine.
Sicilian Uncles Leonardo Sciascia
By one of my favorite writers, this is 4 novellas set in Sicily in the mid 20 th century. The stories describe social and political corruption, illusions about history, ideology and innocence.
The Baroque Cycle (Quicksilver, the Confusion, The System of the World) Neal Stephenson
Somehow this swashbuckling tale taught me a great deal about western history, economics and politics.
The Long Tail Chris Anderson
This description of the economics of the Internet is essential for anyone whose lives are affected by the change in distribution of goods and information.
The Transparent Society: Will Technology Force us to Choose Between Privacy and Freedom? David Brin
This book shows many of the issues and facets concerning privacy in modern life. Brin is primarily known as a science fiction writer but this deals with technology in the private and public spheres.
Movies
Playtime Jacques Tati
This recent re-release is the great French comedic filmmaker's last work and his most ambitious. He constructed an entire modern city to film the clash of old and new France. The physical humor is sublime with little or no dialogue.
Mondo Vino Jonathan Nossiter
An engrossing movie about the state of wine making around the world.
Ali: Fear Eats the Soul Rainer Fassbinder
A great movie about love, ageism, racism and so much more.
Saraband Ingmar Bergman
An updating of Scenes of a Marriage.
Nobody Knows Hirkazu Koreeda
The struggle of 3 children abandoned by their mother in Tokyo and how they survive.
Grizzly Man Werner Herzog
A interesting film on many levels, not the least of which is the local musicians that contributed to the music.
Downfall Oliver Hirschbiegel
A Film about Hitler's last days told through the story of his personal secretary. It is based on her memoirs.


RECORDINGS
Amestoy Trio le fil
Accordian, guitar and French horn from Toulouse, France
Brian Eno & David Byrne My Life in the Bush of Ghosts
This 1981 recording has be reissued with additional tracks and a great booklet. It casts a shadow over much of popular music today.
Congotronics Congotronics2
Music and DVD of country music of the Congo being amplified and creating a captivating blend of traditional music becoming urbanized.
Gangbe Brass Band Togbe or Whendo
I have a weak spot for Band Music and this really struck me as great fun.
John ColtraneThe Complete 1961 Vanguard Recordings
Essential music, period.
Louis Armstrong The Hot Fives and Hot Sevens
Back in rotation after Katrina, this amazing music never ceases to inspire and move me.
Melingo Santa Milonga
Wonderful recording by the great Tango Artist, Melingo.
Nathan & Zydeco Cha Chas Hang it High, Hang it Low
Great Zydeco infused with delta blues vocal style.
Oberosterrich-Salzburg: Volkmusic Rare Shellacks 1910-1949 on Trikont
The track by Hohla/Biereder "Innviertler Tanzin" completely changed my concept of Alpine music.
Aaron Novik Kipple: Flases of Irrational Happiness
My favorite local recording this year.
Pietra Montecorvino Napoli Mediterranera
A Neopolitan singer that brings a fresh sound to the music of Naples and the Mediterranean forms.
Otomo Yoshihide Otomo Yoshide's New Jazz Quintet Live in Lisbon (featuring Mats Gustafsson)
This is some of the most interesting Jazz that I heard this year. Tsugami Kenta alto playing is just plain scary—and that is saying something with a group that includes Mats Gustafsson.
Will Holshouser Trio Singing to a Bee
Accordion, bass and trumpet, playing wonderful compositions.
Favorite Street - Jon Raskin
FILM
Noisy People by Tim Perkis
http://www.noisypeople.com/
NOISY PEOPLE is a feature length video documentary (available on DVD) that opens a window into a tightly-knit group of unusual sound artists and musicians from the San Francisco Bay Area improvisational music community.
Filmmaker Tim Perkis, a well-respected player in the local experimental music scene, followed his subjects for a year, filming them in their homes and studios, rehearsals and performances. What emerges is a set of funny and lively portraits of some very creative and quirky people—and a portrait of a way of life outside the commercial musical mainstream of America.
They're not making a living at it, but these artists have pursued their work passionately and in the process have created a world-wide following and a supportive community at home. These are people, who, as composer John Shiurba put it, "aren't going somewhere, but who ARE somewhere."
FEATURING: George Cremaschi, Tom Djll, Greg Goodman, Phillip Greenlief, Cheryl Leonard, Dan Plonsey, Gino Robair, Damon Smith. Also appearing are dozens of other creative musicians, including Anthony Braxton, Fred Frith and Jack Wright.
BONUS MATERIAL on the DVD includes two short films about electronic sound artists K. Atchley and Laetitia Sonami, and the original theatrical and internet trailer.
WEB ARTICLE
Leroy Jenkins and the 20th Century
by George Lewis
http://www.chamber -music.org/pdf/magazine/2007/June2007CoverStory.pdf
Music scholar, composer and performer George Lewis marks the recent passing of his long time friend and associate, Leroy Jenkins, with reflections on late 20 th century innovations in music. Jenkins, along with Lewis and the entire AACM mounted an artistic revolution beginning in the 1960s, which still has resonnance in contemporary music.

BOOK
Snow – by Orhan Pamuk
Ka, an exiled poet named, travels to a remote city named Kars as a reporter. He and the city become isolated due to a snow storm and the ensuing story weaves religion, romance, revolution around a poetic narrative.
Favorite Street - Jon Raskin
Rova is performing with Liz Allbee, Mary Clare Brzytwa, Aurora Josephson, LaDonna Smith and Karen Stackpole this month, so I asked them to contribute some of their favorites and things that have had impact.

Liz Allbee:
Music:
One of my favorite albums ever is Ilhan Mimaroglu and Freddie Hubbard's Sing Me A Song Of Songmy. I have really been enjoying the Bill Dixon box set. Nina Simone's "Sinnerman" and Leonard Cohen's "Famous Blue Raincoat" are two songs that I love.

Books:
I just read Truman Capote's Other Voices, Other Rooms and couldn't put it down. Also recommended are Doris Lessing's The Golden Notebook and Oryx and Crake by Maragret Atwood

Films:
Darwin's Nightmare by Hubert Sauper and Denise Vindevogel. Whew! Couple of older favs are Ali: Fear Eats The Soul, by Werner Fassbinder and When We Were Kings, Leon Gast's documentary about the 1974 "Rumble in the Jungle" championship bout between boxers Muhammad Ali and George Foreman in Kinshasa, Zaire.

MaryClare Brzytwa
Books:
The Decent of Alette (a narrative epic poem) by Alice Notely.
I was lucky enough to get a recording of the poet reading some of my favorite selections and her permission to set them to noise. It is a feminist epic about a women trapped in a never ending subway system, she has to find the "tyrant" and destroy him, also has to find the decapitated first mother and put her head back on her body…experimental poetry, with dark, bizarre and violent imagery. VERY imaginative and captivating.

Defiance (fiction) by Carol Maso
This one is about a respected professor of physics at Harvard who murders her top two students...post-coitally. Also very dark and disturbing...

Karen Stackpole
Music:
No suggestions of merit come to mind at the moment save for the new Ghost in the House CD that we released on Edgetone this past fall, and two recent releases by Wisconsin-based gongist, Michael Bettine, Microcosm and Meridian. I could also add a favorite of mine by Nebojsa Jovan Zivkovic, The Castle of the Mad King, which was released about 7 or 8 years ago. "Ultimatum II" is a great marimba track that leads off the album. I saw it performed live in Stockholm in 1998 and I've been a fan ever since.

Jon Raskin:
Music:
Tommy McMahon and Bernand O'Sullivan, Irish Traditional Concertina Music of County Clare on the Free Reed label. (I've been learning to play concertina and this has been an inspiration.)

Musicans of the National Dance Company of Cambodia Homrong on Real World. Wonderful, soulful music.

Charles Mingus Sextet Cornell 1964 with Eric Dolphy: These are really open ended versions of Mingus's music with many unaccompanied solos. The group was getting ready to tour Europe.

Books:
This may have been listed before but it so good:
The Grand Piano, An Experiment in Collective Autobiography is up to volume 5. It is an ongoing experiment in collective autobiography by ten writers identified with Language poetry in San Francisco. It takes its name from a coffeehouse at 1607 Haight Street, where from 1976-79 the authors took part in a reading and performance series. The writing project, begun in 1998, was undertaken as an online collaboration, first via an interactive web site and later through a listserv. When completed, THE GRAND PIANO will comprise ten parts, in which each of the ten authors will appear in a different sequence. These poets are Bob Perelman, Barrett Watten, Steve Benson, Carla Harryman, Tom Mandel, Ron Silliman, Kit Robinson, Lyn Hejinian, Rae Armantrout, and Ted Pearson.
Rebecca Pawel's detective series set in Spain: Death of a Nationalist, Law of Return and Watcher in the Pine.
Favorite Street: Jon Raskin's Picks
Jon offers 3 things which have been "really inspiring":

#1: The work of Chris Ware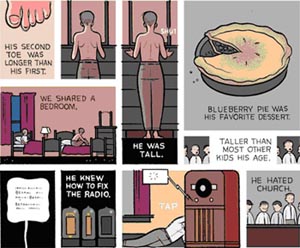 Excerpt from Chris Ware piece

I recently had the fortune to hear Ware discussing his work along with Art Speigelman at the JCC in SF. The Acme Novelty Company and Jimmy Corrigan, the Smartest Kid on Earth were written for the "second reading" as he mentioned that night. This quote has made me reflect about the way that I see sound and hear images.
From Chris Ware:
"I arrived at my way of "working" as a way of visually approximating what I feel the tone of fiction to be in prose versus the tone one might use to write biography; I would never do a biographical story using the deliberately synthetic way of cartooning I use to write fiction. I try to use the rules of typography to govern the way that I "draw", which keeps me at a sensible distance from the story as well as being a visual analog to the way we remember and conceptualize the world. I figured out this way of working by learning from and looking at artists I admired and whom I thought came closest to getting at what seemed to me to be the "essence" of comics, which is fundamentally the weird process of reading pictures, not just looking at them. I see the black outlines of cartoons as visual approximations of the way we remember general ideas, and I try to use naturalistic color underneath them to simultaneously suggest a perceptual experience, which I think is more or less the way we actually experience the world as adults; we don't really "see" anymore after a certain age, we spend our time naming and categorizing and identifying and figuring how everything all fits together. Unfortunately, as a result, I guess sometimes readers get a chilled or antiseptic sensation from it, which is certainly not intentional, and is something I admit as a failure, but is also something I can't completely change at the moment."
#2: Rising Up and Rising Down: Some Thoughts on Violence, Freedom and Urgent Means
by William T. Vollmann
This is an abridgement of a seven volume work which attempts to map out a moral calculus for violence and to examine it from the personal through to the civic arena, and draws from the past and the present. He mingles a broad range of his experiences, including: fears for a woman friend; discussions with the chief medical examiner in SF; reporting from war torn Sarajevo; and research he conducted about Thailand's brothels. The work is particularly relevant considering the high level of violence in American life, and US moves to corporatize its unending 'war on terror'.
#3: Decoding Ferran Adria
This film, produced and directed by Chris Collins and Lydia Tenaglia, and hosted by New York chef Anthony Bourdain, focuses on Ferran Adria, the leader of the Spanish Culinary Revolution. The Spanish chef owns and operates El Bulli, considered by many to be the best restaurant in the world. Ferran Adria and his team work for six months to create food that will be served over the following six months. The menu is created in a Barcelona laboratory where food is sensed and eaten in completely innovative ways. Decoding Ferran Adria makes fascinating connections between the joy of eating and the creative process. Watching the film may be as close as we come to actually eating at El Bulli.
Favorite Street: Jon Raskin
The Believer Magazine
www.believermag.com
This great collection of long essays, book reviews, columns and doodles from McSweeney's Press usually has a theme per issue. I look forward to each one. I especially loved Nov/Dec 2008 where Lynda Barry is interviewed by Hillary Chute and where Chris Cobb writes about his experiences working on Sol Lewitt's last major installation.
Spectacle with Elvis Costello
www.elviscostello.info
About his new TV Show on the Sundance Channel, Elvis says, "I'm not interested in extracting some dark secret. I'd rather hear about a bright secret, a deep love or a curiosity that might be otherwise obscured by fame. This is a wonderful opportunity to talk in complete thoughts about music, movies, art or even vaudeville, [and] then frame it with unique and illustrative performances." He hosts insightful interviews with a wide range of musicians and is really prepared and knowledgeable about their careers and music. There are first rate backup musicians that change from show to show. For video clips of the show: [watch the clips]
Shock Doctrine, the Rise of Disaster Capitalism by Naomi Klein
www.naomiklein.org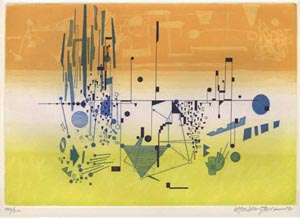 Konsallationen, 1971 by Roman Haubenstock-Ramati
Roman Haubenstock-Ramati Scores
www.ariadne.at
Klein begins by describing the work of Ewen Cameron and his use of electro-shock therapy to remake the human mind on patients that weren't informed of the negative effects of the therapy. It was covered up and than deployed as a method of torture by the CIA. It is short step to Milton Friedman's theories and a method to view the last 40 years of US economic strategies. Naomi Klein's insightful analysis plays out every day in the machinations of the current fiscal crisis.

I've been working with visual scores for several years and recently discovered the graphic scores of Roman Haubenstock-Ramati. I was aware of his music but recently have been researching his work much more thoroughly.

Website
The Block Museum: Pictures of Music
www.blockmuseum.northwestern.edu
In keeping with my interest in visual musical scores, this site exhibits the scores, provides sound examples, and includes interviews. The site was pretty buggy at first but they seemed to have worked out most of the kinks. Make sure you get to the animated explanation of Cornielius Cardew's Treatise. You can enlarge and navigate the scores using a box that at the bottom of the screen.