Favorite Street – Bruce Ackley
November 2016
RECORDINGS




Resounder

Aram Shelton – alto saxophone and processing
Fred Lonberg-holm – cello, guitar and electronics
Frank Rosaly – drums and percussion
(Single Speed Music)

This is a stellar trio that serves up rich textures whose source remains mysterious. The processing involved adds unexpected dimensions to the 3 instruments. Nice recording too.




Guitarist, composer David James

Billionaire Blues – David James' GPS

Alan Williams – Trombone
Beth Custer – Clarinet
David James – Guitar, Voice
Dina Maccabee – Viola
Jan Jackson – Drums
Lisa Mezzacappa – Bass

David and I have been friends through various record stores for years, and I've intermittently checked into his recorded music with clarinetist Beth Custer's bands. But listening to Billionaire Blues I finally am hearing his music. His playing, composing and arranging on this CD are all well thought out, and delivered with a purpose. His singing is terrific and came as a real surprise to me. I look forward to hearing GPS live soon.


Upward – Ross Hammond and Sameer Gupta
Ross Hammond – 12-string guitar
Sameer Gupta – tablas
(Bandcamp)

Ross asked me to play an improv gig with Scott Walton and him earlier this year, and we really had a blast. He's a very responsive and relaxed player, with a rootsy electric guitar sound I love. But, this CD is different. Here he's is in a modal bag, playing acoustic 12-string guitar. The instrument seems to have a sympathetic resonance that really works with Gupta's tablas, and the music is really happening in a deeply introspective way. Good stuff.


Highlights from the Roost Creative Music Series, vol. 1
Various artists and bands from the Albuquerque area, 2009 - 11
(Plutonium Records)

Chief instigator and badass tuba player, Mark Weaver, kindly sent me this revelatory disc, which primarily features players from the Albuquerque scene, but also traveling musicians who appeared at the Roost. The creativity and variety displayed in these 12 tracks is further confirmation of how deeply territory and association can affect the output of imaginative musicians. Que viva the Albuquerque sound!





Zeal and Ardor – Devil is Fine
(Bandcamp)

This is some crazy shit. I love it. Thanks to pal Mo Berry for turning me on. It's black metal, field hollers and gospel, and it was made in an apartment in Brooklyn. My Life in the Bush of Ghosts 36 years later. Deep.





Forbidden Symmetry – Tender Buttons (45 rpm LP!)

Tania Chen – piano
Tom Djll – electronics
Gino Robair – electronics
(Plutonium Records)

I'm really excited about this group and this recording. The combination of the pure acoustic piano (deliberately and articulately played by Chen on a beautiful instrument), conjoined with the complex sonorities of Djll's and Robair's deep toolkits is a balm to the ears. The recording is stunning, and the improvising spontaneous, yet carefully crafted.


---
March 2016: NYC Residency, pt. 2 – Ackley Reports
Part 1 of the NYC Residency write up is on Larry Ochs' Favorite Street
Steve Lacy's Saxophone Special @ the Stone – January 21, 2016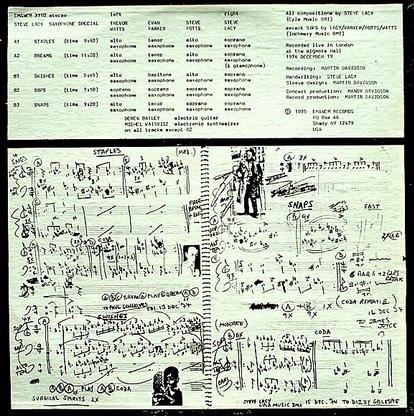 Steve Lacy's music and mode of operation have had enormous impact on Rova. His 1974 live concert recording of Saxophone Special—with Lacy, Evan Parker, Trevor Watts, and Steve Potts on saxes, along with Derek Bailey, guitar, and Michel Waisvisz, synthesizer—was one of the earliest manifestations of saxophone quartet improvisation. With Anthony Braxton's saxophone quartet composition, released on his New York, Fall 1974 recording, Saxophone Special resonated with soon-to-be Rovas Raskin, Ochs and me, and convinced us that forming an all sax band was a compelling move. Steve Adams was soon to form Your Neighborhood Saxophone Quartet in Boston just a little later, also having heard the Lacy and Braxton pieces, and the World Saxophone Quartet.

Fast forwarding 4 decades: we performed Steve Lacy's Saxophone Special a few times on the west coast with Henry Kaiser and Kyle Bruckmann, so the Rovas were excited to play this set of thorny pieces with an east coast crew, Eyal Maoz, guitar, and Chuck Bettis, electronics. We also had performed the Lacy pieces in a 25th anniversary celebration concert in 2002—with Ikue Mori, Nels Cline and Otomo Yoshihide. That anniversary outing was different from any of the recent performances—not only because there were 3 electronics players instead of just two—but also that I had overlaid Rova strategies and structures for the open sections of the pieces. Our current approach has been to play much more freely, with minimal direction. The Lacy version, which we've reverted to, is basic free improvisation with the spikey heads used as frames for group interaction.

At the Stone, we ran over the pieces just before the performance, reminding ourselves about the head arrangements, giving our collaborators a chance to get their feet wet, and launched into Lacy World just after 8pm. Bettis and Maoz smoked the gig. It was intriguing to work these pieces in a new context, with distinctly different players from any of our west coast shows. Even Bettis' electronics generator was a different animal—Kyle Bruckmann favoring analog synth, and Chuck the 'more traditional' setup with MacBook controls. And, while Eyal's instrument was also different from Henry Kaiser's guitar rig, the distinct color palette and resultant sounds in New York were not only due to technical concerns. Like all improvising originals, each player we've performed these pieces with has brought their own unique voice to bear on the proceedings.

Key to the success of a tribute concert in which we revisit our heroes' works, is speaking with an authentic, original and spontaneous voice, and at the same time embracing the source of inspiration. Also important is the innate design of the tribute work to be explored, and the approach the interpreters take to realizing it. I'll assume that our New York friends jumped into the fray with a greater distance from Lacy's music and Saxophone Special than either Kaiser—who probably bought and memorized the original 1974 recording when it came out; or Bruckmann—being principally an oboist-moonlighting-as-synth-player who likely followed Steve's music closely after he was introduced to it in the '80s. But, because Sax Special is a worthy vehicle for creativity, able improvisers largely unaware of the original recording can easily insert themselves surefootedly into the flow of the music. This is true of Ascension as well. I'd be curious to know, but I think we can assume, that a certain percentage of the nearly 50 players who have participated in Electric Ascension shows over the past 20 years had never heard the Coltrane piece prior to being invited to join Orkestrova for the gig. Clearly, one's intimacy with the historical recordings made no difference in the quality of any of these tribute concerts we've presented.

The Stone offers a cramped performance space, and during the gig I was positioned almost on top of Maoz, and directly across from Bettis, with the other Rovas between. From that vantage, I had the great pleasure of observing everyone really digging into the music. All were completely engaged in every moment—searching, adjusting, exclaiming, grooving, crying, urging, supporting, speaking with their singular voices—in the service of Lacy's iconoclastic set of tunes, thrown together on the way from Paris to London for a one-off gig 42 years ago. It was the same every night in New York, and really every time we collaborate with others: the commitment, the soul searching, the deep skills of the artists, the wonder of discovery are ever palpable. It was really flying-by-the-seat-of-your pants time that night. We'd never played with these guys, had little time to acquaint them with the charts, and were determined to pursue the improvs by dead reckoning. This required our having trust in both the process of getting oriented, and in the tacit agreements for cooperation amongst the practitioners who make up the greater improviser community. This is a community that has grown and deepened tremendously in the intervening years since Lacy engaged the London players, where he embraced the same belief in the ability of the musicians to carry the improvisations without preconceived structures. All contributed spectacular moments—Ochs' declamatory 'breaks' in "Staples", Adams' conducting us through myriad repeating riff mazes and his happening solos on "Snaps", Raskin's blistering alto on "Sidelines", Bettis' and Maoz's labyrinthine beds of sound on "Dreams", Rova's seamless legato lines on "Swishes", brought Lacy's works into fresh light, and delivered the music to this rapt audience live for the first time.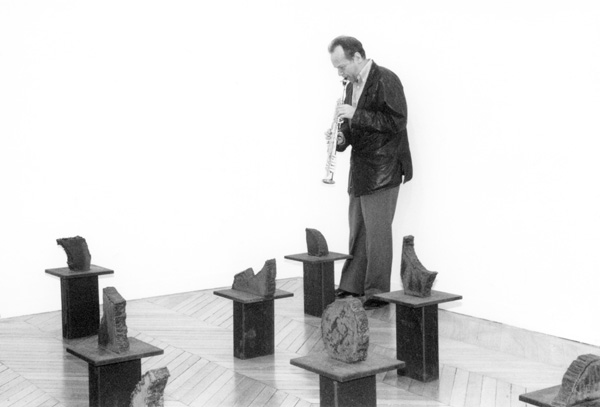 Soprano saxophonist, Steve Lacy



Lacy's 'mode of operation' I referred to earlier is about this driving passion to burn with music at every turn, regardless of the performance situation. Steve travelled, created, performed and recorded constantly. (I won't say tirelessly!) His output and contribution to jazz and improvised music is enormous. He documented most of his performances in order to study and grow from what he was hearing back, and I've recently been listening to copies of his cassettes of live and studio recordings made in the early '80s—a period where he may have been at optimal strength. During a recording session of solo pieces for the Hat Hut record, Ballets, you can hear Steve reaching and failing to find difficult high notes, wrangling to negotiate tricky passages, and even struggling to remember structures of involved heads. Yet, you can also hear in his interactions with the recording engineer his persistence to make it. With great patience and care, he mastered each technical problem in order to get to the heart of the music, the improvisation. The results are beautifully etched solos of great intrigue and honesty. His need to continually grasp for something out of reach, beyond reason, shaped his life in music, and the artifacts produced.





Rova does Steve Lacy, June 14, 2014, 'haptic' by Stephen Vincent



The high ideals that inform what I regard as the Lacy mode is why many continue to return to his music. For me, playing Saxophone Special in his home town with Rova, Chuck and Eyal was a thrill. Toward the end of the set, Maoz took off with intensity and abandon into the core of his guitar realm, and I knew that he felt the depth of what was happening in that room, and was grasping for his moment in the music. Something about that opening brought home the reason why we play music together: to build and experience such delicious moments, which free the imagination and allow one to tap into something deep inside—and slip into the trajectory of the creative continuum. Great gig!


---
June-July-August 2015
RECORDINGS


John Zorn - Transmigration of the Magus (Tzadik, 2014)
John Zorn - Magick (Tzadik, 2004)
John Zorn - Myth and Mythopoeia (Tzadik, 2014)

John Zorn's visits to San Francisco have always been special events. Starting with his first 1970s music, and "Theatre of Musical Optics" gigs; to his riveting Langton Arts performances; to early collaborations with Rova; the myriad versions of, and venues for, Cobra; various incarnations of the Masada Quartet; the legendary Yoshi's gigs— Zorn has consistently delivered unique and powerful art. His most recent concert performance in late April, presented by the California Institute of Integral Studies at the Palace of Fine Arts Theatre, was particularly exceptional.

The composer presented the Jack Quartet, performing his complete cycle of string quartets—including his early work Cat of Nine Tails, the startling Necronomicon, and his newest, Pandora's Box, for string quartet and voice. It was a rich two set show, exploding with brilliant ideas, sacred moments, frightening textures, dense alchemical layers of sound, pushing towards a new string quartet language, but with a keen awareness of the tradition and its trajectory. The work was deeply moving on every level, and the Jack Quartet killed it.

Three Zorn discs that have been in my ears this season are: Transmigration of the Magus (dedicated to his dear friend, Lou Reed); Magick (which includes Necronomicon); and Myth and Mythopoeia (with Pandora's Box). The Reed dedication's instrumentation is guitar, organ, two percussionists playing bells and vibes, and two harps, and is especially delightful. The play of the textures is breathtaking. Moments invoke In a Silent Way, and Duster-period Gary Burton Quartet (with Larry Coryell). Truly remarkable.


VIDEOS

Northern Soul: Living for the Weekend
BBC Documentary (available on YouTube)

I'd listened to a lot of "Northern Soul" records prior to seeing this doc a few weeks ago, but I had no idea of the history of this scene. This documentary is fun to watch, and shows a fascinating aspect of British pop culture. The music is fantastic, and the dancing might surprise you.




Cecil Taylor
Cecil Taylor à Paris - Les grandes répétitions 1968

Produced in 1968 by Pierre Schaeffer, Luc Ferrari and others, and shot in Place Voges in Paris, the film is a 45-minute long document of Cecil Taylor speaking about the life, as well as playing with Andrew Cyrille, Jimmy Lyons and Alan Silva. What a magnificent group, and rare view into that scene.




Cilla Black: Alfie
1965 recording session at Studio One Abbey Road Studios

Burt Bacharach, Hal David, George Martin, Cilla Black. Nothing else to say. Just watch it.


NEW CD


Stefano Scodanibbio - Incontri & Reuniones
a new release of i d i s c h i d i a n g e l i c a (IDA 033)

This forthcoming CD (due out in Italy this week) is a tribute release to the amazing contrabassist, Stefano Scodanibbio. An artist with incredible depth, passion and skill, Stefano was a world traveler who made musical connections with players across the globe for more than the 3 decades prior to his premature demise a few years ago. I first met him in San Francisco in 1981, and have dear memories of many duo sessions with him in my Mission District kitchen. In 1996 we had the opportunity to perform together with Rohan de Saram and Miya Masaoka in San Francisco. It was around this time that we went into Myles Boisen's Oakland studio to record the duos included in this disc.

Stefano Scodanibbio contrabass in duets with:
Bruce Ackley - soprano saxophone
Rohan de Saram - cello
Tristan Honsinger - cello
Michael Kiedaisch - percussion
Garth Knox - viola
Terry Riley - korg triton synthesizer
Mike Svoboda - trombone
Frances-Marie Uitti - cello



---
RECORDINGS
Morton Feldman – Piano and String Quartet
Kronos Quartet with Aki Takahashi, piano
Nonesuch – 1993
Feldman nearly always charms and delights me, but this disc is particularly well wrought. I keep coming back to it.

Evan Parker – withBirds
Treader – 2005
Evan put this enchanting piece together with John Coxon and Ashley Wales—known as drum 'n' bass duo, Spring Heel Jack. It's dedicated to Steve Lacy.

Ray Nance – The Complete 1940 – 1949 Non-Ducal Violin Recordings
(featuring BEN WEBSTER on clarinet!!)
Ab Fable CD – 2005
Duck Baker turned me on to this gem. Imagine that husky and brutish tone of Webster's tenor but on Bb clarinet. The 7 clarinet tracks from a swing jam session in 1941 included on this CD are ear-opening and the only known recordings of Ben Webster on clarinet. Nance, as usual, is cool too.
FILMS
Harlan County, U.S.A. – Barbara Kopple (1976)
Criterion recently issued this Academy Award winning documentary film, first released in 1977. Kopple created a chilling and intimate story of working class Americans in the throes of a modern labor struggle in rural Kentucky. It's gorgeously shot and the music she used is great too.

Wanda – Barbara Loden (1971)
Written, directed by and starring Barbara Loden, this realistic and startling portrait is akin to John Cassavetes best work—but perhaps better. It's the only film Loden directed (although she played Warren Beaty's sister in Spleandor in the Grass).

Black Narcissus – Michael Powell (1947)
British director Powell was the creator of The Red Shoes, and this movie has some of that same surprising exoticism. The acting, lighting and sets all make it worth seeing.
BOOKS
Slowly – Lyn Hejinian
Tuumba Press – 2002
I've slowly come to this—another deeply engaging piece by a very special poet.

Steve Lacy: Conversations – Jason Weiss
Duke University Press – 2006
Second to Lacy's solo recordings, his interviews over the years have provided the clearest insights about his thinking. The editor has put together some of his best talk, and has delivered a valuable rendering of Lacy's development as an artist.

Harmony Book – Elliott Carter
Carl Fischer – 2002
I'm struggling to really swing with this, but always get a fresh look at intervals and note schemes after spending time with this compositional master's compendium of chords and intervals.

The Grand Piano – Parts 1 & 2 San Francisco, 1975-1980
An Experiment in Collective Autobiography
Mode A – Detroit 2006 and 2007
These are the first two volumes of what will be a 10 book piece chronicling some creative adventures and interactions of a group of innovative writers who called San Francisco home during this period. Rova was born in this era, and these writers give us an informed view of times shared 30 years ago.
VIDEO
Cheese and Crackers - Chris Haslam and Daewon Song
Touted as 'not your average skate video' this over-the-top slice of skateboard virtuosity is a breathtaking balletic duet by some awesome skate dudes.
Favorite Street – Bruce Ackley
Our family recently had the fortune to acquire a beautiful new upright piano, so I've been playing it and listening piano recordings a lot. Here are some notable pieces in the Western 'classical' tradition—many of which have been long-time favorites, but which each sound fresh thanks to our recent addition.
Karlheinz Stockhausen
Klavierstucke I – XI
Herbert Henck – piano
There is a progression from Stockhausen's earliest compositional ideas at the start of the 1950s to his those in his boundless imagination by mid-decade which is evident in this cycle of piano pieces. I've been listening to Aloys Kontarsky as recorded in 1966, but Henck's recordings are great and they're available. His music makes the piano sound.
Arnold Schönberg
The Piano Music
Maurizio Pollini - piano
Here too the progression is clear, as these pieces span the composer's career and follow his departure from classical tonality, exploration of atonality and development of his 12-tone technique. The clarity of these performances brings one into the composer's universe.
Pierre Boulez
Piano Sonatas Nos. 1 - 3
Idil Biret –piano
Biret is a powerful and sensitive performer, and these works are truly unique. Boulez piano music is confrontational and the complexity of his language fits comfortably on the instrument. This version is really inexpensive too.
Alexander Scriabin
The Complete Piano Sonatas
Ruth Loredo – piano
The real deal here is the pentultimate sonata, No. 9 "Black Mass". Majestic, transcendental and iconoclastic, this is a masterpiece; but Scriabin's last piano pieces (after the last Sonata) are even more personal.
Charles Ives
The "Concord" Sonata
John Kirkpatrick, piano
This wall of Ives is his Second Piano Sonata, and it embodies all the characteristics of his orchestral and chamber music: massive fields of free tonality which reveal, through palimpsest, layers of familiar themes and pastoral scenes. Hearing it all on the piano gets one inside the ideas.
Fredric Rzewski
The People United Will Never Be Defeated
Ursula Oppens - piano
Following up Ives with Rzewski makes a lot of sense because these musics traverse much of the same emotional and conceptual territory, and get you easily from first part of the 20th century to the last. Oppens is spectacular here, though you can also check out the composer performing this piece on a hatArt release.
Terry Riley
The Harp of New Albion
Terry Riley – piano
This is a suite of 11 pieces for piano in 'just intonation' (the piano tuning based on the harmonic series) rather than the normal tuning in 12 equal half steps to the octave. Some of the intervals, therefore, are seemingly 'out of tune' and make for a startling listening experience. Riley improvised much of what we hear, although portions of each section are composed and planned out.
Olivier Messiaen
Vingt Regards Sur L'Enfant Jésus
Peter Serkin – piano
Messiaen's compositional themes of asymmetrical time signatures, personally designed modes and characteristic interplay of intervals all permeate this music and contribute to one of his most successful works. John Ogden also made a great recording of this, though it might be harder to find.
John Cage
Music for Keyboard 1935-1948
Jeanne Kirstein – piano
These pieces are performed on conventional piano, prepared piano or toy piano. The lyricism and inventiveness of them make them fresh and powerful still. While some of the pieces bring to mind other musics, they stand alone with their own integrity. Required listening.
TWO FILMS
On and Off the Record
These films, made by the National Film Board of Canada in 1959 and now available as a single DVD, make for a fascinating portrait of pianist Glenn Gould. The footage is great, giving us a chance to see his creativity at full force, and his congenial manner at its most magnetic. Really good stuff.
Favorite Street ? Bruce Ackley
Recordings:
The seminal music of Archie Shepp has been front and center for me in the past couple of months. Although his tenor sound is never far away from my imagination, I've been especially focused on it lately. Below are listed the classic recordings (most of which are available on CD) that have been an inspiration to me, all of which were recorded on the Impulse label in the 1960s.
Fire Music
I think this was Shepp's first Impulse record from 1964. Reggie Workman is the bassist. The tune Los Olvidados was where I first heard about Buñuel's Mexican films. (The movie of that title is very powerful.)
Four for Trane
This is a masterpiece, due in part to the thoughtful arrangements of Roswell Rudd. John Tchicai is brilliant here too. The Trane tunes are more nuanced here, brought into sharper harmonic focus with four horns. When poet/activist John Sinclair was honored at San Francisco's City Hall in 2005, the head of the Board of Supervisors, Matt Gonzalez played this record over a lunch served in his office.
On This Night
Christine Spencer's soprano is especially engaging, and provides an unexpected prelude to a very slippery Shepp blues. "In a Sentimental Mood" is the best reading of that song I've ever heard.
Live in San Francisco and Three for a Quarter, One for a Dime
These two albums are two sets played during an evening at the old Both/And Club on Divisadero. "Live" is the first set and offers a variety of settings for Shepp and Co. to work – blues, ballad, poetry, R & B; "Three for a Quarter" is all out terror on tenor. Shepp stretches in the most vicious way for the whole set. No one else has a word to say.
Mama Too Tight
This is large band complete with clarinet, trumpet, 2 trombones and tuba along with the rhythm section. The music is dense and rich, with voices emerging from layers of riffs and gorgeous melody. The title track is a solid sender.
The Way Ahead
"Damn If I Know (The Stroller)"...

My intention is not to give an overview of Archie Shepp's music, but to cite his groundbreaking work that has lead the way for me. I regret that I'm out of touch with his current work, but would love to know what's worked artistically for him in the intervening years. Anyone know?
Favorite Street ? Bruce Ackley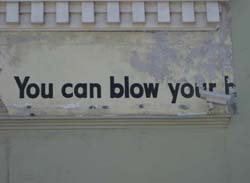 Remnant 2009 San Francisco photo: Ackley
Ackley's Mixed Media Favorites

Lee Konitz
Conversations on the Improviser's Art
Andy Hamilton
University of Michigan Press
Interviews with musicians often bore me, largely because interviewers can't figure out how to get at the good stuff that most creative artists have to share, which they often don't know how to express themselves. Andy Hamilton has put together a series of relaxed and candid conversations with one of the true originals of jazz, alto saxophonist Lee Konitz. The book has been engaging and offers a glimpse into the creative process of this committed artist.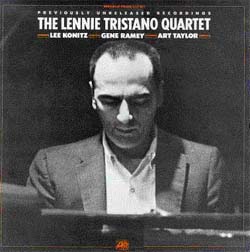 Tristano's historic 1955recording date at the Sing Song Room
Lennie Tristano Quartet
Live at the Sing Song Room, NYC, 1955
Atlantic Records

Reading interviews with Konitz pulled me back to my favorite recordings of his including, of course, Motion (1961 w/Elvin Jones!), and the 1955 live recording of the Lennie Tristano Quartet at the NYC Sing Song Room where Lee's inventiveness is at one of his many peaks. Unfortunately, word has it that the CD transfer for the date is not good, so look for the LP.

Maya Lin – Systematic Landscapes
famsf.org/deyoung/
Working from computer generated models of the topography of the San Francisco Bay Area, architect and artist Maya Lin has created sculptures and room sized installations which bring the magnitude of our local environment down to the scale of the human body. The work is at once delicate filigreed and rhythmically dynamic. Systematic Landscapes is at the de Young Museum in San Francisco until January 18.
The Grand Piano – Part 7
An Experiment in Collective Autobiography
Mode A
The seventh part (of 10) of this collaborative personal history, which comes out of the writing and times of ten writers who intersected in the Bay Area during the 1970s, is now available. The writers participated in readings at the Grand Piano, a Haight-Ashbury café, and were a part of the cultural milieu of the era. In the current volume Lyn Hejinian chronicles circumstances around the inception of Rova and makes connections between the early impulses which led to the formation of the quartet and other artistic streams and traditions.
Small Press Distribution in Berkeley is a great place to get hard to find publications by adventurous writers, including The Grand Piano series.
Plays Monk
In December Rova played opposite the pianoless trio of Ben Goldberg (clarinet), Devin Hoff (bass) and Scott Amandola (drums) known as 'Plays Monk' at a Berkeley show. Unlike most journeymen jazz musicians who do Monk tunes by playing the head and then blow in a somewhat stiff and doctrinaire manner on the changes, the trio delivered breathtaking readings of several of Monk's perfect compositions: they were spot on from the rendering of the heads to the extrapolation of the forms. While true to the 'changes' (both rhythmically and harmonically), these monastics spoke with their own, substantially developed and original voices throughout. Find and get their CD.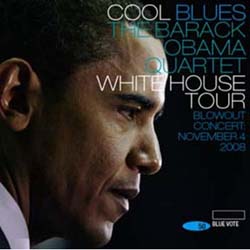 Barack Obama Quartet: The White House Tour
A followup to his 2000 hit recording, Advise and Consent, Obama continues to fulfill the promises of his earlier work and should be topping the charts for the next eight years. Sound relief at long last.