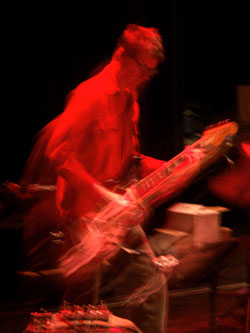 Rova teams up with the Nels ClineSingers as the Celestial Septet for Rovaté 2008 at Yoshi's in San Francisco. In the ultimate free jazz mashup Rova, resident renegade sax quartet, and the Nels Cline Singers, a stunningly imaginative guitar/bass/drums trio, join forces for an evening of late Coltrane/Albert Ayler inspired musical ecstasy. The Septet will present reworkings of John Coltrane pieces, as well as original works by band members inspired by Coltrane and Albert Ayler?perhaps the most overlooked yet influential visionary of the 1960s jazz scene.
Nels Cline (the guitar wizard who has breathed new life into alt-rock band Wilco) consistently ignites the stage in collaborations with Rova members, most notably during his many performances with Orkestrova's Electric Ascension (Rova's reworking of the John Coltrane classic Ascension) and the Yo Miles! Fillmore shows of 8 years ago. Backed by the Singers brilliant rhythm team of Scott Amendola and Devin Hoff, the Celestial Septet will bring a powerhouse ensemble to Yoshi's for two memorable shows.
The Rova / Nels Cline Celestial Septet
Larry Ochs, Jon Raskin, Steve Adams, Bruce Ackley: saxophones
Nels Cline: guitar
Devin Hoff: bass
Scott Amendola: percussion/electronics
Concert Details:
When: Wednesday, May 28, 2008
Where: Yoshi's Jazz Club/San Francisco
1330 Fillmore St.
San Francisco, CA 94115
(415) 655-5600
yoshis.com
Shows: 8:00 and 10:00 pm
NOTE:

The CELESTIAL SEPTET also appears on May 29 at Kuumbwa Jazz Center in Santa Cruz and on May 30 at The Palms, Winters, CA.
Further info:
May 29: Kuumbwah Jazz Center // attn. Bobbi Todero // 320-2 Cedar Street // Santa Cruz, 831.427.2227 ext 202 // kuumbwajazz.org // [email]
May 30: The Palms // attn Dave Fleming //13 Main St. // Winters, CA // 530-795- 1824/1825
palmsplayhouse.com // [email]
---
For additional press materials, photos, or to arrange interviews with the artists, please contact: Bruce Ackley //
[email]
// tel: 415.710.2349
The Nels Cline Singers
The Nels Cline Singers, ironically, are an all instrumental trio featuring Nels Cline, guitar; Devin Hoff, bass; and Scott Amendola, drums. They formed seven years ago when Cline, ready to start another trio after the disintegration of his original one, was urged by Amendola to find a way to play more music together. Scott suggested bass player Devin Hoff. Together they create a raw yet disciplined palette of sounds that draws from a wide range of sources. In this context Nels Cline has successfully reconciled his multi-directional passions into a music that can embrace elegance, wildness, drama, technical poise, and skillfully deployed electric noise. The Singers formidable instrumental mastery drives Cline's spunky and thoughtful compositions with passion and seamless energy, delivering music of rare beauty.
Rovaté 2008
Celebrating its 10th anniversary, the celebrated Rova:Arts produced series, Rovaté, combines the Rova Quartet members with composers, players, artists and performers of other disciplines to create original evening length collaborative works. Past Rovaté concerts have featured bands lead by the individual Rova members; Rova performing premieres of commissioned works by local and internationally known composers; special projects for Orkestrova?the quartet expanded into a large ensemble; and Rova collaborations with visual artists and dancers. A short list of guest participants includes composers Sam Rivers, Leo Smith, Graham Connah, Satoko Fujii and John Schott; performers Gerry Hemingway, Joan Jeanrenaud, William Winant, Mr. Bungle, Fred Frith, Carla Kihlstedt, Dave Douglas, and Miya Masaoka; visual artists Amy Trachtenberg and Eric Koziol; and butoh-inspired dancer/performers inkBoat. Dedicated followers of Rova:Arts events have come to expect the unexpected and have been consistently gratified by each season's unique and imaginative offering.
With the Rova / Nels Cline Celestial Septet, Rovaté 2008 brings together colleagues who have found inspiration in the work of John Coltrane, Albert Ayler and others of their milieu. Each player is intimately involved in the structures and language of these and other jazz innovators who sought to continually renew their music through ongoing research and a commitment to risk-taking performances. Rovaté 2008 promises to be a spirited tribute to the architects of contemporary improvisation, and at the same time a truly authentic expression of what's happening on the very edge of current music making.
---
For additional press materials, photos, or to arrange interviews with the artists, please contact: Bruce Ackley //
[email]
// tel: 415.710.2349