Glass Head is a 70 minute multimedia piece, a collaboration between inkBoat and Rova.
This multi-disciplinary and multi-cultural project brings together master improvisers from the arts of dance, music, and media—Shinichi Iova-Koga, leader of the Bay Area-based performance company inkBoat, Berlin-based Butoh dancer Yuko Kaseki; Jon Raskin, Larry Ochs, Steve Adams, and Bruce Ackley of the Rova Saxophone Quartet; media artist Eric Koziol; and stage director Ernie Lafky. The finished piece served as the centerpiece of Rovaté 2006 and is now available to theaters and festivals world-wide with this same personnel.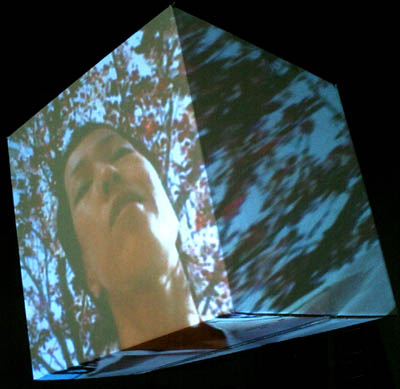 With artistic roots in the U.S., Japan, Europe, and beyond, Glass Head will inspire both surprise and sudden recognition, as facets of daily life are twisted and re-shaped on-stage. The performers have created a world that allows spontaneous inspiration, yet follows a clear transformation of dancer and musician.
All of the collaborating artists are not only highly accomplished and widely admired in their respective disciplines, but all view improvisation as a central element of their art. Improvising artists often choose to develop particular systems, or languages of improvisation—self-imposed forms of limitation… and these collaborators approach improvisation with different systems; yet the artists write: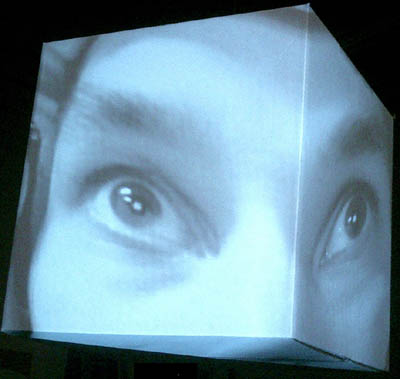 There are commonalities of experience that emerge when a performing artist not only confronts the unknown in his or her work, but draws on the unknown (i.e. practices improvisation) as an essential component of that work. This common framework makes possible collaborations across artistic styles, as well as great physical or cultural distances.
inkBoat's performance style is a hybrid of traditional and experimental dance and theater forms woven within physical theater and Japanese Butoh Dance. Their productions involve the collaborative voices of musicians, visual artists, dancers, and actors, who have come both sonically and physically interactive. inkBoat artist Shinichi Iova-Koga's work has for years been informed by collaborations with artists practicing other disciplines.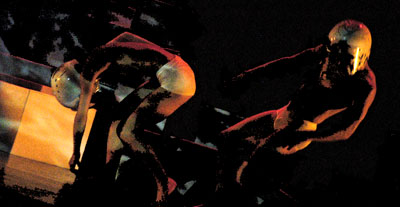 Shinichi Iova-Koga: Originally a photographer, filmmaker and theater actor/director, Iova-Koga (born 1968) entered the life of Butoh dance in 1991 (initially through Akeno Ashikawa and then consistently through Hiroko Tamano). In 1994, he founded the performance company inkBoat. Iova-Koga's productions, both solo and ensemble, have been experienced throughout the North American Continent, Europe and Japan. Productions collide between dance, theater and cinema to illuminate the personal existence entering or exiting the stage (living room, street, screen or…).
Iova-Koga has collaborated intensively with Yumiko Yoshioka and TEN PEN CHii (Germany: 1996-2001), Do Theatre (Russia: 1997-present), Minako Seki (Germany: 2001-present), Shadowlight Theatre (SF: 1993-1997), Degenerate Art Ensemble (Seattle: 2001), and often creates improvisation evenings with Yuko Kaseki, Cassie Terman and Sten Rudstrøm. Iova-Koga and inkBoat have received funding from Rockefeller Foundation, Irvine Dancemaker Grant, Yerba Buena Center for the Arts, Creative Work Fund, Zellerbach Family Fund, Barkley Fund, American Composers Forum, Meet the Composer, CASH grant and the California Arts Council. Iova-Koga was an Wattis Artist in Residence at Yerba Buena Center for the Arts in 2002. inkBoat won "Outstanding Performance" from the Isadora Duncan Awards for the production of "Ame to Ame" in 2004 as well as the award for "Visual Design" for "Heaven's Radio" in 2003.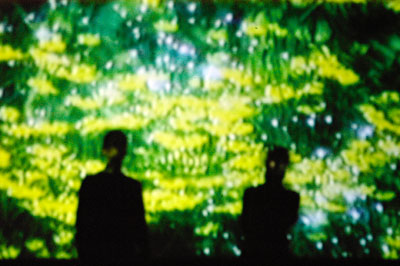 Yuko Kaseki lives and works as a free dancer, choreographer and teacher in Berlin (1995-present). She studied Butoh dance with Anzu Furukawa since 1989 and danced in Anzu's company Dance Butter Tokio and Verwandlungsamt in Germany, Finland, Holland, and the United States of America. Kaseki founded the dance company Devilangelo with Marc Ates and organized training and performances in their studio loplop (1997-2000). She has been involved in various projects with musicians and artists from France, Italy, Japan, Germany, Denmark, and the United States. Intensive solo works (Tooboe, Kudan, Toquage) and her ensemble works (Haru Yayoi chan Kou, Invisible Real) in Europe. As part of inkBoat, Kaseki has danced and choreographed in works such as Cockroach and Onion.
Ernie Lafky is a director, writer, and performer living in San Francisco. His original theater pieces have been seen in San Francisco, Seattle, Chicago and venues throughout Southern California, including LACE, Highways, Huntington Beach Art Center, Irvine Fine Arts Center, Newport Harbor Art Museum, UC Irvine, The Los Angeles Festival, The Other 45 Minutes, and an abandoned meat locker in the middle of the desert. For his day job, Ernie works as a producer for an online casino gaming company.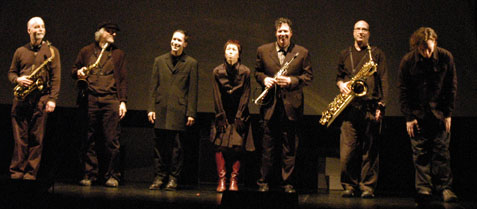 Erik Koziol is a founding member of H-Gun Labs, a media making collective which operated in Chicago and San Francisco from 1989 -2001. With H-Gun Eric had the pleasure of collaborating with musical artists such as Nine Inch Nails, Public Enemy, Soundgarden, De La Soul, Diamanda Galas, and television personalities Howard Stern, Roseanne Barr, and Michael Moore. As an independent Media Artist Eric's work encompasses both experimental dance films and multi-screen interactive video environments for theater, music and dance. His films have screened in the traveling Resfest, Anthology Film Archives, American Dance Festival Durham N.C., Dance on Camera Festival in New York , Cinema Museum Moscow, Getty Museum in Los Angeles, Buersshouwberg Brussels, TTV Festival in Riccione, Italy, and the Thessolaniki International Film Fest. His live multi-media works have been showcased at PS 122 in NYC, Fabbrica Europa in Florence Italy, Rotterdam International Film Festival Netherlands, Chicago Filmmakers, Dance Mission San Francisco , Ontological Theater New York City, International Choreographer's Platform in Almada Portugal, Leap festival in Liverpool UK, and most recently at the 2005 Cyber-Arts Festival in Boston . This performance will mark Eric's 4th collaboration with Shinichi Momo Koga. In 2002 they created the dance film "The Duchess" an inkBoat production Funded by the Film Arts Foundation in San Francisco which has screened in numerous dance film festivals world-wide, "Ecstatic America" a multi-media stage work which was commissioned by the Rotterdam International Film Festival in 2001, and a 2006 music video for Oakland based band " Sleepytime Gorilla Museum."
2 Cube Photos by Eric Koziol from his images produced for Glass Head
Other photos by Isak Immanuel