No Favorites: An Homage to Butch Morris
Click Here to see Scores from the New World Records recording.

Butch Morris photo ©Luciano Rossetti

Rova Saxophone Quartet
Bruce Ackley, Steve Adams, Lawrence Ochs, Jon Raskin
With OrkestRova
String Quartet + Power Trio

In June of 2015 in San Francisco, Rova premiered an evening of three long compositions collectively entitled No Favorites: Music for Lawrence "Butch" Morris. The three pieces highlight long-time Rova improvisational strategies, including Rova's unique hand-cueing system. These pieces complemented each other brilliantly in performance and led to a standing ovation from the San Francisco audience. It was the perfect lead-in to an early July 2015 recording session that was released by New World Records in October, 2016.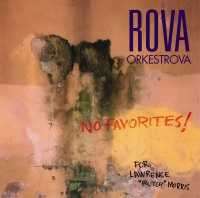 Click here to Buy CD directly from Rova:Arts
OrkestRova 2015 was comprised of Rova on saxophones, a "string quartet" of violin, viola, cello, and acoustic bass, plus a "power trio" of electric guitar, electric bass and drum kit. In the spirit of Butch Morris' music, a conductor is employed, either by having one of the Rova members making the conduction-cues, or by drawing in a 12th musician to act as "conductionist." In this case that guest conductor was San Francisco luminary Gino Robair.
The compositions performed by OrkestRova 2015 were: (1) a Rova-designed 25-minute structured-improvisation in 9 seamless movements entitled Contours of the Glass Head; (2) Larry Ochs' 25-minute Nothing Stopped/But A Future (for Buckminster Fuller); and (3) The Double Negative: three graphically-notated pieces from Steve Adams and Jon Raskin, arranged by Adams to overlap and interact as one extended composition.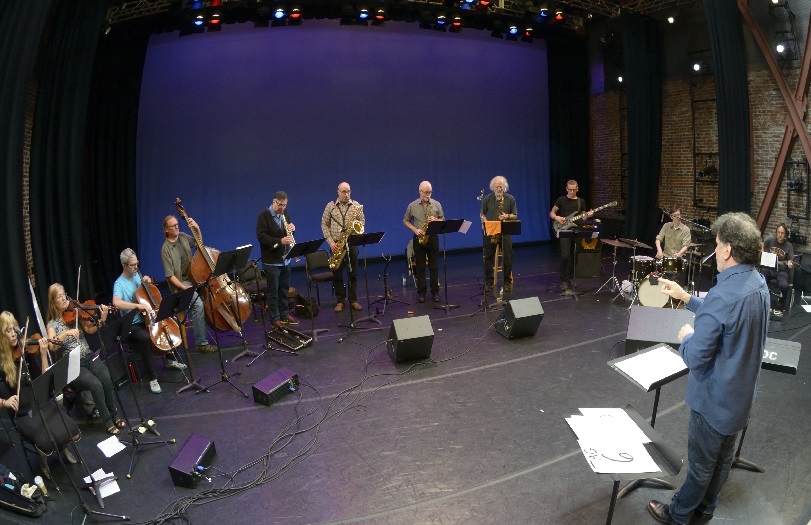 Photo by Myles Boisen


The music from Orkestrova 2015 aka No Favorites is easily exportable using local musicians in your area who are experienced in structured improvisation. For example, this project was originally put together for the 2013 Akbank Jazz Festival in Istanbul, where Rova worked with 7 Turkish musicians. While Rova most prefers to present these pieces using the same instrumentation (as well as the 2015 show's Bay Area players), changes in instrumentation are possible.
Any of these 3 pieces can also be performed or combined with newly commissioned works for future performances. But at the moment we encourage complete presentations of No Favorites. It is now battle-tested.
Rova's history with Butch Morris includes appearing in his 26- saxophones ensemble at Berlin's 1989 FMP Festival as well as a performance at Great American Music Hall in San Francisco that same year, with a Rova-selected creative orchestra that was led by Butch in one of his earliest recorded conductions; later released as part of the epic 10-CD Butch Morris box set on New World Records. Then in 2006 Rova:Arts presented Butch in its Improv:21 series of "informances" where guests were interviewed, spoke about what they do, and demonstrated that music either live or in recording. Butch's informance was one of the strongest shows in that series which you can view by clicking here. Butch's enthusiasm for and determination to compose "on the fly", using only his pre-rehearsed cues and his ensemble-of-the-moment, impressed and inspired Rova to continue on their own path of creating structured-improvisations for quartet and large ensembles. More on Butch: NY Times eulogy

Information on the Structures created for the 2016 New World Recording
No Favorites (for Lawrence Butch Morris)
Contours of the Glass Head Sequence
Nothing Stopped/But A Future (for Buckminster Fuller) - Roadmap Page 1
Nothing Stopped/But A Future (for Buckminster Fuller) - Roadmap Page 2
Nothing Stopped/But A Future (for Buckminster Fuller) - Key to Symbols
Nothing Stopped/But A Future (for Buckminster Fuller) - New Narrative
The Double Negative
The Double Negative is a combination of three graphic scores, two by Steve Adams and one by Jon Raskin. Each sub-group - the string quartet, the sax quartet and the guitar trio - plays one of the scores. The string quartet begins with Jon's Flower Power, which was composed in November of 2007 and is part of series of graphic scores that used plants in their creation. In this case flower petals are used along with color pens. The string quartet used an open set of directions:

• The performers are free to move independently between the different elements of the score.
• The four blossom regions represent 4 self-composed elements that the performer sets at the time and for the length of the performance. They should have space inside of them and between them.
• The straight lines represent drones that can be of any sound material.
• The center region of a black dot and squiggly lines represents foreground- that you play in front of the music that is being made at the time you choose this parameter. It can be a solo or not.

The Double Negative - Flower Power graphic score: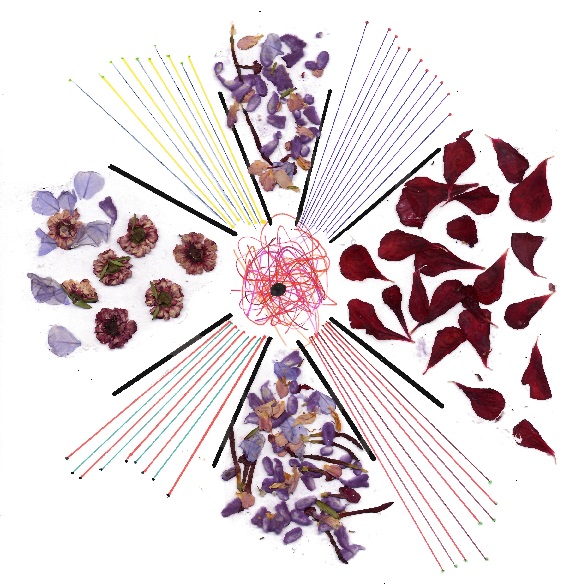 This is followed by the sax quartet playing Steve's Graphic #38 (for Steve Lacy). Graphic #38 is in three sections, and each section is based on a scale or intervallic structure that is reminiscent of ones used by Lacy. The players are free to choose from a set of options based on that mode, with the added rule that no more than three people can be playing at any time in sections one and two, which are the only ones the quartet plays at this point in The Double Negative.
The Double Negative - Graphic #38 (for Steve Lacy)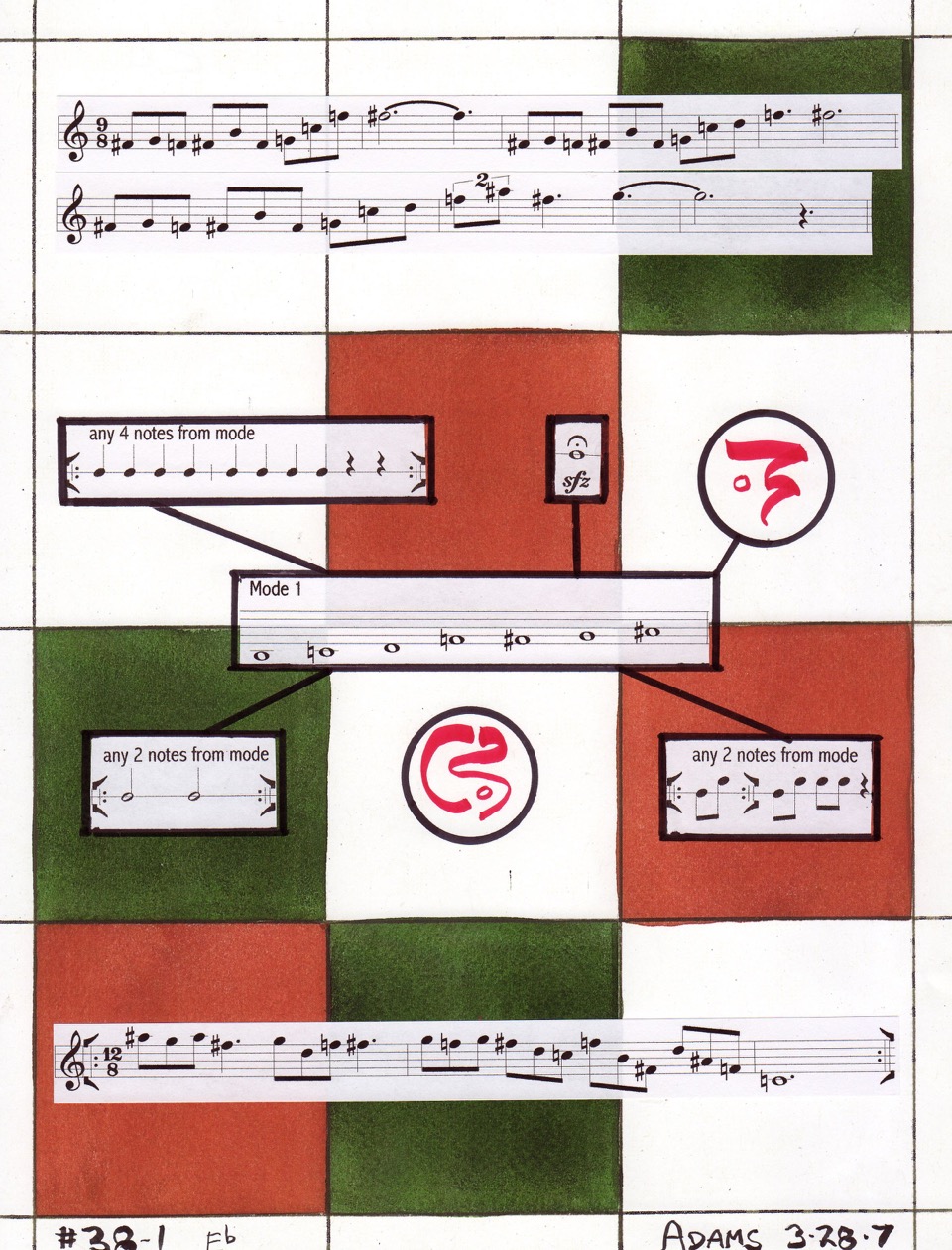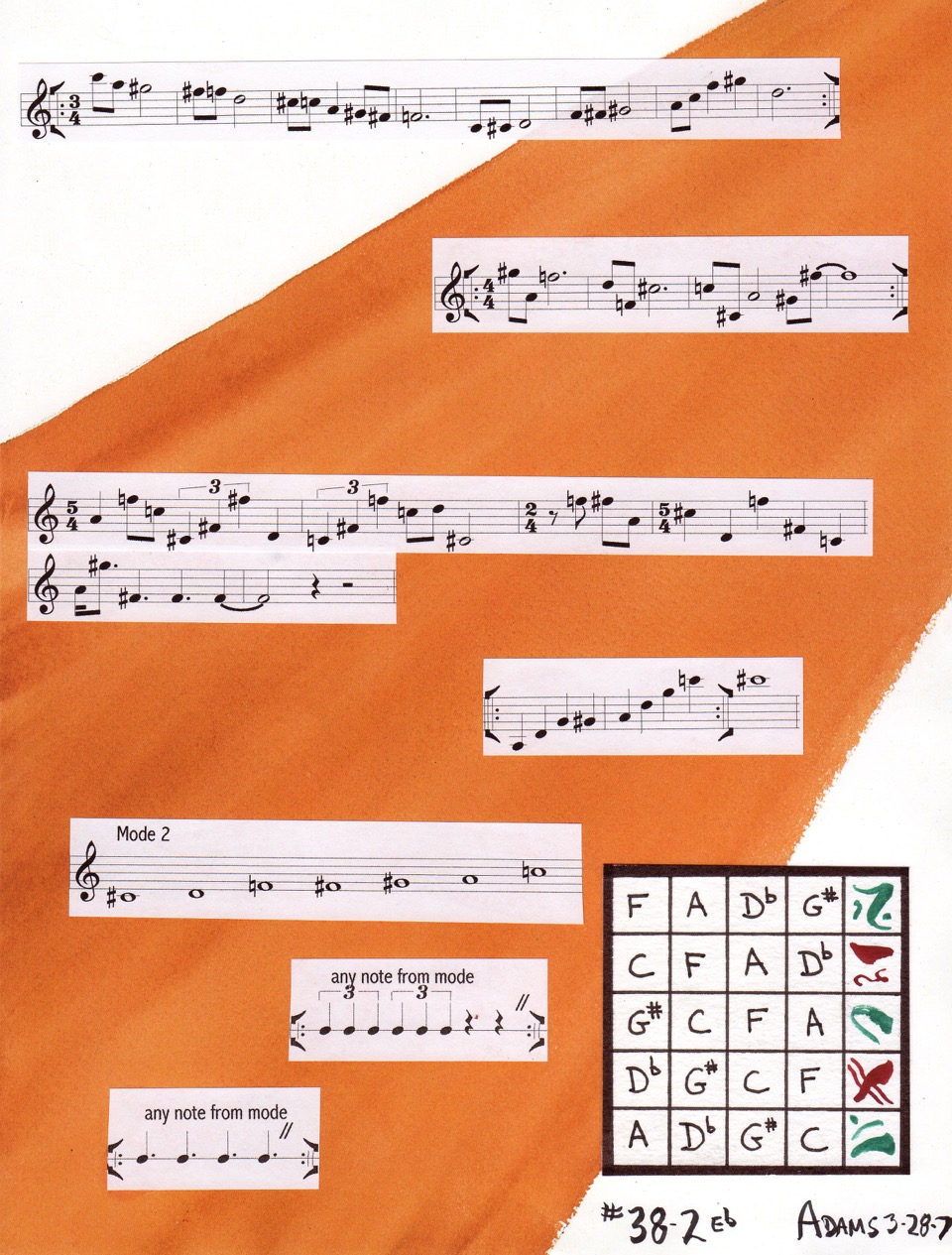 The guitar trio then enters with Steve's Graphic #41. The score is read in three sections, first going once around the outer "satellites," then once around the outer triangle, concluding with the inner triangle. Letters represent concert pitches and other elements are to be interpreted by the performer. When the guitar trio reaches the inner triangle, the string quartet and the sax quartet re-enter playing their scores, with the sax quartet playing the third section of #38.
The Double Negative - Graphic #41 Score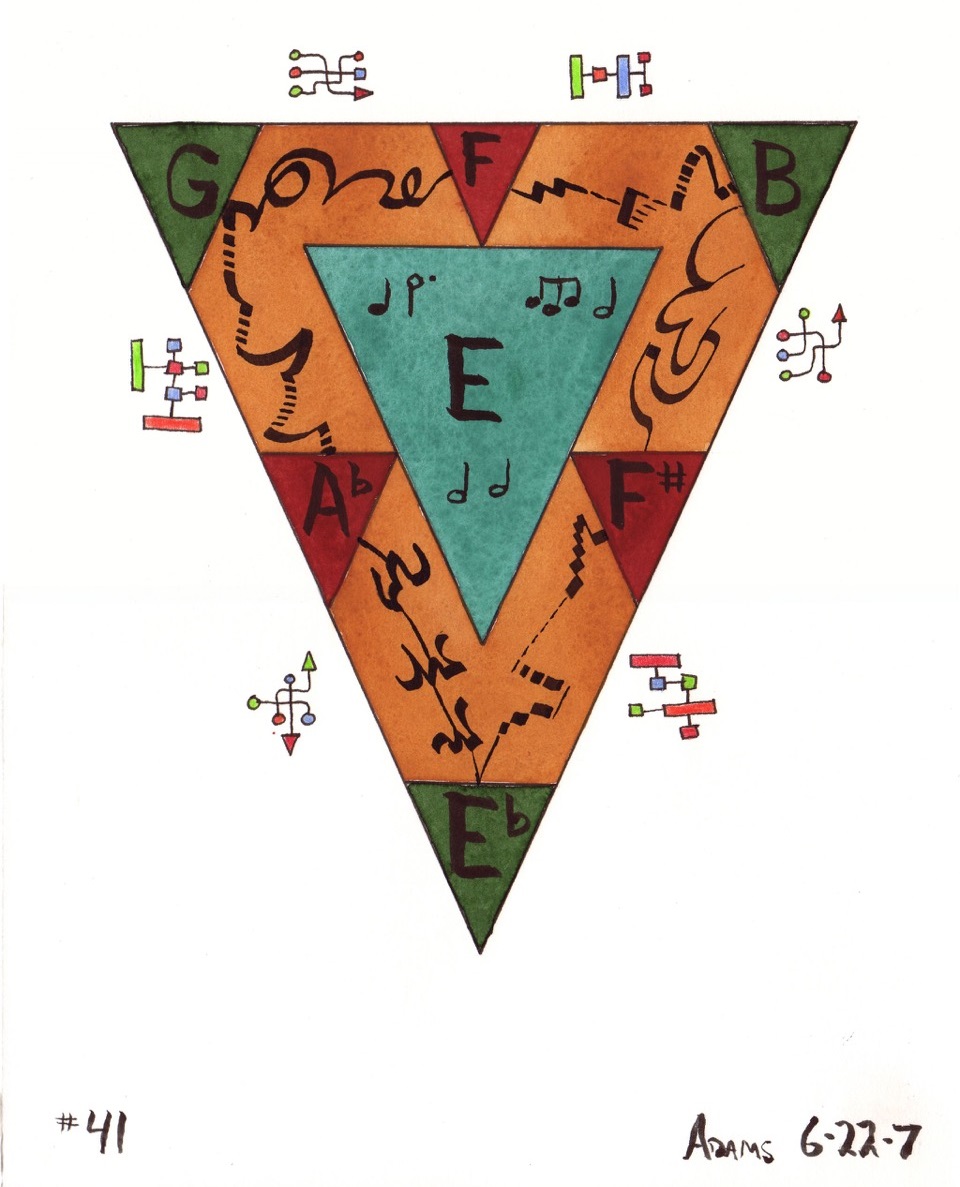 The Double Negative - Graphic #38 - Part 3 Score