Improv:21
A Series of Informances on 21st century music
Rova:Arts is pleased to present Improv:21 , a series of "informances" on twenty-first century music that explore the connection between predetermined structure (composition) and performer interpretation (improvisation). Led by master improvisers and composers from the Bay Area and beyond, and hosted by critic and KPFA radio host Derk Richardson, Improv:21 programs look at the many ways of organizing improvisation through a shifting (i.e. "improvised") combination of onstage lecture and dialogue, musical demonstration and performance, and audience question-and-answer forum.
Reasonably priced and easily accessible, these two-hour events are designed to inform, inspire, challenge, and enlighten a wide-ranging audience, from professional and amateur musicians to listeners of all backgrounds and levels of experience. All these informances are also being documented on video for future availability to students and fans alike.
The 2008-09 Season:
January 14: John Lindberg: Bass Walk

February 18: Ellen Fullman: Sympathetic Resonances

March 18: Vinny Golia: The Large-Ensemble Experience

April 15: Wayne Horvitz: Approaching Training and Musical Heritage in Composition and Improvisation


All Improv:21 informances start at 7:00 pm and take place at:
Red Poppy Art House
2698 Folsom St. @ 23rd St.
415.826.2402
Tickets sold at door; general seating

Produced by Rova:Arts.
Wednesday, January 14: John Lindberg: Bass Walk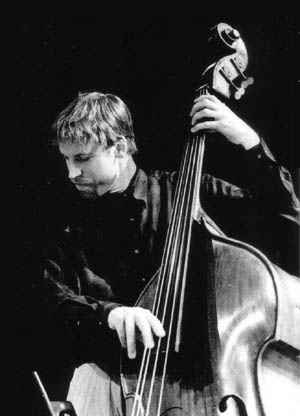 John Lindberg (bassist/composer/performer), based in New York and currently teaching in California at Cal Arts, will present his views as an improvising composer by showing his short music-driven documentary Bass Walk (20 minutes) and the recently produced music video The Myth (4 minutes). He will also perform his composition for solo bass, Fiddlesticks . This will be followed by a general open forum discussion and Q&A.

Biography

Composer/bassist John Lindberg embarked on his professional career in 1975 at the age of sixteen. The following year he co-founded the String Trio of New York, a composers collective performance unit that has gone on to produce seventeen albums of original music and present hundreds of concerts worldwide. In 1979 he formed his first ensemble dedicated to the performance of his own compositions and since then has recorded forty-eight albums that feature his works.

His ensembles and duo collaborations have performed hundreds of concerts throughout Europe, North and South America, East Asia and the Middle East. As a bassist he has appeared on over seventy-five albums, including recordings with Anthony Braxton, Jimmy Lyons, Steve Lacy, Albert Mangelsdorff, Tony Coe, and Wadada Leo Smith.


Wednesday, February 18: Ellen Fullman : Sympathetic Resonances
Ellen Fullman will present a video documentary on her work featuring her music and sounds on the original "long string" instruments that she has created. Then she will discuss the concepts behind the music with Derk Richardson and the audience.
Biography
In 1981 Ellen Fullman began developing the "Long String Instrument", an installation of dozens of wires fifty feet or more in length that are 'bowed' with rosin coated fingers. Fullman has recorded extensively with this unusual instrument and has collaborated with such luminary figures as composer Pauline Oliveros, choreographer Deborah Hay, the Kronos Quartet, Keiji Haino and Francis-Marie Uitti. In 2000 she was awarded the prestigious DAAD Artists-in-Berlin residency. Her music was represented in The American Century; Art and Culture, 1950-2000 at The Whitney Museum, and she has performed in venues and festivals in Europe, Japan and North America including: Instal, Lincoln Center Out-of-Doors, Other Minds, the Walker Art Center and Donaueschinger Musiktage. Her CD release "Ort", with Berlin-based collaborator Jörg Hiller, was selected as one of the top 50 recordings of 2004 by The Wire (London). She has delivered lectures and written articles on her work including: the Songlines Series, Mills College, MusikTexte (Cologne 2002), and MusicWorks (Toronto 2003). Her collaboration with percussionist Sean Meehan at Instal 2006 was the number one downloaded track from the festival and was released on Cut (Switzerland). In 2007 she was awarded a 5-month Japan/U.S. Friendship Commission/NEA Fellowship for Japan. Fullman is currently an Artist in Residence at the Headlands Center for the Arts, where she has installed her instrument in what was once the old gymnasium.
For more on Ms. Fullman:
www.ellenfullman.com
Ellen Fullman on MySpace
Artist Statement
My intention in my music is to consider not only the fundamental tonal content, but also the resulting overtone configurations. A spectrum analysis of my instrument revealed that every overtone is represented at nearly equal levels through the entire range of hearing. I am exploring the influences of sympathetic resonance and sonic events that occur at specific nodal point locations along the string-length of my instrument and I have developed a unique notation system to choreograph the performer's movements. I feel that the room itself becomes my instrument and is receptive to what is put into it. Added frequencies can drive my instrument through sympathetic resonance and I am looking for ways to have more access to this triggering effect. A visual analogy for me is a candle flame blown by puffs of wind from different directions that responds fluidly.
Go Back

Wednesday, March 19 Vinny Golia : The Large-Ensemble Experience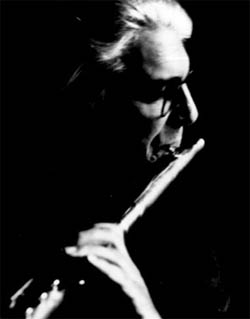 Vinny Golia comes up from Los Angeles with CDs, DVDs, and his ebullient self to talk about composing for improvisers in large ensemble, something he has been doing for over 20 years in the USA and internationally. Of course, he will bring some of his many reed instruments along in case the spirit moves him to get into his work for improvising soloist as well.
Biography
Vinny Golia is a composer who fuses the rich heritage of Jazz, contemporary classical and world music into his own unique compositions. As a bandleader, Golia has presented his music to concert audiences in Europe, Canada, Mexico, Japan and the United States in ensembles varying dramatically in size and instrumentation. Mr. Golia has won numerous awards as a composer, including grants from the National Endowment of the Arts, The Lila Wallace Commissioning Program, The California Arts Council, Meet the Composer, Clausen Foundation of the Arts, Funds for U.S. Artists and the American Composers Forum. In 1982 he created the on-going 37 piece Vinny Golia Large Ensemble to perform his compositions for chamber group and jazz orchestra. A multi-woodwind performer, Vinny's recordings have been consistently picked by critics and readers of music journals for their yearly "ten best" lists. In 1999 Vinny won the LA Weekly's Award for "Best Jazz Musician." Golia has also contributed original compositions and scores to Ballet and Modern Dance works, video, theatrical productions, and film. As an educator Vinny has lectured on music & painting composition, improvisation, Jazz History, The History of Music in Film, CD & record manufacturing and self-production throughout the United States, Europe and Canada. He currently teaches at California Institute of the Arts. Vinny has been a featured performer with Anthony Braxton, Henry Grimes, John Carter, Bobby Bradford, Joelle Leandre, Leo Smith, Horace Tapscott, John Zorn, Tim Berne, Bertram Turetzky, George Lewis, Barre Phillips, The Rova Saxophone Quartet, Patti Smith, Harry "the Hipster" Gibson, Eugene Chadburne, Kevin Ayers, Peter Kowald, John Bergamo, George Gruntz Concert Jazz Band, Misha Mengelberg, Han Bennick, Lydia Lunch, Harry Sparrney and the Los Angeles Philharmonic Orchestra amongst many others.
Instruments
Ab, Eb, Bb, C, A, Alto, Bass, Contra-Alto & Contra-Bass Clarinets, Piccolo, G, C, Alto, & Bass Flutes, Sopranino, Soprano, Tenor, Baritone, & Bass Saxophones, English Horn, Bassoon, Contra-Bassoon, Strich, Taragoto, & various ethnic aerophones
Go Back

April 15: Wayne Horvitz : Approaching Training and Musical Heritage in Composition and Improvisation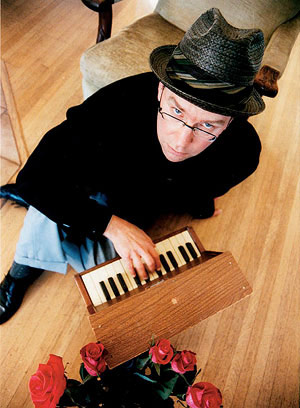 In discussion with Derk Richardson, Wayne Horvitz will talk about his recent chamber-jazz compositions that feed off the heritage of American folk musics, jazz and blues, and reveal the thinking behind his own unique body of work, especially focusing on his chamber music for various ensembles.
Biography
Wayne Horvitz is a composer, pianist, and electronic musician. He has performed extensively throughout Europe, Asia, Australia, and North America. He has performed and collaborated with Bill Frisell, Butch Morris, John Zorn, Robin Holcomb, Fred Frith, Julian Priester, Philip Wilson, Michael Shrieve, Bobby Previte, Marty Ehrlich, Skerik, William Parker, Ron Miles, Sara Schoenbeck, Peggy Lee, Steven Bernstein, Briggan Krauss, Rova, and Dylan van der Schyff among others. He has been commissioned by the NEA, Meet The Composer, Kronos String Quartet, Seattle Chamber Players, Mary Flagler, PGAFF, BAM and others. Collaborations with choreographers include work with Paul Taylor/White Oak Dance Project and the Liz Lerman Dance Exchange. Film work includes music and sound design for 3 PBS specials and Gus Van Sandts' "Psycho." Works for theater include the world premier of Harold Pinter's Mountain Language with Carey Perloff directing and the ACT production of Death of a Salesman directed by Gordon Edelstein. He has produced CDs for Eddie Palmieri, Fontella Bass, Robin Holcomb and Bill Frisell, among others. He is the 2001 recipient of the Seattle Artist Trust Fellowship and the 2003 recipient of the City of Seattle Office of Arts and Culture fellowship. He is the 2002 recipient of the Rockefeller Map Grant for his chamber orchestra composition, "JOE HILL, 16 Actions for Chamber Orchestra, Voices and Improviser" which premiered October 2004. In 2008 he received the NEA American Masterpieces grant for "These Hills of Glory" for string quartet and improviser. Ensembles include The President, Pigpen, Zony Mash, the HMP Trio, the NY Composers Orchestra, the 4 Plus 1 Ensemble, Sweeter Than the Day and the Gravitas Quartet.
Go Back