Improv:21
A Series of Informances on 21st century music
Rova:Arts is pleased to present Improv:21 , a series of "informances" on twenty-first century music that explore the connection between predetermined structure (composition) and performer interpretation (improvisation). Led by master improvisers and composers from the Bay Area and beyond, and hosted by critic and KPFA radio host Derk Richardson, Improv:21 programs look at the many ways of organizing improvisation through a shifting (i.e. "improvised") combination of onstage lecture and dialogue, musical demonstration and performance, and audience question-and-answer forum.
Reasonably priced and easily accessible, these two-hour events are designed to inform, inspire, challenge, and enlighten a wide-ranging audience, from professional and amateur musicians to listeners of all backgrounds and levels of experience. All these informances are also being documented on video for future availability to students and fans alike.
The 2007-08 Season:
The '07-'08 Season continues the series with:

October 24: Henry Kaiser: IMPROVISATION AT THE END OF THE WORLD
November 28: Zeena Parkins: The Texture of Sound
Feb 21: Roscoe Mitchell: Improvising with Roscoe Mitchell
April 16: Mark Dresser
May 21: Scott Amendola

all Improv:21 informances start at 7:30 pm and take place at:
The Marsh: 1062 Valencia Street
(between 21st and 22nd Streets, near to 24th Street BART).
Admission is $10
for advanced tickets: BrownPapertickets.com
information line: 415.641.0235
Produced by Rova:Arts, the series is now co-sponsored by The Marsh in association with Other Minds.
Wednesday, October 24:
Henry Kaiser = IMPROVISATION AT THE END OF THE WORLD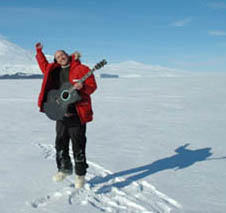 Kaiser discusses his eclectic musical life with Derk Richardson and audience members . Most specifically the evening will focus on Kaiser's current collaboration with Werner Herzog, filming a documentary in Antarctica. Henry's filmic collaborations with Werner Herzog have included the soundtrack for Grizzly Man, cinematography on The Wild Blue Yonder, and he is currently the producer of Herzog's Encounters at the End of the World, which will see theatrical release at the end of 2007. The film was shot entirely in Antarctica; Kaiser also created the score for the film along with his friend David Lindley. Henry will discuss and give a live demonstration of improvised film scoring, assisted by Danielle DeGruttola - cello.
Widely recognized as one of the most creative and innovative guitarists, composers, improvisers, and producers in the fields of rock, jazz and contemporary experimental music, California-based musician Henry Kaiser is one of the most extensively recorded as well, having appeared on more than 225 different albums. Evidence of his exceptional musical breadth and versatility can be found in a few of the extraordinary artists with whom he has recorded and/or performed: Herbie Hancock, Zakir Hussain, Richard Thompson, Bill Laswell, Steve Lacy, Fred Frith, Barbara Higbie, John Abercrombie, Anthony Braxton, Michael Stipe, Terry Riley, Jim O'Rourke, Ryuichi Sakamoto, Sergei Kuriokhin, Diamanda Galas, Sonny Sharrock, John Zorn, David Torn, Bill Frisell, Eugene Chadbourne, Evan Parker, Derek Bailey, Jerry Garcia, Miya Masaoka, and Cecil Taylor.
Go Back

Wednesday, November 28 Zeena Parkins = The Texture of Sound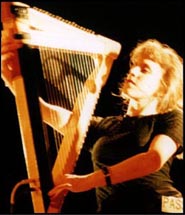 Zeena Parkins will talk with host Derk Richardson and the audience about her career and her never-ending sound explorations, centered around her work on electric harp. She will also, if the audience cares to go there, discuss her work arranging several music CD projects for Bjork, among others.
Zeena Parkins, multi-instrumentalist, composer, improviser, well-known as a pioneer of the electric harp, has also extended the language of the acoustic harp with the inventive use of unusual playing techniques, preparations, and layers of digital and analog processing. Zeena makes use of anything within reach as a possible tool with which she can enhance the sonic capabilities of her harps. She accurately describes her harp as a "sound machine of limitless capacity" and has used, household objects and hardware store finds, including: alligator clips, nails, rubber erasers, rubber tubing, felt, bows, metal candy lids, oversized metal bolts, hair clips, glass jars, discarded strings, as well as more conventional: leslie cabinets, guitar pedals, and numerous other digital processing hardware and assorted and varied software.
Ms. Parkins has appeared on over 70 CD's and in hundreds of concerts in both large and small spaces all over the world. Special projects have included touring and recording with Bjork (Vespertine, World Tour and Family Tree Tour), Tin Hat Trio (Book of Silk), Yoko Ono (Blueprint for a Sunrise), Don Byron, Butch Morris (International Comprovisation Ensemble), Elliott Sharp (Psycho~Acoustic, Orchestra Carbon), Ikue Mori (Phantom Orchard, B Side, Hex Kitchen), John Zorn (Cobra, Bezique, Darts, The Bribe) and Fred Frith (Soloist in Traffic Continues , Graphic Scores, Skeleton Crew and Keep the Dog). A lightning bolt of a performer, Zeena is a sought after collaborator, performing with Jim O'Rourke, Nels Cline, Lee Renaldo, Kaffe Matthews (Weightless Animals), Thurston Moore, and Pauline Oliveros. Zeena has appeared in dozens of music festivals in Europe, South America, Japan and the States including: Lincoln Center Out-of-Doors, Lincoln Center Festival 2000, The Serious Fun Festival, ExperImenta in Buenos Aires, The Music Merge Festival in Tokyo, The Moers Festival in Germany, Willisau and Tacklos Festival in Switzerland, the LMC Festival in London, Vancouver Coastal Jazz and Blues Festival, Musique Action International in France, the Festival Mimi in Arles, City of Women Festival in Slovenia and the Festival Musique Actuelle in Canada. 
Go Back

February 20, 2008 Roscoe Mitchell = Improvising with Roscoe Mitchell
One of the pioneers of the improvised music scene, a founding member of the historically important AACM (Association for the Advancement of Creative Musicians) and the The Art Ensemble of Chicago, a band that influenced (and continues to influence, even if they aren't aware of it) every young musician coming up in the parallel if distinct worlds of jazz and improvised music from the late 1960's on, Roscoe Mitchell will join Derk Richardson and you, the audience, in an improvised discussion and informance on the music of the 21st century, jazz, compositions for improvisers, the life of the artist, and whatever else comes into play when minds open and tune in. Don't miss this one... For more on Mr. Mitchell: www.artensembleofchicago.com

April 16: Mark Dresser: = Spectral Delivery
The excavation of musical possibilities from the double bass is the subject of Mark Dresser's informance. Exploring the micro details of string vibration through improvisation, recording, analysis, codification, and composition has led to the development of a custom made electro-acoustic pick-up system and a rich body of music. Expect minutiae and the macro view through musical, acoustic and metaphoric lenses.
Mark Dresser (1952) is an internationally acclaimed bass player, improviser, composer, and interdisciplinary collaborator. He is documented in over one hundred recordings including nearly thirty CDs as a soloist, band-leader or collaborator including his recent solo CD, UNVEIL, and the cooperative, TRIO M with Myra Melford and Matt Wilson, and Air Walkers duo with trombonist Roswell Rudd.
For eighteen years he lived and worked in New York City where he recorded and performed with some of the strongest personalities in contemporary music and jazz including nine years with Anthony Braxton. This group was documented in Graham Locke's Forces in Motion and numerous recordings. He has also performed and recorded with Ray Anderson, Jane Ira Bloom, Anthony Davis, Dave Douglas, Fred Frith, Satoko Fujii, Gerry Hemingway Bob Ostertag, Joe Lovano, John Zorn, and many others.
A major focus has been extending the sonic and musical possibilities of the double bass through the use of unconventional amplification. A chapter on his extended techniques for contrabass, "A Personal Pedagogy," appears in the book, ARCANA.
In 2001 he was nominated for a Grammy. In 2004 he joined the Department of Music at UCSD as Professor of Music. He has also been a lecturer at Princeton University, faculty at the New School University, and Hampshire College.
Mark Dresser's homepage
Go Back

May 21: Scott Amendola = Beats, Sounds, Sticks and Wires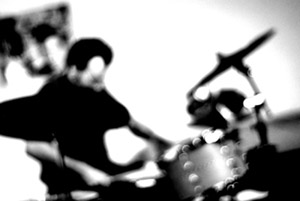 Amendola performs and informs, focusing on drumming with and without electronics for the 23rd and 24th centuries...
Amendola will inform you at The Marsh exactly one week before his appearance in Rovaté 2008: Rova/Nels Cline Celestial Septet @ Yoshi's San Francisco (May 28). Questions about that show will also be answered.
Improv21 host Derk Richardson's oft-quoted observation that "If Scott Amendola didn't exist the San Francisco music scene would have to invent him," is more true than ever. But what's become evident in recent years is that the extraordinarily resourceful drummer has evolved into a paragon of self-invention, a bandleader, composer and invaluable creative collaborator at the center of a vast array of improvisational ensembles.
While rooted in the San Francisco Bay Area scene, Amendola has woven a dense and far reaching web of bandstand relationships that tie him to influential figures in jazz, blues, groove, rock and new music. An organizer by nature, he has become a creative nexus for a community of musicians stretching from Los Angeles and Seattle to Chicago and New York.
While he first gained widespread notice a decade ago for his work in eight-string guitar ace Charlie Hunter's trio, in recent years Amendola has stepped forward as the leader of several compelling bands that showcase his supremely supple trap work. He continues to work as a sideman, accompanying artists such as the tart-toned vocalist Madeleine Peyroux, guitarist and singer/songwriter Kelly Joe Phelps and the Nels Cline Singers (a volatile instrumental trio without a vocalist), but it's as a bandleader that Amendola's dynamic, ever-evolving style is best showcased.
www.scottamendola.com
Go Back