Planetary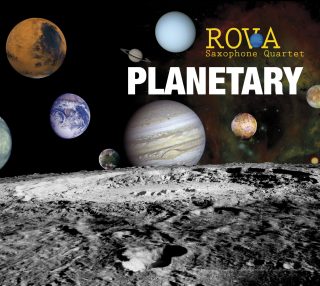 Bruce Ackley - soprano and tenor saxophones
Steve Adams - alto saxophone
Larry Ochs - tenor saxophone
Jon Raskin - baritone and alto saxophones
Parallel Construction #1 (Adams) 5:02
S (Ochs)7:55
Flip Trap (Adams) 5:35
Glass Head Concretion (Adams) 1:06
Planetary (Ochs) 17:05
Parallel Construction #2 (Adams) 10:26
All compositions by Larry Ochs and Steve Adams

Tracks 1, 3, 4 and 6 recorded at Guerilla Euphonics, Oakland, CA by Myles Boisen on April 17-18, 2009. Tracks 2 and 5 recorded at the Center for New Music and Audio Technologies, Berkeley, CA on April 6, 2003 by Myles Boisen. Mastered by Myles Boisen at the Headless Buddha Lab in Oakland on Nov. 13, 2009. Produced by Steve Adams and Larry Ochs.

Tracks 1,3,4 and 6 are © Steve Adams (Metalanguage Music/BMI/ administered by BUG). Tracks 2 and 5 are © Larry Ochs (Trobar/ASCAP/administered by BUG)

Cover photo from NASA archives. Image credit: NASA/JPL/ASU
Liner notes by Alex Kan. Photos of Rova by Myles Boisen and Georg Pillwein.