Rova Channeling Coltrane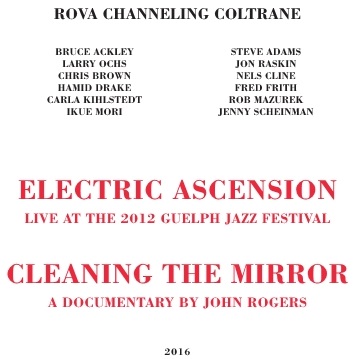 Rova Channeling Coltrane - a special DVD/Blu-ray/CD package produced by the Paris jazz label Rogue Art — released January 15, 2016 in the USA. It includes the Kickstarter-funded five-camera shoot of Electric Ascension, Rova's 21st century arrangement of John Coltrane's major late work, Ascension.
At the 2012 Guelph Jazz Fest (Canada), Rova Saxophone Quartet (Bruce Ackley - soprano saxophone, Steve Adams - alto saxophone, Larry Ochs - tenor saxophone, Jon Raskin - baritone saxophone) was joined by eight extraordinary musicians: Nels Cline (electric guitar), Fred Frith (electric bass), Hamid Drake (drums), Jenny Scheinman (violin), Carla Kihlstedt (violin and electronics), Chris Brown (electronics) and Ikue Mori (laptop electronics), and Rob Mazurek (cornet and electronics).
This video shoot was beautifully edited and mixed in the San Francisco Bay Area by director John Rogers and sound engineer Jim McKee (with mixing help from Larry Ochs of Rova, and technical help from both Lucas Ranch and Pixar Studio! Yes: The sound and picture are both spectacular as a result.). The live concert is issued on both Blu-ray — with incredible 5.1 surround sound - and on DVD (in stereo sound format).
Also on the DVD: "Cleaning the Mirror" by Bay Area documentarian John Rogers, telling the story of ROVA's adaptation of John Coltrane's Ascension for a 21st century ensemble - plus a brief history of Coltrane's original recording in 1965. Cleaning the Mirror also contains notable interviews with past Electric Ascension participants such as Cline, Andrew Cyrille, Eyvind Kang and Scheinman; and a specially recorded and mixed CD of the same 2012 performance is also included in the package. (CD Mix by Marc Urselli.)
The package also contains extensive liner notes by noted Canadian jazz critic Stuart Broomer, who was present at the concert. All three discs are packaged in the classic RogueArt design.
You can read much more about the history of Electric Ascension and this special release here at the Rova website.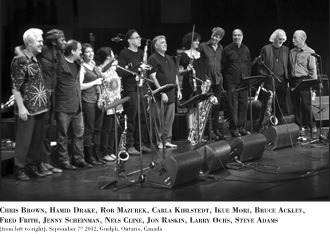 If living in elsewhere, contact Rogue Art directly HERE




Liner Notes for this package by Canadian critic Stuart Broomer:

John Coltrane's 1965 recording Ascension has long held special interest as a symbolic watershed, both in Coltrane's own work and in the rise of free jazz. As the background in Cleaning the Mirror makes clear, Ascension divided listeners sharply. Free jazz advocates loved it; jazz conservatives loathed it. While Bill Mathieu declared "This is possibly the most powerful human sound ever recorded," Joe Goldberg wrote, "I am being wildly assaulted and must defend myself by not listening to it." Ascension is due for more attention as it reaches its 50th anniversary and Rova Channeling Coltrane is released.

Ascension has a special status for several reasons, some largely circumstantial: because it's Coltrane, because it looks like the first big band of free jazz, and because of its remarkable collection of new voices, including the saxophonists Archie Shepp, Pharoah Sanders, John Tchicai and Marion Brown, all committed to free jazz. There is something wonderful and special about Ascension: it's the screaming choir of improvising horns, seemingly shouting a new world into being. They possess a kind of infernal power, and they keep coming back, between every solo, and they are things of squalling wonder.

Coltrane's Ascension is a radical demand for freedom, and not merely freedom of expression as some step in musical form: its demand has spiritual and social dimensions and its vision is insistently a collective one, as if the collective improvisation of early New Orleans jazz had been suddenly imposed on the sections of a big band.

Recorded just six months after Coltrane's A Love Supreme, Ascension is clearly a continuation of its spiritual quest. In 1957, Coltrane, overcoming heroin addiction and alcoholism, had devoted himself to a spiritual quest through music. The four movements of A Love Supreme made that journey explicit: Acknowledgement, Resolution, Pursuance and Psalm. Ascension continues the pattern: it's a term frequently used to describe the upward progress of the spirit, whether Christ's ascension or Mohammed's. Ascension begins with a five-note motif that adds a single note to the four-note theme of Acknowledgement, a direct link to A Love Supreme. But after Coltrane has announced the motif, the other six horns swirl around him, transposing the phrase to other pitches, shrieking the notes of a few chords, already hinting at the maelstrom, creating the searing chorus that will return again and again.

What kind of "ascension" is this, in which a loose array of horns matches screams and honks against an oppressive thunder of drums and piano? Is it the struggle of people who don't want to ascend, who would remain attached to the flesh? Is it a song of liberation, of bonds unloosed? Of torment?

Other elements may enrich our understanding of the work. At Jazz em Agosto in Lisbon in 2006, an edition largely themed around Coltrane's music (including Orkestrova's Electric Ascension), the English saxophonist Evan Parker gave a talk on Coltrane in which he mentioned an alternative reading, citing Ascension Island in the Atlantic, where ships of the British anti-slavery fleet were harbored, and more pointedly, "a slave ship called Ascension, one of 32 slave ships that left Newport, Rhode Island for Africa in 1794."[1] That boat deserves a closer look. On a 1797 voyage from Mozambique, there was an unsuccessful slave uprising on the Ascension [2] while in another year, "the ship Ascension arrived with a whopping cargo of 283, by far the largest for any Rhode Island negrero ever!" [3]

I know of no evidence that Coltrane associated Ascension with the slave trade, but the reading fits its mood. When Coltrane composed a memorial for the four girls killed in a Ku Klux Klan bombing of Birmingham's 16th Street Baptist Church, he called it simply Alabama. Ascension may be heard as an improvised continuation of the exhortatory horns of Coltrane's Africa. Ascension's power may speak at once of the spiritual and the social, the individual and the collective. Its notion of freedom functions on many levels, like so much of the discourse of the African-American civil rights movement of the '60s. Its torment may be precisely that of the social and spiritual in collision. What may be most terrible and amazing about that ship, even if Coltrane never heard of it, is the direct relationship it seems to make between religion and the slave trade, as if the Ascension's trade were blessed, as if that ship went about the seas, shuttling between Newport and Mozambique, on the Lord's work.

Coltrane's Ascension is heroic work, on a scale at least comparable to Picasso's Guernica. Its intensity is the free response to African-American musical history, the necessary response to a history that begins with slave trade workers collecting musical instruments for the Africans to distract themselves during the passage to America [4] and which extends to the critique circa 1962 that Coltrane and Eric Dolphy played "anti-jazz."

The genius of Coltrane's Ascension is that it creates a structure in which we simultaneously hear the terrors of bondage; the quest of spirit, mind and body for freedom; and the ecstasy of release and transcendence. It is necessarily both individual and collective art.

While Coltrane literally spent a day with Ascension, recording two takes of the piece on June 28, 1965, Rova has been revisiting it since their 30th anniversary celebration of the work in 1995. The piece has changed monumentally in that time, in ways that make it an ever more important project, both in its relationship to the original and in its own autonomous development. We may hear Coltrane's Ascension more clearly – both as work of art and as a moment in the history of jazz – as a result of Rova's efforts. Rova provides through Ascension a special view of how jazz and improvisation have developed over the past fifty years.

Rova first performed Ascension in 1995 as a 30th anniversary tribute to the work in an arrangement by Jon Raskin that in many ways replicated the original, matching Coltrane's instrumentation horn for horn (John Coltrane's Ascension, Black Saint 120180-2). The arrangement transcribes the theme and the sequence of chords that structures the ensemble. The solo order is not dissimilar and it seems like a meditation in the midst of turmoil, but its moods and its internal dynamics are sometimes subtly, sometimes utterly different. Its textures are more consistent, and many of its solos are, in a sense, more realized, more clearly coherent utterances. It benefits from thirty years of free improvisation and the rhetoric of energy music developed around and immediately after the original Ascension: its soloists know that it can be done. It is no longer the terra incognita of the original.

Rova's first Ascension might now be an interesting footnote to Coltrane's original work had the group not decided to revisit the work eight years later in 2003, with Larry Ochs radically recasting it as Electric Ascension (Atavistic ALP 159 CD). They stopped matching the original horn complement, instead opting for the broader range and distinctive voices of Jon Raskin on baritone, Larry Ochs on tenor, Steve Adams on alto and Bruce Ackley on soprano. The two trumpets were replaced by violins, but the principal difference is in the amplified and electronic instruments, including guitar, bass, turntable (the medium of the original Ascension becoming a sound source), electronics, drum machine and samples. It's a vastly expanded and significantly altered sound palette, virtually a new world. As Ochs describes it in Cleaning the Mirror, "And even more than [the electronics] – no piano. We really didn't want to have the chords holding us down or that we would have to have pitch all the time." So the greatest shift in Electric Ascension is not an addition but a subtraction: an opening up of tonality to the world.

Rova has regularly revisited Electric Ascension since 2003, adding and substituting musicians and shifting instrumentation. Nearly 50 musicians have joined Rova in its ten performances of the piece, spanning generations from the senior drummer Andrew Cyrille to the young trumpeter Peter Evans.

So Orkestrova isn't fixed. Roles have broken down and while the cataclysmic saxophone chorus remains at its heart, the ritualized pattern of solo with rhythm has been broken, traded for a series of determined textures, shifting sub-groupings that proceed with tremendous freedom, changing the constituent musical languages.

The film of the 2012 Guelph performance is a major event in the documentation of free improvisation, with five synchronized cameras involved in the filming. For Ochs, "one of the very exciting parts of this recording is just how musically different in feel it is from the recording made of the first performance in 2003, which makes it another example of how cool the Coltrane composition Ascension is, that the piece could accommodate both versions performed by 12 musicians, ten of whom were there at the first performance, and be so different. Quite cool."

There are moments of exploratory electronic tranquility throughout Electric Ascension, a frequent play of new sound whether from percussion, synthesizer, electric bass or guitar. There is space in which to contemplate the passages of the massed horns. Even the saxophones are permitted gentler moments. It is the achievement of a new ground, the terrain that is still "the territory ahead" in Coltrane's marvelous and terrifying original. It's as much as ever a text of liberation, but it's a gentler freedom, as much a retrospective on liberties achieved as the original is an intense and essential testing of bonds.

In Rova's translation of Ascension into contemporary practice, Coltrane's Ascension remains as a great gift for the energy it presents, for the sheer unfailing intensity with which it fights toward its collective freedom. The original is a major work of art, not merely an episode but a larger process. Rova's substantial achievement consists in assuming the responsibility of Coltrane's great original, treating it not simply as a memento of liberation but as a tool for it as well.

As Larry Ochs remarks, "What I love is being part of the deep evolution of collective improvisation, and just reflecting on how far this music has come as a discipline since Ascension was written in 1965, and then thinking about just how disparate the musics of so many of those musicians up there are when playing in their own worlds, and yet when they get together to perform in the Ascension world, they can make a collective gesture of that depth."

Stuart Broomer


[1] The talk is available at pointofdeparture.org, Issue 9.
[2] Eric Robert Taylor, If We Must Die: Shipboard Insurrections in the Era of the Atlantic Slave Trade (LSU Press: 2006, p. 209).
[3] The Long 18th Century in Greater Rhode Island: www.kouroo.info .
[4] described in Dena J. Epstein, Sinful Tunes and Spirituals: Black Folk Music to the Civil War (Urbana: University of Illinois Press, 1977).