Beat Kennel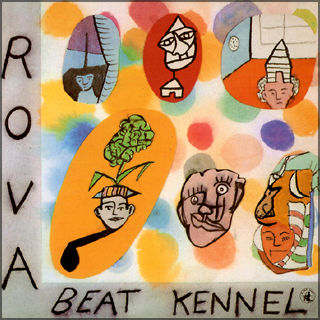 1. El Amor En Los Tiempos De La Finca (Voigt) 7:50
2. The Aggregate (Raskin) 10:05
3. Sportspeak (Ackley, Ochs, Raskin, Voigt) 7:05
4. Composition 37 (Braxton) 5:39
5. What Was Lost Regained (Raskin) 10:53

1987 - Black Saint (Italy) 120 126 (LP)
1987 - Black Saint (Italy) 120 126 (CD)
Barigozzi Studio, Milano, Italy, April 13-15, 1987
Bruce Ackley: soprano saxophone
Larry Ochs: tenor saxophone
Jon Raskin: baritone saxophone and lead alto on "The Aggregate"
Andrew Voigt: alto saxophone and sopranino on "What Was Lost Regained"

Beat Kennelis the tenth release since 1978 by ROVA, the innovative San Francisco-based saxophone quartet. During a recent conversation with Larry Ochs, ROVA's de facto spokesman, I asked how he thought ROVA's music was evolving. This was too broad a question, and not surprisingly, it drew a blank until I commented that ROVA's relationship to jazz was becoming steadily more obvious. "Exactly." Ochs said. "We're always going through cycles and we've just completed one in which we composed and performed many pieces that were melodically and rhythmically direct by our standards, including some with chord changes."

Don't expect bebop, though, from Beat Kennel, the album that Ochs and his bandmates agree concludes this "cycle" (which arguably began with Favorite Street [Black Saint BSR-0076], ROVA's 1983 album of Steve Lacy compositions). There is recognizable jazz content here, in the gleeful quasibop opening unison of the group-composed "Sportspeak," the blues grit of Andrew Voigt's "El Amor en los Tiempos de la Finca," the dance-band rapture of portionsof Jon Raskin's "TheAggregate" (on which the players, although free to wander where they will, are restricted to the twelve tones embedded in the theme), and the Monk-like quick step of the second of the two harmonically related "heads" that set Raskin's "What Was Lost Regained" in motion. There is also the relentless drum beat of Raskin's baritone to consider (espescially propulsive on "Sportspeak," where an Ochs tenor solo with baritone accompaniment quickly escalates into a full-scale simultaneous improvisation as heated as those of John Coltrane and Elvin Jones), to say nothing of the vocal bite of all four saxes (Bruce Ackley's soprano, in particular), for which there is no precedent outside of jazz. Since the jazz tradition now also includes Ornette Coleman and Cecil Taylor, it is worth mentioning, in making a case for ROVA's music as jazz, the Coleman-like spontaneous accelerations of tempo on "El Amor en los Tiempos de la Finca" and ROVA's "through time" method of blurring the distinction between composition and improvisation, an offshoot of Taylor's "constructivist" approach. And the flawless interpretation of a schematically titled piece for four saxophones from Anthony Braxton's album Fall 1974 serves as a reminder that, no matter their divergent paths, ROVA and the World Saxophone Quartet (three of whose members joined Braxton for the original performance) shared the same point of origin—Braxton's intimation that free jazz could be a vehicle for something more than visceral self-expression.

Still, if only because the word itself has become so restrictive (or so malleable, depending on who's using it) ROVA's relationship to "jazz" is not as self-evident as I make it seem. Besides, I prefer to think of their music as "antijazz," but certainly not in the way that John A. Tynan and Leonard Feather used the term to smear John Coltrane and Eric Dolphy in 1961. That same year, ironically, Russian poet Andrei Voznesensky (who knew more than either of those journalists about both physics and language, after all) celebrated "Antiworlds"—"Long live Antiworlds! They rebut / With dreams the rat race and the rut." In utilizing elements of jazz to rebut the rat race and the rut that jazz was becoming, Coltrane and Dolphy were indeed playing antijazz. And in doing much the same thing as jazz again finds itself in danger of succumbing to conformity and contrivance, the men of ROVA are clearly Coltrane, Dolphy, Taylor, Coleman, Lacy, Braxton, Albert Ayler, Sun Ra, and Roscoe Mitchell's children.


-- Francis Davis, October, l987
Francis Davis is the author of In the Moment: Jazz in the 1980's and the forthcoming Outcats, both published by Oxford University Press.