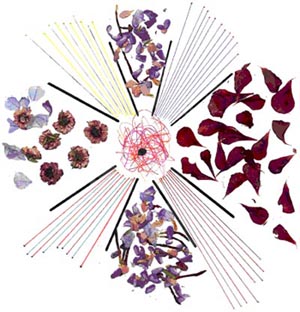 As Rova steps into its 32nd season, we're busy, artistically and administratively, realizing some ambitious projects over the coming nine months. During September the quartet will spend two days in the studio recording our 'graphic' pieces. We'll have a couple of local shows in the fall, including a reprisal of the Rova-Nels Cline Celestial Septet in November, and a recording session with them. December should include a European tour which is now being coordinated. After rounding the corner of 2009 we'll play in Berkeley and San Francisco, head to the Southwest US for a quick tour, host Rovaté 2009 and then head to Italy for shows in June... totally spinning.
---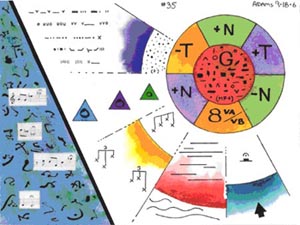 Early this month we'll be in the recording studio documenting several of Jon's and Steve's graphically notated compositions which have been part of our recent repertoire. Since these graphic pieces are stacking up, it's time to turn them into digits for posterity and, with luck, eventual CD release.

Adams' Graphic #35 (shown here) will be on the roster for recording. An especially engaging aspect of these compositions is that they are suitable for a wide range of ensembles and could be performed by improvising novices as well as seasoned players. And they tend to get at sonic areas that are elusive or neglected in settings which are either more or less structured.

Friday, October 3, 8:00


Rova
Eye Music for Ears, Part 2
The Berkeley Hillside Club
2286 Cedar Street
Berkeley
510.848.5227
www.hillsideclub.org

Fresh from the studio, the quartet will perform a two set concert of original music with a focus on Raskin's and Adams' graphically notated compositions. This will be a great opportunity to hear Rova in an optimum accoustic environment in North Berkeley. If you haven't been to the Hillside Club, you've got to see and hear it.

[TOP]
---
Jon offers 3 things which have been "really inspiring":
#1: The work of Chris Ware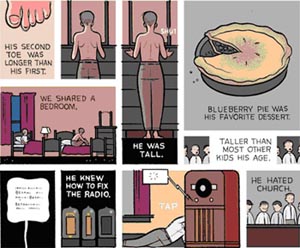 I recently had the fortune to hear Ware discussing his work along with Art Speigelman at the JCC in SF. The Acme Novelty Company and Jimmy Corrigan, the Smartest Kid on Earth were written for the "second reading" as he mentioned that night. This quote has made me reflect about the way that I see sound and hear images.
From Chris Ware:
"I arrived at my way of "working" as a way of visually approximating what I feel the tone of fiction to be in prose versus the tone one might use to write biography; I would never do a biographical story using the deliberately synthetic way of cartooning I use to write fiction. I try to use the rules of typography to govern the way that I "draw", which keeps me at a sensible distance from the story as well as being a visual analog to the way we remember and conceptualize the world. I figured out this way of working by learning from and looking at artists I admired and whom I thought came closest to getting at what seemed to me to be the "essence" of comics, which is fundamentally the weird process of reading pictures, not just looking at them. I see the black outlines of cartoons as visual approximations of the way we remember general ideas, and I try to use naturalistic color underneath them to simultaneously suggest a perceptual experience, which I think is more or less the way we actually experience the world as adults; we don't really "see" anymore after a certain age, we spend our time naming and categorizing and identifying and figuring how everything all fits together. Unfortunately, as a result, I guess sometimes readers get a chilled or antiseptic sensation from it, which is certainly not intentional, and is something I admit as a failure, but is also something I can't completely change at the moment."
#2: Rising Up and Rising Down: Some Thoughts on Violence, Freedom and Urgent Means
by William T. Vollmann This is an abridgement of a seven volume work which attempts to map out a moral calculus for violence and to examine it from the personal through to the civic arena, and draws from the past and the present. He mingles a broad range of his experiences, including: fears for a woman friend; discussions with the chief medical examiner in SF; reporting from war torn Sarajevo; and research he conducted about Thailand's brothels. The work is particularly relevant considering the high level of violence in American life, and US moves to corporatize its unending 'war on terror'.
#3: Decoding Ferran Adria
This film, produced and directed by Chris Collins and Lydia Tenaglia, and hosted by New York chef Anthony Bourdain, focuses on Ferran Adria, the leader of the Spanish Culinary Revolution. The Spanish chef owns and operates El Bulli, considered by many to be the best restaurant in the world. Ferran Adria and his team work for six months to create food that will be served over the following six months. The menu is created in a Barcelona laboratory where food is sensed and eaten in completely innovative ways. Decoding Ferran Adria makes fascinating connections between the joy of eating and the creative process. Watching the film may be as close as we come to actually eating at El Bulli.
[TOP]
---
Want to sample some of the Improv:21 informances? Below are links for you to stream many of these exciting programs:
Rova
Nels Cline
Fred Frith
Carla Kihlstedt
Gino Robair
Miya Masaoka
Oliver Lake
Ned Rothenberg
To get news from Other Minds click here.
[TOP]
---
Formed in 1977, Rova's been in a state of continual artistic renewal for over 3 decades. Rova:Arts, formed in 1986 to support the activities of Rova, has been instrumental in producing local projects and advancing an ongoing cultural exchange between local Bay Area artists and the international scene through its Rovaté concert series. These events, made possible by funding to Rova:Arts, have engaged Bay Area musicians and composers as well as musicians from around the world. Rova:Arts projects often are reproduced in other parts of the world, thereby bringing the work to a broader audience. Also, many Rova:Arts events have been enthusiastically received when released as recordings.
Rova:Arts has produced the Improv:21 series, providing a forum for innovative musicians like John Zorn, Fred Frith, Oliver Lake, Miya Masaoka, Roscoe Mitchell, Zeena Parkins and others to share their artistic visions and unique paths to creativity, with you the audience, in an intimate setting.
We're excited to welcome Betsy England to our administrative staff. Betsy is sharing her time between Rova:Arts and the Yerba Buena Center for the Arts where she is a Performing Arts Assistant. Betsy's enthusiasm and energy will assist us in presenting some great programming this year.
Click here to find out more and to Join Rova:Arts. Thanks for being part of the art.
[TOP]
rova.org
www.myspace.com/
www.cdbaby.com/