---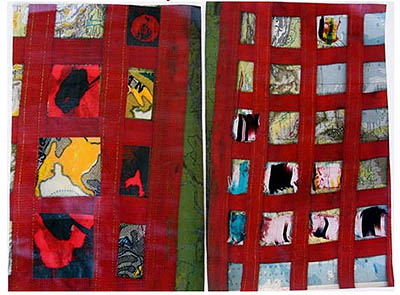 A "page" from

Amy Trachtenberg's

score for Sub Rosa. The composition was premeired at

Rovaté 2007

last April.
Recent Paintings, a show of Amy's work, is running from September 6 - October 27 at Brian Gross Fine Art Gallery in San Francisco.

---
---
Thirty years and counting...
After a busy spring and the summer to regroup, Rova is back in rehearsal mode in preparation for fall and winter activities. Upcoming local concerts will gear us up for our first ever tour of Poland and a return to Vilnius, Lithuania, which we played during our 1983 and 1989 'Soviet' tours.
During our 30th anniversary year Rova will perform several local concerts, including a CD release party in December. Stay tuned for details. As 2008 hits Rova will be back on the road-headed to a festival in Muenster, Germany in February; to several European cities in March; and will likely return to Italy in June. We'll also squeeze in Rovaté 2008 in the spring, the details of which are starting to come into focus now.
Improv:21 returns to San Francisco in October, this season at The Marsh, and will include informances by guitar iconoclast, Henry Kaiser; harp and electronics innovator, Zeena Parkins; and composer and master saxophonist, Roscoe Mitchell.
Fred Frith, Mark Miller, Tim Perkis and Larry Ochs
September 8
8 pm
21 Grand
416 25th Street
Oakland
Larry Ochs Sax & Drumming Core


w/special guests from Japan Satoko Fujii and Natsuki Tamura

September 11
7 pm
The Attic


Santa Cruz


theatticsantacruz.com


September 13
8 pm
21 Grand
416 25th Street


Oakland

Ochs - saxophones
Scott Amendola - drums
Don Robinson - drums
Fujii - synthesizer, piano
Tamura - trumpet
Jon Raskin Quartet
with Gino Robair, Liz Albee and George Cremaschi
September 20
Call for show time
Java Lounge
2416 16th St (between X and Broadway)
Sacramento
(916) 441-3945
Check out this killer triple bill!
• Larry Ochs with Gino Robair (percussion)
and special guest Killick Erik Hinds - Guitar and other personal inventions
• Jon Raskin Quartet
with Gino Robair, Liz Albee and George Cremaschi
• Splatter Trio
with Gino Robair, Myles Boisen and Dave Barrett
September 21
9 pm
The Starry Plough
3101 Shattuck
Berkeley
Rova

---

September 23
7 pm
The Attic
931 Pacific Ave.


Santa Cruz


(831) 460-1800
theatticsantacruz.com
September 28
8 pm
The Berkeley Hillside Club
2286 Cedar Street (near Oxford)


Berkeley


(510) 845-1350
hillsideclub.org
[TOP]
---
Darren Johnston's
Reasons for Moving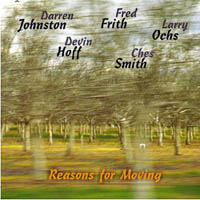 Trumpeter Darren Johnston's new release
Featuring Larry Ochs

Darren Johnston -

trumpet

Fred Frith -

electric guitar

Devin Hoff -

bass

Larry Ochs -

sopranino and tenor saxophones

Ches Smith -

drums


Description from Downtown Music Gallery Newsletter:
Featuring Fred Frith on electric guitar, Darren Johnston on trumpet, Larry Ochs on tenor & sopranino saxes, Devin Hoff on bass and Ches Smith on drums. Fred Frith and Larry Ochs (Rova) have been collaborating for many years and have an ongoing project called Maybe Monday. The fine young rhythm team of Devin Hoff and Ches Smith have worked with Nels Cline in different bands and Ches Smith seems pretty busy on numerous projects like Ribot's Ceramic Dog. I dont know trumpeter, Darren Johnston, but I would imagine that he met Fred Frith at Mills College. Darren and Larry co-produced this fine studio disc. Although this is an improvised session, it has that wonderful magic glue that these serious and seasoned musicians are so successful at Passing Fields starts with spacious guitar and sax sounds, but soon the rhythm team kicks into a powerful groove. As Frith locks into the rhythm with some bold noise guitar, both horns spin furiously above. Frith sounds a bit like Sonny Sharrock jamming on an electric Miles session. Each piece explores different combinations of players. While Dawn and the Flat Irons begins with haunting trumpet and contrabass, soon the rest of the quintet is simmering along. One of the great things about this disc is that Darren's trumpet and Larry's saxes work so well together, in similar tonal areas. Fred Frith is the perfect middle man, balancing between the horns and rhythm team perfectly, whether dealing in dark colors and shades or occasionally soloing underneath or with the spinning horns. On a few of these pieces, Frith gets a chance to lead and stretch out and turn the quintet inside-out into a strange twisted (prog?) rock unit. These pieces fall somewhere between Massacre and Material, yet they are still unique in their own way. Great things, fellows! - BLG
[TOP]
---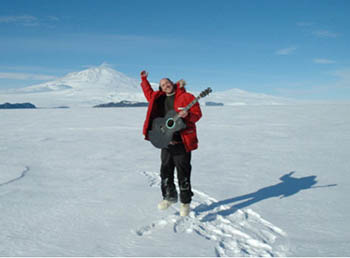 Henry Kaiser

(recently pictured in Antarctica) resumes the Improv:21 series October 24.

Rova:Arts is pleased to present the third season of Improv:21, a series of "informances" on twenty-first century music that explore the connection between predetermined structure (composition) and performer interpretation (improvisation). Led by master improvisers and composers from the Bay Area and beyond, and hosted by critic and KPFA radio host Derk Richardson, Improv:21 programs look at the many ways of organizing improvisation through a shifting (i.e. "improvised") combination of onstage lecture and dialogue, musical demonstration and performance, and audience question-and-answer forum.

Reasonably priced and easily accessible, these 90 minute to two-hour events are designed to inform, inspire, challenge, and enlighten a wide-ranging audience, from professional and amateur musicians to listeners of all backgrounds and levels of experience. All these informances are also being documented on video for future availability to students and fans alike.

The Marsh, in association with Other Minds begins its co-sponsorship of the 2007-2008 season of Improv:21. The Marsh is located @ 1062 Valencia St. between 21st and 22nd Streets. Admission is $10. For more info visit rova.org/improv:21/.

October 24 -

Henry Kaiser


November 28 -

Zeena Parkins


* Feb 21 -

Roscoe Mitchell


* April 9 -

Mark Dresser


* May 21 -

Scott Amendola


* dates subject to change

[TOP]
---
Ochs says: Things for you to check out in all that spare time you all have:
Mills College Music Department rarely gets the credit it deserves. The place has been a center for experimental music forever at this point, but the main thing about it through all these years is that the department is always importing great artists into the Bay Area, something that pumps energy into the cultural firmament at the same time that it draws interesting students to study, who then stay on and mature here, all in all adding greatly to the possibilities around the musical Bay. I could lay out all the names over the past 50 years but I'd rather just like to thank them once again, this time for bringing in Zeena Parkins for six months and Roscoe Mitchell for the next three years! And Rova:Arts will have both of them "informing" you of their own respective musical concerns at Improv:21 events later this season. Now if we could just get Mills to do a better job of publicizing the school's music concerts...
Il Lee is an artist from Brooklyn. All his drawings, and there are many, are created entirely with ink and that ink is put to paper using Bic pens. Dense, intense meditations. I saw a huge collection of his work in San Jose just before the show closed last month. But the books, while not as astonishing as the live viewing, are quite beautiful. www.youtube.com gets you the preview for the show that is gone from SJ.
The Grand Piano was a café/hang-out in San Francisco that hosted poetry readings in the late seventies; 10 writers who read there and also became part of a loose group that was tagged as "the language poets" have been and continue to compose a series of chap books called The Grand Piano, reminiscing about that era but also doing a lot of thinking about the art, the politics of then and now, and the cultural life of San Francisco and beyond. The Grand Piano describes itself as "an experiment in collective autobiography." It was begun over email by ten poets identified with Language poetry, who sought to reconnect their writing practices and to "recall and contextualize events from the period of the late 1970s." When completed, The Grand Piano will comprise ten parts, in each of which the ten authors appear in a different sequence, often responding to prompts and problems arising in the series. thegrandpiano.org
Dohee Lee is a performance artist and vocalist from Korea now residing in the Bay Area. Her vocals have impressed me to the degree that I have formed a new group including her, designing ways to work up compositions inspired by Asian art and traditional music. But you might want to check out her own performances when you can, whether she's working with me or not. I've seen her solo performances, and they are quite powerful. And she appears with Kronos at SF Jazz Festival in October.
Films on DVD:
The Intruder was William Shatner's first film, and it was directed by Roger Corman. Corman is known exclusively for his many "great" horror films, often made on very low budgets. But here he takes on racism in the South as Shatner portrays a young man bent on stirring up a small town to a lynching and wreaking... A little known, but very well done black and white film from the early sixties.
The Naked City is the police movie that spawned an entire genre. The TV show Law and Order does not exist without this movie, for example... Shot on the streets of NYC in the late forties, it is an absolute classic and the cinematography is terrific. Rent it only if you can find the release from Criterion; a great job of digital renovation. Also worth mentioning in a similar vein: Crime Wave (1954), a cinematographer's dreamscape; Weegee - like crime scenes are everywhere in this film, although the available print isn't nearly as well restored as that of The Naked City.
Away from Her just departed from Bay Area theaters but should be released soon on video. Julie Christie stars, and she is absolutely as brilliant as she ever was back in the sixties and early seventies. When you see this film try to remember that the director was only 28 when she made it. Clearly Sarah Polley, the director, is some kind of genius, but if you've seen her acting in other films, you already knew that. Don't be put off by the fact that Alzheimer's disease is at the center of the film. This is a great story and if you find yourself crying at the end of the film it won't be because of the course that the disease takes, but rather because of what this film reveals about human communication and the difficulties of doing the right thing. Brilliant.
CD to look out for:
Okkyung Lee is a cellist now residing in New York City. Also Korean-born, she is one of the most exciting performers to emerge recently. She also has a very excellent CD on Tzadik Records entitled Nihm: www.tzadik.com. She will be performing at Stanford in January.
[TOP]
---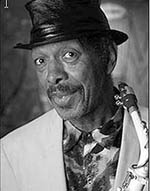 Ornette Coleman

shares his perspective in a rare interview on the BBC:
news.bbc.co.uk

[TOP]
---

The following are some lines offered at the passing of the great percussionist, composer and band leader, Max Roach, by Bay Area Argentine poet, Carlos Suarez.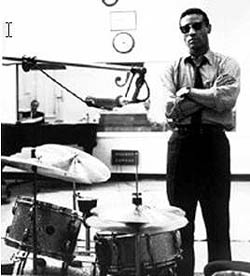 Maxwell Lemuel Roach



(January 10, 1924, Newland, North Carolina - August 16, 2007, New York City)


Mr. Roach

He could follow me.
He could follow you.
He could follow that guy there, and the bartender, the cops in the patrol car, the smiling little woman in yellow rain gear hosing the plaza and the fountain just after midnight.

God, man! He followed Bird into the hells of time and Coltrane into that wet alley where a universe made of cardboard and angry steel -- and it has another of those faces that freedom shows as a price tag -- keeps being explored like the things we abandon to the darkness when we wake up at three, too many years later to remember the exact color of those eyes, and the night has a thousand more.

He could follow Mingus all the way into his rage and back, unworried, always serious...

But hey! That isn't the deal. The deal is what he could do when he caught up with me and with you, with Dizzy, with Sonny Rollins... And no! It wasn't the company he kept. If you listen carefully you can tell when the Hawk and even Monk himself follow him to the places where his mind goes when he is all alone with all those numbers his drums multiply so we can keep breathing.

Thanks, Mr. Roach.
Rest now, Sir.
© Carlos Suarez, 2007



Art Davis


(December 5, 1933, Harrisburg, PA - July 29, 2007, Long Beach, CA)
The recent death of bassist Art Davis was noted by Rova members not only for the loss of a truly great musician, but also because of his important contribution when he joined Jimmy Garrison as the second bassist on John Coltrane's masterwork, Ascension - a piece that has had a significant impact on the 4 of us as listeners and performers. Earlier this year Rova comrade, Derk Richardson, had the opportunity to interview Dr. Davis in his home. It is hoped that the interview will be part of a documentary about Ascension that is in the works.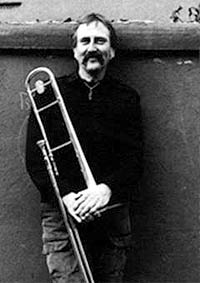 Paul Rutherford

, a leading figure on the British free and improvising jazz scenes for many years, has died, at the age of 67 (August 5, 2007).

See Steve Beresford's thoughtful rememberance of Paul in the new issue of Point of Departure: www.pointofdeparture.org

Also, from the critic Richard Williams: guardian.co.uk

One of the greats.

[TOP]