---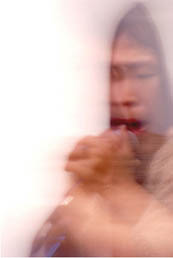 Singer Dohee Lee


Dohee Lee will be featured with Larry Ochs' KIHNOUA at the Noe Valley Ministry on October 20th.
photo: Matthew Campbell

---
---
Local Rova shows are invaluable for developing both our material and an audience for the work. Touring over the past 30 years has given us an opportunity to play pieces enough to refine them and explore their potential. Looking toward going out on the road (short as the upcoming October trip is) is exciting for us as players, composers and as part of the international community of improvisers. The quartet members always make it our business to interact with, listen to, and sometimes even play with musicians we encounter while we're away from home.

It's with particular excitement that we anticipate two upcoming concerts in Poland. Although Rova's probably been to Europe close to 50 times, we've never made it there. And, we get to close out the trip with a return to Vilnius which we haven't seen since our 1989 tour of the then Soviet Union and Baltic States.
October Tour Schedule:
[TOP]
---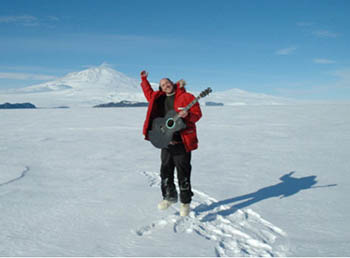 Henry Kaiser

(recently pictured in Antarctica) resumes the Improv:21 series October 24.

Rova:Arts is pleased to present the third season of Improv:21, a series of "informances" on twenty-first century music that explore the connection between predetermined structure (composition) and performer interpretation (improvisation). Led by master improvisers and composers from the Bay Area and beyond, and hosted by critic and KPFA radio host Derk Richardson, Improv:21 programs look at the many ways of organizing improvisation through a shifting (i.e. "improvised") combination of onstage lecture and dialogue, musical demonstration and performance, and audience question-and-answer forum.



Henry Kaiser: Improvisation at the end of the world



Kaiser discusses his eclectic musical life with Derk Richardson and audience members. Most specifically the evening will focus on Kaiser's current collaboration with Werner Herzog, filming a documentary in Antarctica. Henry's filmic collaborations with Werner Herzog have included the soundtrack for Grizzly Man, cinematography on The Wild Blue Yonder, and he is currently the producer of Herzog's Encounters at the End of the World, which will see theatrical release at the end of 2007. The film was shot entirely in Antarctica; Kaiser also created the score for the film along with his friend David Lindley. Henry will discuss and give a live demonstration of improvised film scoring, assisted by Danielle DeGruttola - cello. Widely recognized as one of the most creative and innovative guitarists, composers, improvisers, and producers in the fields of rock, jazz and contemporary experimental music, California-based musician Henry Kaiser is one of the most extensively recorded as well, having appeared on more than 225 different albums. Evidence of his exceptional musical breadth and versatility can be found in a few of the extraordinary artists with whom he has recorded and/or performed: Herbie Hancock, Zakir Hussain, Richard Thompson, Bill Laswell, Steve Lacy, Fred Frith, Barbara Higbie, John Abercrombie, Anthony Braxton, Michael Stipe, Terry Riley, Jim O'Rourke, Ryuichi Sakamoto, Sergei Kuriokhin, Diamanda Galas, Sonny Sharrock, John Zorn, David Torn, Bill Frisell, Eugene Chadbourne, Evan Parker, Derek Bailey, Jerry Garcia, Miya Masaoka, and Cecil Taylor.

Reasonably priced and easily accessible, these 90 minute to two-hour events are designed to inform, inspire, challenge, and enlighten a wide-ranging audience, from professional and amateur musicians to listeners of all backgrounds and levels of experience. All these informances are also being documented on video for future availability to students and fans alike.



The Marsh

, in association with

Other Minds

begins its co-sponsorship of the 2007-2008 season of Improv:21. The Marsh is located @ 1062 Valencia St. between 21st and 22nd Streets. Admission is $10. For more info visit rova.org/improv:21/.



Improv:21 Season

October 24

-

Henry Kaiser

November 28

-

Zeena Parkins

* Feb 21

-

Roscoe Mitchell

* April 9

-

Mark Dresser

* May 21

-

Scott Amendola

* dates subject to change


[TOP]
---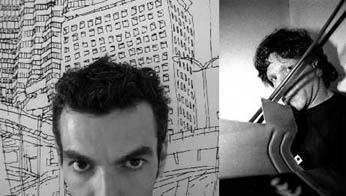 Tuesday October 2 at 8:00 pm:
Antonio Jorge Gonçalves and Gino Robair:
Improvised Light Painting with Skronky Music
AT THE BERKELEY HILLSIDE CLUB
2286 Cedar Street
Berkeley
Info: (510) 845-1350
The Berkeley Hillside Club is enraptured to present Antonio Jorge Gonçalves and Gino Robair performing "Improvised Light Painting with Skronky Music". This promises to be be a one-of-a-kind event; don't miss it!

The Performance:
Portuguese multimedia artist Antonio Jorge Gonçalves will improvise with light and drawings throughout the Hillside Club, accompanied by two local musical groups-the Acme House Band and the Jon Raskin Ensemble. Gonçalves creates his visuals using a laptop, a Wacom tablet, and a portable projector, which he pushes around in a cart in order to use the entire performance space as a canvas. He calls his real-time digital drawing "live comics and projection."

The music and visuals will take advantage of the entire performance space, with sound bathing the room from all directions and nearly every surface becoming a canvas. As a special addition acclaimed Butoh dancer, Monique Goldwater, will be a "living screen" for a section of the performance.

The Performers:
Through the '80s and the '90s, Lisbon-based Antonio Jorge Gonçalves published his graphic novels in books, newspapers, and magazines in Portugal, Spain, France, and Italy. He has also designed sets and costumes for several theater productions, and he recently created the Subway Life Project.

The Jon Raskin Ensemble is Liz Allbee (trumpet), Matthew Goodheart (piano), Kjell Nordesen (drums), and Jon Raskin (saxophones).

The Acme House Band is a group of electro-acoustic improvisers including Tom Djll (trumpet), Matt Ingalls (clarinet), John Shiurba (guitar), Tim Perkis (electronics), and Gino Robair (synthesizer).
---
Wednesday, October 10, 7:00 pm:
Reading in the Gallery
Histories
Norma Cole
Michael Palmer
Rebecca Solnit
Recent paintings by Amy Trachtenberg
@ BRIAN GROSS FINE ART
49 Geary Street, 5th Floor
San Francisco, CA
www.briangrossfineart.com
Saturday, October 20th at 8:15
Noe Valley Music Series: special double bill
1. Tips: Songs by Steve Lacy
14 Aphorisms by Georges Braque
Arranged and performed by:
Phillip Greenlief?alto saxophone
Aurora Josephson?voice
Bruce Ackley?soprano saxophone
2. KIHNOUA:*
Dohee Lee?voice
Larry Ochs?saxophones and compositions
Scott Amendola?percussion and electronics
*Kihnoua ("keen- wah") a Greek word meaning, among many other things:
"movers," "makers of change."
@ Noe Valley Ministry
1021 Sanchez Street
San Francisco
(415) 454-5238
www.noevalleymusicseries.com
Thursday, October 25th at 8:00 pm
Weasel Walter Large Ensemble
21 GRAND
416 25th St.
(at Broadway)
Oakland
(510) 444-7263
www.21grand.org/
featuring Damon Smith, Aram Shelton, Jon Raskin, Tim Perkis, David Slusser, Liz Albee, Weasel Walter and others.
[TOP]
---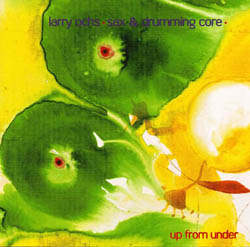 cover painting by Emilie Clark

Larry Ochs?tenor and sopranino saxophones, compositions
Scott Amendola?drums
Don Robinson?drums
Up from Under
Dragons Fly
X-10
and nothing but...
neoNawi
Poporfa
X-09
Finn Passes Pluto
The CD was recorded direct to 16 tracks at Teatro Fondamente Nuovo in Venice, Italy over two beautiful days in June 2004. Each piece has a particular focus and feeling. In this "live-studio" situation we had the feeling of a live concert but the luxury of being mentally on top of each piece's formal structure as we went along. Hopefully we got the best of both worlds... The influences on the music are still the same as they were when the band formed in 2000: blues shouters from around the world. More specifically, to name a few inspirers: John Lee Hooker accompanied only by his guitar; Marta Sebastyen solo; Yandè Coudo Sène of Nigeria; shenai player Khadim Ali Khan; the pansori singers and hojok players of Korea.



Available online and on the street on October 10


www.ochs.cc

Still available from downtownmusicgallery.com:
Frith, Ochs, Johnston, Hoff, Smith: Reasons for Moving

[TOP]
---
Bill Horvitz ? guitar
Steve Adams ? sax and flute
Harris Eisenstadt - drums (except as noted)
Sunday, October 28th, 8PM (with Paul Kikuchi drums)
Seattle, Washington
Gallery 1412
1412 18th Avenue at Union Street
info@gallery1412.org
Monday, October 29th, 7:30 PM (with Paul Kikuchi drums)
Nanaimo, BC, Canada
The & Loan Gallery
www.zula.ca
Tuesday, October 30th, 7:30 PM (with Paul Kikuchi drums)
Gabriola, BC, Canada
The Roxy
560 North Road
www.zula.ca
Thursday, November 1
Vancouver, BC
1067
1067 Granville Street
www.myspace.com/1067granville
Friday, November 2nd, 8 PM
Astoria, Oregon
The Astoria Visual Arts Center
453 A 11th St.
contact: Paul Hoskin 503-325-2276
www.astoriaarts.com
Saturday, November 3rd
Corvallis, Oregon
Sahalie Wine Cellar
151 NW Monroe Ave #101
(541) 754-7457
www.sahaliewine.com
Sunday, November 4th
Portland, Oregon
Someday Lounge
125 NW 5th Avenue
503.248.1030
www.somedaylounge.com
Monday, November 5th


TBA

Tuesday, November 6th
Arcata, California
Jambalaya Restaurant
915 H Street
(707) 822-4766
Thursday, November 8th 8PM
Healdsburg, California
Palette Cafe and Gallery
235 Healdsburg Avenue, 105
(707) 433-2788
www.healdsburgjazzfestival.org
www.palette-art.com

[TOP]
---
Here are some of my favorite web sites that deal with music in one way or another:
[TOP]
---


Want to sample some of the earlier Imprv21 informances? We will be uploading one show evey two months to RadiOM (the web site of Other Minds) until the entire series is online. And there is a lot of information in each show.

Here's what's available at the moment:
Rova
Nels Cline
Fred Frith
Carla Kihlstedt



Until November...



[TOP]