ROVA NEWS :: October - November :: 2010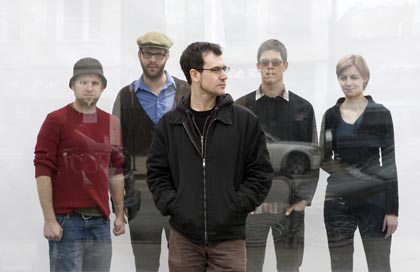 What's Up?
Our fall season begins with an exciting project that's the brainchild of double reedman and composer, Kyle Bruckmann: On Procedural Grounds—bringing Rova and Chicago-based Wrack together for the first time for a concert and recording session. Jon Raskin is enjoying a month-long residency at the Headlands Center for the Arts in Marin County, where he's working on new compositions. Rova will join him to play a Sunday afternoon set in October. The rest of the quartet is busy with other Bay Area concerts. Come have a listen.
---
Rova + Wrack: On Procedural Grounds
Friday, October 1, 8:00 PM
Local improvising oboist and composer Kyle Bruckmann will premiere, On Procedural Grounds, an extended work for Rova in collaboration with his long-running quintet Wrack and Bay Area improv stalwarts, Gino Robair and Tim Perkis providing the electronics. Rova will play the second set as a quartet.

Bruckmann's creative work spans a dizzying range, from a traditional Western classical foundation into genre-bending gray areas encompassing free jazz, electronic music and post-punk rock. International touring and appearances on more than 50 recordings have led to his recognition as "a modern day renaissance musician" and "a seasoned improviser with impressive extended technique and peculiar artistic flair."

His Wrack project was founded in 2002 with the explicit intent of blurring distinctions between compositional and improvisational procedures, creative and interpretative mindsets, African-American and Euro-American experimental traditions. It is equally a book of compositions, an unconventional chamber ensemble, and an aesthetic philosophy entangling the methodologies of contemporary jazz and classical modernism.

"I can cite a 1993 Rova performance I witnessed while an undergraduate conservatory student in Houston as a seminal experience, instrumental in launching me onto the creative path I've pursued ever since." -KB

Wrack is:

Kyle Bruckmann, oboe and English horn; Jason Stein, bass clarinet; Jen Clare Paulson, viola; Anton Hatwich, bass; and Tim Daisy, percussion
Friday October 1, 8:00 PM
ROVA + WRACK + Gino Robair and Tim Perkis
The Community Music Center
544 Capp Street
(Between 20th and 21st Streets)
San Francisco

sfcmc.org
TEL: 415.647.6015
$12, $8 students/seniors, FREE to CMC students
[TOP]
---
Join the Rova:Arts Community
Become a Fan on Facebook!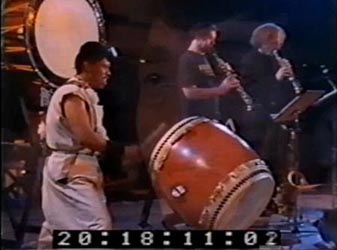 Already a fan? Encourage your Facebook friends to become Rova:Arts fans.
When we hit 1,000 Facebook fans, we'll give every fan access to a video of the 40-minute Rova + San Francisco Taiko Dojo collaboration from the 1989 Leverkeusen Jazz Festival (in Germany)! This is the only video recording of the extended piece Dance of the Maroons, composed by Jon Raskin and Rova for this special ensemble in 1988. Long thought to be lost, this uncut footage is something special; it will not be shown until we reach 1000 fans—and then will only be available online for two weeks before being taken down. The only notice of the video's availability will be posted on Facebook. facebook.com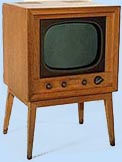 Check out Rova on YouTube!
We're frequently posting new videos, both recent and vintage; if you subscribe to our YouTube channel, we'll notify you when there is something new to watch. Go to http://www.youtube.com/user/ROVAARTSSF and click the subscribe button.
[TOP]
---
Upcoming Shows
Sunday, October 17, 3:00 PM
ROVA at the Headlands Center for the Arts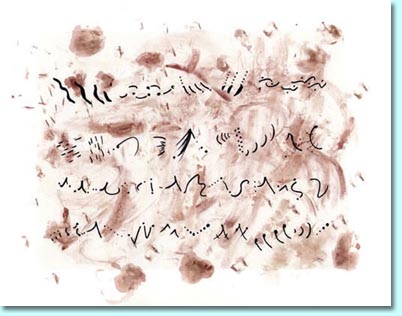 The Headlands Center for the Arts, not far from the Golden Gate Bridge in western Marin County, is a fantastic institution and resource for artists of all media. Rova's Jon Raskin will be in residence there for a month this fall, where he will be provided the time and space to concentrate on music.
On October 17, from noon till 5:00 pm, the Fall Open House will take place at the Headlands Center. This is a great opportunity to see and hear the work of the artists who are working there this season. The setting is ideal for hikes, picnics, kids, dogs and encountering provocative art.
At 3:00 that afternoon Rova will play a set of new work. Come join us and the resident artists for a trip outside the City.
Directions to the Center:
http://www.headlands.org
Rova will play in Jon's studio there, in a building on Field road, just past the Nike base on the left.
---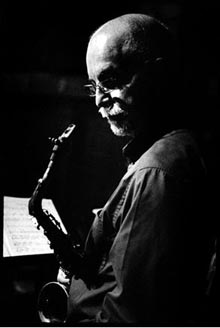 The Crushing Spiral Ensemble

Steve Adams – tenor and soprano sax
Sheldon Brown – alto sax
Chris Grady – trumpet
Matt Small – bass
Micah McClain – drums

Friday, October 15, 10 pm
Davies Symphony Hall
Performance on the second tier lobby after the SF Symphony concert
-AND-

Monday, November 1 – 9:30 pm
The Make-Out Room
3225 22nd Street
San Francisco
415-647-2888
http://www.makeoutroom.com/
---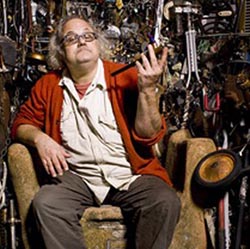 Monday, October 18, 8:00 PM
Eugene Chadbourne + Bruce Ackley
Duos and Solos
Ackley and Chadbourne have a long standing association as friends and musical collaborators. They have not played a duo in the Bay Area in more than 15 years! This should be fun.
Tom's Place
3111 Deakin Street
Berkeley
http://4-33.com/tuesday/index.html
---
Friday, October 29, 6:30 pm
Steve Adams with Matt Small's Chamber Ensemble
Made in San Francisco: Modern Music Influenced by the Music of the Post-Impressionist Era
Presenting new works in conjunction with the de Young Museum's exhibition: Van Gogh, Gauguin, Cézanne, and Beyond, Post-Impressionist Masterpieces from the Musée d'Orsay
Steve Adams – tenor and soprano sax
Sarah Zaharako – violin
Rachel Condry – clarinet and bass clarinet
Kymry Esainko – piano
Paula Dreyer – piano
Matt Small – composer, bass
Micah McClain - drums
Wilsey Court at the de Young Museum
Golden Gate Park
San Francisco
Free admission
---
ODD (featuring AXIS and inkBoat)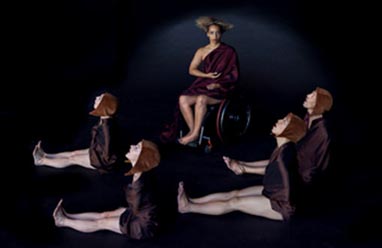 Directed by Shinichi Iova-Koga
Music by Joan Jeanrenaud w/Dohee Lee + Larry Ochs
Friday - Sunday November 5, 6, 7
ODC San Francisco
Friday - Sunday November 12, 13, 14
Malonga Casquelourd Center for the Arts
Oakland
Friday and Saturday shows begin at 8pm, Sunday Matinees 3pm at ODC and 2pm at Malonga.
For more information check out our website at http://www.inkboat.com
---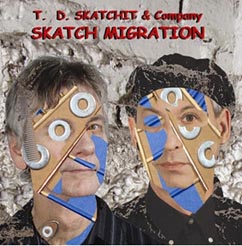 Sunday, November 5
T. D. Skatchit & Company
Skatch Migration CD Release Show
Featuring T.D. Skatchit (Tom Nunn & David Michalak) playing in trios with guests who appeared on the CD
Bruce Ackley – Saxophones
Bob Marsh – Voice
Doug Carroll – Cello
Aurora – Voice
Meridian Gallery
535 Powell Street
San Francisco
http://www.meridiangallery.org
$10
---
Sunday, November 7, 8pm
Steve Adams w. Adm. Ted Brinkley's Horn Blower Cruise
Featuring an all-star cast too numerous and unpredictable to mention!
The Jazz School
2087 Addison
Berkeley
510-845-5373
---
Favorite Street–Jon Raskin
Here is a list of some of Jon's recent favorite YouTube links, in no particular order. He says, since the demise of so many independent record shops, YouTube has become a source for exploration, with an endless stream of videos of all kinds of music and art getting posted. There's a bonus audio recording as a chaser.
The HarkinsLarson, 1. Ford 1991
http://www.youtube.com
Bill Viola, The Reflecting Pond
http://www.youtube.com
Milton Babbit, Occassional Variations
http://www.youtube.com
Alimn Qasimov & Fargana Qasimova and Morganland Chamber Orchestra
http://www.youtube.com
Gay McKeon, Irish Uilleann Pipes
http://www.youtube.com
Lyn Hejinian, Eleven Eyes - animated
http://www.youtube.com
Enkh Jargal at Musique du Monde (Mongolian Music)
http://www.youtube.com
Son House, Death Letter
http://www.youtube.com
Duke Ellington- featuring Harry Carney, Sophisticated Lady
http://www.youtube.com
Raymond Scott, Powerhouse
http://www.youtube.com
http://www.youtube.com
Aster Aweke: shashemene in south Ethiopia
http://www.youtube.com
Frankly Jazz: 30 minute television show produced in Los Angeles in the early 1960's
So much good music, take your pick. I love Shorty Rogers Martian Bossa Nova.
http://www.youtube.com
Carlo Gesualdo (1560-1613)
Madrigal Moro, lasso, al mio duolo (Book VI, n.17) Il Complesso Barocco
(dir. Alan Curtis) From Death for Five Voices (dir. Werner Herzog)
http://www.youtube.com
Moog: A Documentary (Robert Moog, inventor of Moog Synthesizer)
http://www.youtube.com
Captain Beefheart: She's Too Much For My Mirror & Human Gets Me Blues...truly amazing
http://www.youtube.com
The Subject is Jazz: Baka women from Gbiné singing their traditional "Yelli" songs
http://www.youtube.com
Billie Holiday & Gerry Mulligan, Love Will Make You Do Things That You Know Is Wrong
http://www.youtube.com
The Sound of Jazz, Open All Night
Count Basie All Stars: Emmett Berry, Doc Cheatham, Joe Newman, Joe Wilder (tp); Roy Eldridge (tp, flhn); Vic Dickinson, Benny Morton, Dicky Wells (tb); Earl Warren (as); Coleman Hawkins, Ben Webster (ts); Gerry Mulligan (bs); Count Basie (p); Freddie Green (g); Eddie Jones (b); Jo Jones (d)
http://www.youtube.com
Roscoe Holcomb, John Hardy
http://www.youtube.com
The Subject is Jazz: National Educational Television for classroom use in 1957-'58
With a great list of artists. Start with George Russell's clips.
http://www.youtube.com
Miles Davis Live In Copenhagen, 1969
http://worldmusic.nationalgeographic.com/view/page.basic/article/content.article/miles_davis_promo/en_US
The Cosmic Scene, Duke Ellington's Spacemen
Recorded in 1958 on Columbia and re-released on Mosaic Music in 2007
Duke Ellington – piano, Clark Terry - trumpet, Quentin Jackson, Britt Woodman - trombones, John Sanders - valve trombone, Jimmy Hamilton -clarinet, Paul Gonsalves - tenor saxophone, Jimmy Woode - bass, Sam Woodyard - drums.
This is a wonderful recording with some really beautiful work by Clark Terry and Paul Gonsalves. Terry on trumpet is often playing the lead lines, and the orchestration is outstanding.
[TOP]
RadiOM - Improv:21 Archives
Want to sample some of the Improv:21 informances?
We will be uploading one show every two months to RadiOM (the archive website of Other Minds) until the entire series is online. There is a lot of stimulating information in each show. We just added a couple more.

Here's what's available at the moment. Roscoe Mitchell has just been added. Watch for the great Mark Dresser show coming online soon.

Roscoe Mitchell - Improvising with Mr. Mitchell
Recorded on February 20, 2008, at the Marsh in San Francisco, Derk Richardson introduces saxophonist, composer, and improviser extraordinaire, Roscoe Mitchell. The very embodiment of the deliberate and intelligent artist, Mitchell proceeds to hold court before an attentive and appreciative audience, presenting some of his musical collaborations, and sharing his ideas about improvising while also answering a variety of interesting questions.

Roscoe Mitchell
Chris Brown and Tim Perkis
Zeena Parkins
Bob Ostertag
Wadada Leo Smith
Lawrence "Butch" Morris
Rova
John Zorn
Cheryl Leonard
Nels Cline
Fred Frith
Carla Kihlstedt
Gino Robair
Miya Masaoka
Ned Rothenberg
Oliver Lake
Ben Goldberg
To get news from Other Minds click here .


---
Contribute to Rova:Arts
We want to express our deepest gratitude to all the generous private and public donors who contribute to Rova:Arts. Your support has been essential to the successful presentation and documentation of our projects over the year.
Formed in 1977, Rova's been in a state of continual artistic renewal for over 3 decades. Rova:Arts, formed in 1986 to support the activities of Rova, has been instrumental in producing local projects and advancing an ongoing cultural exchange between local Bay Area artists and the international scene through its Rovaté concert series. These events, made possible by funding to Rova:Arts, have engaged Bay Area musicians and composers—as well as musicians from around the world. Rova:Arts projects are often reproduced in other parts of the world, thereby bringing the work to a broader audience. Also, many Rova:Arts events have been recorded, resulting in releases which have been enthusiastically celebrated.
Click here to find out more and to Join Rova:Arts. Thanks for being part of the art.
:: WATCH FOR MORE ROVA NEWS IN DECEMBER ::
Rova.org

RovaMySpace
RovaFacebook
CDBaby
---
[TOP]