---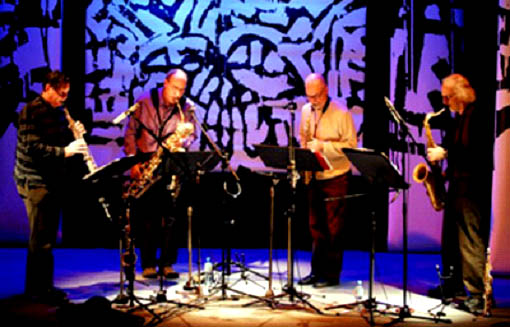 Rova playing Poznan, Poland, in October, 2007
---
---
As 2007 winds down...

Ochs is on the road in Europe with the Sax & Drum Core (augmented for these concerts by Natsuki Tamura on trumpet and Satoko Fujii on piano). The other Rovas are regrouping from our tour in October, preparing for a CD release party in December, other local shows after the first of the year, and extensive touring in the Spring. Zeena Parkins, in residence at Mills College this fall, will continue the Improv:21 series – another great reason to contribute to Rova:Arts, the nonprofit that supports the work of Rova and its community.

Rova at Noe Valley Ministry




Saturday, December 1 at 8:15





Noe Valley Music Series


at the Noe Valley Ministry
1021 Sanchez Street
San Francisco
(415) 454-5238
noevalleymusicseries.com/


To celebrate the just now released The Juke Box Suite, Rova will play the entire Suite, and also present new compositions from its current book. Join the party and pick up the new CD.

Larry Ochs' Kihnoua
with special guests
Zeena Parkins, Carla Kihlstedt and William Winant


Saturday, Dec 8 2007 8:30 PM



21 Grand
416 25th St. near Broadway
Oakland

SET 1

KIHNOUA (w/compositions by Larry Ochs)

Larry Ochs:

saxophones

Dohee Lee:

voice

Scott Amendola:

percussion and electronics

Zeena Parkins:

electric harp
---
SET 2
Improvisations for KIHNOUA plus:
Carla Kihlstedt:
violin, etc.
William Winant:
selected percussion
This group, a new one in 2007, just gets better with each show, and it will be exciting to hear Zeena Parkins add her musical sensibilities to the first set, not to mention Kihlstedt and Winant in set 2. A very special show!
[TOP]
---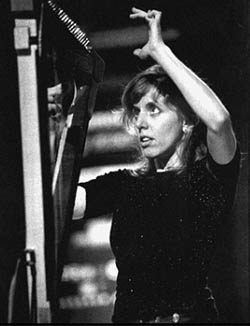 Zeena Parkins




The Marsh




Wednesday, November 28 at 7:30 PM


1062 Valencia Street
San Francisco
(between 21st and 22nd Streets, near 24th Street BART)
Admission $10

Rova:Arts is pleased to continue the third season of Improv:21, a series of ?informances? on twenty-first century music that explores the connection between predetermined structure (composition) and performer interpretation (improvisation). Led by master improvisers and composers from the Bay Area and beyond, and hosted by music writer and KPFA radio host Derk Richardson, Improv:21 programs look at the many ways of organizing improvisation through a shifting (i.e. ?improvised?) combination of onstage lecture and dialogue, musical demonstration and performance, and audience question-and-answer forum.

Zeena Parkins will talk with host Derk Richardson and the audience about her career and her ongoing sound explorations centered around work on electric harp. She will also discuss her work arranging several music CD projects for Bjork and other artists.

Ms. Parkins, multi-instrumentalist, composer and improviser is well-known as a pioneer of the electric harp as well as an innovator on the acoustic harp, employing original playing techniques, preparations, and layers of digital and analog processing. She describes her harp as a "sound machine of limitless capacity" and has used a wide range of household objects, hardware store finds, ?conventional? sound altering devices (amps, pickups, etc.), along with computer technology, to extend the possibilities of her instruments.

She has appeared on over 70 CDs and in hundreds of concerts all over the world. Special projects have included touring and recording with Bjork, Tin Hat, Yoko Ono, Don Byron, Butch Morris, Elliott Sharp, Ikue Mori, John Zorn and Fred Frith. A lightning bolt of a performer, Zeena is a sought after collaborator, performing with the who's who of contemporary music makers.

The Marsh, in association with Other Minds, is co-sponsor of the 2007-2008 season of Improv:21.
For more info visit: rova.org/improv:21.

Coming up in the Improv:21 season February 20

?

Roscoe Mitchell

April 9

?

Mark Dresser

May 21

?

Scott Amendola


[TOP]
---
Rova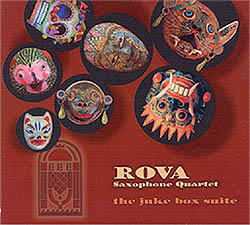 The Juke Box Suite
is comprised of seven compositions by Jon Raskin, and conceived as a group of pieces blending strands from diverse cultures and music genres from around the world. "Juke Box Choro" has the rhythmic and melodic feel of Brazil's great composer, Alfredo da Rocha Vianna Filho (1897-1973), better known as Pixinguinha, but is all Raskin in its harmonic and intervalistic language; "Juke Box Niggum" (the term is a variation on nigun, the Hebrew word for a Jewish humming tune) is the sound of the Eastern European schtetl injected with driving polyrhythmic horn lines; "Juke Box Afro Balkan" is anthem-like and strives for the common pulse between Macedonia and West Africa; and "Juke Box Detroit" is an urban blowfest drenched in the polytonal blues. Produced by Jon Raskin, the disc was recorded and mastered by Myles Boisen at Guerilla Recording in Oakland, September, 2006.

Available on CD Baby or in person at the Noe Valley Ministry show on December 1st.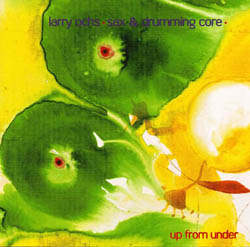 cover painting by Emilie Clark
larry ochs ? sax & drumming core
Up from Under

Larry Ochs?tenor and sopranino saxophones, compositions
Scott Amendola?drums
Don Robinson?drums
"Rova saxman Larry Ochs turns in a great performance here with a pair of drummers -- easily one of the most dynamic titles in Atavistic's "out trios" series! Ochs plays both tenor and sopranino sax, alongside the drums of Scott Amendola and Don Robinson -- each separated into a stereo channel of their own for the recording. There's a raw, gritty trio feel here that's almost like a mid 60s album for ESP -- and Ochs himself is sometimes more forceful than we remember." ? DUSTY GROOVE AMERICA
Available for purchase online through Downtown Music Gallery, Loftjazz, Atavistic
[TOP]
---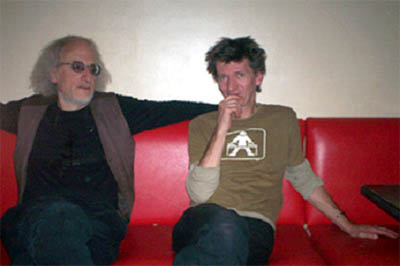 Ochs and Hans Falb relax at his Jazzgalerie, Nickelsdorf Austria
Rova had a quick but successful European tour at the beginning of October that started at the Jazzgalerie in Nickelsdorf, Austria. This roadside café near the Hungarian border was a stop on our first tour of Europe nearly 30 years ago. Because we hadn't played there for many years, it felt like a homecoming. Hans Falb runs the restaurant (good food!), books groups in the small club in the basement and has a renowned yearly festival that features innovative musicians from around the world. Recently he has been playing prepared turntables, so it was a pleasure to invite him to join us toward the end of our second set for an improvisation. It was great to see several friends in the crowd, including Georg Grawe, Paul Lovens and Marco Eneidi.
Early the next morning, we stood at rail tracks waiting for our train and watched the border guards do their rounds. 3 decades ago, when we first toured in this part of Europe the guards were on the Hungarian and Czech borders to keep their citizens in. Now it's the Austrian guards who are looking for migrant workers coming across the border from the east, trying to keep them out! The feeling of the communist eastern bloc is gone, and now the push is on to the European Union border further east. We traveled by train and then van to Krakow for our first ever concert in Poland. We were hoping to find our new CD, The Juke Box Suite, when we arrived, since it was due for release on the Polish label NotTwo; unfortunately it was delayed for a couple of weeks and only the empty sleeves were finished. Our concert was in the old Jewish section of Krakow, at Alchemia, a small, barrel-ceilinged theater. It was a great success, only marred by Larry dropping his tenor; we had to finish the evening with Larry on sopranino. Fortunately, Bruce had his tenor so Larry finished out the tour with Bruce's horn.
For horn players only: There was a hilarious scene the next day when a saxophone repairman met us at a highway gas station to assess the condition of Bruce's horn so Larry would feel comfortable using it. He pulled the horn out of the case?with cars and trucks whizzing by noisily?and, without putting the mouthpiece or neck on the horn, he held the top open hole of the tenor to his ear and manipulated the keys to make the pads open and close on the tone holes. He listened closely for leaks or parts that might need to be adjusted, and then took the horn along with him to some minor repairs. We all thought of our dedicated sax technician, Lee Kramka and had a good laugh.
Poznan was our next stop and, after a 7 hour drive to the western border of Poland, we checked in a very nice hotel off the city square. Prior to the gig we were interviewed for a short promo spot to air on Polish TV news. The theater we performed was a wonderful acoustic space which is being used for a hip series of concerts.
Our final performance of the tour was at a festival in Vilnius, Lithuania. We were joined by two drummers, Vladimir Tarasov (with whom we?ve collaborated with a number of times since having met him in 1986), and Fritz Hauser (from Switzerland), to perform a special program of works for sextet by Larry Ochs, Steve Adams and John Coltrane. The venue was a beautiful 19th century symphony hall with 2 balconies and great sound. Tarasov was a member of the legendary Ganelin Trio, and the hotel we stayed at housed the historic jazz café where the groundbreaking trio got their start in the early 1970s. The room has 1950's style architecture with socialist realism from the period displayed on the walls.
Rova was in Vilnius in 1989 but I couldn't recognize a signal aspect of the city from that visit. What a transformation! The Soviet feeling is gone and has been replaced with a lighter feeling and surpising optimism.
[TOP]
---
Our family recently had the fortune to acquire a beautiful new upright piano, so I?ve been playing it and listening piano recordings a lot. Here are some notable pieces in the Western ?classical? tradition?many of which have been long-time favorites, but which each sound fresh thanks to our recent addition.
Karlheinz Stockhausen


Klavierstucke I ? XI
Herbert Henck ? piano
There is a progression from Stockhausen's earliest compositional ideas at the start of the 1950s to his those in his boundless imagination by mid-decade which is evident in this cycle of piano pieces. I?ve been listening to Aloys Kontarsky as recorded in 1966, but Henck's recordings are great and they?re available. His music makes the piano sound.


Arnold Schönberg


The Piano Music
Maurizio Pollini - piano
Here too the progression is clear, as these pieces span the composer's career and follow his departure from classical tonality, exploration of atonality and development of his 12-tone technique. The clarity of these performances brings one into the composer's universe.


Pierre Boulez


Piano Sonatas Nos. 1 - 3
Idil Biret ?piano
Biret is a powerful and sensitive performer, and these works are truly unique. Boulez piano music is confrontational and the complexity of his language fits comfortably on the instrument. This version is really inexpensive too.


Alexander Scriabin


The Complete Piano Sonatas
Ruth Loredo ? piano
The real deal here is the pentultimate sonata, No. 9 ?Black Mass?. Majestic, transcendental and iconoclastic, this is a masterpiece; but Scriabin's last piano pieces (after the last Sonata) are even more personal.


Charles Ives


The "Concord" Sonata
John Kirkpatrick, piano
This wall of Ives is his Second Piano Sonata, and it embodies all the characteristics of his orchestral and chamber music: massive fields of free tonality which reveal, through palimpsest, layers of familiar themes and pastoral scenes. Hearing it all on the piano gets one inside the ideas.


Fredric Rzewski


The People United Will Never Be Defeated
Ursula Oppens - piano
Following up Ives with Rzewski makes a lot of sense because these musics traverse much of the same emotional and conceptual territory, and get you easily from first part of the 20th century to the last. Oppens is spectacular here, though you can also check out the composer performing this piece on a hatArt release.


Terry Riley


The Harp of New Albion
Terry Riley ? piano
This is a suite of 11 pieces for piano in ?just intonation? (the piano tuning based on the harmonic series) rather than the normal tuning in 12 equal half steps to the octave. Some of the intervals, therefore, are seemingly ?out of tune? and make for a startling listening experience. Riley improvised much of what we hear, although portions of each section are composed and planned out.


Olivier Messiaen


Vingt Regards Sur L?Enfant Jésus
Peter Serkin ? piano
Messiaen's compositional themes of asymmetrical time signatures, personally designed modes and characteristic interplay of intervals all permeate this music and contribute to one of his most successful works. John Ogden also made a great recording of this, though it might be harder to find.


John Cage


Music for Keyboard 1935-1948
Jeanne Kirstein ? piano
These pieces are performed on conventional piano, prepared piano or toy piano. The lyricism and inventiveness of them make them fresh and powerful still. While some of the pieces bring to mind other musics, they stand alone with their own integrity. Required listening.
Two films:
On and Off the Record
These films, made by the National Film Board of Canada in 1959 and now available as a single DVD, make for a fascinating portrait of pianist Glenn Gould. The footage is great, giving us a chance to see his creativity at full force, and his congenial manner at its most magnetic. Really good stuff.
[TOP]
---
In November 2005, Rova had the opportunity to play 3 festivals in Europe with the

Alligator in Your Wallet Big Band

.

Organized by Larry Ochs, the tour featured the compositions of Steve Adams and pianist Satoko Fujii. Originally performed and recorded at Rovaté 2002, the Alligator music was presented in Lausanne, Switzerland; Strasbourg, France; and Tampere, Finland. The core group of Rova, Fujii, Natsuki Tamura on trumpet and Akira Horikoshi on drums traveled together, and at each stop the Alligators picked up 5 local musicians to fill out the band. This fluid ensemble, on the move through Europe, helped to make each performance fresh and challenging.

The point of telling you this now is that we have a beautiful one-hour documentary made by Finnish national TV at our last stop in Tampere. A DVD of this show, integrating a lot of wonderfully recorded live music footage with interesting interviews with Adams, Fujii, and Ochs will be available to anyone contributing $40 and above to the Rova:Arts annual drive. Your generous contributions will help support local productions we have planned for 2008.

More details on this will follow in just a few weeks. Stay tuned...

[TOP]
---
Want to sample some of the earlier Improv:21 informances? We will be uploading one show every two months to (the web site of Other Minds) until the entire series is online. And there is a lot of information in each show.
Here's what's available at the moment:
Rova
Nels Cline
Fred Frith
Carla Kihlstedt
Gino Robair's informance should be online by the end of this month.
To get news from Other Minds click here.
[TOP]