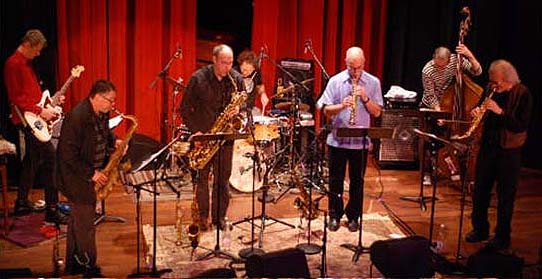 We're now moving to a bi-monthly newsletter schedule, so this missive will include November and December activities of Rova and its community. Amidst economic forebodings and electoral hope Rova and members are maintaining an artistic presence locally and internationally. We hope you can join us. Check out what's cooking at Steve's house as he zones in on cookbooks in his Favorite Street.
Thursday, November 20th, 8:00 PM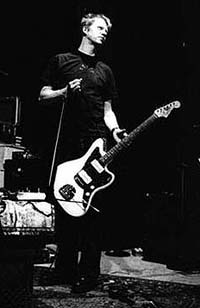 Freight & Salvage


1111 Addison Street (near San Pablo)
Berkeley
Information: 510.548.1761
www.thefrieght.org

Rova and the Nels Cline Singers join forces for a reprise of their exciting collaboration organized for Rovaté 2008 last May, presenting two explosive sets of music. The Celestial Septet book includes original music by members of the band, featuring a special piece dedicated to Albert Ayler by Larry Ochs. If you missed this group in May, make it to the Freight. The Celestial Septet is monstrous.

The Nels Cline Singers are:
Nels Cline – electric guitar
Scott Amendola – drums + electronics
Devin Hoff – bass

Ochs' Sax & Drumming Core
Featuring Scott Amendola and Don Robinson, Drums
with special guests:
Satoki Fujii (piano and synthesizer) & Natsuki Tamura (trumpet)

Saturday, November 1, 8 PM




Seattle




Seattle Art Museum


Produced by EARSHOT JAZZ FESTIVAL
www.earshotjazz.org



Sunday, November 2, 8 PM




Vancouver, BC




The Western Front


Produced by COASTAL JAZZ
www.coastaljazz.ca



Thursday, November 6, 8 PM


The Jon Raskin Quintet
and
Jason Levis and Lisa Mezzacappa Duo


21 Grand


416 25th Street at Broadway
(Near 19th Street BART)
Oakland

Jon Raskin, Liz Allbee, George Cremaschi, Gino Robair, John Shiurba
George Cremaschi is in the Bay Area briefly from Europe and will join the current Raskin Quartet for an evening of music based on art scores and far ranging improvisations. Besides the compelling acoustic instruments, the electronic setups that Shiurba, Allbee, Robair and Cremaschi use are through the roof crazy.

The opening set will feature Jason Levis, drums in duo with Lisa Mezzacappa, contrabass. Jason has moved to Europe and is back for a short visit, so if you blink you will miss it.



Friday, November 7, 8 PM


TRIO: Raskin / Graewe / Robinson
QUARTET: Johnston / Melford / Mezzacappa / Anderson


Community Music Center


544 Capp Street
Between 20th and 21st Streets
San Francisco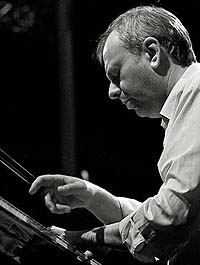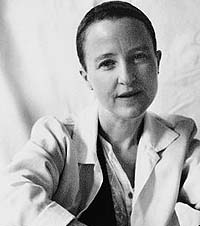 This evening offers an imaginative pairing of two original piano voices performing in an ideal setting. German pianist, Georg Graewe, in a rare appearance in the Bay Area, will be joined by Rova's Jon Raskin and drummer Donald Robinson, a stalwart of the of San Francisco Bay Area improv scene. And, you can hear Myra Melford explore the boundaries of improvisations and composition with trumpeter Darren Johnston, bassist Lisa Mezzacappa, and drummer Vijay Anderson. This special opportunity probably won't happen again.


Kihnoua
Larry Ochs – saxophones and compositions
Dohee Lee – vocals
Okkyung Lee – cello
Scott Amendola – drums, electronics

Thursday, November 13, 20:30
Zagreb, Croatia
Not Only Jazz Festival
TEATAR &TD Savska 25

Thursday, November 14, 20:30
Montalfalcone, Italy
All Frontiers Festival
Sala Civica Bergamas
www.moremusic.it

Sunday, Nov. 16, 8 PM
JONES JONES
Mark Dresser – bass
Vladimir Tarasov – drums
Larry Ochs – saxophones
CSU Sacramento Festival of New American Music
Music Recital Hall
www.csus.edu

[TOP]

---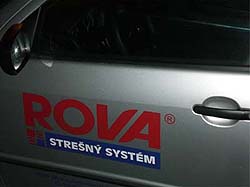 December 12 - 14
The Quartet heads to Europe for a quick hit – just 3 dates, but some great spots for music making.
December 12
Marseille, France
Festival Nuit D'Hivers
www.grim-marseille.com
December 13
Saigenlegier, Switzerland
Café Du Soleil
www.cafe-du-soleil.ch
December 14
Geneva, Switzerland
AMR Geneva
10, rue des Alpes
www.amr-geneve.ch
[TOP]
---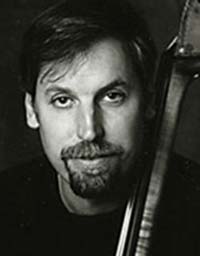 John Lindberg: Bass Walk
Red Poppy Art House
Wednesday, January 14, 7 PM
2698 Folsom Street near 23rd Street
San Francisco
415.826.2402
$10
Tickets sold at door; general seating
www.redpoppyarthouse.org
Rova:Arts is pleased to announce the continuation of Improv:21, a series of "informances" on 21st century music that explores the connection between predetermined structure (composition) and performer interpretation (improvisation). Led by master improvisers and composers from the Bay Area (and beyond) and hosted by critic and KPFA radio host Derk Richardson, Improv:21 programs look at the many ways of organizing improvisation through a shifting (i.e. "improvised") combination of onstage lecture and dialogue, musical demonstration and performance, and audience question-and-answer forum.
John Lindberg (bassist/composer/performer) will present his views as an improvising composer by showing his short, music-driven documentary, Bass Walk and the recently produced music video, The Myth. He will also perform his composition for solo bass, Fiddlesticks, followed by a discussion and Q&A.
Lindberg embarked on his professional career in 1975 at the age of sixteen. The following year he co-founded the String Trio of New York, a composers' collective performance unit that has gone on to produce seventeen albums of original music and present hundreds of concerts worldwide. In 1979 he formed his first ensemble dedicated to the performance of his own compositions.
His ensembles and duo collaborations have performed hundreds of concerts throughout Europe, North and South America, East Asia and the Middle East. He has appeared on over seventy-five albums, including recordings with Anthony Braxton, Jimmy Lyons, Steve Lacy, Albert Mangelsdorff, Tony Coe, and Wadada Leo Smith.
Forthcoming Improv:21 artists will include:
Feb 18: composer Ellen Fullman
March 18: multi-reed player Vinny Golia
April 15: composer, keyboardist Wayne Horvitz
[TOP]
---
Want to sample some of the earlier Improv:21 informances?
We will be uploading one show every two months to RadiOM (the archive website of Other Minds) until the entire series is online. There is a lot of stimulating information in each show.
Rova
Nels Cline
Fred Frith
Carla Kihlstedt
Gino Robair
Miya Masaoka
Oliver Lake
Ben Goldberg
Ned Rothenberg
To get news from Other Minds click here.
[TOP]
---
Steve Adams' Favorite Street – Cookbooks

I've been threatening to do this for a while but the current situation – no exciting new CDs, Thanksgiving approaching – seems like the right time to list my favorite cookbooks. My life does revolve around what's for dinner and my wife is a cookbook collector, so I spend more time than I probably should considering them. Here are some that I go back to the most:


General Cuisine

Vegetables by James Peterson
How long do you grill eggplant? What's a good way to cook fennel? This is the book with the answers, along with a good supply of useful recipes.

Fish by Mark Bittman
I'm a big fan of his columns in the New York Times, and in this he applies his approach of paring things down to the essentials to fish, while also covering all the essential information. By the way, if you don't know about his No Knead Bread recipe, it's terrific and couldn't be easier and is available at the Times website.

The All New Joy of Cooking by Irma S. Rombauer, Marion Rombauer Becker and Ethan Becker
When I was a kid, my mother used the original Joy of Cooking far more than any other cookbook, so when this came out in 1997 I thought it unnecessary at best. But I was given a copy and I've come to appreciate it for all sorts of recipes that have been updated in a reasonable way, and new additions that are appealing. I still have the original version, but I find myself reaching for this one more often.

Culinary Artistry by Andrew Dornenburg and Karen Page
This does not contain recipes but rather has lists of food affinities. So if you have some leeks that need to be used up, you can find what goes with them and develop some ideas from that. For an improvisational cook like me it's tremendously useful.

The Italian Contingent

Modern Italian Cooking by Biba Caggiano
She has an excellent restaurant in Sacramento and has written a number of useful books, but this is my favorite. It's not purely authentic, but the adaptations make sense for an American audience. It's divided into Spring/Summer and Fall/Winter sections, which fits with my food moods well, and has a good variety of courses represented.

Molto Italiano by Mario Batali
This is his everyday cooking book and has lots of appealing pastas and main courses that are more realistic for weeknight preparation than the recipes in some of his other books. It's creative while still being true to Italian concepts.

In Nonna's Kitchen by Carol Fields
A collection of recipes from actual Italian grandmothers, it has lots of great dishes not found in other Italian cookbooks. I could have the Penne with Fresh Tuna, Capers and Black Olives anytime. How about right now?

The Antipasto Table by Michele Scicolone
I use this not for antipasti as much as for side dishes and salads. Everything I've had out of it has been delicious.

More Great Italian Pasta by Diane Seed
This looks like one of those knock-off books with predictable recipes for the standards, but it's actually full of original combinations that work off the concept of simplicity in a successful way.

Other Cuisines

The Basque Kitchen by Gerald Hirigoyen
I've been appreciating the cuisines of Iberia more in recent years, and this was the first book I had to start the exploration.

Lulu's Provencal Table by Richard Olney
I don't think you can talk about cookbooks without including one by Richard Olney or the Food Police come looking for you. There's lots of great stuff in this one, but I go back to the wonderful lamb recipes the most. The Grilled Fish with Two Sauces is also terrific.

Quick & Easy Vietnamese by Nancie McDermott
A most accurate title, this is newer addition to our collection so I've only made a few dishes from it, but those have been great. They achieved an authentic flavor with a minimum of obscure ingredients.

One for the Season

Thanksgiving Dinner by Anthony Dias Blue and Kathryn K. Blue
This book covers both the basics and lots of appropriate but interesting variants, while not going as far as Spaghetti Carbonara. It wouldn't be Thanksgiving for us without their Ginger-Applesauce Spice Cake.

I could keep going, but I really need a snack!

[TOP]

---
Formed in 1977, Rova's been in a state of continual artistic renewal for over 3 decades. Rova:Arts, formed in 1986 to support the activities of Rova, has been instrumental in producing local projects and advancing an ongoing cultural exchange between local Bay Area artists and the international scene through its Rovaté concert series. These events, made possible by funding to Rova:Arts, have engaged Bay Area musicians and composers as well as musicians from around the world. Rova:Arts projects often are reproduced in other parts of the world, thereby bringing the work to a broader audience. Also, many Rova:Arts events have been recorded and enthusiastically celebrated.
Rova:Arts has produced the Improv:21 series, providing a forum for innovative musicians like John Zorn, Fred Frith, Oliver Lake, Miya Masaoka, Roscoe Mitchell, Zeena Parkins and others to share their artistic visions and unique paths to creativity, with you the audience, in an intimate setting.
Click here to find out more and to Join Rova:Arts. Thanks for being part of the art.
---
RovaMySpace
RovaFacebook
CDBaby
[TOP]