:: ROVA NEWS: NOV-DEC 2011 ::
Rova closed the creatively curated 2011 Edgefest at the Kerrytown Concert House in Ann Arbor on October 22. The community of musicians and listeners around the festival was totally engaged, and imbued our concert with an air of serious commitment to creative music. Since Steve and Bruce are from Ann Arbor and Detroit respectively, it's especially gratifying to connect with folks in our Midwest concerts.
The limited edition release of the Rova-John Zorn LP, Receiving Surfaces, will soon be out of print. Get one while you still can: http://www.rova.org/projects/details-rova_zorn.html. See the first review of the record below.
At the end of August we completed recording sessions for the upcoming Rova CD, A Short History, to be released on the German Jazzwerkstatt label in February, 2012 (zoiks! It's almost here!). And we're now in the process of listening to recordings we made with with drummer Vladimir Tarasov at the same time, planned for release in the not too distant future.
In December we'll play a tribute to the late saxophone titan and friend, Glenn Spearman, at OFF (Old Friends Festival) in Berkeley, presenting special pieces to pay hommage to his enormous contribution to the improvised music scene. We have other local shows scheduled in January, and in February we will head to Europe for our longest tour in several years. The tour dates are listed below.
The end of the year is a good time to show your commitment to improvised music in the Bay Area and beyond by contributing financially to Rova:Arts. We hope you'll read and heed our appeal.
Rova Plays OFF "Old Friends Festival"
Curated by Steve Horowitz ("Super Size Me" and so much more) and part of the Berkeley Arts Festival , the OFF takes place on Friday, December 9th, and Saturday, December 10th, 8pm both nights. Admission is sliding scale, suggested donation $10-20.
Festival schedule:
Friday Night December 9th @ 8pm
• Ralph Carney & Randy Odell Duo
• Pluto (the Lost Planet)
Featuring Marc Weinstein, Steve Clarke, Len Paterson and Dave Slusser
• Gino Robair's Improvcore Orchestra 3000 Featuring:
Steve Kirk, Phillip Greenleaf, Mantra, John Shiurba, Rent Romus, Ben Goldberg and more…
Saturday Night December 10th @ 8pm
• Pamela Z
• Dan Plonsey's New Monsters meet the Manufacturing of Humidifiers
Featuring Randy Porter and Ward Spangler
• "Extrapolation of the Inevitable" - Rova Plays for Glenn Spearman
The Berkeley Arts Festival space is located at
2133 University Avenue (just off the corner of Shattuck)
Downtown Berkeley
http://www.berkeleyartsfestival.com/OFF/index.html
---
Support Rova:Arts
Our year-end appeal to the Rova community
We are planning exciting new music and collaborations for the coming year and into the future. However, we can't do this important work alone. Ticket sales cover less than a third of our programming costs. To make up the sizeable difference, we rely in large part on the generous support of individual donors—the members of Rova:Arts.
Read the following reflection by Nels Cline, the powerhouse guitarist of Wilco and many other projects, on the importance of Rova, and why your contribution to Rova:Arts matters:
INDEFATIGABLE. That is one word to describe the powerful and blithely uncompromising combo of collective consciousness and incisive interplay known as the Rova Saxophone Quartet. In this age of aesthetic ignorance and safety, these gentlemen do not cave to the watery concoctions so readily digestible, and forgotten, that are dispensed in dull flashes by purveyors of so-called culture. No, these reedmen have pursued a steady path of full-bodied, full-flavored, and sometimes shockingly intense mixtures of the coherently composed and the incandescently improvised. 'Indefatigable' only describes their tireless commitment. But their music, their art, is as deeply rooted as it is astrally far-reaching. I know. I not only listened to these four saxophonists—each with his own distinctive musical personality—since the mid-70s, I ended up collaborating with them just in the last few years in what has become known as The Celestial Septet, as well as with their incendiary and epic OrkestRova. It was, and continues to be, both an honor and an inspiration to share time, space, and sound with these true gentlemen. They are guardians of a classic avant-garde musical tradition as well as progenitors of future visionary delights.
Make a tax-deductible year-end gift at one of our five named levels now, and you will be recognized as a Rova:Arts Member for the coming year.
Member levels are: Soprano [$40-$74], Alto [$75-$149], Tenor [$150-$249], Baritone [$250-$499], and Rovatiste[$500+]. To join, simply mail a check in your chosen amount to:
Rova:Arts
333 Twelfth Street
San Francisco , CA 94103
Or, you can donate online at Donate Now. Thank you for your ongoing support of Rova and Rova:Arts. We hope you will continue to participate in Rova:Arts in 2011, and join us in investing in the future of adventurous music as a Rova:Arts Member.
---
Other Upcoming Events
Friday, November 18 at 6:30 PM @ UC Berkeley
Sunday, November 20, 5:00 pm @ California College of Art (CCA)

The Grand Piano
Autobiography as performance
The Grand Piano is a multi-volume, collaborative work centered on the rise of Language poetry in San Francisco in the second half of the 1970s. The authors—Rae Armantrout, Steve Benson, Carla Harryman, Lyn Hejinian, Tom Mandel, Ted Pearson, Bob Perelman, Kit Robinson, Ron Silliman, and Barrett Watten—were among the creators of the movement, as was Alan Bernheimer, the eleventh pianist. On November 18th and 20th, 8 of the 10 original authors will present a scripted, multi-vocal performance based on excerpts from the The Grand Piano.
Note to Rova community: This group of authors and their work has had enormous impact on Rova's musical development, and has informed its perspective on creativity and its connection to community. Check out The Grand Piano performance this weekend.
Rae Armantrout
Steve Benson
Carla Harryman
Lyn Hejinian
Tom Mandel
Ted Pearson
Kit Robinson
Barrett Watten

Friday, November 18th:
Maude Fife Room
Wheeler Hall
University of California
Berkeley

Sunday, November 20th:
CCA
Timken Hall,
California College of Art
San Francisco
smallpresstraffic.org
Thursday, December 8 at 9 PM @ El Valenciano Restaurant
Dan Plonsey's New Monsters
Dan Plonsey, tenor sax
Steve Adams, soprano and alto sax
Scott Looney, piano
Steve Horowitz, bass
Jim Bove, drums

El Valenciano Restaurant
1153 Valencia Street (between 22nd St & 23rd St)
San Francisco

Thursday, December 11 at 8 PM @ Berkeley Arts Festival
Jon Raskin & Phillip Greenlief's 3 + 3 Project
Raskin and Greenlief, saxophones
Shoko Hikage, koto
Tara Flandreau, violin and viola
Tim Perkis, electronics
Gino Robair, percussion and electronics
Berkeley Arts Festival
2133 University (just off the corner of Shattuck)
Downtown Berkeley
www.berkeleyartsfestival.com
---
Reviews of Rova-Zorn LP
ROVA:Zorn
The Receiving Surfaces
Metalanguage


http://www.paristransatlantic.com/

Let's get this out of the way first: this gorgeous, limited edition LP is an edition of only 300 copies. So should you act fast? By all means! This set recorded last August at Yoshi's is a dilly. It might not seem especially obvious for Zorn's saxophone language—spitting, acerbic, and mischievous, with bop obsessions too—to fit in with Rova's admittedly broad soundworld. But not only is Zorn himself a canny navigator of structure (and a far more flexible improviser than some have admitted), but Rova has always been a superb collaborating unit. The success of this meeting is audible from the very first moments of Arc Fuse 1, which smolders with contained heat and buzzing drones, occasionally giving rise to spats or flurries of trills. As the piece builds, so does the heat, and there is a moment—a focused one, with no unnecessary indulgence—for blowtorch exchanges between Zorn and Ochs, the former then stuttering furiously atop an elegant group passage. Like many of the great Rova performances, these pieces with Zorn brim with a tension sparked in the balance between urgency and repose, chaos and form. Helicoid opens like something off the Parachute Sessions or the Social/Science Sets, appropriating the instrumental languages forged between the late 1970s and early 1980s and deploying them in a mature and assured formal context, with control and aesthetic focus: just listen to how Zorn's vocalizations match up wonderfully with Raskin's low-end / keypad work. The piece is a marvel, as it becomes a kind of saxophonic topiary (the metallic sound recalls Rova's Trobar Clus pieces) and finally untethers itself and unties its knots into a gorgeous drone. Saddle Scroll Song delivers up a bit of fury, with more vocalisms, squawks, unison rapid blasts, and tremors, but the finest moment of this sterling recording comes with Arc Fuse 2. The saxophones oscillate as one, their massed sound like polished amber, as long held tones shape the bitty, choppy fragments that never interrupt but somehow contribute to the extension of pure sound.

And another review of the Rova-Zorn LP:


Kurt Gottschalk – The New York City Jazz Record
The saxophone quartet has been defined, pretty much whole cloth, over the last four decades by two bands: repertoire revisionists World Saxophone Quartet and new music mavens ROVA. Neither of these outfits, however, has often plunged into the depths of free improv and it might come as a surprise (or make perfect sense) that it would be with New Yorker John Zorn - a gifted improviser, to be sure, who has moved increasingly toward composition over the years – that the San Francisco-based ROVA would record an openform quintet session.


Sax groups aren't really given to group improvisation. They might think they are, but in reality it's a tough field to be negotiated. More even than any other horn, saxophones want to dominate conversation. But the vinyl-only release The Receiving Surfaces—limited to 300 copies with no plans for a digital edition—shows that the quintet in question knows how it's done. With the monophonic linearity of the instrument, they must be and are on the constant lookout for themes to bind the proceedings and it's surprising how on their collective toes they are throughout. The concert recording (from Yoshi's in San Francisco in August 2010) includes lots of fiery playing, shouts and skronks, sudden shifts and surprising unisons, padpops and reed flicks.

But more to the point, it's done with a subsuming of ego. ROVA certainly know how to play together as a singular whole and Zorn has worked with each of the members enough over the years that he fits in quite comfortably. Each of them - Zorn: alto; Bruce Ackley: soprano; Steve Adams: alto; Jon Raskin: baritone; Larry

Ochs: tenor and sopranino - is tandemly talented as a composer and improviser, which predispose them against the all-out blowing session. There's a considerable amount of control at play.

The four tracks (nicely dividing into two 20-minute halves as if they knew ahead of time they were making an LP) not only show nice group cohesion, but also are a lot of fun. The limited vinyl release ups the cultural caché; it's only a shame it also limits the number of people who will hear it.
---
European Tour – February and March 2012
Touring always provides Rova an opportunity to get new work together and makes our repertoire pieces really sing. Playing nightly allows the band to take greater risks collectively, and we get to refine our individual contributions to the quartet sound. This early 2012 tour will be the longest Rova tour in close to a decade. We'll be in Paris, Berlin and Vienna for the first time in many years—each city the site of numerous successful Rova concerts since our first European tour in June, 1979. The 3 days of workshops and concerts in Bern will put the band back into teaching mode—something that enhances our approach to the work, and allows us to share Rova strategies with developing improvisers. Larry and our European friends did a great job putting it all together in a challenging booking climate.
Feb 18 – Wels, Austria
Alter Schlachtfof
Dragonerstraße 22
4600 Wels
www.schl8hof.wels.at/

Feb 19 – Vienna, Austria
Porgy und Bess
Riemergasse 11
A 1010 Vienna
www.porgy.at

Feb 21 – Bern, Switzerland
(workshop with Rova)
DZ DAMPFZENTRALE
Leitung / Musik
Marzilistrasse 47, CH-3005 Bern
Tel: +41 31 310 05 40
www.dampfzentrale.ch

Feb 22 – Bern (workshop / quartet concert)
Feb 23 – Bern (workshop / workshop ensemble concert)
Feb 24 – Ilmenau, Germany
Jazzclub Ilmenau e.V.
Straße des Friedens 1
98693 Ilmenau
www.jazzclub-ilmenau.de/

Feb 25 – Berlin
Produced by Jazzwerkstatt Berlin
Institut Francais
Kurfürstendamm 211
10719 Berlin
www.jazzwerkstatt.eu

Feb 26 - Bayreuth, Germany
Jazzforum Bayreuth e.V.
Wiesenstraße 7
95444 Bayreuth
www.jazz-bayreuth.de/

Feb 27 – Cottbus, Germany
Gladhouse
Straße der Jugend 16
03046 Cottbus
http://www.gladhouse.de/

Feb 28: Metz, France
Les Trinitaires
12, rue de Trinitaires
57000 METZ
www.lestrinitaires.com

March 1 – Paris
Alterminimalismes 5
Collège des Bernardins
18 - 24 rue de Poissy
75005 Paris
www.collegedesbernardins.fr/

March 2: Bruges, Belgium
De Werf
Werfstraat 108
8000 Bruges
www.dewerf.be

March 3: Torino, Italy
Associazione Culturale Centro Jazz Torino
+39-011 884 477
centrojazz@centrojazztorino.it
---
Favorite Street – Bruce Ackley
RECORDED MUSIC
Karlheinz Stockhausen – No. 5 Zeitmasse for 5 Woodwinds
Columbia Masterworks ML-5275
en.wikipedia.org/wiki/
I recently rediscovered this early masterwork (1956) by Stockhausen and find the piece completely engaging. This primary stage of his music has clear ties to Webern's 12 tone techniques, and yet pre-echoes what was to come in the late 20th century vanguard music in terms of the interdepency of voices in chamber settings. The 1958 Robert Craft-conducted recording embodies the sense of wonder felt about Stockhausen's startlingly fresh and complex pallate—having been made before the composer's music was a foregone conclusion.
Karlheinz Stockhausen – Complete Piano Music
CBS 2 LPs
Aloys Kontarsky, piano
en.wikipedia.org/
Stockhausen referred to his piano music as his drawings. Spanning the period of 1952 to 1979, the compositions reflect most major milestones in his artistic exploration. The Kontarsky recording is from 1965, so is not complete but is remarkable for its sonic quality and clarity of execution. Bernard Wambach recorded the complete cycle of pieces in the late 1980s, and they are available on 3 separate CDs: http://www.amazon.com/.
Bach - Partitas and Sonatas for Unaccompanied Violin
These 3 performances of The Partitas and Sonatas each has its own special perspective on the Bach masterwork, completed by 1720. The pieces were not published until 1802, and were not regularly performed until the 20 th century. They've proven to be wonderful etudes, along with Bach's Cello Suites, for saxophone (flute or clarinet).
Alexander Schneider
4 LPs
Mercury MG-10017-20
(not sure this is available on CD or download)
I only have one of these LPs and have not found the Schneider recording on CD. The records were made in 1950 as part of Bach bicentennial celebrations. The sound of the recording is 'vintage', lacking what modern recordings offer in terms of depth, but gives warm feeling of room space and renders the violin sound beautifully. Schneider (who had been in the celebrated Budapest String Quartet with his brother, Mischa) presents Partita No. 1 in a slow and deliberate manner that evokes true love of the violin and of Bach's language.
Arthur Grumiaux
Phillips CD
http://www.amazon.com/
http://www.youtube.com/
The Grumiaux recording is a classic early 1960's recording, with rich and clear sonics. The master is amazing here. Most of the pieces are taken at a faster tempo, and the performance seems to take it for granted that Bach's music is part of the modern concert repertoire—something that was much less established in 1950.
Nathan Milstein
EMI Classics CD (Partitas only)
Capitol Records LP (Partitas and Sonatas)
www.amazon.com/
www.youtube.com/
This may be the bomb. Milstein recorded these pieces later for Deutsche Grammophon, but these 1950's dates are wonderfully played and recorded, surpassing the subsequent release. The presence of the violin is authentically rendered in the sound image in marvelous MONO. The EMI CD is affordably priced and should retain the sound quality of the LP version.
LIVE PERFORMANCE
John Cage
Sonatas and Interludes for Prepared Piano
Stephen Rush, piano preparation and performance at the Edgefest
Kerrytown Concert House, Ann Arbor
October 22, 2011
A side benefit in touring for me is having the opportunity to hear other musicians perform on the same bill with Rova, or in a festival setting. A couple hours before Rova's Edgefest performance, University of Michigan professor and composer and performer, Stephen Rush, prepared Kerrytown Concert House's lovely piano (per John Cage's specs), and presented a rivetting reading of this very moving and iconoclastic piece. Cage devised the prepared piano in 1940 as a solution to a problem, creating a percussion orchestra effect for a dance concert to be performed on a stage that would not accommodate more than one player. I've heard many recordings of this piece, but this was my first live performance experience. Somehow, hearing the altered piano live made its preparations more vivid and electric. Rush's graceful, passionate and intimate performance was a concert highpoint.
YOUTUBE
U. Shrinivas, mandolin virtuoso
This is an amazing performance by young U. Shrinivas, the Carnatic mandolin virtuoso. There are audio recordings available by Shrinivas, and his work is another example of the adaptation of western instruments to Indian classical music.
FOOD
Toasted Spice Rub
I got this recipe from a colleague at my day job. I used it on a slowly roasted pork shoulder, wow! Or, lamb, shrimp, fish, stir into rice, use in a pot of beans. Add a pinch to soups that need a lift and to scrambled eggs and omelets.
¼ c fennel seed
1 T coriander seed
1 T black peppercorns
1-1/2 t red pepper flakes
¼ c pure California chili powder (or mild New Mexico chili powder)
2 T kosher salt
2 T ground cinnamon
Put fennel seeds, coriander seeds and peppercorns in a small heavy skillet over moderate heat. Watching carefully, toss the seeds frequently so they toast evenly. When the fennel seed turns light brown, work quickly. Turn on the exhaust fan, add the red pepper flakes, and toss, toss, toss, always under the fan. Immediately turn the spice mixture out onto a plate to cool.
Pour the cooled spices into a blender and add the chili powder, salt, and cinnamon. Blend until the spices are finely and evenly ground. If you have a small spice grinder, grind only the fennel, coriander, peppercorns, and red pepper flakes. Pour into a bowl and toss with the remaining ingredients. Keep the spice mix in an airtight container away from light and heat for up to 4 months or freeze for up to 1 year. Makes about 1 cup.
OCCUPY
Here's a favorite

Occupy Oakland

photo taken by

Myles Boisen

, frequent Rova collaborator and sound engineer.

RadiOM - Improv:21 Archives
Want to sample some of the Improv:21 informances?
We will be uploading one show every two months to RadiOM (the archive website of Other Minds) until the entire series is online. There is a lot of stimulating information in each show. Below are two new shows just made available on the Other Minds website.
Ellen Fullman: Sympathetic Resonances
Duration : 96 min
Derk Richardson interviews composer and inventor of the Long String Instrument (LSI), Ellen Fullman, at the Red Poppy Art House, in San Francisco, on February 18, 2009. Fullman describes her evolution from a visual artist to musical instrument builder, improviser, composer, and collaborator with various other avant-garde ensembles. Fullman states that her journey of musical discovery began with her impatience at learning traditional instruments, saying that as soon as she got good at them she became bored with their sound. This led her to designing her own instruments, one of the first of which was a skirt made from sheet metal with amplified guitar strings attached to the front and back of her shoes, and which produced sound as she walked. Fullman then went on to experiment with various metal contraptions, eventually culminating with the Long String Instrument, which consisted of a series of strings often 30 or more feet long.
Vinny Golia: The Large Ensemble Experience
Duration : 94 min
Derk Richardson interviews composer, improviser, and multi-wind instrumentalist Vinny Golia, recorded at the Red Poppy Art House, in San Francisco on March 18 2009. Originally a visual artist, Golia has brought his skills at pictorial composition to his ensemble pieces. A self taught musician, Golia considers his role as an outsider has enabled him to work with radical avant-garde musicians, members of the primarily African American free-jazz school, as well as the traditional jazz and chamber orchestra communities, without the barriers to innovation that may derive from being classically trained.
Vinny Golia
Ellen Fullman
Scott Amendola
Mark Dresser
Roscoe Mitchell
Chris Brown and Tim Perkis
Zeena Parkins
Bob Ostertag
Wadada Leo Smith
Lawrence "Butch" Morris
Rova
John Zorn
Cheryl Leonard
Nels Cline
Fred Frith
Carla Kihlstedt
Gino Robair
Miya Masaoka
Ned Rothenberg
Oliver Lake
Ben Goldberg
To get news from Other Minds click here.
[TOP]
---
Join the Rova:Arts Community
Become a Fan on Facebook!
Already a fan? Encourage your Facebook friends to become Rova:Arts fans. When we hit 1,000 Facebook fans, we'll give every fan access to a video of the 40-minute Rova + San Francisco Taiko Dojo collaboration from the 1989 Leverkeusen Jazz Festival (in Germany)! This is the only video recording of the extended piece Dance of the Maroons, composed by Jon Raskin and Rova for this special ensemble in 1988. Long thought to be lost, this uncut footage is something special; it will not be shown until we reach 1000 fans—and then will only be available online for two weeks before being taken down. The only notice of the video's availability will be posted on Facebook .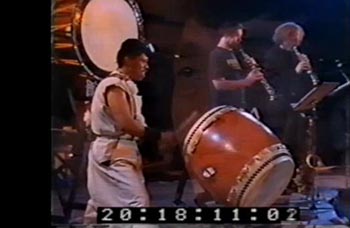 Stay Tuned
You can stay in touch with all Rova:Arts activities through our website, the Rova newsletter, and our FaceBook and MySpace pages. See links at the bottom of the page. Also, check out Rova on YouTube! Subscribe to our channel and be notified when there are new Rova videos for you to watch. Go to www.youtube.com/ and click the subscribe button.
Thanks to Rova Friends!
We want to express our deepest gratitude to all the generous private and public donors who contribute to Rova:Arts. Your support has been essential to the successful presentation and documentation of our projects over the years. As Rova enters our 35 th season of adventurous improvised music making, we hope those of you who do contribute to the arts annually will consider making a donation to Rova:Arts.

About Rova:Arts
Rova:Arts, formed in 1986 to support the activities of Rova, has been instrumental in producing local projects and advancing an ongoing cultural exchange between local Bay Area artists and the international scene through its Rovaté concert series. These events, made possible by funding to Rova:Arts, have engaged Bay Area musicians and composers—as well as musicians from around the world. Rova:Arts projects are often reproduced in other parts of the world, thereby bringing the work to a broader audience. Also, many Rova:Arts events have been recorded, resulting in releases which have been enthusiastically celebrated.

Click here to find out more and to Join Rova:Arts. If you are interested in getting involved in a more hands-on-way, feel free to contact us: www.rova.org. Thanks for being part of the art.


:: WATCH FOR MORE ROVA NEWS IN JANUARY 2012 ::

Be sure to visit us online:
Rova.org
RovaMySpace
RovaFacebook
CDBaby
---
[TOP]