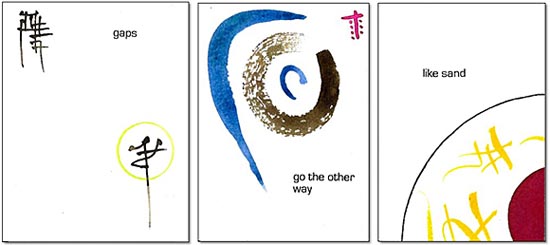 Rova's falling into a busy season with local concerts, trips to Turkey and North Dakota, and a special show in November at the Hyde Street Pier with dancer Shinichi Iova-Koga of inkBoat. San Francisco's Center for New Music continues to be an important hub for adventurous music making, and will be the site of two more Indoor BBQ concerts—the first curated by Steve Adams on September 14th, and the last organized by Larry Ochs, date TBD, but likely in early 2014. The quartet members can often be found performing at C4NM with their own projects, as well as presenting other artists' events there.
Read on for details on all our upcoming activities, and be part of the art!
Saturday, September 14, 7:30 PM
Indoor BBQ, Pt. 3 – Rova w. Tim Perkis & John Hanes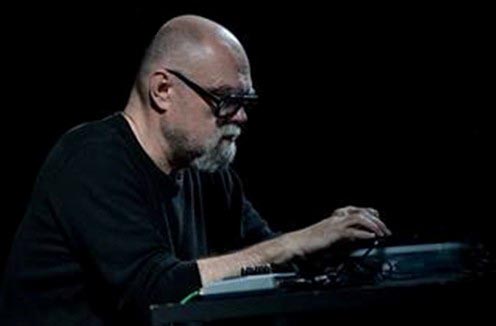 Rova continues their collaborative Indoor BBQ series with guests Tim Perkis and John Hanes on electronics. The two artists have different rigs, different palettes, and different improvisational sensibilities they'll bring for an evening organized by Rova's Steve Adams. Perkis's long history with Rova, coupled with Steve's frequent work with Hanes, provides fertile ground for creative interplay. Adams has composed a new set of works for the evening, including the premiere of his Dark Forest Suite for the sax quartet alone. New pieces for the sextet will include Provisional Star Atlas, written in response to the music of Kurt Weill, Polynodal Discourse, and In the Waterfall, inspired by the film Intangible Asset No. 82 .
The concert will be presented in the round, with Rova playing in the center of the audience and one electronics player positioned behind each half, resulting in an immersive musical environment.
Rova PLUS
Tim Perkis & John Hanes – computer electronics
The Center for New Music
55 Taylor Street, near Market and 6 th Street
San Francisco
http://centerfornewmusic.com/
[TOP]
---
No Favorites: A Tribute to Butch Morris in Istanbul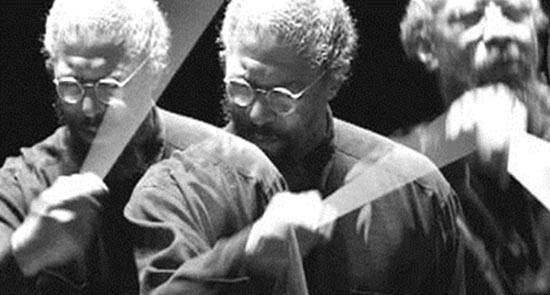 "50% of my background is in jazz, the other 50% is in discovering who I am. I've got influences—I like Samuel Barber and I like Marvin Gaye. You can't ask me who my favorite trumpet player is, because if you name one, you gotta name two, and if you name two, you gotta name three. I don't have a favorite composer; I don't have a favorite trumpet player; I don't have a favorite nothing'" -- Lawrence "Butch" Morris
Rova will return to Istanbul for the first time since 1997 when we performed a solid set of quartet music, and a triumphant collaboration with 4 Turkish percussionists. Performing at the AKBANK Jazz Festival, we'll team up with a local string quartet and a guitar, bass and drums trio for an evening of improvisations in tribute to our recently departed colleague, Butch Morris. Morris was well received by the improvising community there, and Instanbul's Club Babylon will be a suitable venue for this ambitious project in his memory. Combining Rova's Radar system of hand-cue directed improvisation with written material and graphic notation, Rova and guests will create a musical celebration of the legacy of Butch Morris and his conduction system.
Rova @ AKBANK Jazz Festival, Istanbul
Rova plus:
Lepidus String Quartet
Ediz Hafizoglu: drums
Sarp Maden: guitar
Alper Yilmaz: bass
Thursday, October 10
Club Babylon, Istanbul
www.biletix.com
Saturday, November 2, 6pm
We Players Presents
Vessels for Improvisation ROVA with Shinichi Iova-Koga at the Hyde Street Pier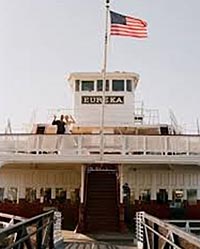 This will be our first opportunity to work with dancer Shinichi Iova-Koga since our massive collaboration with his group inkBoat in 2006, Glass Head. His inventive movement and boundless creativity will lend an exciting visual component to Rova's soundscapes aboard the Eureka in the San Francisco Bay.

Aboard the Eureka ferryboat at Hyde St. Pier
$20 general admission/$12 students
www.weplayers.org
[TOP]
---
Rova Member Shows
Monday, September 2 at 7:30 pm
Steve Adams with Ross Hammond and Vladimir Tarasov
Steve Adams - woodwinds
Ross Hammond - guitar
Vladimir Tarasov – drums
Luna Café
1414 16 th Street
Sacramento
(916) 441-3931
http://lunascafe.com/
Friday, September 6 at 7:30 pm
Best Coast Jazz Composers Series #2 - Phillip Greenlief

Fresh from a three-month residency at the Headlands Center for the Arts, saxophonist and composer Phillip Greenlief presents a concert of new music for improvising winds, featuring a series of solo and ensemble works.
Steve Adams, alto saxophone
Jon Raskin, baritone saxophone
Nora Stanley, alto saxophone
Cory Wright, clarinet
Kyle Bruckmann, oboe
Ellen Burr, flute
Phillip Greenlief, alto and tenor saxophone, Bb clarinet
Leyva Mona Tawil, movement
Claudia La Rocco, poetry
Center for New Music
55 Taylor Street
centerfornewmusic.com
$15/$12 members
September 3—8
LARRY OCHS Residency at the Stone, NYC

Ochs will be working with new and old friends for a week of gigs on the Lower East Side. Click on the link below for details on the different bands performing each night. If you're lucky enough to be in NYC, catch a show or two.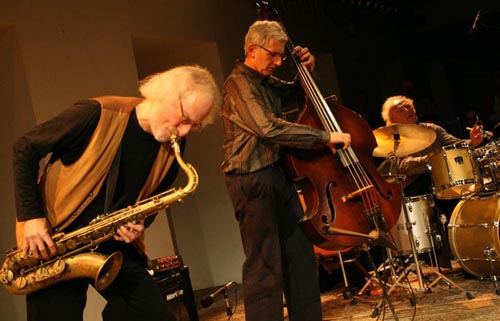 The Stone
Corner of Avenue C and 2nd Street, Manhattan
thestonenyc.com
Sunday, September 15, 8:00 PM
Ochs / Oluyemi Thomas (bass clarinet) Duo

Berkeley Arts Festival
2133 University Avenue
Berkeley
berkeleyartsfestival.com
Tuesday, September 17, 7:30 PM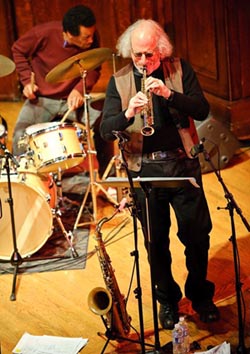 Larry Ochs – Don Robinson (drums) Duo

Tom's Place
3111 Deakin Street
Berkeley
http://4-33.com/first.html
Larry Ochs – Don Robinson East Coast Tour
September 26: Greenwich House, NYC www.greenwichhouse/
September 27: Firehouse 12, New Haven, CT www.firehouse12.com
September 28: The Music Gallery, Toronto, ON www.musicgallery.org
September 29: Contemporary Arts, Buffalo, NY www.hallwalls.org
September 30: The Bop Shop, Rochester, NY www.bopshop.com
October 2: Casa del Popolo, Montreal, QB www.casadelpopolo.com
Sunday, September 29 at 8 pm
Outsound Presents T.D. Skatchit & Company's
The Ear of the Storm

Tom Nunn & David Michalak – skatchboxes
Kyle Bruckmann – double reeds
Polly Moller – bass flute
Rent Romus – alto saxophone
Bruce Akcley – soprano sax
Tom Djll – trumpet
Doug Carroll – cello
Bill Noertker – contrabass
Mia Bella D'Augelli – violin
Eli Wallace – piano
Scott Looney – piano (inside)
Tim Perkis – electronics
Aurora – voice
Bob Marsh – voice
Ron Heglin – voice
Allan Crossman – transcription
Outsound Presents T.D. Skatchit & Company's Surround Sound DVD release with a premiere performance of "Ear of the Storm", live in surround sound, using the entire space of the Mission Community Music Center! This piece, performed by 15 musicians, is based on an extended skatchbox arrangement, inspired by the wild rhythms of tornados, hurricanes and thunderstorms. The listener is in the "ear of storm," where music is born out of the elemental noise only to be whisked away by the wind. Multiple musical scenarios, characters and abstractions present themselves within the different phases and sonic locations in the storm. The pre-storm first half of the concert will feature various duos, trios and quartets from T.D. Skatchit & Company.
Community Music Center
544 Capp Street between 20 th and 21 st Streets
San Francisco
Sunday, September 29 at 8 pm
Steve Adams Solo performing TrisKoTronica

Steve does solo versions of music by Lennie Tristano and Lee Konitz on sax, bass flute and electronics, celebrating the release of his new recording on Sensitive Skin.
Also appearing the Andreas Willers/Phillip Greenlief Group
Berkeley Arts Festival
2133 University Ave
‪ Berkeley
Sliding scale $10-20
http://www.berkeleyartsfestival.com/
Monday, September 30 at 7:30
John Hanes/Steve Adams Duo
John Hanes and Steve Adams – electronics

Luna Café
1414 16 th Street
Sacramento
(916) 441-3931
http://lunascafe.com/
Saturday, October 5 at 8 pm
Steve Adams/Scott Walton Duo
Premiering new works

Steve Adams – woodwinds and electronics
Scott Walton - bass
Also appearing Ben Goldberg/Jordan Glenn Duo
The Crane House
Near Ashby BART
Berkeley
For address/directions contact
jacobmakesnoise@yahoo.com
$6-10 sliding scale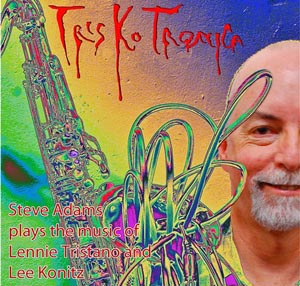 Sensitive Skin Magazine is releasing Steve Adams' project TrisKoTronica online at sensitiveskinmagazine.com . TrisKoTronica is an album of radically new versions of tunes by Lennie Tristano and Lee Konitz using alto and tenor sax, bass flute and electronics, bringing an intriguing, startling sound palette to these under-appreciated jazz masterpieces.
[TOP]
---
Rova Channels Coltrane – DVD Review by Stuart Broomer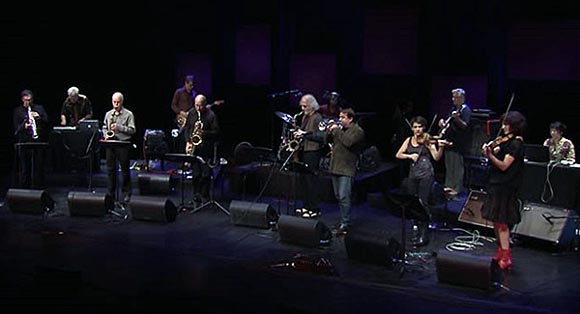 | | |
| --- | --- |
| Orkestrova, 2012 Guelph Jazz Festival | ©2013 John Rogers |
Read Stuart Broomer's review of the DVD document of Orkestrova's Guelph performance of Electric Ascension. Here's the link to the article at Point of Departure, an online magazine that has something interesting in every issue. In essence this is the first mention in a review of the DVD, Channeling Coltrane, by filmmaker, John Rogers.
http://pointofdeparture.org
Below is an excerpt, but check out the whole article. The background Broomer provides about Coltrane's Ascension is fascinating.
The film of the 2012 Guelph performance is a major event in the documentation of free improvisation, with five synchronized cameras involved in the filming. It lends new detail to the sound of the performance as well. The group is very close to the 2003 personnel, with Hamid Drake on drums in place of Donald Robinson and Rob Mazurek's cornet replacing Otomo's turntable.

For Ochs, "one of the very exciting parts of this recording is just how musically different in feel it is from the recording made of the first performance in 2003, which makes it another example of how cool the Coltrane composition Ascension is, that the piece could accommodate both versions performed by 12 musicians, ten of whom were there at the first performance, and be so different. Quite cool."

There are moments of exploratory electronic tranquility throughout Electric Ascension, a frequent play of new sound whether from percussion, synthesizer, electric bass or guitar. It's space in which to contemplate the passages of the massed horns. Even the saxophones are permitted gentler moments. Orkestrova is capable of genuine lightness, whether it's quietly lyric sonic play by a trio of Raskin on baritone, Rob Mazurek and Hamid Drake or a strangely Hot Club-esque duet between Nels Cline and Jenny Scheinman.

It is the achievement of a new ground, the terrain that is still "the territory ahead" in Coltrane's marvelous and terrifying original. It's as much as ever a text of liberation, but it's a gentler freedom, as much a retrospective on liberties achieved as the original is an intense and essential testing of bonds.

In Rova's translation of Ascension into contemporary practice, Coltrane's Ascension remains as a great gift for the energy it presents, the sheer unfailing intensity with which it fights toward its collective freedom. The original is a major work of art, not merely an episode but a larger process. Rova's substantial achievement consists in assuming the responsibility of Coltrane's great original, treating it not simply as a memento of liberation but as a tool for it as well.
[TOP]
---
Favorite Street – Bruce Ackley
"Favorite Street" is a Rova News institution which gives quartet members the opportunity to cite some inspirational event, recording, document, film, book, recipe—well, just about anything that can be seen as a motivation for making art. We've been compiling lists of favorites for years, and you can see some of them archived on the RovaArts website: http://rova.org/.

YouTube:
Carman Amaya
youtube.com
This is truly unbelievable on so many levels. The depth of the Flamenco scene depicted here completely rips my head off.

Willie Colon with Hector Lavoe
Todo Tiene Su Final
youtube.com
New York born Puerto Rican bandleader Willie Colon led one of the most powerful Latin jazz ensembles playing during the 1970s. His primary vocalist, Hector Lavoe, was a remarkable and soulful singer and a perfect foil for his two trombone led band. Check out this smoking track featuring an over the top trombone duet, and hip call and response vocal trio.

The Who
My Generation
youtube.com
Keith Moon is really unbelievable in the breaks here.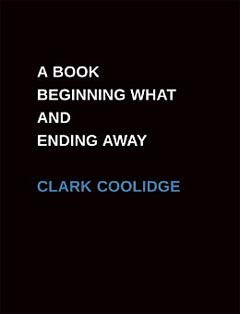 Book
A Book Beginning What and Ending Away
Clark Coolidge
http://www.amazon.com/
"A modern-day Rosetta Stone, Book Beginning What and Ending Away bridges the wild conceptual experimentalism of the 1960s and the rigid, doctrine-driven personal politics of the 1970s and early 1980s Language poets, while illuminating the path toward a freeform, devastating 'point perspective lyric' that is Coolidge's operative method today."—Tom Orange
Just digging in. Many caves to explore here.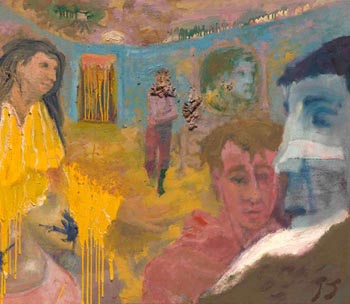 Exhibit
An Opening of the Field: Jess, Robert Duncan, and Their Circle
Crocker Museum of Art
Sacramento
Unfortunately, this exhibit is just closing now, but was a great show to catch. It allowed the viewer to virtually step into the milieu of this San Francisco couple, poet Robert Duncan and visual artist, Jess. For decades they held court at their Baker Street house, which was filled with their own art and that of their many friends—much of which was on exhibit at the Crocker. Alongside pieces by Jack Spicer were a film by James Broughton, original copies of early books by Duncan and friends, and riveting paintings by so many artists that were new to me. Back to reading some Duncan.
[TOP]
---
Join the Rova:Arts Community
Become a Fan on Facebook!
Already a fan? Encourage your Facebook friends to become Rova:Arts fans.
Stay Tuned
You can stay in touch with all Rova:Arts activities through our website, the Rova newsletter, and our FaceBook and MySpace pages. See links at the bottom of the page. Also, check out Rova on YouTube! Subscribe to our channel and be notified when there are new Rova videos for you to watch. Go to http://www.youtube.com/user/ROVAARTSSF and click the subscribe button.
About Rova:Arts
Rova:Arts, formed in 1986 to support the activities of Rova, has been instrumental in producing local projects and advancing an ongoing cultural exchange between local Bay rea artists and the international scene through its Rovaté concert series. These events, made possible by funding to Rova:Arts, have engaged Bay Area musicians and composers—as well as musicians from around the world. Rova:Arts projects are often reproduced in other parts of the world, thereby bringing the work to a broader audience. Also, many Rova:Arts events have been recorded, resulting in releases which have been enthusiastically celebrated.

Click here to find out more and to Join Rova:Arts. If you are interested in getting involved in a more hands-on-way, feel free to contact us: rova.org/contact.html. Thanks for being part of the art.
:: WATCH FOR MORE ROVA NEWS IN NOVEMBER 2013 ::
Be sure to visit us online:
Rova.org
RovaMySpace
RovaFacebook
CDBaby
---
[TOP]