In this Newsletter:
» Rovaté 2013: The Grand Electric Skull

» Electric Ascension & Cleaning the Mirror DVD

» Rova Member Shows

» Favorite Street – Steve Adams

» Garden of Memory @ Chapel of the Chimes


» Join the Rova:Arts Community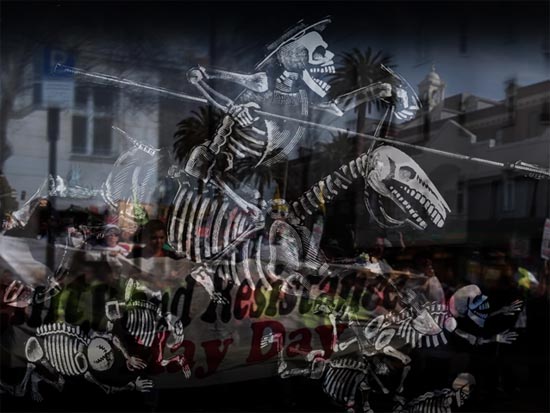 Rovaté 2013: The Grand Electric Skull

Rova's ever-exploratory and inquisitive saxophonists have teamed up with world renowned visual artist, Ikue Mori, and composer/multi-instrumentalist, Gino Robair, to create an ambitious collaborative work, The Grand Electric Skull, to be presented on June 6 & 7. Initially inspired by the topical urgency of Mexican artist José Guadalupe Posada's calaveras imagery, Rova, Mori and Robair have sought to grasp the original intent of his work and its application to contemporary issues. Posada's calaveras pieces were created to satirize the life of the upper classes in late 19th century Mexico, and their bold, colorful and poignant messages resonate with street art and actions of today's Occupy movement. Deftly handled by Ikue Mori, both Posada-related images, and photographs taken by the artists in the Bay Area, will become the visual component for Grand Electric Skull. Gino Robair will provide a composed-improvised musical score, collaboratively created with Rova. Robair and Mori will mix and manipulate audio and visual information in real time, lending improvisatory elements of surprise and correspondence to the concert experience. To see samples of Ikue Mori's collaged imagery click here: http://www.rova.org/projects/ .
Safi wa Nairobi will interview Steve Adams and Gino Robair about Grand Electric Skullon KPOO 89.5FM , San Francisco, May 28, 4pm - 6pm, on her show, For the People.
Thursday and Friday, June 6, 7, 8:00 PM
The Grand Electric Skull
Jewish Community Center of San Francisco, Kanbar Hall
3200 California Street
San Francisco
$20 | Members $17 | Students $12
Box Office: 415.292.1233
bit.ly/ROVA2013

FREE TICKETS!!!! We are looking for ways to give free tickets to students and classes involved in video and music. Readers with contacts or connections to educational environments please contact us for details on our offer of free admission to Grand Electric Skull. Email Brent at rova@rova.org, or call our office at (415) 487-1701.
Electric Ascension & Cleaning the Mirror DVD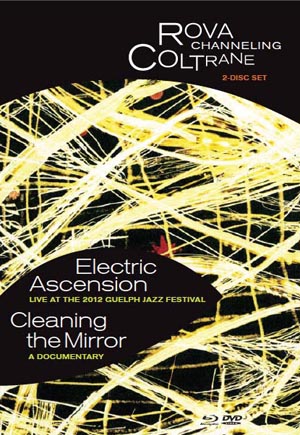 In San Francisco in late April, filmmaker John Rogers presented a private screening at Dolby Labs of his documentary double header, Electric Ascension Live at 2012 Guelph Jazz Festival, and Cleaning the Mirror. Many of you in the Rova:Arts community have heartily and generously supported this ambitious and important project, and we can happily announce that Rogers has successfully captured the spirit of Coltrane's Ascension, and breathtakingly documented one of the Orkestrova's most intense and powerful performances of Electric Ascension. Many are behind the scenes working to schedule public screening events, and to arrange distribution for a DVD. Stay tuned to the Rova website and our newsletter for details. A long and interesting article on the original Ascension recording, and how Rova's version evolves from that, has been written by the esteemed Canadian critic, Stuart Broomer, and can be found in the summer edition of Point of Departure, an online magazine devoted to improvised musics of all kinds. The summer edition goes online in early June; be sure to check out the current issue also.
---
Upcoming Rova Member Shows
The Rovas are busy with individual projects. Below is a listing of upcoming shows outside the quartet, organized under each player's name.

STEVE ADAMS SHOWS

Tuesday, June 11 at 7:30 pm




Steve Adams/Scott Walton duo


Steve Adams – woodwinds and electronics
Scott Walton – bass

Tom's Place
3111 Deakin Street
Berkeley
510.703.8195
http://4-33.com/
Also appearing the Josh Allen/Gino Robair duo



Wednesday, June 12, 9:00 PM




The Steve Adams Quartet


Steve Adams – woodwinds
John Hanes – electronics
Lisa Mezzacappa – bass
Scott Amendola – drums and electronics



Wednesday, August 7 at 9:00 pm




The Adams/Hammond/Amendola Trio


Steve Adams – woodwinds
Ross Hammond – guitar
Scott Amendola – drums and electronics

Duende
468 19th Street
Oakland
510-893-0174
duendeoakland.com



Friday, August 16, 6:30 pm




Matt Small's Crushing Spiral Ensemble


Matt Small - bass
Steve Adams - sax & flute
Sheldon Brown - sax & clarinet
Chris Grady - trumpet
Micah McClain - drums

The de Young Museum
50 Hagiwara Tea Garden Drive
San Francisco

Free Admission!!
deyoung.famsf.org
415-750-3600


BRUCE ACKLEY/JON RASKIN SHOW

Saturday, June 15th, 7:30 PM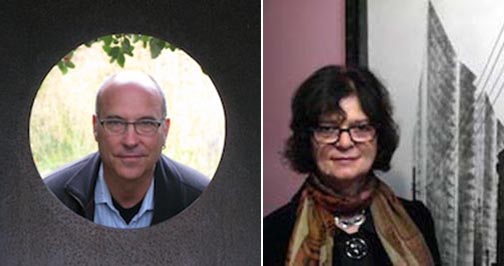 NEW DIALOGUES: Writing Sound/Playing Words
An evening of improvisations with music, silent acting, speaking and whispering voices, composed verse, and urgently ringing the bells.

Organized by Jon Raskin, and informed by his ongoing collaboration with writer, Carla Harryman, the evening will feature writers Harryman and Clark Coolidge, and music groups led by Raskin and Bruce Ackley.
The composition of words has always played an important role in the development of Rova members' musics, and the Harryman-Raskin project demonstrates significant correspondences between the media. Coolidge and Ackley have threatened to perform together for years, and bassist Lisa Mezzacappa is the perfect co-conspirator to complete the trio. Clark will be featured both as a poet and drummer.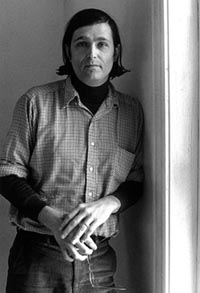 7:30: Ackley/Coolidge/Mezzacappa Trio


Clark Coolidge – drums, poetry
Bruce Ackley – woodwinds
Lisa Mezzacappa – bass


Clark Coolidge attended Brown University, where his father chaired the music department. After moving to New York City in the early 1960s, Coolidge cultivated links with poets Ted Berrigan and Bernadette Mayer. Often associated with the 'Language School', his experience as a jazz drummer and interest in a wide array of subjects (including caves, geology, bebop, weather, Salvador Dalí, Jack Kerouac and movies) informs his writing. Recent works include A Book Beginning What and Ending Away, and 88 Sonnets, Fence Books. Coolidge currently lives in Petaluma.

Lisa Mezzacappa is a San Francisco Bay Area-based bassist, composer, and musical instigator. An active collaborator and curator in the Bay Area music community, she leads her own groups Bait & Switch and Nightshade, and co-leads the ensembles duo B., Cylinder, the Permanent Wave Ensemble, the Mezzacappa-Phillips Duo, and the Caribbean folk band Les Gwan Jupons. Lisa has released her own recordings on the Clean Feed, NoBusiness, Leo, Evander, Odd Shaped Case and Edgetone record labels, and has recorded as a sideperson for the Tzadik, Kadima and Porto Franco labels. She collaborates frequently on cross-disciplinary projects in sound installation, film/video, sculpture and public music/art.

8:30 Carla Harryman & Jon Raskin


with Crystal Pascucci and Roham Shiekhani


Carla Harryman is the author of seventeen books, among them the prose diptych W—/M—forthcoming from Split Level Press in 2013; Adorno's Noise, a collection of conceptual and experimental essays (Essay Press, 2008); and a sequence of essays in The Grand Piano, a multi-authored ten volume work about art and culture in the San Francisco Bay Area between 1975-1980, (Mode D, 2011). Her Poets Theater, interdisciplinary, and bi-lingual performances have been presented nationally and internationally. Recent work in performance includes the "re-performance" of Theodore Adorno's 1959 lecture "Music and New Music" at dOCUMENTA 13 in Kassel, Germany (with music composition by Jon Raskin) and the publication of Open Box, a music and poetry collaboration with Jon Raskin (Tzadik, 2012). She is co-editor of Lust for Life: On the Writings of Kathy Acker (2006), and the editor of Non/Narrative a special issue of the Journal of Narrative Theory (2011).

Roham Sheikhani is a poet, actor, and a playwright. Since 1986 he has worked with diverse groups, including DARVAG, Night Letter Theater, and Shotgun Players. Since 1986 he has collaborated with artists Harryman and Raskin, as well as James Cave, Woody Woodman, Amy Trachtenberg, Erling Wold, Lauren Elder, Sydney and Arthur Carson.

Crystal Pascucci , cellist/composer/improviser. Before relocating from the east coast, she worked in new music ensembles and studied under improvising masters, Robert Black of the Bang on a Can All-Stars and Anthony Braxton. Pascucci's current personal projects include Opera Wolf and Wild Hen. She recently performed the works of Roscoe Mitchell at Yoshi's Jazz Club, participated in the 2012 Outsound Summit Festival and has presented a solo set at several Bay Area events. She performs regularly with Lisa Mezzacappa's String Band, the Electro-Magnetic Trans-Personal Orchestra and Oakland Active Orchestra, which performed at the 2013 SF Switchboard Festival. www.crystalpascucci.com

Center for New Music
55 Taylor Street
San Francisco
www.centerfornewmusic.com

JON RASKIN SHOW

Wednesday, July 10, 9:30 PM




The Long Table



The Long Table —a suite of music composed by Jon Raskin using the form of a great meal and friends gathered at a long table. Familiar sounds re-imagined, new sounds to delight the ears.

Jon Raskin - bari sax
Phillip Greenlief- alto sax
Tom Hassett – drums
Dan Seamans - e. bass
John Shiurba - e. guitar

Duende
468 19 th Street
Oakland
510-893-0174
duendeoakland.com

Opening the show will be David Boyce - Tenor Saxophone/Moog Synth/Noisician
http://blackedgar.blogspot.com/

LARRY OCHS SHOWS

The East-West Collective was created by French cellist Didier Petit in 2009 and expanded to this quintet in spring 2012. Featuring 5 great improvisers and performing compositions by Didier Petit and Larry Ochs.

Larry Ochs – saxophones
Miya Masaoka – cello
Xu Fengxia – Guzheng
Didier Petit – cello
Sylvain Kassap – bass clarinet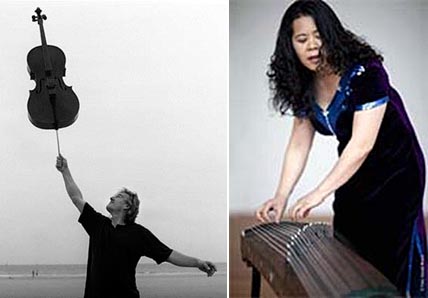 | | |
| --- | --- |
| Cellist Didier Petit (image by Caroline Pottier) | Guzheng player Xu Fengxia |
This first USA tour is made possible by French American Jazz Exchange.
June 14: East-West Collective @ Vision Festival , New York
June 16: East-West Collective @ The Hungry Brain, Chicago
June 17: East-West Collective @ Chicago Cultural Center
June 18: East-West Collective @ Yoshi's San Francisco
June 22: East-West Collective @ Good Sheppard Center, Seattle, presented by Earshot Jazz + Nonsequitur
June 23: East-West Collective @ The Ironworks, 9 PM, presented by Vancouver International Jazz Festival
Friday, July 12, 9:30 PM
Shelton/ Ochs/ Nordeson/ Dresser
Aram Shelton, Ochs – saxophones
Mark Dresser – bass
Kjell Nordeson - percussion
Duende
468 19 th Street
Oakland
510-893-0174
duendeoakland.com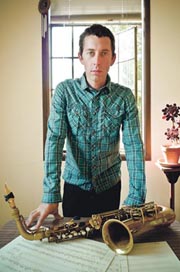 Saturday, July 13, 7:30 PM
Shelton/ Ochs/ Nordeson/ Dresser
Center for New Music
55 Taylor Street near Market
San Francisco
http://centerfornewmusic.com/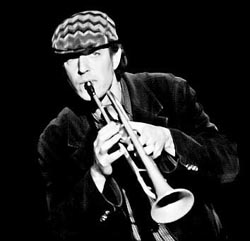 Wednesday, August 21,
10 PM
Dave Rempis/Larry Ochs/ Darren Johnston Trio
The Hideout, Chicago
Thursday, August 22, 9 PM
Larry Ochs/Darren Johnston and Chicago Friends TBD
Elastic, Chicago
Friday, August 23, 8 PM
Rempis/Ochs/Johnston Trio
Sugar Maple, Milwaukee
Sunday, August 25, 10 PM
Hamid Drake & Michael Zerang/Ochs/Rempis/Johnston
The Hungry Brain, Chicago
---
Favorite Street – Steve Adams
Duos

I was thinking recently about the importance of duo playing to me, probably because I'm currently involved in three duo projects with bass players—with Lisa Mezzacappa, Scott Walton and Ken Filiano—and I just played a duo concert at the Jazz School with pianist Joe Mulholland. There's clarity to the interactions in a duo that I find immensely appealing. The logic and interplay of the conversation that's going on are much more apparent than in a larger group. So I decided to list some duo recordings that have had a great impact on me. Looking at them, it becomes clear that another thing that appeals to me is how emotionally intense these recordings are. It's a highly personal list that has no pretenses of historical completeness.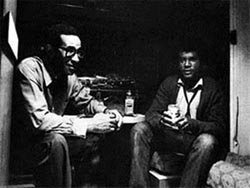 Anthony Braxton/Max Roach - One in Two, Two in One (Hatology)
Probably my favorite recording of free improvisation. They're locked in from the first note to the last. Birth and Rebirth (Black Saint), the studio recording they did around the same time, is also quite good.

The Lee Konitz Duets (Milestone)
The first time I met the other members of Rova in 1983, long before I joined the band, they put on this recording, which I found very puzzling. But I came to understand their interest, as I belatedly understood what Lee is up to. His duet recording with Martial Solal (Star Eyes Hamburg 1983 on Hatology) is also great.

John Coltrane/Rashid Ali - Interstellar Space (Impulse) and Nels Cline/Gregg Bendian - Interstellar Space Revisited (Atavistic)
The Mount Everest of duo recordings, and a bold and worthy re-imagining of it. As saxophonist Harvey Robb observed to me, Coltrane's tone reaches the pinnacle of its evolution on this date.

Archie Shepp/Horace Parlan - Goin' Home (SteepleChase)
Some of Archie Shepp's most emotionally direct playing on material that he and Horace Parlan totally connect with. The follow-up recording Trouble in Mind (SteepleChase) is also well worth it.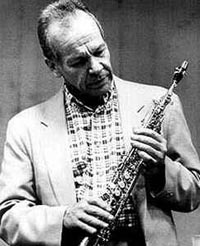 Steve Lacy/Masa Kwate – Shots (Musica)
An odd but very appealing one to me from the late 70's. Lacy is in great form, and Masa Kwate adds a minimal version of Japanese percussion that complements in a unique, provocative way. I also enjoy Lacy's recordings with Gil Evans (Paris Blues on Owl) and Mal Waldron (Sempre Amore on Soul Note.)

Paulo Moura/Raphael Rabello - Dois Irmaos (Milestone)
I've been interested in choros for a long time, which is a Brazilian genre that dates back to the early 20th century and is their rough equivalent to Dixieland. Paulo Moura was a spectacular reed player who brought great life to this relatively recent recording of classic choros.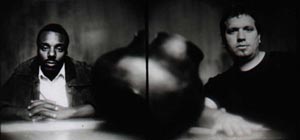 The Chicago Underground Duo - Synesthesia (Thrill Jockey)
I had the chance to hear drummer Chad Taylor live for the first time recently with the Jeff Parker Trio and he's one of the best on the instrument today, as well as a really interesting composer. Add cornet master Rob Mazurek and you've got a great duo. This disc finds them using studio possibilities to augment their sound in great ways.

---
Garden of Memory @ Chapel of the Chimes
Friday 21 June from 5 to 9 PM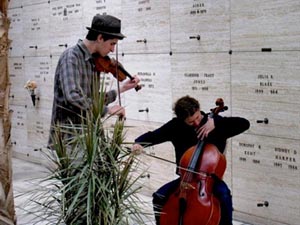 At this popular solstice concert, the program features simultaneous performances in different parts of the building by Bay Area composers, musicians, and other performers presenting a variety of acoustic and electronic music, installations, and interactive events; the audience is free to move throughout the building during the performances.

The artists, many of whom are well-known to Bay Area audiences, to be featured at this event include Paul Dresher and Joel Davel, Amy X Neuburg, John Kennedy, The Living Earth Show, Dylan Mattingly, the Wild Rumpus New Music Collective, Orchestra Nostalgico, pianist Sarah Cahill, Dan Plonsey, the Del Sol Quartet, Larry Ochs and Miya Masaoka, The Lucky Dragons, Beth Custer, Maggi Payne, Pamela Z, Luciano Chessa, and many others.


Chapel of the Chimes
4499 Piedmont Avenue
Oakland

Check out the website: www.gardenofmemory.com for an up-to-date performer list.

Tickets available from Brown Paper Tickets: http://www.brownpapertickets.com/event/389716


$15 general | $10 senior | $5 child | under 5 free
---
Join the Rova:Arts Community
Become a Fan on Facebook!
Already a fan? Encourage your Facebook friends to become Rova:Arts fans.
Stay Tuned
You can stay in touch with all Rova:Arts activities through our website, the Rova newsletter, and our FaceBook and MySpace pages. See links at the bottom of the page. Also, check out Rova on YouTube! Subscribe to our channel and be notified when there are new Rova videos for you to watch. Go to http://www.youtube.com/user/ROVAARTSSF and click the subscribe button.
About Rova:Arts
Rova:Arts, formed in 1986 to support the activities of Rova, has been instrumental in producing local projects and advancing an ongoing cultural exchange between local Bay rea artists and the international scene through its Rovaté concert series. These events, made possible by funding to Rova:Arts, have engaged Bay Area musicians and composers—as well as musicians from around the world. Rova:Arts projects are often reproduced in other parts of the world, thereby bringing the work to a broader audience. Also, many Rova:Arts events have been recorded, resulting in releases which have been enthusiastically celebrated.

Click here to find out more and to Join Rova:Arts. If you are interested in getting involved in a more hands-on-way, feel free to contact us: rova.org/contact.html. Thanks for being part of the art.
:: WATCH FOR MORE ROVA NEWS IN AUGUST 2013 ::
Be sure to visit us online:
Rova.org
RovaMySpace
RovaFacebook
CDBaby
---
[TOP]