In this Newsletter:
» Rova Turns 35: Short History of a Not-so-Short History

» Reigniting the Indoor BBQ Concert Series

» Rovaté 2013: The Grand Electric Skull

» Rova Member Shows

» Center for New Music SF Shows

» Favorite Street – Bruce Ackley

» Butch Morris – Larry Ochs Remembers a Fellow Artist (1947 – 2013)

» Join the Rova:Arts Community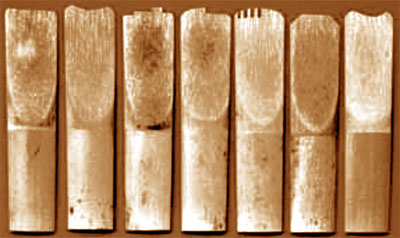 Rova Turns 35: Short History of a Not-so-Short History
On February 4, 1978, Rova played their first gig as part of the Third Annual Free Music Festival at Mills College in Oakland. The quartet had rehearsed nearly daily during the previous fall in preparation for a November festival date that got postponed till after the New Year; consequently, the band was supercharged when we hit the stage to play 3 pieces that night. We'd already gone through personnel and role changes—Andrew Voigt replaced pre-original baritone player, Tony Blase, swapping Jon Raskin for the alto spot, while he picked up the baritone. The results at Mills were electric, and we knew the quartet was something we had to pursue. We recorded our first LP, Cinema Rovaté, that summer, and by the fall had plans for our first European tour, spring 1979.
Several concerts, tours, and recording dates later, Rova formed the nonprofit organization Rova:Arts, in 1985, to support the quartet's efforts to foster adventurous musical activity in the Bay Area and beyond. Early concert productions included the celebrated PreEchoes Series, which enabled Rova to present the Ganelin Trio from Russia during their first tour of the U.S.; to collaborate with John Zorn, Anthony Braxton, Richard Teitelbaum, Fred Frith, Henry Kaiser and others; and to commission early minimalist composer, Terry Riley, to write a CD-length work of great beauty for Rova, Chanting the Light of Foresight.
In 1988 Steve Adams replaced Voigt, and Adams' presence in the quartet was a game changer. A stellar improviser, with a highly developed personal voice on several woodwinds, Steve came with years of relevant experience from his previous band, Your Neighborhood Saxophone Quartet and other Boston-area ensembles. His writing was a tremendous contribution (and continues to be), broadening our repertoire and our aesthetic compass. His playing and his wonderful tone significantly changed how Rova sounds. 25 years later he's still fondly referred to as the "new guy", which keeps us all young in spirit.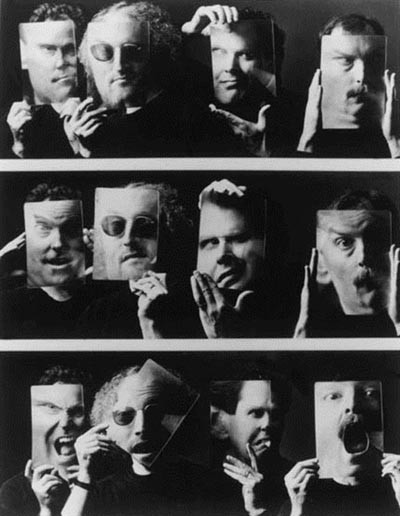 | | |
| --- | --- |
| Rova in the late 1980s | photo: Sharon Beals |
During the following decade, Rova continued to extend its reach by commissioning the who's who of contemporary improvising composers to write for us, and by engaging communities of improvisers to create collaborative works with us. And, in subsequent years we have been able to export many of the projects that first germinated in the Bay Area, documenting many of them on CD. Over time, interactions with other artists have greatly enhanced our approach to music making, and have expanded the sonic space that Rova inhabits.
Now midway through our 4 th decade together, Rova happily reports that the "Nation is Sound". A double DVD of our Electric Ascension project, documenting our 2012 Guelph Jazz Festival Performance, and the background of John Coltrane's groundbreaking 1965 composition, Ascension, will be released by filmmaker, John Rogers, very soon; we're reigniting our Indoor BBQ Series, collaborative concert productions created by individual Rova members, starting up again on February 23 at the Center for New Music in SF; in June the quartet will present Rovaté 2013: The Grand Electric Skull, featuring Ikue Mori and Gino Robair; and in the fall Rova will return to Europe for a two week tour. To ice the cake, Jason Weiss of Signal to Noise and Improjazz magazines picked our most recent CD, A Short History, as one of his favorite albums of 2012 (#8). Concert and touring plans are percolating for 2014 and beyond, making Rova's future look (and sound) bright.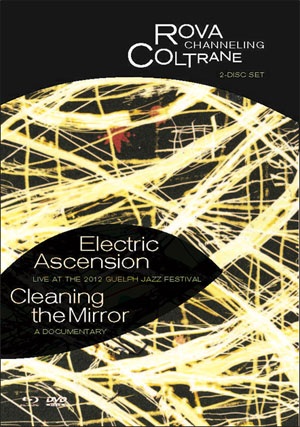 We want to extend our deepest thanks and appreciation to all who donated to Rova:Arts during our end-of-the-year fundraising campaign in December; for those who participated in our Kickstarter project to fund the video production of Electric Ascension in Guelph, Ontario in September; and to all of you who have contributed in the many ways imaginable to keep Rova going over the years. Families, friends, composers, listeners, fellow players, board members, administrators, funders, contributors, concert and festival organizers, recording producers and engineers, graphic designers, writers, etc. have helped to make the work the four of us do come alive and reach a world of listeners in profound ways. Thanks so much for being part of the work.
Reigniting the Indoor BBQ Concert Series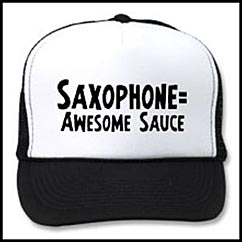 A couple of decades ago Rova initiated a concert series dubbed "Indoor BBQ". The idea was that each Rova member would take curatorial responsibility for a collaborative event—inviting additional performers, and generally planning the evening. The series was successful on many levels, and the opening of the Center for New Music in San Francisco provides us an ideal opportunity to revisit the series with some fresh ideas. February 23 will kick off the BBQ's (details below), followed by Rova & Guests Meet the Collected on April 13. Two more BBQ's are scheduled for later this year.
Rova & Guitar Quartet: Schott / Finkbeiner / Shiurba / Boisen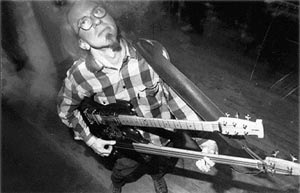 Jon Raskin presents music for sax quartet plus 4 shredding guitarists
Raskin says: "My special sauce is an electric guitar quartet made up of John Finkbeiner, John Schott, John Shiurba and the not John, Myles Boisen. These master guitarists will pair up with a saxophonist to create some funky grooves, phat chords and luscious melodies, along with expanded language associated with much of our music. I've been working with a long form that unfolds like a great meal, and we hope this musical feast brings comforts, surprises and stretches your ears."
The Center for New Music
55 Taylor Street (just off Market Street)
San Francisco
http://centerfornewmusic.com/
---
Rovaté 2013: The Grand Electric Skull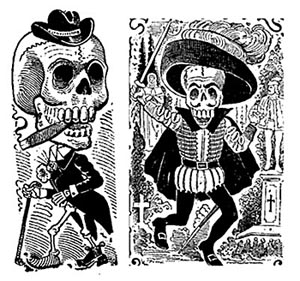 Thursday and Friday, June 6, 7
Rovaté 2013: The Grand Electric Skull
Rova / Ikue Mori / Gino Robair
On June 6 & 7 Rova will present Grand Electric Skull at JCCSF Kanbar Hall, an evolving new composition, created in collaboration with composer, Gino Robair, video artist, Ikue Mori, and Rova. The new work takes its title from a Calaveras engraving by the acclaimed turn-of-the-century Mexican visual artist José Posada, and will feature stunning surround-sound manipulation, compelling video imagery, and impeccable musicianship. This is an exciting event that we all anticipate eagerly. Watch for more details in upcoming newsletters, and don't miss this show!
---
Upcoming Rova Member Shows
Wednesday February 6, 8:00 pm




Adams/Hammond/Walton Trio


Steve Adams, woodwinds
Ross Hammond, guitar
Scott Walton, bass


Also appearing

The Lost Trio


Phillip Greenlief, tenor saxophone
Dan Seamans, bass
Tom Hassett, drums

Berkeley Arts Festival
2133 University Avenue, a block west of Oxford Street
Berkeley
http://www.berkeleyartsfestival.com/



Wednesday, February 13, 7:30 pm




Stupid Man Suit & Lockwood / Ackley / Gualtieri





Stupid Man Suit


Mike Lockwood, percussion
Max Gualtieri, guitar
Matty Harris, baritone sax
Ryan Parish, baritone sax
Jake Rosenzweig, bass
http://stupidmansuit.bandcamp.com/



Lockwood / Ackley / Gualtieri: Trios for Improvisers


Mike Lockwood, percussion
Bruce Ackley, saxes and clarinet
Max Gualtieri, guitar

Rova's Ackley will join Los Angelinos Gualtieri and Lockwood for trio improvisations. Both players are also part of Stupid Man Suit, up for a couple of NorCal dates and who will open the show.

Tom's Place
3111 Deakin
Berkeley
http://4-33.com/toms-place/directions.html
If you get lost, call: (510) 665-1980



Larry Ochs & Don Robinson Duo Tour Dates


Saxophonist, Ochs and drummer, Robinson, have developed a unique and fiery duo language over their 2+ decade association. Consecutive dates on the west coast and Midwest will give them an opportunity to spread the word on what they're discovering.

» Wednesday, February 13, 8:00 pm - Space4Art , San Diego
» Thursday, February 14, noon - CalArts, Valencia, CA
» Thursday, February 14, 8:00 pm - New Music Series at Muddy Waters Café, Santa Barbara
» Thursday, March 14, 9:00 pm - Elastic, Chicago
» Friday, March 15, 8:00 pm - The Sugar Maple, Milwaukee

Saturday, February 16, 8:00 pm




Joe Lasqo with Steve Adams


Joe Lasqo 's music is woven from three strands: Indian classical music, modernist jazz, & "Stockhausen meets the sound of one hand clapping" (encounters with electronics and extensions of Japanese, Chinese and Korean music) — a unique mixture that has delighted audiences.

Joe Lasqo – piano and electronics
Steve Adams – woodwinds and electronics

Trinity Church
2320 Dana Street
Berkeley
(510) 549-3864

$15/$10 senior/disabled/student
http://trinitychamberconcerts.com/

Friday, March 1, 8:00 pm




Jon Raskin's The Long Table


Jon Raskin and Phillip Greenlief, woodwinds
John Shiurba, guitar
Dan Seamans, bass
Tom Hasset, drums



Fred Frith and Guests


Fred Frith, guitars
Lotte Anker (Denmark), saxophone
Heike Liss, video
Plus two other Bay Area guest musicians, TBA

The Lab
2948 16th Street near Mission Street
San Francisco
p: 415.864.8855
http://www.thelab.org/



Sunday, March 3, 8:30 pm




Adm. Ted Brinkley's No Porkestra


Check out the brilliant composer and pianist Graham Connah's robust ensemble, featuring an all-star cast too numerous and unpredictable to mention (including Rova's Steve Adams on flute!)

The Jazz School
2087 Addison, Berkeley
510-845-5373
www.jazzschool.com



Wednesday, March 6, 8:00 pm




2 + 2 + 2 : Nate Wooley / Kris Tiner + Miya Masaoko / Zeena Parkins + Phillip Greenlief / Jon Raskin




2 trumpeters, 2 string-driven computer electronics performers and 2 saxophonists, performing graphic scores and structured improvisations

Chris Brown / Nate Wooley Duo (first set)

Berkeley Arts Festival
2133 University Avenue, a block west of Oxford Street
Berkeley
www.berkeleyartsfestival.com


Friday, March 8, 8:00 pm
Ochs / Wooley / Ospovat / Hoopes
Larry Ochs, saxes
Nate Wooley, trumpet
Sam Ospovat, drums
Jason Hoopes, bass

Center for New Music
55 Taylor Street, just north of Market Street
San Francisco
http://centerfornewmusic.com

Wednesday March 20, 9:00 pm
Larry Ochs' KIHNOUA
Scott Amendola - drums and electronics
Dohee Lee – voice, percussion
Larry Ochs - saxes

Duende 468 19th Street
Oakland, CA 94612
www.duendeoakland.com

Saturday, March 23, 8pm
The Bill Horvitz Expanded Band
CD Release Concert
The Long Walk in memory of Philip Horvitz

Bill Horvitz - guitar/composer
Omid Zoufonoun - conductor
Kyle Bruckman - oboe/English horn
Aram Shelton - clarinet/bass clarinet
Michael Cooke - bassoon
Steve Adams - alto saxophone/flute
Cory Wright - tenor saxophone
Jon Raskin - baritone saxophone
Darren Johnston - trumpet
Hal Forman - trumpet
Ned Haran - trombone
Nathan Reibli - tuba
Wayne Horvitz - piano
Sarah Jo Zaharako - violin
Dan Seamans - bass
Vijay Anderson - drums

The Glaser Center
547 Mendocino Avenue, Santa Rosa
(707) 568-5381
www.glasercenter.com
www.billhorvitz.com

Monday, April 1, 9:00 pm
The Long Table
(See details on March 1 Lab concert date above)

The Makeout Room
3225 22nd Street near Mission Street
San Francisco
(415) 647-2888
---
Center for New Music SF Shows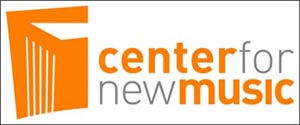 55 Taylor Street (just north of Market Street)
San Francisco
February 1, 8:00 pm
Sqwonk

February 23, 8:00 pm
Rova: Indoor Barbecue Concert
Jon Raskin presents music for Rova and electric guitar quartet

March 8, 8:00 pm
Larry Ochs & Nate Wooley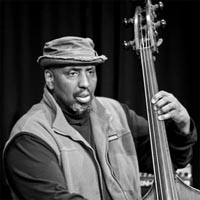 March 10, 8:00 pm
William Parker Solo double bass concert
March 29 & 30, 8:00 pm
Living Earth Show
Record release concert
---
Favorite Street – Bruce Ackley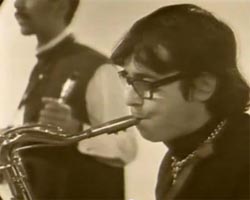 Watching YouTube, a short list of favorites
Abdullah Ibrahim Band 1968 - Jabolani (=Joy)
http://www.youtube.com/watch?v=MwJRIiuJzIk
I can't identify the drummer or the bass player here, but this track is smokin'. It's amazing to hear Tchicai and Gato in the South African Township jazz bag. Gato's at the height of his free jazz powers here. Sax nerd note: looks like he's playing an old Conn tenor, giving him an astonishing roar.
Lorraine Hunt Lieberson – Haendel: Theordora "As with Rosy Steps the Morn"
http://www.youtube.com/watch?v=IQlt1UxjvWU
I don't know how I discovered this remarkable American mezzo-soprano, but apparently most anyone into operatic or classical singing knows her. I was stunned watching Hunt-Lieberson sing this Haendel aria, and of particular interest is the gaze one can't help but notice on Dawn Upshaw's face watching her.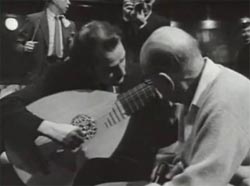 Julian Bream plays for Stravinsky
http://www.youtube.com/watch?v=t4f8fej9Sqo
Sonny Boy Williamson – Berlin, 1966: "Nine Below Zero"
http://www.youtube.com/watch?v=AGUGXOxs6p0
WTF!
Mickey Baker and Coleman Hawkins – France, early 1960's "South of France Blues"
While we're thinking of guitarists, check out Baker here. His several choruses are so deep, then in steps the Hawk! I just want to play this for everyone it's so good.
http://www.youtube.com/watch?v=-3oB38kUAeE
---
Butch Morris – Larry Ochs Remembers a Fellow Artist (1947 – 2013)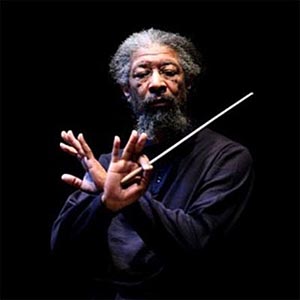 It's never a good thing when one of your musician compadres passes on. I think it's safe to say that anyone serious about making music, about doing the art, is a boon to society in some way, sometimes large, sometimes small, but still gets credit for living on the positive side of the ledger. All of us in Rova will miss him on a personal level. He always gave 100%, and yet always seemed to be having fun doing it.

Butch Morris' place in the history of music will be decided by others. But let me testify right here that his trumet sound was one of those singular voices that you don't forget after hearing it. And the thing was: he meant every note. He played in "avant garde jazz" contexts most of the time, but like Wadada Leo Smith, he played the blues. It poured out of him.

Eventually though, Butch let the playing go to concentrate on "conduction;" he led large ensembles of all kinds and with all styles of musicians in long pieces created in the moment of performance, with him conducting, using a set of hand cues to draw out what he wanted/needed from the musicians. Rova recorded in concert with Butch in San Francisco in December 1988. And this was one of the first large ensembles we put together to work with a guest artist from outside the Bay Area. That experience was cool, seeing a lot of the cats here having to deal with Butch's focus and rigor onstage, even as offstage he would be laughing, joking and being genuinely great to be around. But our singular experience with him occurred a year or so earlier in West Berlin, when a festival there decided to bring 5 sax quartets and one sax quintet (plus drummer) in for 3 straight days of sax-only music shows ending, incredibly (in my opinion), in a Butch Morris conduction piece for 25 saxophonists.

Now when Butch came to San Francisco to perform and record with Rova's ensemble at Great American Music Hall, all the musicians involved were local, and they signed on because they wanted to work with Butch Morris. So even though there ended up being some Morris-generated blood, sweat and tears at rehearsal, we all wanted to have the experience, and the reward at the end was something we all enjoyed. In Berlin, these six sax quartets were there because a festival had invited them to perform. It's safe to say that at least two and possibly three of these quartets had never heard of Butch before. And one of them that had, naming no names, did not, shall we say, exhibit a whole lot of respect for Butch's concept, mainly showing disrespect by skipping rehearsal number two to go shopping in East Berlin. ("Hey man, we get it!"). Then there was this Netherlands-based quartet that was a "new music" group. And they played scored music. Now they claimed to be into 20th century music, but their concept of music did not include improvisation, and the idea that someone would conduct improvisation with hand cues and mold the music in real time? No, no my brother. One of the members of this band decided in the middle of the actual performance to kick over his music stand (which proceeded to make an uncued sonic boom as it hit the stage floor and skidded ten feet into the stereo pair recording the piece!); this as a gesture, perhaps, that improvised music could include anything. However, his "spontaneous" action proved otherwise.

Butch took all these shots to the bow with total equanimity, and except for the music-stand incursion, he managed to make a great piece of music that night. And never ever did he show anything but warmth and a good nature to all these players.

Needless to say, as the documentation left behind shows, there were many, many great conduction performances over time. But Morris' conductions were always I think a community conscious-raising moment. And a fun time.

He will be missed.

You can do yourself a favor and watch the video of Butch talking to Derk Richardson about "conduction" during his Improv:21 informance, hosted by Rova:Arts in 2007. http://radiom.org/detail.php?omid=IMP.2007.02.05

This document is really one of the great moments in the Improv:21 series, as Butch arrived that afternoon, worked up a set of cues with 8 string players he had requested for the informance, but had never met until that very moment, and then led a few times during the conversation in order to demonstrate "conduction." The music, even in a small library setting, was terrific.
---
Join the Rova:Arts Community
Become a Fan on Facebook!
Already a fan? Encourage your Facebook friends to become Rova:Arts fans.
Stay Tuned
You can stay in touch with all Rova:Arts activities through our website, the Rova newsletter, and our FaceBook and MySpace pages. See links at the bottom of the page. Also, check out Rova on YouTube! Subscribe to our channel and be notified when there are new Rova videos for you to watch. Go to http://www.youtube.com/user/ROVAARTSSF and click the subscribe button.
About Rova:Arts
Rova:Arts, formed in 1986 to support the activities of Rova, has been instrumental in producing local projects and advancing an ongoing cultural exchange between local Bay Area artists and the international scene through its Rovaté concert series. These events, made possible by funding to Rova:Arts, have engaged Bay Area musicians and composers—as well as musicians from around the world. Rova:Arts projects are often reproduced in other parts of the world, thereby bringing the work to a broader audience. Also, many Rova:Arts events have been recorded, resulting in releases which have been enthusiastically celebrated.

Click here to find out more and to Join Rova:Arts. If you are interested in getting involved in a more hands-on-way, feel free to contact us: http://www.rova.org/contact.html. Thanks for being part of the art.
:: WATCH FOR MORE ROVA NEWS IN APRIL 2013 ::
Be sure to visit us online:
Rova.org
RovaMySpace
RovaFacebook
CDBaby
---
[TOP]