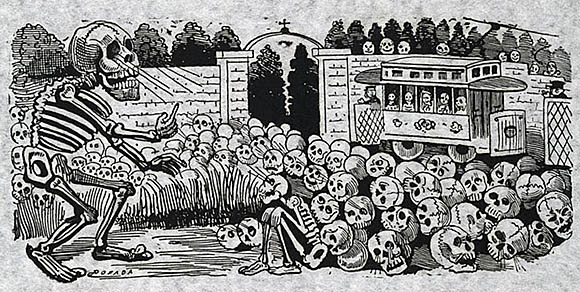 We're excited about two upcoming Rova shows: the second installment of our Indoor BBQ Concert Series on April 13, and Rovaté 2013, The Grand Electric Skull on June 6 & 7. Jon Raskin put together a stellar quartet of guitarists for the initial Indoor BBQ in March. Joining Rova to play new works by Jon, the guitarists came ready to deal. The Johns—Schott, Shiurba and Finkbeiner—along with Myles Boisen, offered powerful and committed musicianship, guitar craft, and creativity to make for an entirely successful evening. Each of Raskin's pieces was a rendered with taste, wit, care and passion. We think the enthralled audience enjoyed it too!

On April 13 Rova will be joined by guests Zeena Parkins, Miya Masaoka, Matt Small, and Mike Lockwood to play compositions by the composer cooperative, "The Collected". And on June 6 & 7 the quartet will present Rovaté 2013: The Grand Electric Skull , featuring Ikue Mori and Gino Robair. See details on both shows below.
On Tuesday, May 21st at 12:00 noon, Summer of Art at United Nations Plaza will feature Rova playing a FREE 30 minute concert in UN Plaza. Summer of Art at United Nations Plaza is a free lunchtime series of live music, dance and theater happening every Tuesday from 12 to 1 PM. The second half-hour will be a performance by The Cutting Ball Theater.
Larry Ochs and filmmaker John Rogers are behind the scenes working on finalizing the sound and packaging for the forthcoming DVD which will include two films, a live performance of Electric Ascension, and documentary about John Coltrane's Ascension and Rova's involvement with the work, Cleaning the Mirror.
Read on to find out about Rova member projects happening locally and abroad.
Saturday, April 13, 7:30 PM
Indoor BBQ Concert No. 2: Rova & Guests Meet "The Collected"

A couple of decades ago Rova initiated a concert series dubbed "Indoor BBQ". The idea was that each Rova member would take curatorial responsibility for a collaborative event—inviting additional performers, and generally planning the evening. The series was successful on many levels, and the opening of the Center for New Music in San Francisco provides us an ideal opportunity to revisit the series with some fresh ideas. On April 12 Indoor BBQ No. 2 will feature some renowned guest performers to join Rova to play compositions by "The Collected".
The Center for New Music
55 Taylor Street (just off Market Street)
San Francisco
http://centerfornewmusic.com/
Rova plus
Zeena Parkins: Electric harp and computer electronics
Miya Masaoka: Electric koto and computer electronics
Matt Small: Double bass
Mike Lockwood: Percussion
Zeena Parkins, multi-instrumentalist/composer/improviser and pioneer of contemporary harp practice and performance, reimagines the instrument as a "sound machine of limitless capacity." Parkins has built three versions of her one-of-a-kind electric harp and has extended the language of the acoustic harp with the inventive use of unusual playing techniques, preparations, and layers of electronic processing. Inspired and connected to visual arts, dance, film, and history, Zeena follows a unique path in creating her compositional works. Parkins's compositions have been commissioned by Merce Cunningham Dance Company, The Eclipse Quartet, William Winant, Bang on a Can, The Whitney Museum, and the Donaueschinger Musiktage. Zeena has been a key member of pop icon Björk's bands for more than a decade, will be on her upcoming West Coast tour dates, and is on her latest CDs, Bastards and the Biophilia Remix Series.
Miya Masaoka, musician, composer, performance artist, has created works for koto, laser interfaces, laptop and video and written scores for ensembles, chamber orchestras and mixed choirs. In her performance pieces she has investigated the sound and movement of insects, as well as the physiological responses of plants, the human brain, and her own body. Masaoka has been developing koto interfaces with midi controllers since the 1980's originally with Tom Zimmerman, co-inventor of the Body Glove. Since then, she has she has worked at STEIM, Amsterdam, CNMAT, and with Donald Swearingen to build interfaces with the computer and koto, at times using pedals, light sensors, motion sensors and ultrasound. With the koto connected directly to her laptop, she records her playing live, and processes the samples in real time. This new koto is able to respond dynamically and interactively in a variety of musical environments, and improvise with the processed sounds.
Matt Small Small has been developing his own multi-genre work in the Bay Area since 1997. He has performed at, and had his music presented by Carnegie Hall, The Monterey Jazz Festival, SF Jazz, Davies Symphony Hall, Banff's International Music Festival, The Tanglewood Music Center, along with other major venues throughout the Bay Area and on the East Coast. As a performer, composer, and producer, Small currently leads three distinct ensembles: The Crushing Spiral Ensemble, Matt Small's Chamber Ensemble, and The Bedlam Royals (of which ROVA's own Steve Adams has been a key artistic contributor for over a decade). Small has released four CD's with his groups (with three upcoming releases), showcasing a wide variety of compositional work that has been lauded in the local and national press.
Mike Lockwood is a Los Angeles-based drummer, percussionist and composer from Reno, Nevada. His musical background is a wide-ranging mix of marching percussion, rock, classical, computer music and jazz. Mike received his MFA in jazz from California Institute of the Arts where he was exposed to an eclectic group of valuable mentors, including Joe LaBarbera, Alfred Ladzekpo, I Nyoman Wenten and Vinny Golia, who helped to guide his playing and his ear to new creative arenas. He was recently commissioned to write and perform a site-specific piece on a travertine stone wall at The Getty in Los Angeles. Lockwood is currently very active, performing and recording solo as well as with nearly a dozen groups including, Stupid Man Suit, GRAMPUS, Orange Tulip Conspiracy and Secret Chiefs 3.
"The Collected"
Lisa Coons
Denise Gilson
Adam Fong
Brent Miller
Lisa R. Coons (b. 1979) Growing up around equipment and metalworking on a farm in northeast Missouri, Lisa R. Coons acquired a special affinity to noise composition and found sounds. She studied composition at the University of Missouri-Kansas City during her undergraduate degree and received her Master's from SUNY Stony Brook. Presently a PhD candidate at Princeton University, her portfolio includes music for acoustic and electronic instruments, turntables, traditional ensembles and welded percussion sculptures.
Denise Gilson is a composer and performer doing extensive work in new chamber music. Denise holds degrees from the University of Alabama and SUNY Stony Brook in composition, studying with her primary teachers, Harrison Birtwistle and Daria Semegen. Recent projects include a commission for the What a Neighborhood Chamber Music series and new pieces for Eric KM Clark and the Dither Electric Guitar Quartet.
Adam Fong (b. 1980) is a composer, performer, and producer of new music. A San Francisco Bay Area native, he holds master's degrees from both Stanford University (English) and California Institute of the Arts (Music Composition), where he studied with James Tenney. He has also studied composition with Christian Wolff and Wadada Leo Smith. His own works have been performed internationally in Auckland, London, Berlin, Tübingen and Darmstadt, at many US universities, and throughout California, by performers including the two-piano team Dennis Russell Davies and Maki Namekawa. Adam is the Executive Director of San Francisco's newest music venue, The Center for New Music.
Brent Miller (b. 1978) is a composer and a performer based in San Francisco, CA. He studied composition at the University of Arkansas with Robert Mueller, and University of Missouri-Kansas City with James Mobberley and Paul Rudy. Recent projects include works for violinist Eric km Clark, Dither Electric Guitar Quartet, and the Navitas Ensemble. Brent is also active in the arts administration field running Rova:Arts, the organization that supports the Rova Saxophone Quartet.
---
The Grand Electric Skull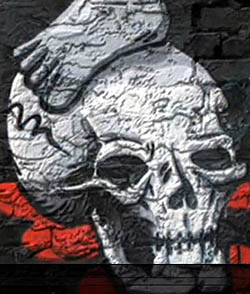 Thursday and Friday, June 6, 7
Rovaté 2013: The Grand Electric Skull
Rova / Ikue Mori / Gino Robair
Rova's ever-exploratory and inquisitive saxophonists are teaming up with world renowned visual artist, Ikue Mori, and composer and multi-instrumentalist Gino Robair to create an ambitious collaborative work, The Grand Electric Skull , to be premiered at the JCC's Kanbar Hall in San Francisco on June 6 & 7. Initially inspired by the topical urgency of Mexican artist José Guadalupe Posada's calaveras imagery, Rova & Co. have sought to grasp the original intent of Posada's work, and its application to contemporary issues. The calaveras pieces were created to satirize the life of the upper classes in late 19th century Mexico, and their bold, colorful and poignant messages resonate with street art and actions of today's Occupy movement. Deftly handled by Ikue Mori, both Posada-related images, and photographs taken by the artists in the Bay Area, will become the visual component for Grand Electric Skull. Rova will provide a composed-improvised musical score, collaboratively created with Gino Robair. Robair and Mori will mix and manipulate audio and visual information in real time, lending improvisatory elements of surprise and correspondence to the concert experience.
NOTE: If you go to the link NOW and buy tickets, you will receive an early-bird 15% discount: https://www.jccsf.org.
FREE TICKETS!!!! We are looking for ways to give free tickets to students and classes involved in video and music. Readers with contacts or connections to educational environments please contact us for details on our offer of free admission to Grand Electric Skull. Email Brent at rova@rova.org , or call our office at (415) 487-1701.
Jewish Community Center / Kanbar Hall
3200 California Street, corner of Presidio
San Francisco
---
Electric Ascension & Cleaning the Mirror DVD
Electric Ascension , the movie: an UPDATE: Close to the Goal Line Now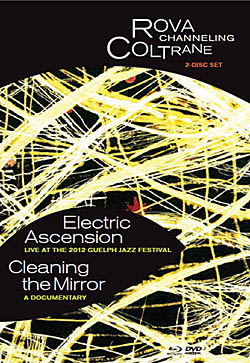 Since early December we have felt we were just a week or two from being able to post the following update. But "getting it right" was paramount, and so there have been, not delays so much as an unceasing desire to tweak either the sound or the picture "just a little bit more." In the end (much to my surprise), the visual side of the live performance video was finished up before the sound mix was. Today, Friday March 22nd, Jim McKee, John Rogers Starr Sutherland and I made our second visit to Lucas Ranch studios where McKee was able to complete the 5.1 Surround sound to everyone's satisfaction. A stereo version, mixed by Marc Urselli, is also complete now.
THE VIDEO PERFORMANCE IS SMOKING!! AND SOULFUL! Oh man, so many meditative moments amidst the Ascension maelstrom. Try to see it in a theater with the 5.1 or 3.1 sound; we will be working to get showings of this in various cities over the next year or more. WOW!!! I am wigging out at how awesome this looks, but even after mixing this with Marc and Jim since last October, I am still blown away by the contributions of all the other musicians. And the camerawork by the Toronto crew and the editing of that by John Rogers are both as good as I could ever have hoped they would be. Normally I don't like raising people's expectations, but these words will definitely not lower your enjoyment of this music performance.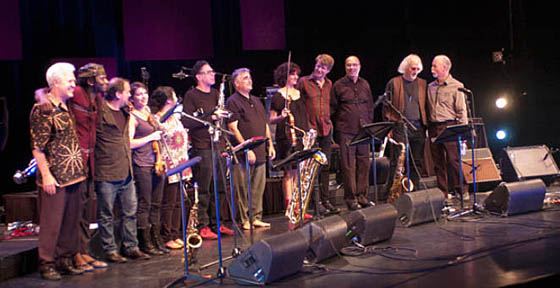 In the meantime, if you were a contributor to our Kickstarter campaign at the time, we are getting ready to send out the stereo sound-mix and/or the video download to those who are supposed to get those rewards with their Kickstarter contributions. The music download should happen next week, but it will still be a bit longer until we have the video download ready. As we get more news, we will pass it along at the Kickstarter and Rova websites. If you want to help us cover the costs of the mixing jobs or the coming attempt to get Electric Ascension Live at Guelph and Cleaning the Mirror out into the world, we do indeed still need financial contributions to do the best possible job. Contact us: rova@rova.org
---
Upcoming Rova Member Shows
Wednesday April 3, 8:00 PM
Larry Ochs / Don Robinson Duo
Larry Ochs, saxophones
Don Robinson, drums
Also appearing at 9:00 PM
Sun Ra Homage: Dance of the Language Barrier
Zachary James Watkins, electronics
Marshall Trammell, drums
Berkeley Arts Festival
2133 University Avenue, a block west of Oxford Street
Berkeley
http://www.berkeleyartsfestival.com/
Wednesday April 14, 9:00 PM
Ackley / Mezzacappa / Mihaly Trio
Bruce Ackley, saxophones and Bb clarinet
Lisa Mezzacappa, bass
Dave Mihaly, percussion

Also appearing at 8:00 PM
Godston - Ulrich Duo
Lori Godston - cello, effects
Torbin Ulrich - voice

Berkeley Arts Festival
2133 University Avenue, a block west of Oxford Street
Berkeley
http://www.berkeleyartsfestival.com/
Larry Ochs - Don Robinson Duo (in Europe) April 24 – May 2
April 24 – Studio Foce Lugano, Switzerland
April 25: Forte Fanfulla, Rome
April 26: Circolo Degli Amici, Colleretto Giacosa (near Torino), Italy
April 27: Auditorium Brera, Novara, Italy
April 28: Area Sismica Forli, Italy
April 30: GRIM Marseille
May 1: L'Anthropo, Perpignan, France
May 2: TBD Barcelona
Sunday, May 5, 8 PM
Steve Adams / Scott Walton Duo
Premiering new electro-acoustic pieces

Steve Adams, woodwinds and electronics
Scott Walton, bass

Berkeley Arts Festival
‪ 2133 University Avenue, a block west of Oxford Street
Berkeley
Sliding scale $10-20
http://www.berkeleyartsfestival.com/
Monday, May 6, 8:30 PM
Joe Lasqo Trio
Joe Lasqo, piano and electronics
Steve Adams, woodwinds
Aaron Bennett, sax

Also appearing:
Ben Goldberg's Brainchild with Steve Adams and many others!
and
Lovely Builders (Scott Amendola and Ross Hammond)
Makeout Room
3225 22nd Street, near Mission
San Francisco
(415) 647-2888
www. makeoutroom.com/
Friday, May 10
Steve Adams / Scott Walton Duo
Performing new electro-acoustic pieces

Steve Adams – woodwinds and electronics
Scott Walton – bass
In the Flow Festival at the Luna Café
1414 16 th St.
Sacramento
(916) 441-3931
www.intheflowsacramento.com/
Saturday, May 11, 8:00 PM
Joe Mulholland / Steve Adams Duo

Joe Mulholland – piano
Steve Adams – woodwinds
Pianist Joe Mulholland (Berklee College of Music faculty) and saxophonist Steve Adams perform in an intimate duo setting. With their rich harmonic and melodic palettes and complimentary rhythmic energy, this pairing of two adventurous and acclaimed musicians is sure to be a rare treat.
The Jazz School
2087 Addison
Berkeley
(510) 845-5373
$15, senior/student $12
www.jazzschool.com
Sunday, May 12
The Vinny Golia Septet

Vinny Golia, woodwinds
Steve Adams, woodwinds
Darren Johnson, trumpet
Rob Ewing, trombone
Joe Mulholland, piano
Lisa Mezzacappa, bass
Vijay Anderson, drums
In the Flow Festival Sacramento
www.intheflowsacramento.com/
Wednesday, May 15, 8:00 PM
Myles Boisen's Ornettology
Playing the music of Ornette Coleman

Steve Adams, sax
Phillip Greenlief, sax
Chris Grady, trumpet
Myles Boisen,guitar
John Finkbeiner, guitar
Lisa Mezzacappa, bass
Vijay Anderson, drums
Also appearing
Kyle Bruckmann /James Fei Duo

Berkeley Arts Festival ‪
2133 University Avenue, a block west of Oxford Street
‪Berkeley
Sliding scale $10-20
http://www.berkeleyartsfestival.com/
Saturday, May 18, 8:00 PM
Steve Adams Solo
Performing an abbreviated version of Erik Satie's Vexations

Also appearing:
The Santomieri / Farhadian Duo
Performing avant-garde chamber music for guitar and violin
The Crane House
$6-10 sliding scale
Near Ashby BART
For address/directions contact
jacobmakesnoise@yahoo.com
Monday, May 20, 7:30 PM
Steve Adams/Ross Hammond Duo
Steve Adams, woodwinds
Ross Hammond, guitar
Also appearing:
Jeff Parker Trio
w/ Chad Taylor and Chris Lopes
Nebraska Mondays at the Luna Café

1414 16 th Street
Sacramento
(916) 441-3931
http://www.nebraskamondays.blogspot.com/
Wednesday May 22, 8:00 PM
Thollem / Ackley / Stackpole Trio
Thollem, piano
Bruce Ackley, saxophones and Bb clarinet
Karen Stackpole, gongs and percussion
Also appearing at 9:00 PM
Michael Vlatkovich 5tet
Michael Vlatkovich - trombone
Phillip Greenlief - tenor saxophone
Tom McNalley - guitar
Scott Walton - bass
John Hanes – drums

Berkeley Arts Festival
2133 University Avenue, a block west of Oxford Street
Berkeley
http://www.berkeleyartsfestival.com/
Tuesday, May 28, 7:30 PM

T.D. Skatchit & Company CD Release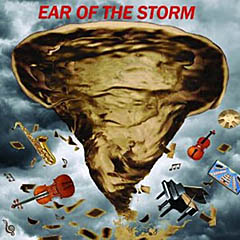 Tom Nunn and David Michalak of Ghost in the House will celebrate the release of their second CD, Ear of the Storm, documenting their special project, "T.D. Skatichit" and featuring their instrument, the skatchbox. The CD includes guest musicians, Bruce Ackley, Aurora Josephson, and Gino Robair, and all 3 guests will join TDS for the release concert at Tom's Place.
Tom's Place
3111 Deakin Street
Berkeley
http://4-33.com/toms-place/directions.html
If you get lost, call: (510) 665-1980
---
Favorite Street - Larry Ochs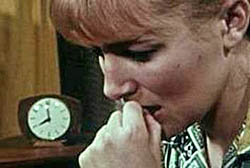 Opening April 6 at SF MOMA – Christian Marclay's "The Clock"
Christian Marclay's celebrated video installation The Clock (2010) is composed of thousands of film clips referencing the time of day, intricately edited into a 24-hour-long montage that matches real time minute for minute — a tour de force of appropriation that is also a functioning timepiece. Marclay has been known since the late 1970s for his highly crafted remixes of time-based media, from vinyl records and tape loops to digital video. He spent three years assembling this staggering work, piecing together fragments from films both famous and obscure. The result, awarded the prestigious Golden Lion at the Venice Biennale in 2011, is a dazzling, genre-defying distillation of movie history, a radical reflection on cinematic duration, and a reminder that time waits for no one. Clock-watching has never been so mesmerizing.
Admission to Christian Marclay: The Clock is on a first-come, first-served basis, and queues should be expected. (Only seats 81 people at a time.) Follow @TheClockSFMOMA for estimated wait times. This exhibition contains brief periods of nudity and strong language. Visitors bringing children should use their discretion.
Source: http://www.sfmoma.org
Two Nels Cline Singer sightings online:
At Duende in January with Amendola and T Dunn, shot by Art Granoff in HD: http://www.youtube.com
With Yuka Honda added: http://www.youtube.com, playing "King Queen" live.
Butch Morris
The great Lawrence Butch Morris passed away a couple of months ago now. Since then a lot has been said, written and played. And here are some highlights you can check out and learn from:
1. Butch Morris show on Horace Mansfield's program on KPFA. Horace was a friend of Morris' and this show is a fine combination of reminiscence and music. http://www.kpfa.org
2. Butch on Improv21. Improv21 was Rova's 4 year foray into interviews combined with improvisational examples we called "informances." Butch's show was particularly striking, as he talked with moderator Derk Richardson about his conduction process and methods, and then illustrated the talk with performances by 8 string players he only had met that afternoon. Very intense and definitely worth watching. http://radiom.org
3. Butch Morris on the podcast Conference of the Birds, a weekly podcast of world music primarily but very much mixing in contemporary improvised music. This weekly broadcast is put together by Stephen Cope, and you would be well advised to download the free podcasts online. In any case, the one noted here was dedicated to Butch Morris and included tracks that Butch was involved with, seamlessly interspersed in his usual world music tracks. Cope has a zillion recordings you have never heard before. This show is never boring. http://conferenceofthebirds.podbean.com
4. BLACK FEBRUARY By Vipal Mong. This is a fine documentary on Butch, as the filmmaker followed Butch from concert to concert during one month of concerts in New York. Interviews with many players of longstanding in Butch's conductions. Watch out for this. Not yet readily available online.
CDs to check out:
The $100 Guitar Project (on Bridge Records). Credit the brain behind this for everything. Two incredibly entertaining CDs worth of electric guitarists from all over the map creating pieces ranging from 15 seconds to 7 minutes, all with a $100 guitar purchased online and then passed around from guitarist to guitarist. No Keith Richards, but yes: Frith, Kaiser, John Shiurba, Ava Mendoza, Karl Evangelista from the Bay among others, plus the likes of Elliot Sharp, Nels Cline, Keith Rowe, Prester John, Bruce Eisenbell, Rhys Chatham and the organizer Nick Didkovsky among many, many others. I liked CD2 more, but the first CD is full of great music. Wow! Impressive. And if you buy this particular CD, the proceeds go to charity. So buy it! Fantastic too for iPods and gym/walking/driving as every track is a new player and the segues are generally fun/great.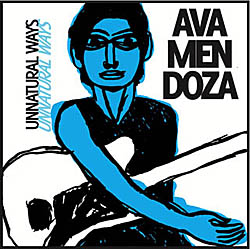 Ava Mendoza – Quit Your Unnatural Ways . If you live in the Bay Area, catch Ava's trio live. If not, (or I should say: "in any case,") for sure run out and buy this highly energetic but tightly constructed CD. Here it's a duo with Nick Tamburo on drums… Once upon a time Ava was one of the really promising "younger improvisers" from the Bay Area. Now she's a full-fledged heavyweight artist. And this is great music, especially if you love electric guitar.
Pierre-Laurent Aimard on piano performing Olivier Messiaen's Vingt Regards sur l'Enfant-Jésus (Teldec ) – 180 degrees from the last CD. Oh man, this is a crystalline recording, completely mesmerizing. Another 2 CD piece, by one of the most influential composers of the 20 th century. Beautiful.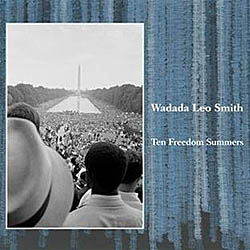 Wadada Leo Smith - Ten Freedom Summers (Cuneiform )

If double CDs aren't enough for you, how about this 4 CD opus? Yes: one full length suite of compositions composed by Wadada for his Golden Quartet/Quintet plus chamber orchestra. As I write this, in fact, I am 3.5 CDs into it. I'll finish tomorrow. It's like reading War and Peace. Too long for one sitting, but you will keep coming back to it until you get done because each composition is rich with feeling. The writing is heroic. Particularly outstanding playing from Anthony Davis on piano although all the Golden Quartet/Quintet players sound fantastic. Over 4 hours long! And yet, as is typical for "jazz" productions, this 4 hour work was recorded in only 2 sessions!! Wow.

Steve Lacy: New Jazz Meeting Baden-Baden 2002 (Hat Art)

Just order it; exquisite playing by the master soprano sax player over a bed of beautiful ambient sounds. A stellar line-up of originals.

Birds of Chicago is JT Nero and Allison Russell singing beautifully solo and in duo accompanied by acoustic guitars they play and a back-up band. Nope; not jazz in any way. Absolutely folk music for the 21 st century. Met these people during our Kickstarter campaign, at which point they were also successfully completing one. Their eponymous first CD is a beauty.

Recommended DVDs:
Searching for Sugarman, commercially available, won this year's best doc award from The Academy Awards, and def worth seeing; but, not as worth seeing as, for example, Anvil! The Story of Anvil released in 2008. Now that was a great movie from a musical perspective. This is a nice movie from a humanitarian perspective.

The Reach of Resonance, a documentary by Steve Elkins focusing on the intellectual and spiritual philosophies behind the musics and art of John Luther Adams, Bob Ostertag, Miya Masaoka and Australian violinist Jon Rose. Very, very much worth seeking out.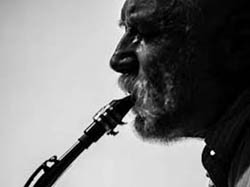 Soldier of the Road: A Portrait of Peter Brotzmann. 93 minute documentary on one of the best and earliest European free improvisers.

---
Join the Rova:Arts Community
Become a Fan on Facebook!
Already a fan? Encourage your Facebook friends to become Rova:Arts fans.
Stay Tuned
You can stay in touch with all Rova:Arts activities through our website, the Rova newsletter, and our FaceBook and MySpace pages. See links at the bottom of the page. Also, check out Rova on YouTube! Subscribe to our channel and be notified when there are new Rova videos for you to watch. Go to http://www.youtube.com/user/ROVAARTSSF and click the subscribe button.
About Rova:Arts
Rova:Arts, formed in 1986 to support the activities of Rova, has been instrumental in producing local projects and advancing an ongoing cultural exchange between local Bay Area artists and the international scene through its Rovaté concert series. These events, made possible by funding to Rova:Arts, have engaged Bay Area musicians and composers—as well as musicians from around the world. Rova:Arts projects are often reproduced in other parts of the world, thereby bringing the work to a broader audience. Also, many Rova:Arts events have been recorded, resulting in releases which have been enthusiastically celebrated.

Click here to find out more and to Join Rova:Arts. If you are interested in getting involved in a more hands-on-way, feel free to contact us: http://www.rova.org/contact.html. Thanks for being part of the art.
:: WATCH FOR MORE ROVA NEWS IN JUNE 2013 ::
Be sure to visit us online:
Rova.org
RovaMySpace
RovaFacebook
CDBaby
---
[TOP]