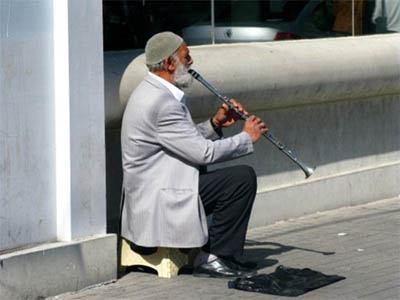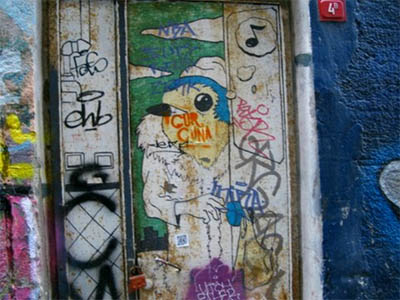 Our successful trip to Istanbul set the band up nicely for a season full of concerts, both in the Bay Area and beyond. Don't miss our special San Francisco show this weekend on the historic ferryboat, Eureka, with dancer Shinichi Iova-Koga! Then we head to Sacramento for a workshop and concert, return home for a Berkeley show, and then fly to North Dakota for the first time.
Plans for 2014 include touring in the US, and possibly Europe; creating new works for the quartet as well as for collaborators; celebrating the life of Steve Lacy with a weekend of music created by like-minded artists; appearances by Rova or Rova members that accompany the release of the now completed Channeling Coltrane into the world; commissioning a new work from composer/performer, Zeena Parkins; and the 4th installment of our latest Indoor BBQ series, featuring new work by Larry Ochs for Rova and vocalists.
As we wind down 2013 and plan for 2014, we're looking to you, our faithful listeners, to support the Rova:Arts' mission by contributing during our end-of-the-year appeal. See details below about how you can be part of the art, helping to make some of these ambitious projects happen.
[TOP]
---
Upcoming Rova Shows
Saturday, November 2, 6:00 PM
Vessels for Improvisation: Rova w. Shinichi Iova-Koga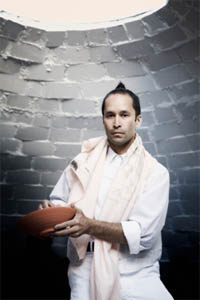 This Saturday, join Rova and friends aboard the historic ferryboat, Eurkeka, at the Hyde Street Pier in San Francisco for a site-specific performance with Shinichi Iova-Koga of inkBoat. Note the early start of 6:00 PM, giving all time to catch the show, and then find something else going on in San Francisco that night. We're excited to work with Koga again after our enormously successful collaboration with inkBoat in 2009. Dress warmly!
Be sure to go to our Vessels for Improvisation Facebook page and like the event!
Ferryboat, Eurkea
Hyde Street Pier
Hyde and Jefferson Streets
San Francisco
FaceBook Page

Wednesday, November 6, 12:00 Noon & 2:00 PM
Rova at Sacramento State University, Free Concert and Workshop

Rova takes part in the Festival of New American Music at Sacramento State, and will perform a free concert and improvisation workshop. Spread the word to friends in the vicinity of the capital.
Noon concert in the University Union Redwood Room
Improvisation workshop at 2 pm in Capistrano Hall, 303
http://sacstateunique.com/
Sunday, November 10, 8:00 PM
Rova Plays Berkeley

A Rova Berkeley show is rarer than you might think. Come hear some new stuff.
Also performing:
Earth People (Jessie Marino, cello and objects & Eric Wubbels, piano)
Earth People will present three works-in-progress which explore the acoustic properties and interactions of various instrumental objects. These works start as improvisatory explorations of each instrument and stack into fixed modular compositions, allowing for both horizontal and vertical building of an acoustical architecture.
Berkeley Arts Festival
2133 University Avenue
Berkeley
http://berkeleyartsfestival.com/

Rova in North Dakota
Sunday, November 24, 2:00 PM

North Dakota Museum of Art Concert Series 261
Centennial Drive Stop
7305 Grand Forks, North Dakota
www.ndmoa.com

Monday, November 25, 7:30 PM
Mayville State University
Fine Arts Series
Mayville, North Dakota
---
Support Rova:Arts – End of the Year Appeal
For 35 years the Rova Saxophone Quartet has been pushing the boundaries of creative music, straddling the worlds of composition and improvisation to create exciting, genre-bending music that challenges and inspires.
Throughout the years, collaboration has been a key element in Rova's explorations. The list of collaborators is a who's who of creative music: John Zorn, Lawrence "Butch" Morris, Fred Frith, Anthony Braxton, Henry Kaiser, Satoko Fujii, Terry Riley, Sam Rivers, Wadada Leo Smith, Ikue Mori, Carla Kihlstedt, Nels Cline, Barry Guy, Kronos Quartet—the list goes on and on.
Now Rova:Arts is asking you to be a collaborator by making a donation today.
You'll be helping to make the following projects come alive in 2014 and 2015:
Celebration concerts of the great Steve Lacy, who would have been 80 in July 2014. We hope to see June concerts occurring in San Francisco, New York and Montreal, including unique collaborators in each city.
A commissioned work for the sax quartet by composer/performer Zeena Parkins.
Collaborations with Canadian musicians in Vancouver, Ottawa and Montreal, performing music by Rova members.
Appearances by Rova or Rova members that accompany the release of the now completed Channeling Coltrane into the world; the two films created by Ideas in Motion on John Coltrane's Ascension and Rova's Electric Ascension, with big help from Rova:Arts successful 2012 Kickstarter campaign.
Indoor Barbeque 2014 featuring a work by Larry Ochs for Rova and vocalists
Website documentation of the entire Rova recording catalogue, including new scores and re-recordings of old works in revised form.
Rova:Arts depends on the generosity of our community to continue to present a world-class music to the Bay Area and beyond. I encourage you to pitch in and help us continue to make possible cutting-edge musical experiences for years to come.
Larry Ochs
Executive Director of Rova:Arts
Founding Member of Rova

[TOP]
---
Rova Members Shows
Monday, November 4, 7:30 PM
Steve Adams/Ken Filiano Duo

Steve Adams – woodwinds and electronics
Ken Filiano – bass and electronics
Also appearing – from NY, the Andrea Wolper/Ken Filiano duo with Ross Hammond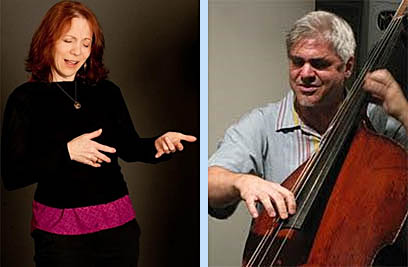 Luna Café
1414 16th Street
Sacramento
(916) 441-3931
http://lunascafe.com/
Thursday, November 7, 6:30-7:15 PM
Steve Adams and Shinichi Iova-Koga
Steve Adams – woodwinds
Shinichi Iova-Koga – dance
In conjunction with the exhibit "Work in Progress: Considering Utopia."
Contemporary Jewish Museum
736 Mission Street
San Francisco
415.655.7800
www.thecjm.org

Wednesday, November 13, 8:00 PM
Ackley - Perkis duo

Bruce Ackley – tenor and soprano saxophones, Bb clarinet
Tim Perkis - electronics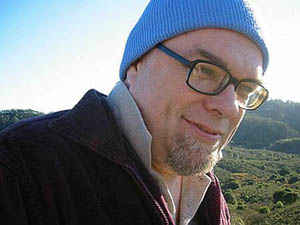 Starting in January 2000, The millennial duo of Rova's Bruce Ackley and Tim Perkis on electronics (The Hub, Fuzzy Bunny, etc.) have given a series of concerts—admittedly irregular and infrequent—which they intend to continue throughout the millennium, as long as they can! Join us for the next installment, with new compositions that incorporate improvisational structures and new timbral discoveries.
Also appearing at 9 PM:
Nick Obando - saxophone
Charlie Gorczynski - saxophone
Will Northlich-Redmond - guitar
Rob Pumpelly - drums

A new power quartet of Bay Area locals (and one not so local) featuring openly structured tunes and free improv blowouts a la Albert Ayler, Sonny Sharrock, and Ornette Coleman.
Berkeley Arts Festival
2133 University Ave
Berkeley, CA 94704
http://www.berkeleyartsfestival.com/
Wednesday, December 4, 8:00 PM
Steve Adams/Scott Walton Duo
Steve Adams – woodwinds and electronics
Scott Walton - bass
Berkeley Arts Festival
2133 University Ave
Berkeley, CA 94704
http://www.berkeleyartsfestival.com/
Also appearing Phillip Greenlief Solo, and with dancer Leyya Tawil
Phillip Greenlief - saxophone, compositions
Leyya Tawil – movement, composition
Sliding scale $10-20
Sunday, December 8, 7:30 PM
Lasqo/Adams/Bennett trio
Steve Adams – woodwinds
Aaron Bennett – woodwinds
Joe Lasqo – piano and electronics
Also appearing Daniel Pearce/Teddy Rankin-Parker Duo
Simm Series – Outsound presents at the Musicians' Union Hall
116 9 th Street
San Francisco
www.outsound.org/
Saturday, December 14
TrisKoTronica and Steve Adams/Scott Walton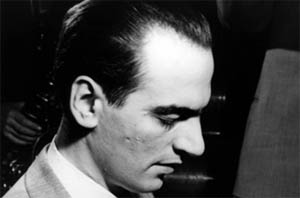 TrisKoTronica – Adams Solo
Steve does solo versions of music by Lennie Tristano and Lee Konitz on sax, bass flute and electronics, from his new release on Sensitive Skin, followed by new works for duo from the Imaginary Sciences Series.
Steve Adams/Scott Walton Duo
Steve Adams – woodwinds and electronics
Scott Walton - bass
Center for New Music
55 Taylor Street
San Francisco
$15/$12 members
centerfornewmusic.com
The new issue of Floor, an online journal of aesthetic experiments by Lyn Hejinian and Christopher Patrick Miller, features graphic scores by Steve Adams with realizations by Steve and Rova, along with many other interesting articles, at floorjournal.com.
CD Release tour for the quintet's first recording, recorded in San Francisco this past June. Produced by Rogue Arts, Paris.
East-West Ensemble Tour
Didier Petit cello
Xu Fengxia guzheng, voice
Sylvain Kassap bassclarinet
Miya Masaoka koto
Larry Ochs tenor & sopranino saxophones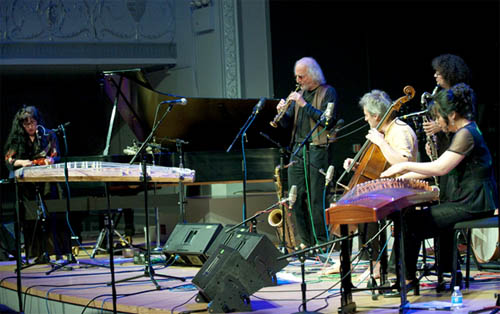 December dates in France:
5 – Poitiers (Carré Bleu)
6 - Paris (Le Dynamo)
8 – Burgundy (tbd)
13 – Nantes (Le Pannonica)
14 - Argenteuil (Cave Dîmière)
15 – Tours (Festival Super Flux @ Le Petit Faucheux)
---
Report from Turkey
In October we had the opportunity to return to Istanbul 16 years after our first trip there in 1997. For the AKBANK Jazz Festival we presented a collaboration with Turkish musicians as a tribute to the late Lawrence "Butch" Morris, dubbed No Favorites—a title take from an interview with Butch in which he expressed the broad range of focus of his musical interests, allowing "no favorites".
With only the better part of an afternoon to rehearse, and a sound check that included running through the music once again, we were able to successfully mount a festival set's worth of Rova music for the quartet, augmented by a classical string quartet and a jazz trio of guitar, bass and drums. The string quartet is not an existing ensemble, but an ad hoc group of classical players making up that configuration; and the jazz trio players had worked with each other, but not all together as a trio. Yet, each ensemble tended to operated using the received language of its genre, which presented interesting challenges to our making an evening of "Orkestrova" music. During rehearsal and sound check the string quartet busted out several bars of its Beethoven from memory, sounding every bit like an established classical quartet; and, the jazzers warmed up with riffs and lines consistent with contemporary jazz.
The resulting concert turned out to be a testimonial to our process, and the flexibility of the musical forms Rova works in. All players readily got with the program, and all boundaries dissolved. The quickly assembled Orkestrova Istanbul delivered a memorable performance that included some of the Rova's most involved radar tactics, graphic scores, and improvisational strategies. Afterwards, we were thrilled with the contribution of our Turkish friends, and with the stirring response by the enthralled audience. We performed Ochs's Nothing Stopped but a Future; a Rova group composition, Contours of the Glass Head; and graphically notated pieces from Steve and Jon—all works originally created for San Francisco collaborative premieres, and fully equipped for export to other ensembles, other musical idioms, and new geographies.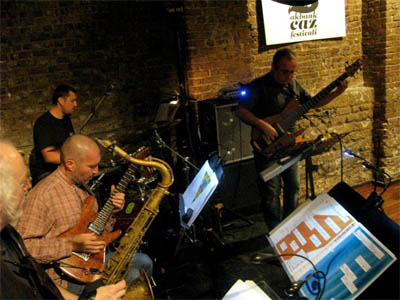 The soaring intelligence of Butch Morris was alive and well for the duration with the Turkish players. Morris' M.O. was to arrive in a new city for the concert setting, meet with players largely unknown to him, and to create fascinating works simply using his hands, body, and imagination to conduct the well-versed improvisers through fresh, unpredictable, and surprisingly structured music. While our process is somewhat different, both approaches rely on a belief in the creative capacity of a world community of exceptional players. We feel deep gratitude for the chance to travel to Istanbul, for the enthusiastic participation of the players, and for the warm reception shown to us by all. We look forward to the next time!
---
Favorite Street – Jon Raskin
ART


Yang Fudong Retrospective at Berkeley Arts Museum


www.bampfa.berkeley.edu
bombsite.com

Yang Fudong's multi-channel video work is arresting, innovative and uses images and sounds in ways that bring film to a 3 dimensional medium.

BOOKS
A Chinese Life
Li Kunwu and Philippe Ôtié
www.comicsbulletin.com

Li Kunwu is an author and illustrator and this is the story of his life growing up as the son of party member in a small Chinese city up to the current time. It shows dramatic social, economic and political changes from a very personal perspective. Navigating life is hard enough, but set in those turbulent times was especially difficult. His honesty and humanity is poetic and insightful.

RECORDINGS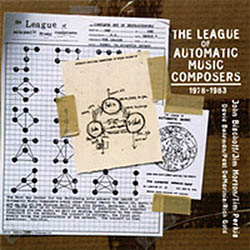 The League of Automatic Music Composers 1978-1983
www.newworldrecords.org

This CD was released at the end of 2007, but I think a reminder is in order for those that haven't checked it out yet. John Bischoff, Jim Horton, Tim Perkis, David Behrman, Paul DeMarinis, Rich Gold

The League of Automatic Music Composers was a band/collective of electronic music experimentalists active in the San Francisco Bay Area between 1977 and 1983. Widely regarded as the first musicians to incorporate the newly available microcomputers of the day into live musical performance, the League created networks of interacting computers and other electronic circuits with an eye to eliciting surprising and new "musical artificial intelligences." We approached the computer network as one large, interactive musical instrument made up of independently programmed automatic music machines, producing a music that was noisy, difficult, often unpredictable, and occasionally beautiful.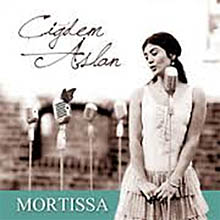 During our recent trip to Istanbul I was able to get some new recordings. This is one of my favorites, as it explores smyrneika/rebetiko songs in Greek and Turkish.
John Shiurba
5x 2.5=A
www.limitedsedition.com
Local guitar extraordinaire has been releasing excellent recordings as part of his 5x5 groupings. I highly recommend you get on board with Shiruba, and this is a good place to start. John Shiurba-Guitar, Devon Hoff-bass, Ava Mendoza Guitar, Gino Robair-drums, Dan Plonsey-alto-baritone sax/clarinet
FILM
The Story of Film: An Odyessy
www.tcm .com
Mark Cousins has made an amazing documentary and TCM is showing all 15 episodes. It is half over but you can catch up using Netflix streaming. What's so great about TCM is that they are showing many of the films discussed in each episode many of which are TCM premieres.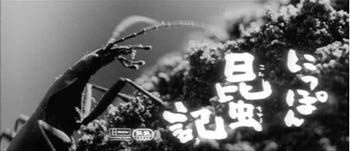 The Insect Woman
by Shohei Imamura
www.criterion.com
This is Japanese New Wave cinema at its finest. The music is fantastic, the cinematography innovative and compelling as Imamura finds new and interesting ways of using the camera to tell the story. The acting is superb.
Born in a rural farming village in 1918, Tomé survives decades of Japanese social upheaval, as well as abuse and servitude at the hands of various men. Yet Shohei Imamura, ever the cinematic "entomologist," refuses to make a victim of her, instead observing Tomé (played by the extraordinary Sachiko Hidari) as a fascinating, pragmatic creature of twentieth-century Japan. A portrait of opportunism and resilience in three generations of women, The Insect Woman is Imamura's most expansive film, and Tomé his ultimate heroine.
Join the Rova:Arts Community
Become a Fan on Facebook!
Already a fan? Encourage your Facebook friends to become Rova:Arts fans.
Stay Tuned
You can stay in touch with all Rova:Arts activities through our website, the Rova newsletter, and our FaceBook and MySpace pages. See links at the bottom of the page. Also, check out Rova on YouTube! Subscribe to our channel and be notified when there are new Rova videos for you to watch. Go to http://www.youtube.com/user/ROVAARTSSF and click the subscribe button.
About Rova:Arts
Rova:Arts, formed in 1986 to support the activities of Rova, has been instrumental in producing local projects and advancing an ongoing cultural exchange between local Bay rea artists and the international scene through its Rovaté concert series. These events, made possible by funding to Rova:Arts, have engaged Bay Area musicians and composers—as well as musicians from around the world. Rova:Arts projects are often reproduced in other parts of the world, thereby bringing the work to a broader audience. Also, many Rova:Arts events have been recorded, resulting in releases which have been enthusiastically celebrated.

Click here to find out more and to Join Rova:Arts. If you are interested in getting involved in a more hands-on-way, feel free to contact us: rova.org/contact.html. Thanks for being part of the art.
:: WATCH FOR MORE ROVA NEWS IN JANUARY 2014 ::
Be sure to visit us online:
Rova.org
RovaMySpace
RovaFacebook
CDBaby
---
[TOP]