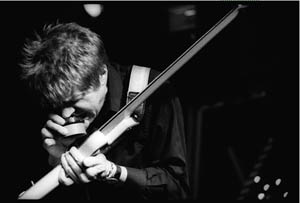 Because a pile up of gigs happens at the end of May and beginning of June, and much of the summer is down time for Rova, we're covering May-June activities in this newsletter. July-August will be a single mailing too, and then in the fall we'll resume our monthly reports on the activities of the Quartet and Rova:Arts.

This month we're thrilled to be teaming up with the Nels Cline Singers as the

Rova / Nels Cline Singers Celestial Septet

for Rovaté 2008. The one set we played with the Singers in 2006 was a wild ride and a matchup that we've been especially excited about repeating. This time we get to do 3 consecutive nights at the Celestial Septet. Yes!

And, Rova will play a very special interactive and multimedia piece by Georgia composer, Jason Freeman , for 3 days in San Jose. See details on these concerts where we'll perform Flock below.
---
Rovaté 2008 – Rova / Nels Cline Celestial Septet
Meditations on the Ecstatic Musics of Albert Ayler and John Coltrane

Yoshi's San Francisco
May 28
8 and 10 PM shows http://sf.yoshis.com/ Nels Cline – electric guitar
Scott Amendola – drums + electronics
Devin Hoff – bass
Larry Ochs – tenor, sopranino
Steve Adams – alto
Jon Raskin – baritone, alto
Bruce Ackley – soprano, tenor

Rova SAX Quartet and the Nels Cline Singers join forces for an explosive two sets of music premiering at

Yoshi's SF on May 28

, followed by northern California concerts on

May 29 in Santa Cruz

(Kuumbwa Jazz Center ) and

May 30 in Winters (near Davis)

( The Palms Playhouse).

The Septet concerts will include arrangements of music by John Coltrane, original music by members of the band, featuring a special piece dedicated to Albert Ayler.



Tickets are available in advance and for this one we do recommend advance purchase for the San Francisco concert.
---
01SJ – A Global Festival of Art on the Edge (San Jose)

JUNE 5 - 7

Rova performs

Flock

by composer Jason Freeman

Rova will present 4 performances of Jason Freeman's innovative work for saxophone quartet, electronics, video animation and audience participation over 3 days in San Jose. Check out Jason's site, the information on the 01SJ site and see below for more information; but, don't expect to know what you're walking into. This one should be an adventure for everyone involved, including the audience.




Thursday

June 5

8pm

Friday

June 6

8pm

Saturday

June 7

4 and 6pm

MACLA Theater Space
510 South First Street
San Jose
T - 408.277.3111
E - info@zero1.org

In Flock, music notation, electronic sound, and video animation are all generated in real time based on the locations of musicians, dancers, and audience members as they move and interact with each other. Computer vision software analyzes video from an overhead camera to determine the location of each participant, and this data is used to create music notation for four jazz saxophonists, to render a three-dimensional video animation, and to generate an electronic soundtrack. By inviting the audience to help create the unique music and visuals for each performance, Flock seeks to reconcile concert performance with the dynamics of collaborative creation, multi-player games, and social networks to create an engaging live event.

"It's part inspired by a cocktail party, and part by a dance club environment," Freeman said. "...even in part by a multiplayer game, where people are in competition to influence the music by convincing people to follow them."
—Wired

---
Tuesday, June 24


Freight and Salvage
1111 Addison Street (near San Pablo)
Berkeley
510.548.1761
www.thefreight.org



Satoko Fujii - Carla Kihlstedt Duo

(opening set)

deeply passionate and meditative chamber duo

Satoko Fujii - piano
Carla Kihlstedt – violin

Larry Ochs Sax & Drumming Core

(second set)

Ochs- saxophones
Scott Amendola - Drums
Satoko Fujii - Synthesizer, piano
Natsuki Tamura - trumpet
Don Robinson – drums

This should be one of those really special double bills,

Satoko Fujii – Carla Kihlstedt Duo

and

Larry Ochs Sax & Drumming Core

(featuring

Satoko Fujii and Natsuki Tamura

). Last November Kihlstedt and Fujii released a beautiful live CD on Henceforth. If you don't own it, you want to. In preparation for recording their 2nd CD on June 25, they perform a live set of improvisations from their own - very particular - universe of sound.

Satoko joins Ochs to perform with his Sax & Drumming Core; the band expanded to include her and trumpet genius Natsuki Tamura for 3 festivals last November in Europe, including the Wels, Austria festival called "Music Unlimited," curated in 2007 by Carla Kihlstedt. Thus, there are some nice connections here. (We hope Carla will join us for one piece in the Drum Core set). The Drumming Core set will feature a new piece dedicated to filmmaker Akira Kurosawa.



[TOP]
---
Beats, Sounds, Sticks and Wires
Final Informance of this season!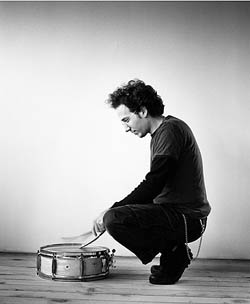 WEDNESDAY, MAY 21, 7:30 pm


The Marsh
San Francisco

All Improv:21 informances start at 7:30 pm and take place at: The Marsh, 1062 Valencia Street (between 21st and 22nd Streets, near to 24th Street BART). Admission is $10. For advance tickets: BrownPapertickets.com.
Information line: 415.641.0235

While rooted in the San Francisco Bay Area scene, Amendola has woven a dense and far reaching web of bandstand relationships that tie him to influential figures in jazz, blues, groove, rock and new music. An organizer by nature, he has become a creative nexus for a community of musicians stretching from Los Angeles and Seattle to Chicago and New York.

While he first gained widespread notice a decade ago for his work in eight-string guitar ace Charlie Hunter's trio, in recent years Amendola has stepped forward as the leader of several compelling bands that showcase his supremely supple trap work. He continues to work as a sideman, accompanying artists such as the tart-toned vocalist Madeleine Peyroux, guitarist and singer/songwriter Kelly Joe Phelps and the Nels Cline Singers (a volatile instrumental trio without a vocalist), but it's as a bandleader that Amendola's dynamic, ever-evolving style is best showcased.
scottamendola.com



Rova:Arts is pleased to present Improv:21, a series of "informances" on twenty-first century music that explores the connection between predetermined structure (composition) and performer interpretation (improvisation). Led by master improvisers and composers from the Bay Area and beyond, and hosted by critic and KPFA radio host Derk Richardson, Improv:21 programs look at the many ways of organizing improvisation through a shifting (i.e. "improvised") combination of onstage lecture and dialogue, musical demonstration and performance, and audience question-and-answer forum.

Reasonably priced and easily accessible, these two-hour events are designed to inform, inspire, challenge, and enlighten a wide-ranging audience, from professional and amateur musicians to listeners of all backgrounds and levels of experience. All these informances are also being documented on video for future availability to students and fans alike.

[TOP]
---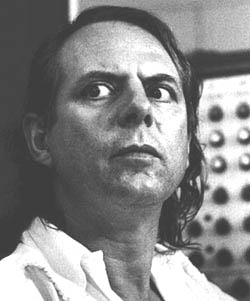 The passing of Karlheinz Stockhausen has me reflecting on his brilliance and singularity as a composer and musical creator. Like another one of my other personal heroes, Miles Davis, he had extreme stylistic periods and was never afraid to re-invent his music at any point. Here are some of my favorite pieces of his:


Hymnen

– Though not as widely admired as Gesang der Jünglinge , I have always found this electronic piece to be my favorite of the entire field. I've always been drawn to music that takes you somewhere else, and this is a prime example of that.

Mikrophonie 1

– a daring leap into the micro-world of the sound of a gong.

Donnerstag aus Licht

– I am not a big fan of opera in general, but this is a mind-blower.

Michael's Reise

– a beautiful landscape for the amazing virtuosity of his son, the trumpeter Marcus Stockhausen.

Stimmung

- another journey into a micro-world, this time a vocal octet exploring the overtones of a note.

Tierkreis

- a set of melodies for the signs of the Zodiac originally composed for a set of music boxes. Beautifully succinct and original.
The recordings of these pieces are mostly available on Stockhausen's personal label at unfortunately high prices, but I think they're worth it. There are recordings of Tierkreis and Stimmung on other labels, and Michael's Reise is on ECM.

[TOP]

---
Want to sample some of the earlier Improv:21 informances? We will be uploading one show every two months to (the web site of Other Minds) until the entire series is online. And there is a lot of information in each show. Gino Robair's informance has just been added.

Here's what's available at the moment:

Rova
Nels Cline
Fred Frith
Carla Kihlstedt
Gino Robair
Oliver Lake
Ned Rothenberg
To get news from Other Minds click here.
[TOP]
---
Point of Departure – an online music journal
pointofdeparture.org/
This webzine focused on current trends in jazz and improvised music is about the music – where it comes from, how it's constructed and why, and stories about the makers. Writing about art can often be disappointing, but we find lots to think about in this labor of love from writer Bill Shoemaker. Check it out.
[TOP]
---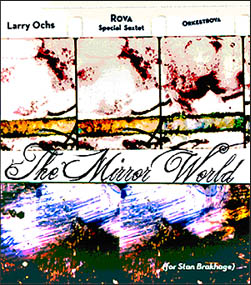 This special edition CD, produced by Larry Ochs, presents vivid recordings of the two projects created for Rovaté 2005. The Rova Special Sextet and OrkestRova are captured live in San Francisco performing Ochs' two Mirror World compositions dedicated to and inspired by filmmaker Stan Brakhage, Wall and Hand.
The hand-painted films of legendary filmmaker have inspired the music by Larry Ochs and the CD package design. Guest musicians include Joan Jeanrenaud, Ben Goldberg, John Schott, Gino Robair and William Winant. Limited edition of 750 double-CD packages now available at your local record shop or online store.
Twenty-four deluxe copies (of the original offering of 50), numbered and signed by the composer, and including 4 exclusive photo-postcards from the 2005 premiere performance are AVALABLE HERE.




Formed in 1977, Rova's been in a state of continual artistic renewal for over 3 decades. Rova:Arts, formed in 1986 to support the activities of Rova, has been instrumental in producing local projects and advancing an ongoing cultural exchange between local Bay Area artists and the international scene through its Rovaté concert series. These events, made possible by funding to Rova:Arts, have engaged Bay Area musicians and composers as well as musicians from around the world. Rova:Arts projects often are reproduced in other parts of the world, thereby bringing the work to a broader audience. Also, many Rova:Arts events have been recorded and enthusiastically celebrated.

Rova:Arts has produced the Improv:21 series, providing a forum for innovative musicians like John Zorn, Fred Frith, Oliver Lake, Miya Masaoka, Roscoe Mitchell, Zeena Parkins and others to share their artistic visions and unique paths to creativity, with you the audience, in an intimate setting.

Click here to find out more and to Join Rova:Arts. Thanks for being part of the art.



:: WATCH FOR MORE ROVA NEWS MID SUMMER ::


myspace.com
cdbaby.com

[TOP]