In this Newsletter:
YEARS IN THE MAKING: Rovaté 2009 Approaches
Some of Rova's most adventurous projects take months and sometimes even years to evolve from the germ of an idea to actual performance. Rovaté 2009 - Fissures, Futures (for Buckminster Fuller) is certainly one of the more ambitious collaborations Rova and Rova:Arts have undertaken. Since 2005 the band and the organization have worked to gather the funding for this project; to engage some of the most innovative and exciting artists to participate; and to set the creative process in motion to present another exciting weekend of improvisation-based performance. It is with enormous pleasure that we anticipate the arrival in the Bay Area of the imaginative crew that will convene to make this year's Rovaté happen. The two shows promise to be unforgettable evenings of inventive play and interplay. Don't miss this one!
May 22, 23, 8:00 pm
Jewish Community Center of San Francisco
Kanbar Hall
(part of the San Francisco International Arts Festival)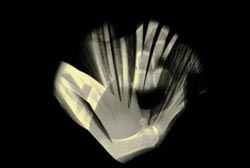 About the Project Rova returns to Kanbar Hall for a no-sounds-barred evening of improvisation. Berlin-based multi-media artist Lillevan joins world-renowned musical innovators in Fissures, Futures, dedicated to the 20th century oracle Buckminster Fuller. Creating visual fragments inspired by Fuller's genius and influenced by the musical ensemble surrounding him, Lillevan will produce spontaneous films and animation in real time?what promises to be an amazing experience of sight and sound. Co-produced by JCCSF and sponsored by San Francisco International Arts Festival and KFJC Radio.
Rova Will Be Joined By:
Lillevan
(Germany): live computer animation
Charlotte Hug
(Switzerland): viola
Thomas Lehn
(Germany): analog electronics
Kjell Nordeson
(Sweden): percussion
Lisle Ellis
(Vancouver, NYC): bass
Joan Jeanrenaud
(San Francisco): cello
Carla Kihlstedt
(Oakland): violin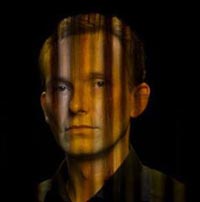 Berlin-based

Lillevan

is an animation, video and media artist. His investigations into non narrative facets of film have led to abstract works, collage explorations of film history and interactive works for dance groups. His work is documented on DVD in his long-standing duo: Rechenzentrum (1997- 2008). He has also performed and collaborated with artists from many genres, including opera, installation, minimal electronic experimentalism, dance and classical music. Lillevan has created a special music composition for Fissures, Futures.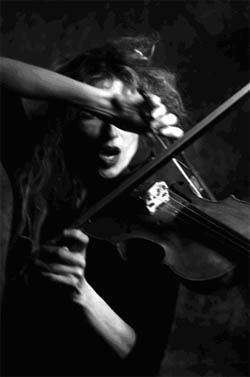 Charlotte Hug

, from Zurich, Switzerland, has developed amazing extended-techniques on viola. She plays often with more than one bow including those of her own invention. Hug also founded London String Quartet. She has composed a piece for the concert featuring the four string players.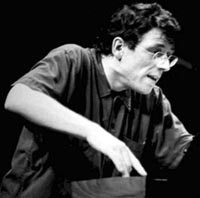 Thomas Lehn

, from Köln, Germany, has a totally unique, analog electronic set-up; if Fuller had a "spaceship earth," this guy would be creating the sound for the planetarium. He has performed twice in Rova's Electric Ascension in Europe. His construct for Rovaté 2009 divides the ensemble into smaller groupings that feed off each others? ideas.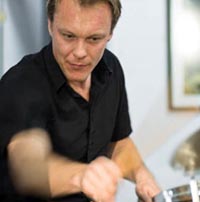 Kjell Nordeson

, from Stockholm, is the former principle percussionist from the Stockholm Philharmonic. He's part of the hottest improvised music scene in Europe right now, and he's got a sound that brings something unique to many music worlds: classical, "new", jazz, screech, skronk, beat, free.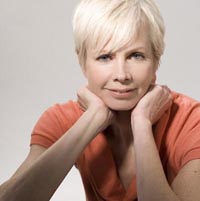 San Francisco cellist

Joan Jeanrenaud

was with Kronos Quartet for 20 years. She received a 2009 Grammy nomination for her solo CD Strange Toys, and shows off her improviser chops on Larry Ochs' CD Fly, Fly, Fly.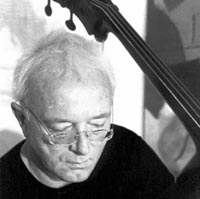 Lisle Ellis

will perform on electric bass and circuitry. In the 1990's, the Vancouver native was a Bay Area arts activist, pot-stirrer and an amazing painter of oils on canvas. Lisle invented "formings," a structure for composing for improvisers that we will employ in many of the compositions performed in Fissures, Futures, including his own. His most recent CD, Sucker Punch Requiem, was chosen one of the top 10 CDs of 2008 by All Music Guide.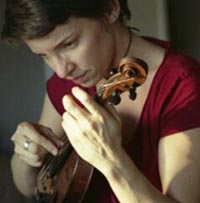 Carla Kihlstedt has a growing list of projects: 2 Foot Yard, Sleepytime Gorilla Museum, Tin Hat and Fred Frith's Cosa Brava. She is a fearless improviser, a star of Rova's Electric Ascension and put in a stunningly beautiful performance on her duo CD with Satoko Fujii, Minamo on the label Henceforth.

Tickets and Information
Tickets run from $16.00 (students), $21.00 (JCC Members), $24 (General Public) and are available through www.jccsf.org/arts or through www.sfiaf.org
Further Information: Rovate 2009
[TOP]
---
Rovaté 2009 and Buckminster Fuller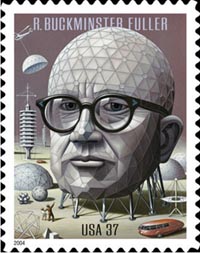 Fissures Futures was conceived in 2005. We were hoping to find the funding for it in time for a 2007 or 2008 show; but here we are in 2009. While for me personally life has been good in this period, during this entire decade our federal government was committing all sorts of crimes against humanity, in all of our names. This is only my personal opinion, but I'd say things had been sliding since the advent of Reagan in 1980. Since 2000, the slide had turned into an avalanche of horrible deeds, lies, and cynical acts. So I wanted to produce a show that flew in the face of those acts – but not in an overtly political performance, because that's not what we do. Instead, simply, to produce an inspired work by people brought together from different countries – if only to point out that it was possible for a group to convene for the very first time and, in a week of collaboration, create something positive for the spirit; something that is more than any one of the collaborators could create on his/her own; a "synergistic" event in which the whole was not predicted by the individuals involved, and everything added up to more than the sum of its parts…


...a set of pieces that we could dedicate to Buckminster Fuller, who over 40 years ago was stating categorically that mankind had to find a way to work together to create a one world-system that benefitted everyone. He called this world-system "Spaceship Earth."

I have invited five of the 10 participating musicians and the visual artist Lillevan to create six constructs, within which the ensemble will improvise spontaneous music and spontaneous films. Rova calls this "structured improvisation," as opposed to "free improvisation, +" where anything goes (or "through-composed work" where the outcome is known on paper in advance of the performance). I'm thinking that Fuller would understand that we are taking the skills of the individuals and creating a synergistic whole: six music universes where the whole is not predicted by the individual parts.

Fuller once said: "My own picture of humanity today finds us just about to step out from amongst the pieces of our 'just broken eggshell.' Our innocent trial-and-error sustaining nutriment is exhausted. We are faced with an entirely new relationship to Universe. We are going to have to spread our wings of intellect and fly, or perish; that is, we must dare immediately to fly by the generalized principles governing Universe and not by the ground rules of yesterday's superstitiously and erroneously conditioned reflexes. And as we attempt competent thinking we immediately begin to employ our innate drive for comprehensive understanding."

Both the film-maker and the musicians were at one time or another limited by more conventional forms (..not always a bad thing…). But here we take our most advanced thinking and work collectively during the rehearsals to form something exciting and new, working within these constructs that are predictive of content but not pre-determining content; a living breathing structure - a tensegrity structure - within which the protons and neutrons, the smallest particles of the art, can form and reform with every performance. This is the key to improvisation. The invited artists are all veteran improvisers which means that they are experts of adaptability in performance, and that means that they are not afraid to give and take, to bend but not break. We take inspiration from Fuller's acknowledgement of the importance of being excited by change rather than fearful of it.

Fissures, Futures acknowledges someone whose time came decades ago, but who has been forgotten in the decades since, and to point people back towards exploring his ideas, which should now resonate into our future, as the world grapples, finally, with problems (and opportunities!) that have been waiting for resolution since Fuller spoke about them in the fifties, sixties and seventies. Throughout his life, Fuller was concerned with the question "Does humanity have a chance to survive lastingly and successfully on Planet Earth, and if so, how?"

In Fuller's Own Words:

"… society tends to think statically and is always being surprised, often uncomfortably, sometimes fatally, by the omni-inexorable motion of Universe. Lacking dynamic apprehension, it is difficult for humanity to get out of its static fixations and to see great trends evolving."

"Most importantly we have learned that from here on it is success for all or none, for it is experimentally proven by physics that "unity is plural and at minimum two" – the complementary but not mirror-imaged proton and neutron. You and I are inherently different and complimentary. Together we average as zero – that is, as eternity."
---
Just to restate it: Improvised music is at its strongest when all the musicians involved are consciously making everyone else sound better, rather than taking "star turns," solos over the rhythm section, or, in the worst-case-scenario playing without listening; "playing" without a care or concern for the other people around you; something our federal government did quite well for eight years and more. Ultimately the greatest statements are made by the best listeners, not the most limber players. The whole will then be greater than its parts. Rova Quartet lives this experience constantly as an ensemble, but also in our many collaborative works over the past 30 years, including, for example, the 12-piece band playing at festivals since 2005, performing our arrangement of John Coltrane's "Ascension; we call it "Electric Ascension." But that's only our most recent high point. We hope that this event will join EA and others as a model for raising the bandstand and the energy and consciousness of the audience.
---
Fuller again: "There is no shape of the Universe. There is only omni-directional, nonconceptual 'out' and the specifically directioned, conceptual 'in.'…The atmosphere's molecules over any place on Earth's surface are forever shifting position. The air over the Himalayas is enveloping California a week later. The stars now overhead are underfoot twelve hours later. The stars themselves are swiftly moving in respect to one another. Many of them have not been where you see them for millions of years; many burnt out long ago. The Sun's light takes eight minutes to reach us. We have relationships… but not space… 'Synergy' means behavior of whole systems unpredicted by the behavior of their parts taken separately…. It is dealing with the whole that makes it possible to discover the parts".

"The greatest of all the faculties is the ability of the imagination to formulate conceptually. Conceptuality is subjective; realization is objective. Conceptuality is metaphysical and weightless; reality is physical. The artist was right all the time. Nature is conceptual".

The other connection with Fuller here is that Rova's music is always about the active participation of the listener. And most of the collaborations we produce are that way too. Like Fuller, we're not trying to improve or comment on the current forms used in music but rather suggesting other possibilities altogether. We don't work with conventional forms most of the time because we're really not that interested in entertaining. Well, that's a negative explanation. Fuller would have been more positive….We're interested in conceptualizing along with the listeners, in exploring and creating a Universe of Sound (or sound and film in this case) within which the listener/viewers can revel, can be energized, and maybe even inspired to come up with the answers to their own problems. Fuller was certainly about this in his own way. We don't always succeed, but it's important, and fun, to try.

And, all of us need to keep trying.

[TOP]
---
The San Francisco international Arts Festival
Rovaté 2009 is one event among some great events in music, dance and theater taking place in the San Francisco international Arts Festival that runs from May 21 until May 31. The festival offers a deal on tickets if you attend more than one event and buy all the tickets at once before the festival starts. It's a great way to see some very special shows that are being mounted especially for that ten day period, and won't be performed again here ever.
For more information: http://www.sfiaf.org/
[TOP]
---
Thursday, May 14, 8pm
Chance Encounters
21 Grand - Oakland
416 25th Street
Oakland
(510) 444-7263
Scott Amendola – Drums
Mark Dresser – Bass
Lisle Ellis – Electric Bass and Circuitry
Larry Ochs – Saxophones
Saturday, May 16 (between 10 am and noon)
Rova Plays on West Coast Live
KALW fm 91.7
http://www.wcl.org/
Sunday, May 24
The Steve Adams Trio CD Release Party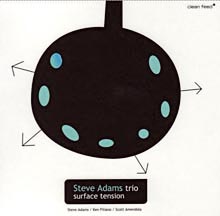 21 Grand - Oakland


416 25th Street
Oakland
(510) 444-7263


Rova's Steve Adams will host a CD release party at 21 Grand to celebrate his trio's new CD Surface Tension on Clean Feed Records. Steve will perform pieces from the CD and new compositions.

Steve Adams, saxophone and flutes
Ken Filiano, bass
Scott Amendola, drums



ALL ABOUT JAZZ SAYS:

Adams is joined by bassist Ken Filiano and drummer Scott Amendola on this rare trio recording—a varied studio set that veers from the austere to the coruscating. Like-minded peers in the adventurous West Coast scene, Filiano and Amendola reveal a deep-seated rapport with Adams that lends a conversational air to their interactions. Whether navigating freely improvised or fully notated compositions, their congenial interplay sounds inspired and effortless.



See the complete All About Jazz review:
www.allaboutjazz.com/

Saturday, June 13,8pm



Philip Freihofner's Obelisk
Steve Adams, soprano sax


Old First Presbyterian Church


1751 Sacramento @ Van Ness
San Francisco
Steve Adams premiers Obelisk, for soprano sax and electronics, at the San Francisco Composers Chamber Orchestra concert at the Old First Church.

[TOP]
---
What's The Celestial Septet?
In case you didn't hear about it, last year Nels Cline Singers and Rova Quartet got together for three concerts in May 2008, starting at Yoshi's for Rovaté 2008, and followed by shows in Santa Cruz and Winters. Then in November the septet reconvened and recorded at Broken Radio in San Francisco. The performances recorded there, on compositions by Cline, Amendola and Ochs, were fantastic! We then added a piece by Adams, taken from the set 2 recording of the Yoshi's concert, to round out the CD project. It has just been mastered and is almost ready to roll… except there's no label so far. We'll keep you posted as to CD availability or future concerts. The collaboration between the two groups was tight! Here are the details:

Nels Cline Singers and Rova Sax Quartet
The Celestial Septet

Cesar Chavez (Amendola / 12:40)
Trouble Ticket (Adams / 12:19
Whose to Know (for Albert Ayler) (Ochs / 25:15)
Head Count (Ochs / 2:18)
The Buried Quilt (Nels Cline / 15:54)

Nels Cline: guitars
Devin Hoff: bass
Scott Amendola: drums

Bruce Ackley: soprano, tenor saxophones
Steve Adams: alto, sopranino saxophones
Larry Ochs: tenor, sopranino saxophones
Jon Raskin: baritone, alto, sopranino saxophones
[TOP]
---
But you'll have to go to Austria to catch it!


Saalfelden Jazz Festival



Electric Ascension, Rova's retooling of John Coltrane's late masterwork, will be part of the special 30th anniversary edition of the Saalfelden Jazz Festival in the Austrian Alps from August 28-30, 2009.

We welcome the amazing new players coming along to Saalfelden, plus the original members who could make it again. We have now performed Ascension in 4 countries and with over 40 participants since our first performance in November, 1995 at the Great American Music Hall in San Francisco.



Check it out!




Electric Ascension


(Rova's 21st century re-arrangement of John Coltrane's Ascension)

Rova:
Bruce Ackley – soprano saxophone
Steve Adams – alto saxophone
Larry Ochs – tenor saxophone
Jon Raskin – baritone saxophone

with (in alphabetical order):

Chris Brown – electronics
Andrew Cyrille – drums
Trevor Dunn – bass
Peter Evans - trumpet, piccolo trumpet
Jason Kao Hwang – violin, electronics
Eyvind Kang – viola
Ikue Mori – electronics
Zeena Parkins – electric harp, electronics
Elliott Sharp – electric guitar, electronics
Myles Boisen - sound engineer

[TOP]
---
Want to sample some of the earlier Improv:21 informances?
We will be uploading one show every two months to RadiOM (the archive website of Other Minds) until the entire series is online. There is a lot of stimulating information in each show.

Here's what's available at the moment:

Wadada Leo Smith – new!
Lawrence "Butch" Morris – new!
Rova
John Zorn
Cheryl Leonard
Nels Cline
Fred Frith
Carla Kihlstedt
Gino Robair
Miya Masaoka
Ned Rothenberg
Oliver Lake
Ben Goldberg
To get news from Other Minds click here .

---
[TOP]
We want to express our deepest gratitude to all the generous private and public donors who contribute to Rova:Arts. Your support has been essential to the successful presentation and documentation of our projects over the year.
Formed in 1977, Rova's been in a state of continual artistic renewal for over 3 decades. Rova:Arts, formed in 1986 to support the activities of Rova, has been instrumental in producing local projects and advancing an ongoing cultural exchange between local Bay Area artists and the international scene through its Rovaté concert series. These events, made possible by funding to Rova:Arts, have engaged Bay Area musicians and composers—as well as musicians from around the world. Rova:Arts projects are often reproduced in other parts of the world, thereby bringing the work to a broader audience. Also, many Rova:Arts events have been recorded, resulting in releases which have been enthusiastically celebrated.
Rova:Arts continues to produce the Improv:21 series, providing a forum for innovative musicians like Henry Kaiser, Wayne Horvitz, Mark Dresser, Ellen Fullman, Roscoe Mitchell, Zeena Parkins and others to share their artistic visions and unique paths to creativity, with you the audience, in an intimate setting.
Click here to find out more and to Join Rova:Arts. Thanks for being part of the art.
---
RovaMySpace
RovaFacebook
CDBaby
---
[TOP]