ROVA NEWS :: MARCH - APRIL :: 2010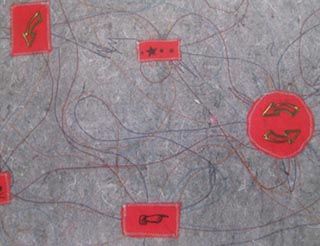 What's happening?
After months of background on the website, composing, planning and rehearsing, Rova is about to emerge for a flurry of activity—both locally and on the road. Except for our February concert at Noe Valley Ministry, which was an exciting prelude to our upcoming events, the quartet has essentially been behind the scenes preparing. The Other Minds Festival will kick this phase of Rova work off this weekend, and then we hit the road. New CDs are coming and local shows are being arranged. We hope you'll be listening. Visit our new website for the whole story on what's happening; hear and watch what we have posted there; and to get involved in the Rova:Arts community: www.rova.org.
[TOP]
---
Pandæmonium @ Other Minds 15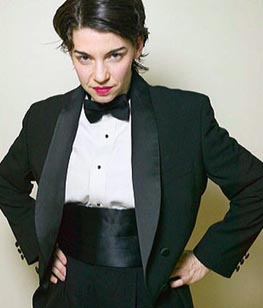 Pandaemonium is a newly commissioned work for Rova by composer, violinist and band leader, Carla Kihlstedt, to be premiered by the quartet (with narrations by dramatic readers Joan Mankin and Matthias Bossi) at Other Minds Festival 15 on March 6. The work is partially informed and influenced by the intriguing book of the same name by Humphrey Jennings—a collection of "images" culled from the Industrial Revolution; Pandaemonium promises to be an important entry into to the saxophone quartet cannon and a valuable cultural contribution.
Rehearsals have been exciting and we think the work will be truly provocative. Joan and Matthias have been a joy to work with and are helping to make the piece come alive. Take a look at some video clips on our site of Carla talking about her music world and her perspectives on Pandaemonium—and you can get a peak at Tallulah too: http://rova.org/projects/videos.aspx
Don't miss this concert!
Saturday, March 6th, 8:00 PM
ROVA Saxophone Quartet and Matthias Bossi & Joan Mankin, Narrators
Premiere of Carla Kihlstedt's
Pandæmonium
Other Minds Festival 15
Kanbar Hall
Jewish Community Center, SF
3200 California Street
http://www.otherminds.org/
Also at Other Minds on March 6:
Gyan Riley
When Heron Sings Blue
(2010) - Gyan Riley Trio (w. Scott Amendola, Timb Harris, and special guest Michael Manring)
Tom Johnson
Combinations
(2003) - Quatuor Bozzini

Eggs and Baskets
(1987) - Clemens Merkel, violin; Stephanie Bozzini, viola; Johnson, narrator
7:00 Panel discussion with all 3 composers
---
Rova on Tour
March 16: Rova "Art of the Improviser, Chicago"

(Fred Lonborg-Holm – anti-cello; Lou Malozzi – electronics; Julia Miller - multi-speaker MIDI guitar; Jason Roebke – bass)
Chicago Cultural Center
Chicago
http://www.explorechicago.org/

March 17: Rova Quartet
The Hide Out
Chicago
http://www.hideoutchicago.com/calendar.html

March 18: Rova Quartet
Kraanert Art Museum
University of Illinois
Champaign, IL
http://illinois.edu/calendar/

March 19: Rova Quartet
Museum of Contemporary Art
Detroit, MI
http://www.mocadetroit.org/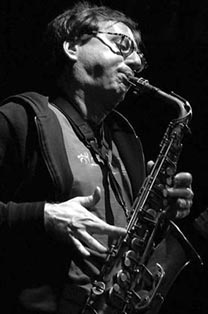 March 20: Rova with guest John Zorn
The Stone
New York
http://thestonenyc.com/
Form Free Form
Steve Benson, Carla Harryman, Jon Raskin Quartet & Konrad Steiner
Monday, March 22, 8:00 pm
The Poetry Project at St. Mark's Church
131 E. 10th St.
New York
212-674-0910
Jon Raskin Quartet: Jon Raskin - reeds and electronics, Liz Allbee – trumpet, John Shiurba – guitar, Ches Smith - drums
Carla Harryman, Steve Benson: words and voices
Konrad Steiner: film treatments
http://poetryproject.org/
The following shows involve Rova members and are all at The Stone in NYC during March
These concerts are part of a two week series curated by Larry Ochs. See more information on the Stone events elsewhere in this newsletter; and make sure to visit the Stone website :
http://thestonenyc.com/

Carla Harryman with Jon Raskin Quartet and Vocalists
Sunday, March 21, 8pm
A new project created by poet and playwright Harryman and Rova's Raskin over the past two years, which premieres here for the first time
Carla Harryman - poetry, Jon Raskin - saxophones, Ches Smith - drums, Liz Allbee -trumpet, electronics, John Shiurba - guitar, Aurora Josephson, Bonnie Jones, Carla Harryman - voices

Larry Ochs' Kihnoua
Sunday, March 21, 10pm
Ochs, Dohee Lee - voice, Scott Amendola - drums, Devin Hoff - bass)
Influenced by the blues of Asia and Eastern Europe, but with new forms composed by Ochs especially for this ensemble
The Steve Adams Trio
Tuesday, March 23, 8pm
Steve Adams - sax and flute, Ken Filiano – bass, Scott Amendola - drums
Performing music from their Clean Feed CD, Surface Tension

The Vinny Golia Ensemble
Wednesday, March 24, 8pm
Vinny Golia - compositions, woodwinds, Steve Adams - sax and flute, Vijay Iyer – piano, Ken Filiano - bass, Harris Eisenstadt - drums

ODE
Wednesday, March 25, 10pm
Ochs, Lisle Ellis - bass, Trevor Dunn - bass, Michael Sarin - drums

Ochs / Masaoka / Lee
Friday, March 26, 8pm
Ochs, Miya Masaoka – koto, Okkyung Lee - cello
Their first performance together since the Edge Festival in Ann Arbor in 2007!
---
Favorite Street – Larry Ochs Curates the Stone
John Zorn founded The Stone in 2005. The idea was simple but startling: open a small performance space for adventurous music of all kinds which would be completely for and about the music. No bar, no food, no distractions. You come in, you pay a very modest entrance fee, and you experience a set of music that will never happen again. And 100% of the money the audience pays to hear the music goes to the musicians, with the rent and other finances covered by benefit performances, some volunteer employees, and a series of special CDs sold to support The Stone. And it's still working, with 12 performances a week by a who's who of improvised music, plus many other stellar performers from other areas of the music universe.
Each month Zorn selects a musician to curate for 2 to 4 weeks; the curator has total freedom to book as they wish. I had the honor to be asked some time ago to book 2 weeks in March 2010. I decided to have one series running through the period that focused on words and music primarily—not including pop, rock, folk and other music forms that normally include lyrics (although some of that is happening too). And then I thought that there were a lot of West Coast musicians who rarely get to perform in New York, and this was an opportunity to give them a venue to play at. Now, The Stone is a door gig, so how exactly everyone was to make it to New York from California to play was a problem; but, many musicians were thinking about going to New York "sometime in 2010" anyway and, to my surprise, my phone calls galvanized them to make the effort in March, rather than waiting until later in the year.
So it is with pleasure that I am able to introduce New York listeners to some bands I don't think have ever been there before. The list includes Dohee Lee-Theresa Wong Duo, who are creating beautifully intricate tapestries of vocal sounds; on the same evening: Cylinder, a collectively led quartet (everyone composes) with former Chicagoan Aram Shelton on alto sax and clarinet, the way under-exposed Darren Johnston on trumpet, mover and shaker Lisa Mezzacappa on acoustic bass, and San Francisco-based master Kjell Nordeson on drums; the guitar power-trio called QWOC, consisting of Devin Hoff, Weasel Walter and Ava Mendoza, in a band that really shows off what she's got going on with the guitar. Other musicians coming through include Carla Kihlstedt and Matthias Bossi on March 31, and while they have of course performed in New York, on this jaunt they'll premiere the live version of a recently recorded CD. I take particular pleasure in the fact that Oliver Lake will be doing a solo show while I am still in New York myself, and that The String Trio of New York will be doing their first club concert in a decade during this two week stint.
As for the "word and music" series, I was looking for the edge, not the center. So it's really nice to be presenting Erica Hunt (March 17), Carla Harryman (March 21 with Jon Raskin's quartet) and Carlos Torres on March 25. Not to mention California performers Pamela Z (March 30) and Aurora Josephhson (March 16), and the great Tom Buckner who sings with Jason Kao Hwang's fantastic ensemble on 4/27.
Former California resident Lisle Ellis leads off the two weeks of my stint, March 16 with a nonet! Scott Amendola and Charlie Hunter play a very rare duo set on March 23. Vinny Golia comes in from L.A. to do 2 shows on March 24. Ned Rothenberg plays March 28, Marty Ehrlich on March 17, and a Buffalo Sax-Drum Power Duo closes things out on March 31. I feel like it's a festival really. But in the end it's what happens in New York every night of the year.
I mention all this not only because I'm excited, but also because most of you reading this do not live in New York but do have friends there. They might not be aware of The Stone, and tipping them to any of the California artists that make it into town only occasionally would be nice. They'll be happy you told them and The Stone will gain some new audience members.
For a complete listing of all the artists performing at The Stone, during Ochs' curatorial period (March 16 – 31), and for shows before and after that, visit: http://thestonenyc.com/
Remember, each set is a separate admission and all proceeds go to the musicians!
[TOP]
---
Local Shows
Rova, Lost Planet, Past Present Future
April 5th, 8:30
The Makeout Room
22nd Street between Mission and Valencia
San Francisco
LOST PLANET (Slusser/Weinstein/Patterson/Clarke) - 8:30
ROVA - 9:30
PAST PRESENT FUTURE (Boisen/Seth Ford-Young/John Hanes) - 10:30
http://www.makeoutroom.com/
Bruce Ackley / Henry Kaiser Duo
Tue, March 2, 7:30 PM

Tuesdays at Tom's Place
3111 Deakin Street
Berkeley

Thollem Mcdonas, solo piano
Bruce Ackley and Henry Kaiser, saxophone and guitar duo
Get Directions
Matt Small's Chamber Ensemble
Friday, March 12, 7:00
The Ancient Journey of the Lapis Lazuli Stone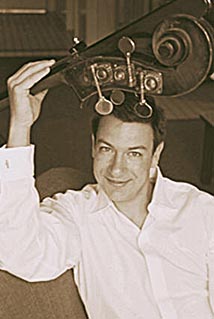 Koret Auditorium in the de Young Museum, Golden Gate Park
50 Hagiwara Tea Garden Drive
San Francisco
Matt Small – composer, bass, lecturer, Steve Adams – saxophone, flute, Rachel Condry – clarinet, Kymry Esainko – piano, Micah McClain – percussion, Sarah Jo Zaharako – violin, Chris Grady – trumpet (special guest)
Matt Small's Chamber Ensemble performs the premieres of commissioned works by Matt Small, inspired by traditional forms and principles of Silk Road-region music. Matt will also lead a presentation on the cultural influences of ancient Egyptian culture at the time of King Tut by Silk Road traders, and trace the evolution of musical instruments from the ancient Silk Road to modern times.
Admission is free
http://www.famsf.org/deyoung
www.mattsmall.org

Also performing one half-hour set as part of the Switchboard Music Festival
Sunday, March 28, 7:40pm
(The festival runs from 2pm – 10pm)

Dance Mission Theatre
3316 24th Street
San Francisco
(at Mission and 24th Street)
$10 - $40 admission (sliding scale for full day festival)
http://www.switchboardmusic.com
Kihnoua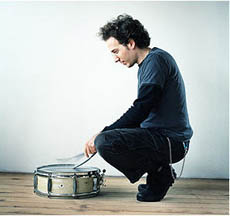 Saturday, April 10, 8:00 pm
The Jazz School
2087 Addison Street
Berkeley
510.845.5373

Ochs, Scott Amendola – drums, Dohee Lee - voice, Trevor Dunn - bass)
Resonant World
An afternoon of music by John Cage for the exhibit The Visionary Art of Morris Graves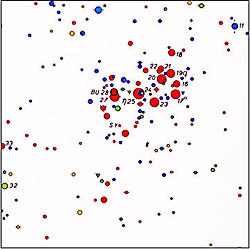 Saturday, April 18, 3:00 - 6:00 pm
Atlas Eclipticalis by John Cage (1962)
Phillip Greenlief and Jon Raskin's 2+1
Jon Raskin, Steve Adams and Phillip Greenleif - woodwinds
http://www.meridiangallery.org/

Adams/John Hanes Duo
Monday, April 19
Steve Adams and John Hanes - electronics
Kingman's Ivy Room
860 San Pablo
Albany
510-526-5888
www.kingmanscocktails.com
[Also appearing Flormadecking, Ross Hammond, Missincinatti, Will Erokan]
Kihnoua in Europe:
Ochs, Dohee Lee, Scott Amendola and bassist Wilbert de Joode
April 26: Padova, Italy
April 27: Ljubljana, Slovenia http://www.cd-cc.si/ct
April 30: Jazzwerkstatt Café, Berlin, Germany
May 1: Ulrichsberger Kaleidophon Festival, Ulrichsberg, Austria
May 5: School of Dramatic Arts Theater, Moscow, Russia
---
New CD – Larry Ochs' Jones Jones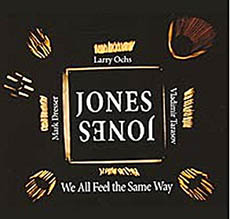 Jones Jones
We All Feel the Same Way
SoLyd Recordings (SoLyd SLR 0396)
Mark Dresser – bass, Larry Ochs – tenor and sopranino saxophones, Vladimir Tarasov - percussion
Track Listing:
1. In Jones We Trust
2. Type Jones Positive
3. Jones Zones
4. Have You Met Miss Microtonal Jones
5. We All Feel the Same Way
Recorded live in 2008 at Bulthaup Center by Design in St. Petersburg, Russia, and at the famous jazz institution for improvised music, the Bimhuis in Amsterdam.
If you ever have the opportunity to visit Amsterdam, by all means see the new Bimhuis. If every city—or even every one that considered itself a major city— had a venue like this for improvised music, things would be very different indeed. We might even have universal health care in this country by now!
These 5 free improvisations, totaling 71 minutes of music, are from the first tour by this trio after several performances in Northern California. It's an exciting band to play in: I feel like I'm very much flying without a net 90% of the time. The CD is currently available at CDBaby.com and is available at iTunes and other platforms for download:
---
RadiOM - Improv:21 Archives
Want to sample some of the Improv:21 informances?
We will be uploading one show every two months to RadiOM (the archive website of Other Minds) until the entire series is online. There is a lot of stimulating information in each show. We just added a couple more.

Here's what's available at the moment:

Wadada Leo Smith
Lawrence "Butch" Morris
Rova
John Zorn
Cheryl Leonard
Nels Cline
Fred Frith
Carla Kihlstedt
Gino Robair
Miya Masaoka
Ned Rothenberg
Oliver Lake
Ben Goldberg
To get news from Other Minds click here .

[TOP]
---
Contribute to Rova:Arts
We want to express our deepest gratitude to all the generous private and public donors who contribute to Rova:Arts. Your support has been essential to the successful presentation and documentation of our projects over the year.

Formed in 1977, Rova's been in a state of continual artistic renewal for over 3 decades. Rova:Arts, formed in 1986 to support the activities of Rova, has been instrumental in producing local projects and advancing an ongoing cultural exchange between local Bay Area artists and the international scene through its Rovaté concert series. These events, made possible by funding to Rova:Arts, have engaged Bay Area musicians and composers—as well as musicians from around the world. Rova:Arts projects are often reproduced in other parts of the world, thereby bringing the work to a broader audience. Also, many Rova:Arts events have been recorded, resulting in releases which have been enthusiastically celebrated.
Click here to find out more and to Join Rova:Arts. Thanks for being part of the art.
:: WATCH FOR MORE ROVA NEWS IN MAY ::
RovaMySpace
RovaFacebook
CDBaby
---
[TOP]