In this Newsletter:

DIGGING IN...

When not on the road this time of year, Rova often spends time ?in the shed? working on new ideas. In advance of our upcoming show at the Jazz School in Berkeley, the collaboration with Lillevan in May, and our trip to Italy in June, Rova prepares. If you missed Ellen Fullman's remarkable Improv:21 event in February, don?t miss the last two informances of the season?with Vinny Golia in March and Wayne Horvitz in April. Fullman really brought home why the Improv:21 format is such a valuable way for audiences to get an inside view on the evolution of the personal artistic process. See Favorite Street to find out what's moving Jon Raskin these days, and be sure to check out some of the other upcoming events in the Bay Area that we recommend.

On February 4th Rova celebrated the 31st anniversary of its first concert at Mills College in 1978. Word has it that the newly renovated Mills concert hall is the place to hear live music. Fred Frith's birthday concert in April will be a great opportunity for you to hear the new room.

Friday, March 6, 8pm
Rova @ the Berkeley Jazz School
The Jazz School - Berkeley
2087 Addison near Shattuck
Berkeley
510.845.5373

Rova returns to a favorite East Bay venue to perform Steve Adams? series of pieces, Parallel Construction Nos. 1, 2 and 3 (a world premiere), as well as other recent works by Rova members. This is a nice room for Rova and for the audience to hang. The Jazz School includes a café. Jazzschool

Saturday, March 14, 8pm
Jon Raskin & Kanoko Nishi Duo
Travis Johns House Concert
1687 Hayes Street (at Central Ave.)
San Francisco

Also featuring:
Bryce Beverlin II ? solo percussion (Minneapolis)
Jay Korber, Lee Sutherland and Kevin Woodruff (two saxes and drums)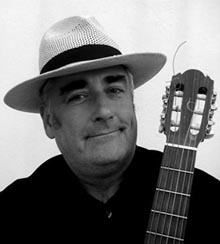 Mills Music Festival 2009
Sunday, April 5, 3pm
The Music of FRED FRITH
Mills College Concert Hall
Mills College
5000 MacArthur Blvd.
Oakland

A rocking birthday concert of new music
Celebrate the birthdays of both the Mills College Concert Hall and composer, performer, multi-instrumentalist, and Mills faculty member Fred Frith. This very special performance will feature an eclectic lineup of artists performing Frith's work and a special birthday reception following the concert. Performers include: Liz Albee, Matthias Bossi, Minna Choi, Beth Custer, Joan Jeanrenaud, Carla Kihlstedt, Myra Melford, Roscoe Mitchell, Ikue Mori, Larry Ochs, Bob Ostertag, Zeena Parkins, and William Winant.

Hear Frith's newest band Cosa Brava, featuring: Fred Frith, guitar and voice; Carla Kihlstedt, violin and voice; Matthias Bossi, drums and voice; Zeena Parkins, keyboards and accordion; and The Norman Conquest, sound.

A special birthday reception follows.


[click for details]

[TOP]
---
Rova:Arts is pleased to announce the continuation of Improv:21, a series of "informances" on 21 st century music that explores the connection between predetermined structure (composition) and performer interpretation (improvisation). Led by master improvisers and composers from the Bay Area (and beyond) and hosted by critic and KPFA radio host Derk Richardson, Improv:21 programs look at the many ways of organizing improvisation through a shifting (i.e. "improvised") combination of onstage lecture and dialogue, musical demonstration and performance, and audience question-and-answer forum.
All Improv:21 events will be presented at:
Red Poppy Art House
2698 Folsom Street near 23 rd Street
San Francisco
415.826.2402
$10
Tickets sold at door; general seating
www.redpoppyarthouse.org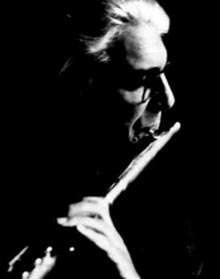 Vinny Golia
The Large Ensemble Experience
Wednesday, March 18, 7pm
1687 Hayes Street (at Central Ave.)
San Francisco
Vinny Golia comes up from Los Angeles with CDs, DVDs, and his ebullient self to talk about composing for improvisers in large ensembles, something he has been doing for over 20 years in the US and internationally. Of course, he will bring along some of his many reed instruments?Ab, Eb, Bb, C, A, alto, bass, contra-alto & contra-bass clarinets; piccolo, G, C, alto, & bass flutes; sopranino, soprano, tenor, baritone, & bass saxophones; English horn, bassoon, contra-bassoon; strich, taragoto, & various ethnic aerophones?in case the spirit moves him to get into his work for improvising soloist as well. (What...no alto saxophone, Vinny?)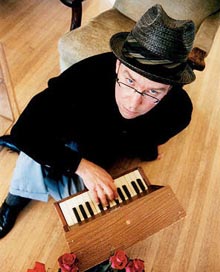 Wayne Horvitz


Approaching Training and Musical Heritage in Composition and Improvisation


Wednesday, April 15, 7pm



Wayne Horvitz will talk about his recent chamber-jazz compositions that feed off the heritage of American folk musics, jazz and blues, and reveal the thinking behind his own unique body of work?especially focusing on his chamber music for various ensembles.
[TOP]
---
May 22, 23, 8:00 pm
Jewish Community Center of San Francisco
Kanbar Hall
(part of the San Francisco International Arts Festival)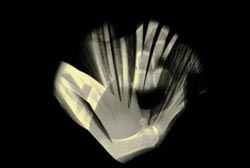 About the Project


Rova Saxophone Quartet returns to Kanbar Hall for a no-sounds-barred evening of improvisation. Berlin-based multi-media artist Lillevan joins world-renowned musical innovators in Fissures, Futures, dedicated to the 20th century oracle Buckminster Fuller. Creating visual fragments inspired by Fuller's genius and influenced by the musical ensemble surrounding him, Lillevan will produce spontaneous films and animation in real time. An amazing experience of sight and sound -- not to be missed!

New works will be performed by an ensemble led by Rova Saxophone Quartet and will include international artists Thomas Lehn (Germany: analog electronics); Charlotte Hug (Switzerland: viola and electronics); Kjell Nordeson (Sweden: percussion) Lisle Ellis (Vancouver, NYC: bass); Joan Jeanrenaud (San Francisco: electric cello), and Carla Kihlstedt (Oakland: violin).



Why Buckminster Fuller?
Tickets and Information
Tickets run from $16.00 (students), $21.00 (JCC Members), $24 (General Public) and are available through www.jccsf.org or through www.sfiaf.org
Further Information: rova.org
NOTE: HALF PRICE TICKETS! In March
During the entire month of March San Francisco International Arts Festival will sell a limited number of tickets (up to 5%) to all shows for $12. Tickets can be purchased on-line at
www.SFIAF.org
or by calling 1-800-838-3006.
[TOP]
---
(clean feed)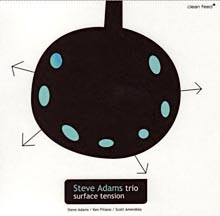 Steve Adams:
sopranino, alto, tenor and baritone saxophones, bass flute;
Ken Filiano:
bass;
Scott Amendola:
drums
---
ALL ABOUT JAZZ SAYS: Adams is joined by bassist Ken Filiano and drummer Scott Amendola on this rare trio recording?a varied studio set that veers from the austere to the coruscating. Like-minded peers in the adventurous West Coast scene, Filiano and Amendola reveal a deep-seated rapport with Adams that lends a conversational air to their interactions. Whether navigating freely improvised or fully notated compositions, their congenial interplay sounds inspired and effortless.

Alternating horns throughout the session, Adams unveils a range of sonorities and timbres culled from a variety of woodwinds, from sopranino saxophone to bass flute. Each instrument is used to excellent effect in contrasting contexts, weaving a diverse and texturally rich mosaic of sound.

Surface Tension is a rarified view into the mind of one of the West Coast's most admired ensemble members. Considering Adams' limited discography outside of Rova, makes this session all the more valuable.

See the complete All About Jazz review: www.allaboutjazz.com

[TOP]
---
The Believer Magazine
www.believermag.com
This great collection of long essays, book reviews, columns and doodles from McSweeney's Press usually has a theme per issue. I look forward to each one. I especially loved Nov/Dec 2008 where Lynda Barry is interviewed by Hillary Chute and where Chris Cobb writes about his experiences working on Sol Lewitt's last major installation.
Spectacle with Elvis Costello
www.elviscostello.info
About his new TV Show on the Sundance Channel, Elvis says, "I'm not interested in extracting some dark secret. I'd rather hear about a bright secret, a deep love or a curiosity that might be otherwise obscured by fame. This is a wonderful opportunity to talk in complete thoughts about music, movies, art or even vaudeville, [and] then frame it with unique and illustrative performances." He hosts insightful interviews with a wide range of musicians and is really prepared and knowledgeable about their careers and music. There are first rate backup musicians that change from show to show. For video clips of the show: [watch the clips]
Shock Doctrine, the Rise of Disaster Capitalism by Naomi Klein
www.naomiklein.org
Klein begins by describing the work of Ewen Cameron and his use of electro-shock therapy to remake the human mind on patients that weren?t informed of the negative effects of the therapy. It was covered up and than deployed as a method of torture by the CIA. It is short step to Milton Friedman's theories and a method to view the last 40 years of US economic strategies. Naomi Klein's insightful analysis plays out every day in the machinations of the current fiscal crisis.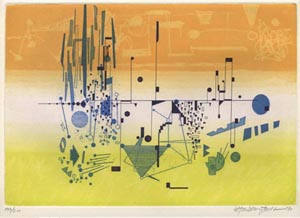 Roman Haubenstock-Ramati Scores
www.ariadne.at
I?ve been working with visual scores for several years and recently discovered the graphic scores of Roman Haubenstock-Ramati. I was aware of his music but recently have been researching his work much more thoroughly.
Website: The Block Museum: Pictures of Music
www.blockmuseum.northwestern.edu
In keeping with my interest in visual musical scores, this site exhibits the scores, provides sound examples, and includes interviews. The site was pretty buggy at first but they seemed to have worked out most of the kinks. Make sure you get to the animated explanation of Cornielius Cardew's Treatise. You can enlarge and navigate the scores using a box that at the bottom of the screen.
[TOP]
---
Want to sample some of the earlier Improv:21 informances?
We will be uploading one show every two months to RadiOM (the archive website of Other Minds) until the entire series is online. There is a lot of stimulating information in each show.

Here's what's available at the moment:

Rova
John Zorn
Cheryl Leonard
Nels Cline
Fred Frith
Carla Kihlstedt
Gino Robair
Miya Masaoka
Ned Rothenberg
Oliver Lake
Ben Goldberg
To get news from Other Minds click here .

---
[TOP]
Every Sound You Can Imagine
February 5 - March 28
New Langton Arts
1246 Folsom Street
San Francisco
Every Sound You Can Imagine at New Langton Arts explores the cross-fertilization between musicians and visual artists, revealing the vital interaction of experimental sound art and music with cutting-edge visual art. In addition, Langton presents rare and never-before-heard tapes from its archive by musicians, performers, poets, and visual artists who have performed at Langton since its founding in 1974, including Alvin Curran, Steve Reich, Terry Riley, and Wadada Leo Smith. The exhibition will also include an accompanying program of performances and select videos. Barry Guy's Witch Gong Game, which was commissioned by Rova and Post Card Series 2 by Jon Raskin are part of the exhibition.
[read more]
SCHICK MACHINE
Saturday, March 7 at 8:00 PM
Stanford University / Dinkelspiel Auditorium

The Dinkelspiel stage becomes a captivating laboratory of sound as percussion innovator Steven Schick gives the world premiere of Paul Dresher's new major work of solo musical theater. Featuring a compelling narrative (written and directed by Rinde Eckert) and a host of newly invented or adapted instruments?from hand percussion to large-scale mechanized structures to a 21st-century hurdy gurdy?Schick Machine explores the deep emotional resonance arising from sounds new and old, lost and found.
Post-Performance talk with Paul Dresher, Steven Schick, and Rinde Eckert

TO ORDER
* Call the Stanford Ticket Office at (650) 725-2787 or order online at LivelyArts.Stanford.edu
$34-$38 (Adult full price)
$17-$19 (Youth 18 & Under)

LEARN MORE
• Watch a video preview of Schick Machine
• Read an interview with Paul Dresher
• Download the program notes
Other Minds: Festival of New Music
March 5 ? 7
Jewish Community Center
San Francisco
www.otherminds.org
The Los Angeles Times has called the Other Minds Festival "the premier new music festival on the West Coast." The OM Festival is one of the few in the
United States that highlights the latest musical developments alongside more traditional new music. Over the last 15 years, Other Minds has featured over 150 composers and 447 guest performers from more than 35 countries. Previous artists include: Laurie Anderson, Philip Glass, Meredith Monk, Lou Harrison, Tan Dun, the Kronos String Quartet, and ROVA's Jon Raskin!
OM 14

will feature nine international composers?Michael Harrison (USA), Dobromila Jaskot (Poland), Ben Johnston (USA), Catherine Lamb (USA), Chico Mello (Brazil), John Schneider (USA), Linda Catlin Smith (Canada), Bent Sørensen (Denmark), and Chinary Ung (Cambodia), plus visiting performers including the Amsterdam Cello Octet and Trio Con Brio Copenhagen. Programming includes four world premiere performances including The Tavern by American legend Ben Johnston (b. 1926), the US premiere of a work by Arvo Pärt for eight cellos, a special presentation in memory of Mauricio Kagel (1931?2008), music of Harry Partch, a new work commissioned by Other Minds, and Tone Clouds by La Monte Young protégé Michael Harrison, for just intonation piano and San Francisco's Del Sol String Quartet.



John Zorn's Run @ Yoshi?s




March 10 - 15




Yoshi's San Francisco


1330 Fillmore Street (at Eddy)
San Francisco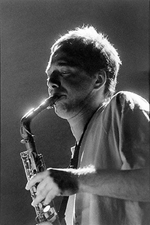 John Zorn will take up residence at Yoshi's San Francisco March 10th through 15th. Each of the 6 nights will feature a different ensemble performing Zorn's works. The musicians featured nightly include some of the finest players in New York's Downtown scene including: Dave Douglas, Marc Ribot, Greg Cohen, Joey Baron, Erik Friedlander and Cyro Baptista.

This marks the first occasion Zorn has performed a residency of this nature on the West Coast. Zorn will be highlighting music from both his original Book of Masada songs (Book I) as well as his newly penned Book of Angels (Book II).

For a rundown of the week's music read here

San Francisco Contemporary Music Players presents:


Moving Pictures, Picture Music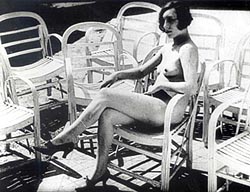 Still from

Monday, March 30th, 8:00 pm


Yerba Buena Center for the Arts Forum
San Francisco
Featuring Jean Vigo's ?À propos de Nice?

The climax of this adventurous evening is a screening of Jean Vigo's classic silent film, À propos de Nice, with a live performance of a new score by François Paris. Paris will speak about his composition in a pre-concert talk at 7:15pm. Other music by Alessandro Solbiati, Tristan Murail, and Phillippe Hurel. David Milnes conducts.

$28 Regular, $23 Senior, $10 Student
Tickets and information: www.sfcmp.org



The 52nd San Francisco International Film Festival




April 23 ? May 7


Various venues
San Francisco
Detailed information on programming will be up on their site very soon:
www.sffs.org

The 52nd San Francisco International Film Festival will screen 100 unique programs of the finest in independent, documentary and international cinema. The West Coast hub for film-lovers, filmmakers, journalists and industry professionals, the International gives out 20 cash Golden Gate Awards totaling $100,000. SFIFF also spotlights local film culture, advances in digital media, discoveries in world cinema, cutting-edge animation, global youth media and spectacular, star-studded events. Its? one of the very best festivals in the country and has been for a long, long time.

Point of Departure Roundtable


An interview with Jen Baker, Rueben Bladding and Jon Raskin in Bill Shoemaker's online journal, Point of Departure.

First question! Bill Shoemaker: One of Wallace Stevens? main themes was the ongoing struggle between the imagination and what he called ?the pressure of reality.? That pressure is currently intensifying by the day. Not only is there a global economic train wreck in process, which exacerbates stresses of producing performances and touring, but we?re also at a crossroads in terms of the medium(s) for recorded music going forward, and its distribution. How are these extraordinary times informing your work?
www.pointofdeparture.org

Rudresh Mahanthappa


Mahanthappa was born in Boulder, Colorado and is now a smoking saxophonist living in Brooklyn. His last two CDs not only have received rave reviews, but are also to one degree or another clearly influenced by Indian music. Rudresh has posted some words on his favorite Indian music recordings to the website Destination Out. The entire post is totally worth reading, and once you are there you will probably want to look around the site as well.
An Indiosyncratic Introduction to Indian Music
---
[TOP]
We want to express our deepest gratitude to the generous private donors who contributed to Rova:Arts during our recent fundraising campaign. Very special thanks to Jim Newman and Jane Ivory for their kind support of our work.
Formed in 1977, Rova's been in a state of continual artistic renewal for over 3 decades. Rova:Arts, formed in 1986 to support the activities of Rova, has been instrumental in producing local projects and advancing an ongoing cultural exchange between local Bay Area artists and the international scene through its Rovaté concert series. These events, made possible by funding to Rova:Arts, have engaged Bay Area musicians and composers?as well as musicians from around the world. Rova:Arts projects are often reproduced in other parts of the world, thereby bringing the work to a broader audience. Also, many Rova:Arts events have been recorded, resulting in releases which have been enthusiastically celebrated.
Rova:Arts continues to produce the Improv:21 series, providing a forum for innovative musicians like John Zorn, Fred Frith, Oliver Lake, Miya Masaoka, Roscoe Mitchell, Zeena Parkins and others to share their artistic visions and unique paths to creativity, with you the audience, in an intimate setting.
Click here to find out more and to Join Rova:Arts. Thanks for being part of the art.
---
RovaMySpace
RovaFacebook
CDBaby
---
[TOP]