ROVA NEWS :: JUNE - JULY :: 2010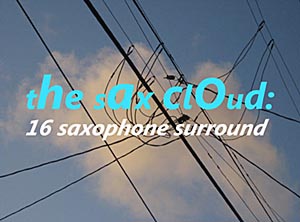 Ears to the ground
Three exciting collaborations are the focus of Rova's performance activities this summer. Coming up in June is The Sax Cloud, featuring Rova plus 12 innovative saxophonists from the Bay Area and beyond, surrounding the audience. In August Rova will offer the next installment of The Art of the Improvisers series, featuring 4 members of the Estamos Ensemble joining us from Mexico. This will be the first opportunity for the quartet to collaborate with players from Latin America. Finally, in late August, Rova + John Zorn will take the Yoshi's SF audience for a wild ride in a long overdue rematch with our long time NYC comrade. We've received enthusiastic notices on our Celestial Septet (Rova + The Nels Cline Singers) CD, including a rave in the Russian edition of Newsweek! We're looking forward to reuniting with the Singers as soon as we can to remix it up. Ochs has got a brand new Kihnoua CD, and Adams offers us his latest picks from Favorite Street. Listen up!
The Sax Cloud
Steve Adams and Jon Raskin are cooking up a very special project which finds Rova augmented by a stellar list of players with whom we're honored to work. In The Sax Cloud, we will be joined by 12 innovative saxophonists to create an enthralling, one time only event. Expanding on the complex and mesmerizing sonorities of the saxophone quartet, composers Raskin and Adams will present new works for quadruple saxophone quartet—creating a spatial sonic event to explore the special possibilities, in space and sound, of this unique ensemble. To enhance the concert experience, the audience will be at epicenter of the Sax Cloud, encircled by the 16 saxophonists.
This incredible lineup of guests was chosen for the individual contributions they have made to the saxophone's musical lexicon:
Vinny Golia • Frank Gratkowski • Aram Shelton • Phillip Greenlief • Sheldon Brown • Cory Wright • Dan Plonsey • James Fei • Jayn Petti
ngill • John Ingle • Kasey Knudsen • Aaron Bennett
Saturday, June 12, 8:00
The Sax Cloud (Rova2)
Rova plus 12 innovative saxophonists
ODC Dance Commons
Studio B
351 Shotwell Street (between 17th and 18th Streets)
San Francisco
» http://www.odcdance.org/
» Buy Tickets
Don't miss this concert!
---
Celestial Septet CD in Russian Newsweek!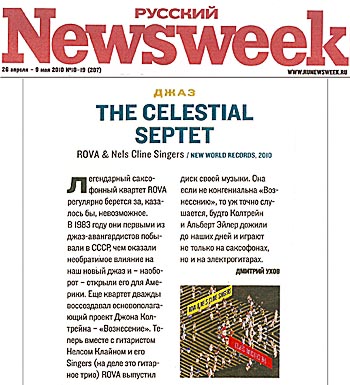 Here's an approximation of the English translation:
The legendary Rova Saxophone Quartet often takes on what seems to be impossible tasks. In 1983 they were the first avant-garde jazz group to travel to the Soviet Union; they unquestionably influenced our New Jazz, and helped introduce it to an American audience. Rova twice took on John Coltrane's Ascension . Now, with guitarist Nels Cline and his Singers, Rova has released a new CD of their music. While this release is not as intense as Ascension, one can certainly listen to it as if Coltrane and Albert Ayler were still alive and played not only saxophones but electric guitars. - Dmitri Ukhov
The Celestial Septet has been getting lots of really thoughtful and positive reviews. If you have not heard the CD or are thinking about listening to it, and you want to read some other opinions, check out reviews on the Rova website You also can always write us with questions at the Rova website rova.org, or through the Rova Facebook page: facebook.com. Of course the CD is available at New World Records website: newworldrecords.org.
---
Other Upcoming Shows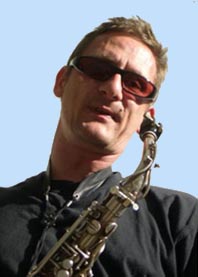 FPR Trio Frank Gratkowski / Phillip Greenlief / Jon Raskin
Thursday, June 17th
Resbox New Music Series
Steven Allen Theatre
4774 Hollywood Blvd.
Los Angeles
Friday, June 18th
Dagny's Downtown
1600 20 th Street
Tel: 661.634.0806
Bakersfield
» http://www.dagnyscoffee.com/
Monday, July 5th
Luna Café
"Nebraska Mondays"
1414 16 th Street
between N & O Streets
Sacramento
Tel: (916) 441-3931
» http://www.lunascafe.com/
Monday, June 21st
5pm to 9pm
Jon Raskin – solo electronics
Performing Gino Robair's I, Norton
Summer Solstice Concert @Chapel of the Chimes
4499 Piedmont Avenue
Oakland
» http://www.gardenofmemory.com/
Friday, June 25th
8pm
Bill Horvitz's Expanded Band
21 Grand
426 25 th Street
Oakland
An intergenerational meeting:
Bill Horvitz's Expanded Band, plus Bill's son, Asa Horvitz's band Duchampion
The Expanded Band:
Kyle Bruckman: oboe/English horn; Steve Adams: alto sax, flute; TBA: tenor sax Jon Raskin: baritone sax; Beth Custer: clarinets; Michael Cooke: bassoon; Hal Foman: trumpet; Darren Johnston: trumpet; TBA: French horn; Liam Staskawicz: trombone; Nathan Riebli: tuba; Dina Maccabee: violin; TBA: cello; Dan Seamans: bass; Vijay Anderson: drums; Omid Zoufonoun: conductor; Bill Horvitz: guitar/composer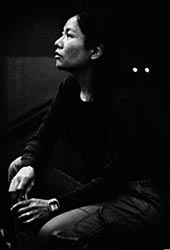 Saturday, June 26th
8pm
Satoko Fujii and Myra Melford, pianos
w/special guests, Larry Ochs (saxes) and Natsuki Tamura
(trumpet, voice) Solos, Duos, Trios and Quartet
Maybeck Studios
North Berkeley
Suggested Donation: $15
Melford and Fujii are two of the finest improvisers on the planet. They performed together and recorded a special CD as a duo in 2008. Returning to the beautiful Maybeck Studios again, they have invited Ochs and Tamura to help create a one-time-only sound-universe for the listeners that evening.
Maybeck Studios is a special site for music. They do no publicity; you essentially come to a beautiful private home designed by master architect, Bernard Maybeck and, with 50 or so other listeners, hear a concert that will only happen that night; a one-night command performance for only $15.
Reservations are required
Send an email to mmelford@berkeley.edu. You will then receive a response confirming your reservation plus the address of, and directions to the Maybeck home in Berkeley.

Sunday, July 25th
8pm
Goodheart / Powell / Ackley Trio
Plus
Tara Flandreau (violin), Myles Boisen (guitars), Scott Walton (bass), Garth Powell (percussion)
San Francisco Community Music Center
544 Capp Street
San Francisco
Tel: 415.647.6015
$10 General / $5 Student (sliding scale - no one turned away

Garth Powell (percussion), Bruce Ackley (saxes and clarinet) and Matthew Goodheart (piano) meet again to create fresh soundscapes on the heels of their successful collaboration in April.
---
New CD – Larry Ochs' Kihnoua
Unauthorized Caprices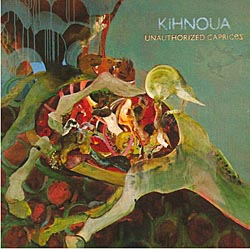 Kihnoua
Unauthorized Caprices
Not Two MW831-2
LARRY OCHS: sopranino + tenor saxophones, compositions
DOHEE LEE: voice
SCOTT AMENDOLA: drums and electronics

With special guests:
FRED FRITH: electric guitar (track 2)
JOAN JEANRENAUD: cello (tracks 2 + 5)
LIZ ALLBEE: trumpet and electronics
This CD is available directly from Larry Ochs / 2639 Russell Street/Berkeley 94705 for $15 including postage.
The first review, from Downtown Music Gallery:
Kihnoua is a new ensemble that combines the thoughts, sounds, and structures of contemporary improvised music with the traditional music of Asia and other folk-music influences from Asia, Africa, and Europe. With Larry Ochs of the critically acclaimed Rova Saxophone Quartet, drumming powerhouse Scott Amendola, composer, vocalist, and dancer Dohee Lee, and acclaimed cellist Joan Jeanrenaud, plus guests: Liz Albee on trumpet & electronics, Fred Frith on guitar and Joan Jeanrenaud on cello. I didn't know this vocalist, Ms. Dohee Lee, before this disc, but this is a good showcase for her as an integral part of Larry Ochs' fine new trio. Both Scott Amendola and Liz Allbee contribute strange electronics sounds to the long opening piece which works well with Ms. Lee's bizarre vocal sounds. You can tell that Mr. Ochs' exhilarating sax and Mr. Amendola's propulsive drumming have been working together for many years since they compliment each other so well. Ms. Allbee is another strong Bay Area improviser who has worked with Henry Kaiser, Damon Smith and Weasel Walter previously. Ms. Allbee contributes a good deal of extended trumpet sounds to these pieces and is also a good match for Larry, Scott and Dohee. Former Kronos cellist Joan Jeanrenaud & guitarist Fred Frith add their sonic spice to a long piece called "Nothing Stopped but a Future" which is expertly navigated by Scott's strong drumming. Joan's soaring cello adds flames to this burning piece while Dohee's voice and Larry's sax swirl intensely around one another. Ms. Lee's scary whispered vocals are featured on "DeeHyak" while she erupts on "Weightless", spewing out intense layers aggressive vocals with sprawling drums underneath. This disc is one of the most intense and spirited exhibitions I've heard in recent memory. Don't miss out on this jewel.
- Bruce Lee Gallanter
---
Post Pandæmonium Report
Rova's premiere of Carla Kihlstedt's imaginative work, Pandæmonium, at Other Minds Festival 15 was thrilling from the inside and, apparently, wildly engaging for the audience. It was also a complete pleasure to work on this project with Carla, speakers Matthias Bossi and Joan Mankin and, of course, all done in the constant company of baby Tallulah, Carla and Matthias' wondrous 8 month old daughter.
We spent a day in the studio in May, and we hope we captured the magic of the composition and the collaboration. It's an evocative work that will eventually be released on CD and will play well over the air as a radio play. Now you can hear the March premiere (recorded live) by visiting the Other Minds' website where they are streaming the entire festival. Take a listen to Kihlstedt's Pandæmonium:
radiom.org
---
Favorite Street–Steve Adams
Summer Grab Bag
CDs:
Sun Ra – Disco 3000 (Art Yard 001)
An amazing re-release of a 1978 album recorded live in Italy. Ra is joined by John Gilmore (the most under-rated tenor player ever,) Michael Ray on trumpet and Luqman Ali on drums. Ra plays, among other keyboards, the Crumar Mainman, a forgotten instrument with some kind of early sequencing and drum machine that he uses to mind-bending effect. It's a high point in his vast recorded output.
John Zorn – Electric Masada at the Mountains of Madness (Tzadik 7352-2) Speaking of vast recorded output, here's a great Masada CD. It's recorded live in Moscow and Ljubljana, and it captures the manic excitement of this band. It does repeat some tunes on the two CDs, but the versions are so different that it's not a problem, and it has some of Zorn's best pieces from this series.
Gino Robair – I, Norton (Rastascan BRD 063)
This CD is the product of years of development and it really shows. It's a wide-ranging, multi-faceted and thoroughly engaging realization of Gino's concept of the improvised opera. (Full disclosure – I'm one of many musicians on it.)
John Butcher – Resonant Spaces (confront 17)
This is a solo project where John performed in a variety of extreme acoustic environments and made the most of the opportunity. This CD is beautiful and mysterious and a fascinating document of his amazing capabilities on the saxophone. It's also a particularly nicely done package.
A Movie:
Daniel Ellsberg – The Most Dangerous Man in America
An Oscar-nominated documentary by Judith Ehrlich and Rick Goldsmith covering the life of Ellsberg through the release of the Pentagon Papers, it's a profound piece of reporting both of the importance of that act at the time and the impact it has had ever since. It's also a moral tale with much to say about our current political situation.
And Some Art:
Rova recently toured the Northeast and had a fantastic time, with concerts in Chicago, Champaign/Urbana, Detroit and New York. This was a tour that had a lot of intersections with the world of visual art – we played in art museums in Champaign and Detroit and had time to go see the new modern wing of the Art Institute of Chicago, as well as time in New York, where a highlight was the exhibition of drawings and graphic scores by Iannis Xenakis at the Drawing Center (drawingcenter.org). It was an amazing view into his working process, as you could follow how he turned mathematical concepts into musical realizations very clearly and beautifully. I also got to visit the new MOMA for the first time, where I was most struck by the early watercolors of Mark Rothko. I'm a huge fan of his well-known later works, but I had never seen these wonderful pieces that have a freer, more playful sensibility. There are several at search.moma.org.
---
RadiOM - Improv:21 Archives
Want to sample some of the Improv:21 informances?
We will be uploading one show every two months to RadiOM (the archive website of Other Minds) until the entire series is online. There is a lot of stimulating information in each show. We just added a couple more.
Improv:21: Bob Ostertag, "the creative life"
Ostertag concentrates his remarks on the evolution of electronic music, what constitutes a performance, and the inherent tension between body and machine. He begins by referencing the essays of electronic music pioneers Edgar Varèse and Karlhienz Stockhausen both of whom predicted the future preeminence of electronic music because it would free the composer from the interpretation of their creations by third parties. Ostertag suggests that a problem not foreseen by those early advocates was the difficulty in devising a truly electronic instrument, one that performers would be able to practice playing for years on end, eventually becoming virtuosic. According to Ostertag the very nature of electronic music is based on automated processes and electric circuits that by definition can not be touched directly, but only adjusted by altering various parameters, typically using a modified keyboard or other traditional acoustic instrument based interfaces. Ostertag relates his various experiences trying alternative controllers and his eventual acceptance that this interface dilemma was not likely to be solved any time soon. He also comments on the growing popularity of electronic dance music with its machine perfect rhythms, and the prevalence of "laptop concerts," both of which raise questions about what makes up a performance, and the role of improvisation in electronic music. The depth and range of Ostertag's analysis, as well as his open and warm personality, make this a rewarding program for anyone with an interest in the influence technology has had on modern music, and society at large.
Here's what's available at the moment:
Bob Ostertag
Wadada Leo Smith
Lawrence "Butch" Morris
Rova
John Zorn
Cheryl Leonard
Nels Cline
Fred Frith
Carla Kihlstedt
Gino Robair
Miya Masaoka
Ned Rothenberg
Oliver Lake
Ben Goldberg
To get news from Other Minds click here .

[TOP]
---
Contribute to Rova:Arts
We want to express our deepest gratitude to all the generous private and public donors who contribute to Rova:Arts. Your support has been essential to the successful presentation and documentation of our projects over the year.
Formed in 1977, Rova's been in a state of continual artistic renewal for over 3 decades. Rova:Arts, formed in 1986 to support the activities of Rova, has been instrumental in producing local projects and advancing an ongoing cultural exchange between local Bay Area artists and the international scene through its Rovaté concert series. These events, made possible by funding to Rova:Arts, have engaged Bay Area musicians and composers—as well as musicians from around the world. Rova:Arts projects are often reproduced in other parts of the world, thereby bringing the work to a broader audience. Also, many Rova:Arts events have been recorded, resulting in releases which have been enthusiastically celebrated.
Click here to find out more and to Join Rova:Arts. Thanks for being part of the art.
:: WATCH FOR MORE ROVA NEWS IN AUGUST ::
Be sure to visit us online:
Rova.org
RovaMySpace
RovaFacebook
CDBaby

---
[TOP]