January 2007
---
---
We optimistically enter the New Year, anxious to blow those first notes of 2007 here and on the road. The Quartet and Rova:Arts have been taking stock of what's been happening and putting plans together for the next year and beyond. We're looking at good things on the horizon and hope you'll be there with us for some of it…hitting our 30 th season!
---
Rova:Arts is pleased to announce the 2007 season of Improv:21, a continuation of our highly successful series of informances on 21st-Century musical improvisation and composition, led by master improvisers from the Bay Area and beyond.
On Monday February 5 @ 7PM
Lawrence D. "Butch" Morris – Understanding Conduction


(The gray area between notation and improvisation)

San Francisco Performing Arts Library & Museum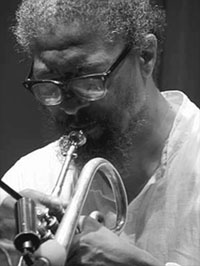 Morris will talk with you and host Derk Richardson about his career and conduction, demonstrating his methods in live performance.

Featuring an ensemble of Bay Area string players:
Damon Smith and George Cremaschi: basses
Jonathan Segel and Hillary Overberg: violins
Dina MacCabee and Tara Flandreau: violas
Theresa Wong and Jess Ivry: cellos

Awarded the 2006 Herb Alpert Foundation Award for music, Lawrence D. "Butch" Morris is recognized internationally as the principal theorist and practitioner in the evolution of CONDUCTION. Mr. Morris first considered the possibility and nature of Conduction in 1971 and has utilized its promise to explore new possibilities in the marriage of improvisation and composition for over 30 years.

Conduction (conducted interpretation/improvisation) is a vocabulary of ideographic signs and gestures activated to modify or construct a real-time musical arrangement or composition. Each sign and gesture transmits generative information for interpretation, and provides instantaneous possibilities for altering or initiating harmony, melody, rhythm, articulation, phrasing or form.

For more on Lawrence Butch Morris: www.conduction.us

Improv:21 programs explore the art and practice of improvisation through a shifting (i.e. "improvised") combination of onstage dialogue, musical demonstration and performance, and audience question-and-answer forum. Reasonably priced and easily accessible, these two-hour events are designed to inform, inspire, challenge, and enlighten a wide-ranging audience, from professional and amateur musicians to listeners of all backgrounds and levels of understanding.

This and all future Improv:21 events are co-sponsored by SFPALM in association with Other Minds.

All Improv:21 informances are at 7:00 pm and take place at:
San Francisco Performing Arts Library & Museum (SFPALM)
401 Van Ness Avenue (@ McAllister)
Veterans Building, 4th Floor
Directions to SFPALM

415-255-4800 ticket reservation line
or click: Tickets

Watch for details on future Improv:21 informances with:
Wadada Leo Smith, Chris Brown & Tim Perkis, Bob Ostertag and others.

[TOP]
---




Wednesday, January 17




2 + 2 Concert Series



21 Grand
416 25th Street (near Broadway)
Oakland
(510) 444-7263
21grand.org/
Tickets prices are $8 - $15, sliding scale



SET 1


Phillip Greenlief + Jon Raskin (saxes) with Kyle Bruckmann + Sara Schoenbeck (double reeds)



SET 2


Boom Town
(Larry Ochs, Tim Perkis, Mark Miller)



2+2 Concerts


For the second year in a row, Phillip Greenlief (saxophonist and founder, Evander Music) + Jon Raskin (Rova) will present a series of concerts which pair the 2 saxophonists with a duo of like instruments to explore new directions in composition and improvisation.

Future 2 + 2 Concerts at 21 Grand will feature Kris Tiner + Darren Johnston (trumpets – February), Aurora Josephson + Patti Waters (voices – March), Ignaz Schick + Matt Davignon (turntables – April), John Hanes + Gino Robair (percussion – May).

Friday, January 26
Electric Ascension Paris
Festival Sons D'Hiver Espace Culturel André Malraux, Le Kremlin Bicetre (suburb of Paris) www.sonsdhiver.org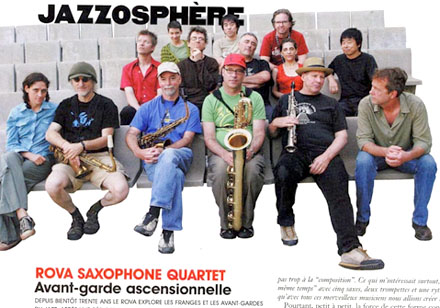 Orkestrova relaxes in Lisbon, August 2006
(From French periodical JAZZ Magazine)
Orkestrova Paris 2007:
Ochs, Raskin, Ackley, Adams: saxophones
Jenny Scheinman: violin
Eyvind Kang: viola
Nels Cline: electric guitar
Fred Frith: electric bass
Don Robinson: drums
Otomo yoshihide: turntables, electronics
Ikue Mori and Chris Brown: computer electronics
Myles Boisen: mixdown
Electric Ascension continues to yield new worlds to explore thanks to ongoing concert opportunities, the availability of a pool of really great players, and the rich possibilities imbedded in the original Coltrane work. Watch for details on our Philly concert in early February.

[TOP]
---
This is a list of movies, books and recordings that really grabbed me last year. They are not necessarily new works or releases but things that really gave me food for thought, kept in rotation for long periods, or provided a needed distraction.

Bird Sounds (How and Why Birds Sing, Call Chatter and Screech) Barry Kent MacKay
A wonderful book that explains the science but keeps the magic of how birds sing.

Blindness Jose Saramango
Portuguese Nobel Prize winning author writes of an epidemic where everyone in the town becomes blind and describes the ensuing response to the calamity.

Collapse Jared Diamond
A look at why cultures and civilizations collapse in history. The author starts with the Bitterroot Mountains in Montana, because of his first hand knowledge of the problems in the area, and uses this framework to look at other places in history.

Europe Central William T. Vollmann
This is a series of stories just prior and during World War II about Germany and the Soviet Union. The stories are of artists, poets, generals and weaves a narrative that gives shape to a conflict that isn't given much attention in typical depictions of the war. If you love Shostakovich this is a must read.

Late Victorian Holocausts (El Niño Famine and the Making of the Third World) Mike Davis
The massive famines in the late 19 th century and early 20 th century in China, India and Africa were completely unknown to me before I read this book. Besides describing these, Mike Davis tracks the science that led to our understanding of El Niños, and how the world economy brought about by European imperialism disrupted the historic responses to this weather pattern in many places in the world, thus causing famine.

Sicilian Uncles Leonardo Sciascia
By one of my favorite writers, this is 4 novellas set in Sicily in the mid 20 th century. The stories describe social and political corruption, illusions about history, ideology and innocence.

The Baroque Cycle (Quicksilver, the Confusion, The System of the World) Neal Stephenson
Somehow this swashbuckling tale taught me a great deal about western history, economics and politics.

The Long Tail Chris Anderson
This description of the economics of the Internet is essential for anyone whose lives are affected by the change in distribution of goods and information.

The Transparent Society: Will Technology Force us to Choose Between Privacy and Freedom? David Brin
This book shows many of the issues and facets concerning privacy in modern life. Brin is primarily known as a science fiction writer but this deals with technology in the private and public spheres.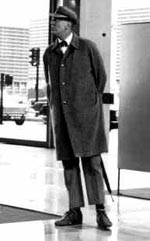 Playtime Jacques Tati
This recent re-release is the great French comedic filmmaker's last work and his most ambitious. He constructed an entire modern city to film the clash of old and new France. The physical humor is sublime with little or no dialogue.

Mondo Vino Jonathan Nossiter
An engrossing movie about the state of wine making around the world.

Ali: Fear Eats the Soul Rainer Fassbinder
A great movie about love, ageism, racism and so much more.

Saraband Ingmar Bergman
An updating of Scenes of a Marriage.

Nobody Knows Hirkazu Koreeda
The struggle of 3 children abandoned by their mother in Tokyo and how they survive.

Grizzly Man Werner Herzog
A interesting film on many levels, not the least of which is the local musicians that contributed to the music.

Downfall Oliver Hirschbiegel
A Film about Hitler's last days told through the story of his personal secretary. It is based on her memoirs.


Amestoy Trio le fil
Accordian, guitar and French horn from Toulouse, France

Brian Eno & David Byrne My Life in the Bush of Ghosts
This 1981 recording has be reissued with additional tracks and a great booklet. It casts a shadow over much of popular music today.

Congotronics Congotronics2
Music and DVD of country music of the Congo being amplified and creating a captivating blend of traditional music becoming urbanized.

Gangbe Brass Band Togbe or Whendo
I have a weak spot for Band Music and this really struck me as great fun.

John ColtraneThe Complete 1961 Vanguard Recordings
Essential music, period.

Louis Armstrong The Hot Fives and Hot Sevens
Back in rotation after Katrina, this amazing music never ceases to inspire and move me.

Melingo Santa Milonga
Wonderful recording by the great Tango Artist, Melingo.

Nathan & Zydeco Cha Chas Hang it High, Hang it Low
Great Zydeco infused with delta blues vocal style.

Oberosterrich-Salzburg: Volkmusic Rare Shellacks 1910-1949 on Trikont
The track by Hohla/Biereder "Innviertler Tanzin" completely changed my concept of Alpine music.

Aaron Novik Kipple: Flases of Irrational Happiness
My favorite local recording this year.

Pietra Montecorvino Napoli Mediterranera
A Neopolitan singer that brings a fresh sound to the music of Naples and the Mediterranean forms.

Otomo Yoshihide Otomo Yoshide's New Jazz Quintet Live in Lisbon (featuring Mats Gustafsson)
This is some of the most interesting Jazz that I heard this year. Tsugami Kenta alto playing is just plain scary—and that is saying something with a group that includes Mats Gustafsson.

Will Holshouser Trio Singing to a Bee
Accordion, bass and trumpet, playing wonderful compositions.

[TOP]
---
The past year was full of awesome sonic delights, from the band's perspective—and that's saying a lot 30 years down the line. We're thrilled that many of you joined us in the work, and hope to see you during the coming year. Thanks for helping to make these events happen!


Held up in record company limbo for several years, our newest studio CD was finally released early in 2006 on the Italian label Black Saint.


We played concerts in Rochester, Buffalo, Erie, PA and Nashville during a March tour, in wonderful spaces to fresh ears.




A performance-collaboration by Rova and the Butoh inspired dance collective inkBoat (Shinichi Iova-Koga and Yuko Kaseki), interactive media designer Eric Koziol, director Ernie Lafky and lighting designer Allen Willner.


This has been our most developed and engaging collaborative project. We are only sorry that it couldn't have had a longer run so that more people could have checked it out.


Vancouver (July) and Portugal (August) shows.


In September we recorded Jon Raskin's 7 part Juke Box Suite at Myles Boisen's Guerilla Euphonics Studio in Oakland. Method for packaging and distribution: unknown.


This December show was either just another amazing gig, or could be the start of a new project coupling Rova with the Nels Cline Singers. The show culminated in an ensemble version of Coltrane's Living Space, arranged by Steve Adams. WOW!!!


The series has continued all year, thanks to Larry Ochs' vision and energy, support from audiences, funders and the San Francisco Performing Arts Library Museum, and because there is such a vast community of artists with compelling work to share.

[TOP]
---
The coming year looks promising on a lot of fronts:
Electric Ascension

in Paris on January 26.

East Coasting:


February 9 – Rova in New York City
CUE Art Foundation
511 West 25th Street, Ground Floor
Tel: 212-206-3583

February 10 – Electric Ascension in Philadelphia
International House Philadelphia
3701 Chestnut Street
8 pm

February 11 – Rova in Washington, DC Twins Jazz
1344 U. St. NW
202-234-0072


In March we're headed to Europe for Rova shows in Austria and Prague, as well as a remounting of Ochs' The Mirror World Sextet for Rova and Italian drummers Fabrizio Spera and Cristiano Calcagnile.

March 25 we'll be at the Jazz School in Berkeley for the first time.

Rovaté 2007 will happen in two different months (April and June) and will feature different groups of players joining Rova to interpret graphically notated scores by Jon Raskin, Steve Adams, Amy Trachtenberg and Fred Frith.

It's looking like we're headed back to Europe in June for more dates with the Rova Special Sextet (w/drummers) and also for the quartet. And possibilities are taking shape for a return to Europe in the fall.

Improv:21 informances will happen throughout the year with provocative guests from around the country.

Rovaté 2008 is in the planning stages and will feature Rova with British electronics performance group Semiconductor.

In between running out of town and getting ambitious locally, we plan to keep a higher profile in the Bay Area with more quartet shows.


We're looking forward to a more artistically inclined vibe in the coming months, and hope to make our way in a more peaceful and settled mode given recent changes nationally. Enjoy the budding New Year and go out and listen to something good.

[TOP]