---
Turning the corner of 2007-08, Rova's ready for lots of action, both locally and on the road. The Quartet starts off in January with another round of The Art of the Improvisers in SF, featuring an exciting lineup of players; a couple of local shows in February, including a night with Henry Kaiser's Healing Force (music of Albert Ayler); and a full on rip through Europe in March. In May we?ll join forces with the Nels Cline Singers as the Celestial Septet for a concert of late Coltrane works at Yoshi?s, and then travel for select concerts around California. In June Rova will premiere a new work by composer James Freeman at Festival ZER01 in San Jose. Late in the year Rova will collaborate with European improvisers to present Raskin and Adams graphically scored music, Eye Music for Ears, to European audiences.
And, Rova:Arts will continue Improv:21 informances each month, starting with groundbreaking composer and performer, Roscoe Mitchell in February. The series will continue with Mark Dresser in April and Scott Amandola is May.
On the heels of Rova's CD, The Juke Box Suite, and Larry Ochs? Sax & Drumming Core, Up From Under, will be Ochs? Rova-augmented CD, The Mirror World. This is set for release early spring.
[TOP]
---




Friday, January 11
8:00 pm

The Art of the Improviser

Rova:Arts presents The Art of the Improviser

Featuring Rova and:

Liz Allbee - trumpet
MaryClare Brzytwa - flute and electronics
Aurora Josephson - voice
LaDonna Smith - violin
Karen Stackpole - percussion

Rova has invited some of the Bay Area's most innovative and exciting players, along with veteran Alabama violinist, LaDonna Smith to join us for an evening of small group improvisations. Taking its name from the landmark Ornette Coleman recording from the early 1960s, and its m.o. from Derek Bailey's Company Week (a longstanding yearly London festival in which improvisers from around the world were invited to ply their crafts in impromptu performances), The Art of the Improvisers has become a Rova tradition. The group will break into a range of permutations to explore improvisation in various groupings, from solos and duos to full ensemble. These concerts are always a surprise for the audience and the performers, each piece compelling and fresh.

CounterPULSE
1310 Mission Street
San Francisco
$15
Reservations: 800.838.3006
www.brownpapertickets.com


Jon Raskin Quartet

with Liz Allbee, Gino Robair and John Shiurba Tuesday, January 15
8:00 pm
Climate Theater

performing new works, energized surfaces, bent electricity and music of the moment

The Music Box Series

289 9th Street

San Francisco

$7-12 sliding scale

climatetheater.com

Saturday, January 19
8:00 pm

Other Perspectives in Improvised Music

Tips: 14 Aphorisms by Georges Braque Songs by Steve Lacy Phillip Greenlief ? alto saxophone
Aurora Josephson ? voice
Bruce Ackley ? soprano saxophone

KIHNOUA

Dohee Lee - voice
Larry Ochs ? compositions and saxophones
William Winant ? percussion
Special guest from New York: Okkyung Lee - cello

The Jazz School

2087 Addison Street

Berkeley

510.845.5373

www.jazzschool.com

Improvised Octopi Night@1510

Jen Baker, Damon Smith, Charity Chan, Jon Raskin
Fraser/Wallace from San Deigo



Music and grilled/fried/broiled/sauted/baked octopus, squid and many tantalizing tenticles.

Friday, January 25
8:00 pm
1510 8th Street Performance Space


1510 8th Street

Oakland

Price for shows with food-$10
Improv:21
Roscoe Mitchell = Improvising with Roscoe Mitchell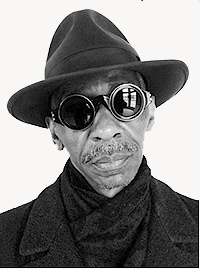 Roscoe Mitchell will join Derk Richardson and you, the audience, in an improvised discussion and informance on the music of the 21st century, jazz, compositions for improvisers, the life of the artist, and whatever else comes into play when minds open and tune in. Mr. Mitchell is a pioneer of the improvised music scene, a founding member of the historically important AACM (Association for the Advancement of Creative Musicians) and the The Art Ensemble of Chicago, a band that continues to influence every young musician coming up in the parallel if distinct worlds of jazz and improvised music. Don't miss this one!
For more on Mr. Mitchell: artensembleofchicago.com

The Marsh
Wednesday, February 20
7:30 PM
1062 Valencia Street
San Francisco
(between 21st and 22nd Streets, near 24th Street BART)
Admission $10

Rova:Arts is pleased to continue the third season of Improv:21, a series of ?informances? on twenty-first century music that explores the connection between predetermined structure (composition) and performer interpretation (improvisation). Led by master improvisers and composers from the Bay Area and beyond, and hosted by music writer and KPFA radio host Derk Richardson, Improv:21 programs look at the many ways of organizing improvisation through a shifting (i.e. ?improvised?) combination of onstage lecture and dialogue, musical demonstration and performance, and audience question-and-answer forum.

The Marsh, in association with, is co-sponsor of the 2007-2008 season of Improv:21.
For more info visit: rova.org/improv:21.

Coming up in the Improv:21 season
April 9 ?

Mark Dresser


May 21 ?

Scott Amendola



[TOP]
---
Rova is performing with Liz Allbee, Mary Clare Brzytwa, Aurora Josephson, LaDonna Smith and Karen Stackpole this month, so I asked them to contribute some of their favorites and things that have had impact.



Liz Allbee:


Music:
One of my favorite albums ever is Ilhan Mimaroglu and Freddie Hubbard's Sing Me A Song Of Songmy. I have really been enjoying the Bill Dixon box set. Nina Simone's ?Sinnerman? and Leonard Cohen's ?Famous Blue Raincoat? are two songs that I love.

Books:
I just read Truman Capote's Other Voices, Other Rooms and couldn't put it down. Also recommended are Doris Lessing's The Golden Notebook and Oryx and Crake by Maragret Atwood

Films:
Darwin's Nightmare by Hubert Sauper and Denise Vindevogel. Whew! Couple of older favs are Ali: Fear Eats The Soul, by Werner Fassbinder and When We Were Kings, Leon Gast's documentary about the 1974 "Rumble in the Jungle" championship bout between boxers Muhammad Ali and George Foreman in Kinshasa, Zaire.



MaryClare Brzytwa


Books:
The Decent of Alette (a narrative epic poem) by Alice Notely.
I was lucky enough to get a recording of the poet reading some of my favorite selections and her permission to set them to noise. It is a feminist epic about a women trapped in a never ending subway system, she has to find the "tyrant" and destroy him, also has to find the decapitated first mother and put her head back on her body…experimental poetry, with dark, bizarre and violent imagery. VERY imaginative and captivating.

Defiance (fiction) by Carol Maso
This one is about a respected professor of physics at Harvard who murders her top two students...post-coitally. Also very dark and disturbing...



Karen Stackpole


Music:
No suggestions of merit come to mind at the moment save for the new Ghost in the House CD that we released on Edgetone this past fall, and two recent releases by Wisconsin-based gongist, Michael Bettine, Microcosm and Meridian. I could also add a favorite of mine by Nebojsa Jovan Zivkovic, The Castle of the Mad King, which was released about 7 or 8 years ago. ?Ultimatum II? is a great marimba track that leads off the album. I saw it performed live in Stockholm in 1998 and I've been a fan ever since.



Jon Raskin:


Music:
Tommy McMahon and Bernand O'Sullivan, Irish Traditional Concertina Music of County Clare on the Free Reed label. (I've been learning to play concertina and this has been an inspiration.)

Musicans of the National Dance Company of Cambodia Homrong on Real World. Wonderful, soulful music.

Charles Mingus Sextet Cornell 1964 with Eric Dolphy: These are really open ended versions of Mingus's music with many unaccompanied solos. The group was getting ready to tour Europe.

Books:
This may have been listed before but it so good:
The Grand Piano, An Experiment in Collective Autobiography is up to volume 5. It is an ongoing experiment in collective autobiography by ten writers identified with Language poetry in San Francisco. It takes its name from a coffeehouse at 1607 Haight Street, where from 1976-79 the authors took part in a reading and performance series. The writing project, begun in 1998, was undertaken as an online collaboration, first via an interactive web site and later through a listserv. When completed, THE GRAND PIANO will comprise ten parts, in which each of the ten authors will appear in a different sequence. These poets are Bob Perelman, Barrett Watten, Steve Benson, Carla Harryman, Tom Mandel, Ron Silliman, Kit Robinson, Lyn Hejinian, Rae Armantrout, and Ted Pearson.
Rebecca Pawel's detective series set in Spain: Death of a Nationalist, Law of Return and Watcher in the Pine.

[TOP]
---
Want to sample some of the earlier Improv:21 informances? We will be uploading one show every two months to (the web site of Other Minds) until the entire series is online. And there is a lot of information in each show. Gino Robair's informance has just been added.

Here's what's available at the moment:

Rova
Nels Cline
Fred Frith
Carla Kihlstedt
Gino Robair

To get news from Other Minds click here.

[TOP]