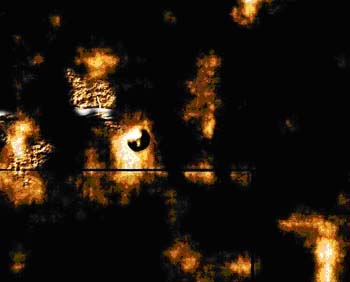 HAPPY 2009!
The tail end of 2008 found Rova in the studio for a successful session with the Rova/Nels Cline Celestial Septet, and a quick trip to Europe for three shows. Marseille and Saignelegier ( Switzerland) were Rova only concerts, but in Geneva we were joined by 'local' improvisers: drummer, Nicholas Field (who's actually English) and guitarist, Igor Cubrilovic (a relocated Serb), for subtle and engaging readings of Jon's and Steve's graphically notated pieces. The trip brought a welcome creative close to the year! A lot is planned for 2009 including local shows, Improv:21 events, Rovaté 2009 (with German artist Lillevan and a celebrated international cast of improvisers) and a trip to Italy in June. Stay tuned.
Rova projects receive year end kudos:
The Mirror World (for Stan Brakhage) was named Best Large Ensemble Recording of 2008 by All About Jazz New York. Congratulations to project organizer and composer, Larry Ochs, and to all the participants:
John Schott, Joan Jeanrenaud, Theresa Wong, Lisle Ellis, Ben Goldberg, Toyoji Tomita, Jen Baker, Darren Johnston, David Bithell, Tim Perkis, Matt Wright, Willie Winant, Gino Robair, Moe! Staiano and to Rova.
In December Rova's newest release, The Juke Box Suite, was cited as one of the top jazz CDs of the year on the Bay Area NPR radio station, KQED. Congratulations to composer Jon Raskin!
Rova:Arts is pleased to announce the continuation of Improv:21, a series of "informances" on 21 st century music that explores the connection between predetermined structure (composition) and performer interpretation (improvisation). Led by master improvisers and composers from the Bay Area (and beyond) and hosted by critic and KPFA radio host Derk Richardson, Improv:21 programs look at the many ways of organizing improvisation through a shifting (i.e. "improvised") combination of onstage lecture and dialogue, musical demonstration and performance, and audience question-and-answer forum.
All Improv:21 informances will be presented at:
Red Poppy Art House
2698 Folsom Street near 23 rd Street
San Francisco
415.826.2402
$10
Tickets sold at door; general seating
www.redpoppyarthouse.org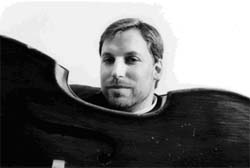 John Lindberg — Bass Walk
Wednesday, January 14, 7pm
John Lindberg (bassist/composer/performer) will present his views as an improvising composer by showing his short, music-driven documentary, Bass Walk and the recently produced music video, The Myth. He will also perform his composition for solo bass, Fiddlesticks, followed by a discussion and Q&A.
Lindberg embarked on his professional career in 1975 at the age of sixteen. The following year he co-founded the String Trio of New York, a composers' collective performance unit that has gone on to produce seventeen albums of original music and present hundreds of concerts worldwide. In 1979 he formed his first ensemble dedicated to the performance of his own compositions.
His ensembles and duo collaborations have performed hundreds of concerts throughout Europe, North and South America, East Asia and the Middle East. He has appeared on over seventy-five albums, including recordings with Anthony Braxton, Jimmy Lyons, Steve Lacy, Albert Mangelsdorff, Tony Coe, and Wadada Leo Smith.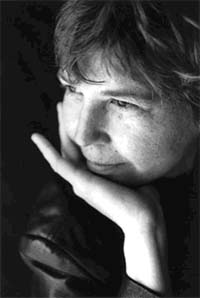 Ellen Fullman — Sympathetic Resonances
Wednesday, February 18, 7pm
Ellen Fullman will present a video documentary on her work featuring her music and sounds on the original "long string" instruments that she has created. Then she will discuss the concepts behind the music with Derk Richardson and the audience.
In 1981 Ellen Fullman began developing the "Long String Instrument", an installation of dozens of wires fifty feet or more in length that are 'bowed' with rosin coated fingers. Fullman has recorded extensively with this unusual instrument and has collaborated with such luminary figures as composer Pauline Oliveros, choreographer Deborah Hay, the Kronos Quartet, Keiji Haino and Francis-Marie Uitti. Fullman is currently an Artist in Residence at the Headlands Center for the Arts, where she has installed her instrument in what was once the old gymnasium.
Artist Statement
My intention in my music is to consider not only the fundamental tonal content, but also the resulting overtone configurations. A spectrum analysis of my instrument revealed that every overtone is represented at nearly equal levels through the entire range of hearing. I am exploring the influences of sympathetic resonance and sonic events that occur at specific nodal point locations along the string-length of my instrument and I have developed a unique notation system to choreograph the performer's movements. I feel that the room itself becomes my instrument and is receptive to what is put into it. Added frequencies can drive my instrument through sympathetic resonance and I am looking for ways to have more access to this triggering effect. A visual analogy for me is a candle flame blown by puffs of wind from different directions that responds fluidly.
For more on Ms. Fullman:
www.ellenfullman.com
Ellen Fullman on MySpace
Watch Ellen Fullman in action on Youtube
Forthcoming Improv:21 artists will include:
March 18: multi-reed player Vinny Golia
April 15: composer, keyboardist Wayne Horvitz
[TOP]
---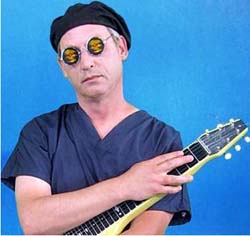 Saturday, January 10, 8pm
Rova & Ghost in the House
The Community Music Center
544 Capp Street
Between 20th and 21st Streets
San Francisco
In a special show organized by filmmaker/musician, David Michalak, Rova will share the stage with innovative Bay Area improvisers, Ghost in the House. Michalak has managed to redirect his moviemaking dreams into the sonic realm with accomplished co-conspirators, Bruckmann, Nunn and Stackpole—all masters of their craft. Each group will do a set of music and will mix it up together.
Ghost in the House is:
David Michalak – slide guitar
Kyle Bruckmann – oboe and English horn
Tom Nunn – homemade instruments
Karen Stackpole – gongs and percussion
Sunday, February 8, 8pm
(two sets)
Reasons for Moving
Café du Nord
2170 Market Street
San Francisco
415.861.5016
cafedunord.com
Darren Johnston
– trumpet
Larry Ochs
– saxophones
Fred Frith
– electric guitar
Devin Hoff
– bass
Ches Smith
– drums
Friday, Feb 27, 8pm
(two sets)
ODE
228 W Broadway #2
New York City
212.219.8242
http://www.roulette.org/
Larry Ochs
– saxophones
Lisle Ellis
– bass
Trevor Dunn
– bass
Michael Sarin
- drums
[TOP]
---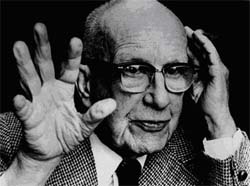 About the Project
As a large-scale international artistic collaboration, Fissures, Futures continues Rova's exploration of the synthesis of composition and collective improvisation, and the quartet's continuing interest in working off of or with the visual arts. In 2005, Larry Ochs created a master work influenced by and dedicated to film maker Stan Brakhage, The Mirror World. Then in 2007, Steve Adams, Jon Raskin, Fred Frith and artist Amy Trachtenberg composed graphic scores for interpretation by for Rova and guests for Rovaté 2007. In Rovaté 2009 live digital animation will interact with an ensemble of improvisers selected especially for this show. Featuring the Berlin-based digital animation of the renowned media-artist Lillevan, Fissures, Futures' structured improvisations will be performed by an ensemble led by Rova Saxophone Quartet and will include international artists Thomas Lehn (Germany: analog electronics); Charlotte Hug (Switzerland: viola and electronics); Kjell Nordeson (Sweden: percussion) Lisle Ellis (Vancouver, NYC: bass); Joan Jeanrenaud (San Francisco: electric cello), and Carla Kihlstedt (Oakland: violin).
Lillevan's work embraces improvisation in its approach to digital animation, combining moving film, "found" historic film stills, and digitally manipulated color design. Fissures, Futures offers the additional artistic challenge of real-time interaction between sound and visual artist during performance. Fissures, Futures will consist of a suite of pieces designed/composed for the ensemble by the members of the ensemble, and inspired by the ideas of visionary philosopher Buckminster Fuller.

Fissures, Futures (for Buckminster Fuller) premieres May 22 and 23, 2009 at the Jewish Community Center of San Francisco's Kanbar Hall, as part of the San Francisco International Arts Festival.
[TOP]
---
A new CD from Larry Ochs: Spiller Alley
Featuring Peggy Lee and Miya Masaoka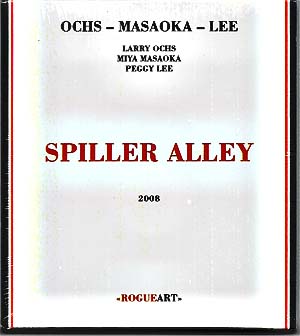 Released on the French CD label RogueArt, Spiller Alley is the second CD of compositions created by Larry Ochs for the trio of saxophone, Japanese koto and cello. The first CD was a studio recording released in 2002 on Intakt with Miya Masaoka on koto and Joan Jeanrenaud on cello. Spiller Alley, recorded live on tour in 2006, retains Masaoka but now features the Vancouver cellist Peggy Lee. Peggy Lee has performed with many of the great improvisers of our time including Dave Douglas, Wayne Horvitz, Evan Parker, Nels Cline and on and on, as well as appearing in the Vancouver Jazz festival version of Rova's Electric Ascension.
Spiller Alley was released in late November but has already received some great reviews and been named one of the best CDs of 2008 by All About Jazz New York.
From freejazz-stef.blogspot.com:
"The music has again this unique quality of being at the same time vulnerable, fragile almost and very solid in its emotional depth and daring in its adventurousness. This is music that you haven't heard before and it is basically beyond comparison. It is light, intricate like the best of lace, subtle, precise, genre-blending yet also genre-defying. It is light, sparkling and tasteful like the best of champagnes. Don't expect melody or fixed forms, the basis is almost zen-like, like bubbles of sound welling up out of nothing, unobtrusive and full of wonder. The three instruments play with the softest of touches to create a whole out of these tiny bits of sound, and these sounds themselves are often extricated from instruments in a way that's rarely been done before."
[TOP]
---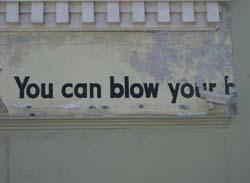 Ackley's Mixed Media Favorites
Lee Konitz
Conversations on the Improviser's Art
Andy Hamilton
University of Michigan Press
Interviews with musicians often bore me, largely because interviewers can't figure out how to get at the good stuff that most creative artists have to share, which they often don't know how to express themselves. Andy Hamilton has put together a series of relaxed and candid conversations with one of the true originals of jazz, alto saxophonist Lee Konitz. The book has been engaging and offers a glimpse into the creative process of this committed artist.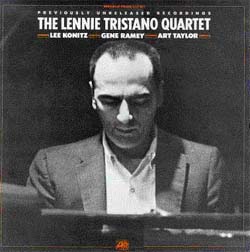 Lennie Tristano Quartet
Live at the Sing Song Room, NYC, 1955
Atlantic Records

Reading interviews with Konitz pulled me back to my favorite recordings of his including, of course, Motion (1961 w/Elvin Jones!), and the 1955 live recording of the Lennie Tristano Quartet at the NYC Sing Song Room where Lee's inventiveness is at one of his many peaks. Unfortunately, word has it that the CD transfer for the date is not good, so look for the LP.
Maya Lin – Systematic Landscapes
famsf.org/deyoung/
Working from computer generated models of the topography of the San Francisco Bay Area, architect and artist Maya Lin has created sculptures and room sized installations which bring the magnitude of our local environment down to the scale of the human body. The work is at once delicate filigreed and rhythmically dynamic. Systematic Landscapes is at the de Young Museum in San Francisco until January 18.
The Grand Piano – Part 7
An Experiment in Collective Autobiography
Mode A
The seventh part (of 10) of this collaborative personal history, which comes out of the writing and times of ten writers who intersected in the Bay Area during the 1970s, is now available. The writers participated in readings at the Grand Piano, a Haight-Ashbury café, and were a part of the cultural milieu of the era. In the current volume Lyn Hejinian chronicles circumstances around the inception of Rova and makes connections between the early impulses which led to the formation of the quartet and other artistic streams and traditions.
Small Press Distribution in Berkeley is a great place to get hard to find publications by adventurous writers, including The Grand Piano series.
Plays Monk
In December Rova played opposite the pianoless trio of Ben Goldberg (clarinet), Devin Hoff (bass) and Scott Amandola (drums) known as 'Plays Monk' at a Berkeley show. Unlike most journeymen jazz musicians who do Monk tunes by playing the head and then blow in a somewhat stiff and doctrinaire manner on the changes, the trio delivered breathtaking readings of several of Monk's perfect compositions: they were spot on from the rendering of the heads to the extrapolation of the forms. While true to the 'changes' (both rhythmically and harmonically), these monastics spoke with their own, substantially developed and original voices throughout. Find and get their CD.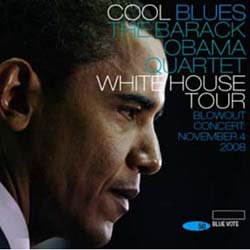 Barack Obama Quartet: The White House Tour
A followup to his 2000 hit recording, Advise and Consent, Obama continues to fulfill the promises of his earlier work and should be topping the charts for the next eight years. Sound relief at long last.
[TOP]
---
Want to sample some of the earlier Improv:21 informances?
We will be uploading one show every two months to RadiOM (the archive website of Other Minds) until the entire series is online. There is a lot of stimulating information in each show.

Here's what's available at the moment:

Rova
John Zorn
Cheryl Leonard
Nels Cline
Fred Frith
Carla Kihlstedt
Gino Robair
Miya Masaoka
Ned Rothenberg
Oliver Lake
Ben Goldberg
To get news from Other Minds click here .

---
[TOP]
Formed in 1977, Rova's been in a state of continual artistic renewal for over 3 decades. Rova:Arts, formed in 1986 to support the activities of Rova, has been instrumental in producing local projects and advancing an ongoing cultural exchange between local Bay Area artists and the international scene through its Rovaté concert series. These events, made possible by funding to Rova:Arts, have engaged Bay Area musicians and composers—as well as musicians from around the world. Rova:Arts projects are often reproduced in other parts of the world, thereby bringing the work to a broader audience. Also, many Rova:Arts events have been recorded, resulting in releases which have been enthusiastically celebrated.
Rova:Arts continues to produce the Improv:21 series, providing a forum for innovative musicians like John Zorn, Fred Frith, Oliver Lake, Miya Masaoka, Roscoe Mitchell, Zeena Parkins and others to share their artistic visions and unique paths to creativity, with you the audience, in an intimate setting.
Click here to find out more and to Join Rova:Arts. Thanks for being part of the art.
---
RovaMySpace
RovaFacebook
CDBaby
---
[TOP]