ROVA NEWS ? (mid) February 2007
---
---
The band's back in town for a minute then off to Austria and the Czech Republic for a quick trip at the end of the month. Then we'll gear up for some local shows, including Rovaté 2007 on April 22. Our communique is coming late, but we want to let you know what's in the mix in the coming weeks.
---
Rova:Arts continues with the 2007 season of Improv:21, our highly successful series of informances on 21st-Century musical improvisation and composition, led by master improvisers from the Bay Area and beyond. This and future Improv:21 events will be co-sponsored by SFPALM in association with Other Minds.

Monday March 12 @ 7PM
WADADA LEO SMITH
The Systemic Language of Music & the Spirituality of Art
San Francisco Performing Arts Library & Museum (SFPALM)


Wadada Leo Smith will talk with you and Derk Richardson about his life in music, perform on solo trumpet and exhibit his scores. He will discuss his compositional systems, his musical language and the incorporation of spirituality into his art. Mr. Smith is one of the most articulate and provocative artists in the world of contemporary music; an inspiring night is guaranteed for all.

Wadada remains a pivotal figure in creative music. As a player, composer/improviser, professor at Cal Arts, and musical theorist, Smith touches upon both the history and future of jazz. His recent collaborations range from work with Henry Kaiser and the Miles Davis tribute band Yo! Miles to guest spots with Spring Heel Jack and include his Golden Quartet and an association with John Zorn's Tzadik record label. The breadth of his work and musical influence are the result of an inner commitment to explore the meaning of sound. He is a tone scientist with an alchemical approach to creativity and has developed a unique and compelling angle on the cosmos of music.
All Improv:21 informances are at 7:00 pm and take place at:
San Francisco Performing Arts Library & Museum (SFPALM)
401 Van Ness Avenue (@ McAllister)
Veterans Building, 4th Floor
415-255-4800 ticket reservation line
or click: Tickets
Directions to SFPALM
Improv:21 programs explore the art and practice of improvisation through a shifting (i.e. "improvised") combination of onstage dialogue, musical demonstration and performance, and audience question-and-answer forum. Reasonably priced and easily accessible, these two-hour events are designed to inform, inspire, challenge, and enlighten a wide-ranging audience, from professional and amateur musicians to listeners of all backgrounds and levels of understanding.
All shows are documented by Ideas in Motion and the first three of these programs from 2005 are now available in streaming digital format at RadiOM, the online archive of Other Minds.
RadiOM.org also See www.rova.org
Watch for details on future Improv:21 informances with:
Chris Brown & Tim Perkis, Bob Ostertag and others.
[TOP]
---
IMPROV:21 with Rova Sax Quartet =Music Envisioned= June 5, 2005
Soon you can view Derk Richardson's interview with composer/saxophonists Larry Ochs, Jon Raskin, Steve Adams and Bruce Ackley at Dance Mission Theater, San Francisco at the Other Minds archives online.
(This is Rova:Arts un-edited camera footage.) running time: 1:31:00
Rova Saxophone Quartet members speak about the influence of the visual arts on their music; live demonstration of Rova's cueing system; audience Q+A. For this and other interviews in the series: please see Improv:21 Interviews on RadioOM
[TOP]
---
Friday, March 2
Rova Special Sextet in St Johann-in-Tirol, Austria
Performing Larry Ochs' Mirror World Special Sextet, featuring Italian percussionists Fabrizio Spera and Cristiano Calcagnile.
Musik Kultur St. Johann
Lederergasse 5
A-6380 St. Johann in Tirol
Tel. +43.5352.61284
info@muku.at
Saturday, March 3
Rova Quartet in Ulrichsberg, Austria
+43.5352...61284
Jazzatelier Ulrichsberg
Badergasse 2 A-4161
Ulrichsberg Austria
http://www.jazzatelier.at

Sunday, March 4
Rova Quartet in Prague, CZ
Palac Akropolis
Kubelikova 27/1548

[TOP]
---
[Curated by Jon Raskin and Phillip Greenlief]
Wednesday, February 21, 200 – 8 pm
1 st set:
Phillip Greenlief/Jon Raskin (saxes) + Kris Tiner/Darren Johnston (trumpets)

2nd set:
Eisenstadt's Ahimsa Orchestra
(Drummer Harris Eisenstadt's large ensemble)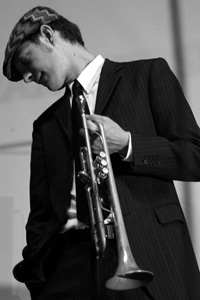 Darren Johnston
For the second year in a row, saxophonists Phillip Greenlief (founder, Evander Music) & Jon Raskin (ROVA Saxophone Quartet) continue the 2 + 2 Concert Series in which the 2 saxophonists invite a pair of "like instruments" to join them to explore new directions in composition and improvisation.
21 Grand
416 25th Street (near Broadway)
Oakland (510) 444-7263
http://www.21grand.org/
Tickets prices are $8 - $15

[TOP]
---
DVDs:
Chen Kaige directs The Prophet
Ever since Crouching Tiger, Hidden Dragon, the artier film directors from Asia have been turning out high-end fantasy / action films. This was made in 2005 and was very hard to find in the USA for awhile–I own a Hong Kong copy–but it appears to be easily available now. One of the lesser known of this genre, but with absolutely beautiful cinematography, The Promise is a deluxe version of a folk legend, with all the lack of logic you also find in European fairy tales and folk stories. The original very long version is the one to see.
Francesco Rosi directs Salvatore Guiliano
…and now for something completely different. While watching this exquisite black and white remastering, I assumed I was discovering another Italian neo-realist film, but in fact this film dates from 1962, and according to some notes I read, was the major influence on Gillo Pontecorvo, director of the better known "Battle of Algiers." (Both films have been remastered beautifully and released on Criterion.) So: "realist film…?" The first 10 minutes and the last 20 minutes are virtually documentary in style. In between you get one high contrast and unforgettable black and white shot after another, and terrific editing. The "story" doesn't matter, but in case you care: Giuliano at 23 became the head of the resistance in Sicilyafter World War 2 (so resisting Italian unification) and eventually was gunned down by an informer. But what you love about this film has nothing to do with the narrative details, but rather the visual details and the editing from scene to scene, as well as sense of place.
Book
R. Buckminster Fuller: Synergetics: Explorations in the Geometry of Thinking. Rovate 2007 is coming up on April 22. But I am already thinking about Rovaté 2008. If the funding works out, for the fourth year in a row we will be collaborating with visual artists. More on this another time, but in working up a plan of action with the 2008 collaborators—a United Kingdom collective called semiconductor (see www.semiconductorfilms.com where you can buy one of their digital animation collections)—we discovered a mutual admiration for the writings of Bucky Fuller. This re-investigation of a sixties icon had been something of a move of desperation for me. I was so bummed by our political leaders and the entire aura of fear and negativity that they have successfully generated, that I was looking for someone or something positive to read in the non-fiction realm. I remembered Fuller's hyper-optimism and thought I'd see if it still read well. It reads much, much better for me now than it did in the early seventies. Synergetics is the third book I've dipped into, and I can't say this is the best introduction to his world—very dense, literally lists of thoughts…but it's the most complete picture of his ideas, and full of things to think about. It's also been reprinted by the co-author on line, so you could dabble up there. At 724 pages though, eventually you'll have to pull the trigger and buy a used copy. (There's no sign of this book coming available anytime soon.) His ideas make too much sense for that to happen!
http://www.rwgrayprojects.com/synergetics/toc/toc.html)
DVD-ROM
The Magical World of Joseph Cornell
While on tour on the East Coast two weeks ago, Rova found itself with two entirely free hours in Washington DC. On a tip we made our way to the Smithsonian and caught a—a what? Yes, a "magical" exhibit of Joseph Cornell's works. Also on display there was the above-mentioned DVD ROM which you can find online at http: //www.voyager-foundation.org. Here is their introduction to this DVD-ROM which I thought was pretty special and perhaps the next best thing to seeing some his works in person.
Note: This disk does NOT contain the entire exhibit, but what it does show you, it presents beautifully.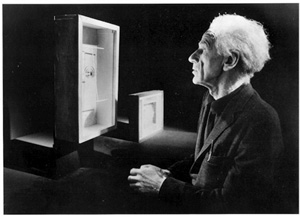 Joseph Cornell constructing one of his 'boxes'
"Joseph Cornell (1903-1972) was one of the most important American artists of the twentieth century. In his boxes and collages, he assembled a mixture of bits of popular culture, classical art and literature, obscure scientific texts and theories, creating compelling formal and playful, interactive private worlds. Composed of earthly, often humble, cast-offs, Cornell's work is frequently transcendent, evocative of dreams and pointing to the heavens.
The Magical Worlds of Joseph Cornell DVD-ROM offers unprecedented access to Cornell's work, providing multi-dimensional views of some of his best boxes. This intimate exploration gives a virtual hands-on experience of these objects as well as a unique insight into the artist's working materials and methods."
[TOP]
---
Electric Ascension – Philadelphia: Reviewed
The following review of Orkestrova's February 11 th Philadelphia performance appeared on writer Ron Silliman's blog the following week. (Ron was writing, doing readings and in the audience for Bay Area improv concerts from pre-Rova days.) We think his ears and instincts are still intact and found his reflections worth sharing.
| | | |
| --- | --- | --- |
| Andrea Parkins | | Ochs and Andrew Cyrille |
When ROVA:Orkestrova's Electric Ascension started last Saturday night at Philadelphia's International House, the audience hadn't even stopped chatting amongst themselves. Maybe it was the way in which turntablist Marina Rosenfeld's first manipulations of her dub plates – digitally prerecorded electronic music pressed into large acetates, not unlike the old "masters" for LPs or 78s, which Rosenfeld then handles much the way hip-hop DJs do commercial records – echoed the effects of an orchestra warming up. Gradually the rest of the semicircular arc of musicians join in – Wilco guitarist Nels Cline; Andrew Cyrille, veteran of more than 100 CDs with everyone from Dave Burrell to Anthony Braxton, on drums; bass guitar maestro Trevor Dunn, a one-time member of Mr. Bungle; violinists Carla Kihlstedt and Jenny Scheinman; and Andrea Parkins on a giant white electric accordion as well as laptop electronics. The volumes & complexities build.
Finally, the ROVA portion of the "Orkestrova" kicks in as Larry Ochs, Bruce Ackley, John Raskin & Steve Adams of the ROVA saxophone quartet come in. By now, the 400-seat theater is utterly filled with a solid wall of sound. The only time I've ever heard anything like it in my life was a Paul Butterfield Concert at UC Berkeley, circa 1965, where the Chicago blues band turned its volume up to max & wailed. The feeling tonight, tho, is different. It's not about volume, but about fullness. If it's a wall, it's a remarkably Louise Nevelson kind of structure, not the slightest monolithic or totalitarian. But it is unquestionably overwhelming. Your immediate instinct is to check your "fight or flight" reaction. And you can feel the 300 or so other souls in the audience doing likewise. But almost instantaneously, you begin to hear into the music, as the Orkestrova begins to explore the intent & possibilities of John Coltrane's vision of epic improvisation.
Electric Ascension is an arrangement of John Coltrane's 1965 masterwork, Ascension, in which Coltrane attempted – whether he succeeded or not has been a point of contention for over 40 years – to create a form for intense improvisation within the big band form. ' Trane also used 11 musicians: five saxophone players (himself, Archie Shepp & Pharoah Sanders on tenor sax, Marion Brown & John Tchicai on alto), two trumpets (Freddie Hubbard, Dewey Johnson), McCoy Tyner on piano, two bass players (Art Davis & Jimmy Garrison), and Elvin Jones on drums. Coltrane's version – he recorded it twice & actually switched versions midway through the original release of the LP – runs roughly 40 minutes.
In 1995, ROVA and the late Glenn Spearman teamed up to form the "5 sax" core of a recreation of Ascension, with Dave Douglas & Raphe Malik on trumpets, George Cremaschi and Lisle Ellis on bass, Don Robinson on drums, with Chris Brown on piano. While this version was faithful to the instrumentation of Coltrane's original, it has – at least in the ears of the two ROVA members with whom I discussed this over cheese cake in a student bar after the concert – something of a "historical re-enactors" feel to it.
So in 2003, ROVA set out to do it again, but with a new arrangement that incorporates the latest trends in contemporary music ensembles. In the version that was recorded by KFJC & released as the Electric Ascension CD, Robinson is still on drums & Chris Brown is still involved, now on electronics. The string section – Kihlstedt & Scheinman – is the same as played at I-House on Saturday. And you will find Nels Cline still on guitar. On the recorded version, however, Fred Frith handles the bass, Otomo Yoshilhide the turntables & Ikue Mori operates the drum machines in lieu of an accordion. The CD is superb, but you will need great speakers and a lot of volume to get even a remote sense of what we heard at I-House.
This is where the question of live vs. recorded music, especially in a genre with a lot of improvisation, becomes especially acute. Two of the musicians on Saturday – Rosenfeld on turn tables & Cyrille on drums – were tackling the composition for the very first time. Others have been there for each of its nine or ten performances to date. In any event, the transformation into a new arrangement with new instruments removes any impulse toward literal recreation: the most you get are the reiteration of certain key themes, particularly at the beginning & end. As the piece evolves – there are a remarkable number of potential combinations to consider, tho the final project is actually spare in terms of the number it deploys – some remarkable moments & explorations occur – the high point Saturday (for me at least) was the violin duet between Kihlstedt & Scheinman, who've collaborated on more than a few projects together since they first met at Oberlin – it was both a collaboration &, it felt, a contest almost in the rap challenge or "doing the dozens" sense.
My program has notes scribbled over it describing my sense of the feeling of the overall project during the course of the 60-plus minutes that the Orkestrova takes to work its way through Coltrane's 40-minute map: wall → ocean → forest → cathedral. Each, it occurs to me in retrospect, represents a stage of increasing involvement & differentiation, from the impenetrability of the initial wall through the dive into to the overallness of the ocean to some individuation of details (literally the trees within the forest) to, finally, a resonant & remarkably symmetrical sense of architectural form.
This was the first time in the non-quite-twelve years that I've lived in Philadelphia that ROVA has played here, and it occurred to me that one of the things I miss most about not living in the Bay Area is not being able to hear this group two or three times each year. There are early sections of The Alphabet, Blue in particular, that were written almost entirely either at live jazz events in San Francisco (especially the large free jam sessions at Pangaea on Bernal Heights that often would involve two or three members of ROVA's original lineup, plus others such as John Gruntfest). Although the expansion of distribution, from houses like the Jazz Loft or the Downtown Music Gallery (which is just up the street from the Bowery Poetry Club in Manhattan), has improved greatly in recent years, Saturday's event reminded me no amount of CDs or downloadable MP3s can replace the three-dimension experience of literally being in the music at a live performance, especially one that has as many ideas, as densely & intensely packed, as this one. So here's to the Ars Nova Workshop, who sponsored the ROVA Orkestrova last Saturday, and which has been a fabulous addition to our local music ecology. Mark Christman, the secret sauce of the Ars Nova project, has been doing a great job. Thank you, Mark!
[TOP]
---
OM Seance to conjure rarely heard scores
A Benefit for Other Minds
With Sarah Cahill (piano), Kate Stenberg (violin), and Eva-Maria Zimmermann (piano)
Saturday, February 24, 2pm, 5:30pm, and 8pm
Swedenborgian Church, San Francisco
Tickets: $20, $35, $50 (sliding scale)
A New Music Seance is coming Saturday, February 24, with three concerts in the historic and candlelit 1895 Swedenborgian Church in San Francisco . Presenting hypnotic, spiritual, and rarely heard musical gems spanning the past 100 years, A New Music Seance features noted pianist Sarah Cahill and the violin-piano duo of Kate Stenberg and Eva-Maria Zimmermann channeling new music's progenitors alongside composers working today.
Ticket sales benefit Other Minds and its programs, and support OM's ongoing efforts to bring innovative music and diverse voices to audiences. Seating is general admission and tickets are available on a sliding scale.
To purchase tickets, call (800) 838-3006 or visit
http://www.brownpapertickets.com
For more about the Seance program and artists, visit
http://www.otherminds.org/shtml/Seance2.shtml
SEANCE HIGHLIGHTS
Don't know which concert to attend? How about all of them! Here are some highlights from OM Executive and Artistic Director Charles Amirkhanian:
CONCERT ONE
Pianist Sarah Cahill opens the event with Prayer, Op. 1, the unpublished work of a remarkable man, Dane Rudhyar—humanistic astrologer, poet, painter, composer, and essayist. The score is signed in his original name, Daniel Chenneviere.
The U.S. premieres of two unpublished works of the Austrian composer who claimed to have invented the first 12-tone system, Josef Matthias Hauer, will be performed by Kate Stenberg (violin) and Eva-Maria Zimmermann (piano). They were obtained through the kind offices of pianist Gerhard Zeller of the Hochschule fuer Musik und darstellende Kunst in Arnold Schwarzenegger's hometown, Graz.
Swiss pianist Zimmermann also will perform the U.S. premiere of Nature Vivante by Wladimir Vogel, a Swiss composer whose unpublished score was obtained from a library there.
San Francisco 's own Dan Becker supplies us with two works in their world premieres for Yamaha Disklavier solo.
CONCERT TWO
Danish composer Pelle Gudmundsen-Holmgreen, one of the most eccentric talents in Scandinavia, is represented by Double for Violin and Piano in its U.S. premiere.
Percy Grainger, no stranger to eccentricity, will be heard in his piano three-hands work The Immovable Do (as in do re mi), during which the second pianist plays a single note repeatedly as a ground bass.
Carl Stone's Ho Ban, a gloss on Satie's Gymnopedie No. 1, provides a lovely interlude.
The Hindemith-inspired music Cylcus Nos. 13-18 by James Cleghorn, friend of Lou Harrison's and known to generations as an extraordinary librarian at the San Francisco Public Library, will be premiered by Sarah Cahill.
CONCERT THREE
Ernst Bacon's happy Pig Town Fling is an Americana send-up of the Highland Fling, played by Sarah Cahill.
William Albright's ghostly rags are unforgettable and Eva-Maria Zimmermann conjures them here.
Annea Lockwood delves into the piano's inner workings in Ear Walking Woman , performed by Cahill.
Ronald Bruce Smith's Tombeau, a tribute to the late San Francisco Conservatory of Music vocal professor and tenor Donald Stenberg, is given its world premiere by daughter Kate and Ms. Zimmermann.
Two of the greatest works of Conlon Nancarrow, Study Nos. 12 and 25, are performed on the Yamaha Disklavier, courtesy of Piedmont Piano Company.
For complete program information, visit www.otherminds.org/
[TOP]