:: ROVA NEWS Febuary - March 2011 ::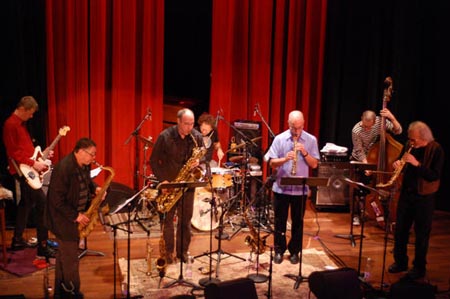 Rova's recent local shows at the Subterranean Art House and at CNMAT (both in Berkeley) were evidence that the band is eager to play and is mining new areas for investigation. There was a lot of thoughtful and engaged improvising going on at both shows. The quartet is ready to join the Nels Cline Singers for our east coast swing later this month. Our new CD, Planetary, will hit the streets officially on February 15; we're excited about the results and hope you'll be listening. Rova will be out at the Dance Palace in Point Reyes this month for the first time in over 20 years! We had several memorable performances at this great venue during our early years. Take a drive to hear us in a unique setting. Check what Steve's been listening to.
We were happy to learn in December that Rova's New York City show at the Stone last March was picked by All About Jazz New York as one of the 'Concerts of the Year' for 2010. The magazine also chose The Celestial Septet CD as one of the 'Albums of the Year'.
Upcoming RovaShows
Rova at the Dance Palace – Point Reyes Station
Saturday, February 19, 8:00 PM
In a rare performance in West Marin, Rova will venture out to the Dance Palace for a 2 set concert of new and recent works. This is a fantastic hall in a wonderful rural setting for some adventurous acoustic music.
The Dance Palace
503 B Street
Point Reyes Station
(415) 663-1075
ww.dancepalace.org
Directions
Buy tickets
$26 General, $24 Seniors, advance purchase
$29 General, $27 Seniors, at the door/day of event


Rova at the Berkeley Art Museum
Friday, April 1, 7:30 PM
L@te Friday Nights at BAM
Berkeley Art Museum
2626 Bancroft Way
2621 Durant Avenue
Between College and Telegraph
Directions / Parking
---
The Celestial Septet in Flight
The seamless match-up of the Nels Cline Singers and Rova has been going on since the two bands began to play together 5 years ago, but our fellowship with the players reaches back to Yo Miles! performances at the Fillmore in 1999 and various versions of Electric Ascension presented over the past 10 years. We're especially excited that Trevor Dunn is now the bassist with the Singers and will be on board for this Celestials concert series.
"The Celestial Septet is a vehicle for time and space travel through dense, narrow thickets and airy, wide expanses of boundary-blurred extrapolations of jazz, rock, late-20th-century European modernism and American minimalism, and 21st-century postmodern fusions," writes Derk Richardson in the liner notes of the Septet's recent New World Records release. "The trip is challenging, but the open-minded listener/traveler cannot help but come through the experience with new perspectives on sound and music."

Our upcoming 5 concert trip to the east coast is an exciting opportunity for many reasons: we'll get to play 5 nights consecutively to really get down into the music; east coast folks will get a chance to hear this explosive ensemble present its work live; and, we will be able to export one of our finest collaborations to 5 major music centers in the US for the first time.

Below is our tour schedule. Spread the word! This is a knockout band!
PHILADELPHIA - Tuesday, February 22
8:00 PM
The International House
www.ihousephilly.org
AMHERST, MA - Thursday, February 24
8:00 PM
Bowker Auditorium
$12; students: $7
www.umass.edu
BOSTON - Friday, February 25
7:30 PM
Institute of Contemporary Art - Boston
100 Northern Avenue on Boston's Waterfront
www.icaboston.org
NEW YORK - Saturday, February 26
8:00 PM
Le Poisson Rouge
158 Bleecker Street
Phone: (212) 505-FISH (3474)
lepoissonrouge.com
BALTIMORE - Sunday, February 27
7:30 PM
The Windup Space
12 W. North Ave
Baltimore, MD 21201
www.thewindupspace.com

---
Planetary CD Release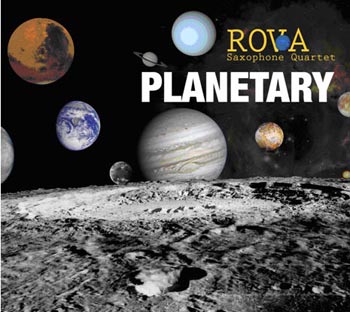 "Hard to believe that only now are we seeing the first Rova Saxophone Quartet recording released in Russia – so long and eventful is the history of the group's love affair with this country." Alexander Kan, Russian liaison on Rova's first tour of Romania, Russia and Latvia in 1983, begins his liner notes of our new CD, Planetary, released on the Russian label, Solyd, with contextual anecdotes that trace the history of our relationship with that country's listeners. His insightful stories, along with compositional notes by Adams and Ochs, round out this release of our first quartet recording in three years—available on February 15.



Track Listing:
1. Parallel Construction #1 (Adams)
2. S (Ochs)
3. Flip Trap (Adams)
4. Glass Head Concretion (Adams)
5. Planetary (Ochs)
6. Parallel Construction #2 (Adams)

2003 and 2009 recording sessions contributed to Planetary, so the disc gives a sense of the scope of the work we've been engaged with during that stretch.


From Seth Watter of All About Jazz – New York:
Planetary, the latest chapter in ROVA's discography, is worthy of their genius. All the typical ROVA traits are there: the rich mixture of soprano, tenor, alto and baritone saxes; the angular, dynamic, cerebral themes that knit the solo sections together; the emphasis on chance and gaming within tightly controlled settings; the complex changes in time signature and microtonal investigations and, above all, the sense of dramatic verve that Jon Raskin, Larry Ochs, Steve Adams and Bruce Ackley bring to every project they pursue. The title is apt for two reasons, one being that ROVA's music resembles nothing so much as a Perseids shower amid the staid and majestic rotation of the planets. The second reason is less rarefied but apt: Planetary is the first official release of ROVA's music in the former Soviet Union, one of the many nations in Eastern Europe with which this highly international group has been in dialogue for the 30+ years of their existence.
---
Other Local Shows
Wednesday, February 9, 8:00 PM
Maybe Monday
Freight & Salvage Coffeehouse
2020 Addison Street
Berkeley
(510) 644-2020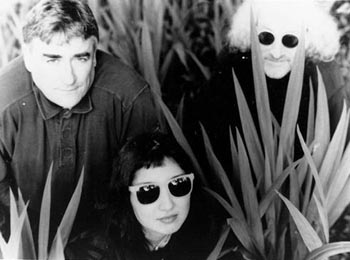 Larry says: The band performs in the Bay Area for the first time since ....???
This is the first concert anywhere since 2006 in NYC. And it's the only one I know about this year, so it will be special for me, and I imagine for any one able to make it. I'd call it a "reunion concert" but hopefully there won't be any nostalgic replays, just a moving of the sounds further and deeper.
Sunday, March 6, 8:00 PM
Adm. Ted Brinkley's Horn Blower Cruise
Check out the brilliant composer and pianist Graham Connah's ginormous ensemble, featuring an all-star cast too numerous and unpredictable to mention (and including Rova's Steve Adams!)

The Jazz School
2087 Addison
Berkeley
510-845-5373

www.jazzschool.com
Favorite Street – Steve Adams
Steve Adams' Favorite Street - New Bands (to me, anyway)
I've always been interested in finding new bands, learning about music people are making that I hadn't been aware of. I don't find exciting new bands as often as I used to – age? the times we live in? - but I have heard several lately that I was very impressed with.
Fieldwork is the most remarkable of the lot to me. A trio of Vijay Iyer, Steve Lehman and a drummer, either Tyshawn Sorey or Elliot Humberto Kavee on records, they totally tear it up. I have two of their recordings, Door and Simulated Progress (on Pi recordings,) and both are collective efforts in the best sense. Everyone writes and the aesthetic is not about solos, it's about everyone moving the music forward all the time. The writing is very fresh and is perfectly suited to the concept. It's also interesting that they make frequent use of two things that don't have a lot of inherent appeal to me, microtones and odd meters, and I love what they do with them. (www.pirecordings.com)
The Respect Sextet is a group of younger musicians who met at the Eastman School of Music. I picked up their first CD when we were in the area and liked it, and I like their new one Sirius Respect: The Respect Sextet plays the Music of Sun Ra & Stockhausen (Mode/Avant) even more. Hard not to when they're playing pieces by two of my all-time favorite musicians, but they approach them in creative, thoughtful ways, so that it's not just bouncing back and forth between the two sound universes. (www.respectsextet.com)
blink is a band from Chicago that has released one CD on Thirsty Ear called the epidemic of ideas. Like the Respect Sextet they seem young and fearless and have found their own space in the world of improvised music. (www.thirstyear.com)
Ideal Bread is a band dedicated to the music of Steve Lacy led by baritone saxophonist Josh Sinton. He sounds great digging into these rewarding pieces and it's wonderful to hear new slants on the compositions. Their latest CD Transmit is on Cuneiform - (www.cuneiformrecords.com).
Bait & Switch is led by local bassist Lisa Mezzacappa. It's what she calls a "garage jazz" group, which is an accurate label. It's committed, raw in a good way and has excellent players in Lisa, Aaron Bennett, John Finkbeiner and Vijay Anderson. Plus a cover version of Captain Beefheart's Lick My Decals Off, Baby! (www.cleanfeed-records.com)

Special thanks go to radio stations KFJC and KALX for exposing me to several of these exciting new finds and for generally playing the kind of adventurous programming that we need more of.
And, one footnote - I'm too late for the holidays, but if you enjoy Christmas music and/or funk, you owe it to yourself to get Christmas is 4 Ever by Bootsy Collins. I've had it for four years now and it's become an indispensible part of the season for me. It's endlessly entertaining. (www.bootsycollins.com)
[TOP]
Other Minds 16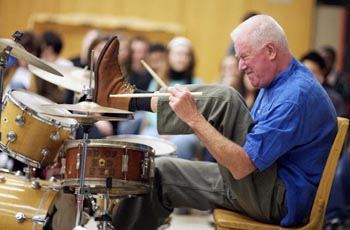 Other Minds 16 features nine maverick composers from around the world in concerts and panel discussions: Holland's Louis Andriessen; Balinese guitar phenom Balawan; the Seattle Chamber Players performing works by Agata Zubel (Poland), Kyle Gann (US) and Janice Giteck (US); Dutch jazz and improv pioneer Han Bennink with special guest Fred Frith; and premieres of commissioned works by Jason Moran and David A. Jaffe, with a special installation by world-renowned sound sculptor Trimpin.
Thursday, March 3
Special guest ensemble Seattle Chamber Players will kick off the festival with works by Louis Andriessen, Kyle Gann, Janice Giteck, and vocalist-composer Agata Zubel, who will join SCP onstage for her riveting work Cascando. Violinist-vocalist Monica Germino will also take the stage for Andriessen's Le Voile de bonheur.

Friday, March 4
This exceedingly eclectic program will include Dutch improvising legend Han Bennink on drums with local hero Fred Frith, another incredible guitarist in I Wayan Balawan (Indonesia) with special guests including Scott Amendola, a piece for voice and electronics by Agata Zubel, and the world premiere of a new work by Berkeley composer David A. Jaffe, featuring percussionist Andrew Schloss, Del Sol String Quartet, Left Coast Chamber Ensemble, and a special installation by Trimpin (OM 1).
Saturday, March 5
The final concert of OM 16 will bring back to the stage Andriessen and Gann, the former with Germino and the riveting Italian soprano Cristina Zavalloni, and the latter featuring the Bay Area's "fiercely gifted" (NY Times) pianist and new music advocate Sarah Cahill. The festival will close with a bang, provided by the premiere of a new work, commissioned by OM, by 2010 MacArthur Fellow Jason Moran.
Visit www.otherminds.org for complete details or buy your tickets here:
www.jccsf.org
[TOP]
RadioOM – Improv:21 Archives
Want to sample some of the Improv:21 informances?
We will be uploading one show every two months to RadiOM (the archive website of Other Minds) until the entire series is online. There is a lot of stimulating information in each show.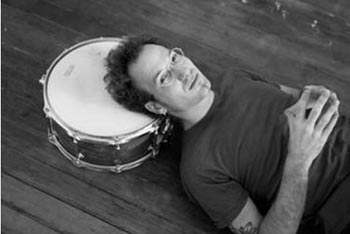 Here's what's available at the moment. The Mark Dresser and Scott Amendola events have just been added. FYI, Scott is the amazingly creative and energetic driving force behind the drum kit in the Celestial Septet.
Scott Amendola: Performance and Interview (2008)
Recorded on May 21, 2008, percussionist and composer Scott Amendola is interviewed by Derk Richardson at the Marsh, in San Francisco. The event begins with Amendola improvising on his normal drum kit, augmented by an assortment of samplers, digital loops, carefully placed microphones, and various other electronic devices. Scott then settles in for a fascinating discussion of his early influences, and his gradual evolution, through collaborations with a variety of talented musicians and composers which have expanded his definition of what music is. With Amendola the key has always been a fascination with sound, and in never closing ones mind to the full range of possibilities.
Scott Amendola
Mark Dresser
Roscoe Mitchell
Chris Brown and Tim Perkis
Zeena Parkins
Bob Ostertag
Wadada Leo Smith
Lawrence "Butch" Morris
Rova
John Zorn
Cheryl Leonard
Nels Cline
Fred Frith
Carla Kihlstedt
Gino Robair
Miya Masaoka
Ned Rothenberg
Oliver Lake
Ben Goldberg
To get news from Other Minds click here.
---
Join the Rova:Arts Community
Become a Fan on Facebook!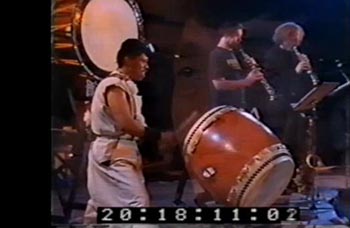 Already a fan? Encourage your Facebook friends to become Rova:Arts fans. When we hit 1,000 Facebook fans, we'll give every fan access to a video of the 40-minute Rova + San Francisco Taiko Dojo collaboration from the 1989 Leverkeusen Jazz Festival (in Germany)! This is the only video recording of the extended piece Dance of the Maroons, composed by Jon Raskin and Rova for this special ensemble in 1988. Long thought to be lost, this uncut footage is something special; it will not be shown until we reach 1000 fans—and then will only be available online for two weeks before being taken down. The only notice of the video's availability will be posted on Facebook.
www.facebook.com/pages/RovaArts/

Stay Tuned
You can stay in touch with all Rova:Arts activities through our website, the Rova newsletter, and our FaceBook and MySpace pages. See links at the bottom of the page. Also, check out Rova on YouTube! Subscribe to our channel and be notified when there are new Rova videos for you to watch. Go to www.youtube.com and click the subscribe button.

---
Contribute to Rova:Arts
We want to express our deepest gratitude to all the generous private and public donors who contribute to Rova:Arts. Your support has been essential to the successful presentation and documentation of our projects over the year. Now that we're at the end of 2010, we hope those of you who do contribute to the arts annually will consider Rova:Arts as we get ready to dive into 2011.
Here's what your contribution will help us with next year:
− Successful dissemination of a new Quartet recording called Planetary, being released in February.
− Preparation and live performance of 33 1/3 at Rovaté 2011 on Saturday, June 4. Produced by SF Jazz in association with Rova:Arts, this is the exact date of Rova's 33 and 1/3rd anniversary of our first concert in 1978. Not coincidentally the concert will feature Rova plus 2 great turntablists: DJ Olive and DJ P-Love from New York.
− In conjunction with #2 above, we will release 300 copies of a limited-edition LP (no digital!); the only available recording of the heralded 2010 concert at Yoshi's by John Zorn and Rova as a quintet.
− A special one-time performance at Berkeley Art Museum on April 1 in L@TE: Friday Nights @ BAM, curated by Sarah Cahill.
− Website redesign and higher profile work on the internet in an effort to bring more listeners to the music of the 21st century that involves improvisation.
And more.....
About Rova:Arts
Rova:Arts, formed in 1986 to support the activities of Rova, has been instrumental in producing local projects and advancing an ongoing cultural exchange between local Bay Area artists and the international scene through its Rovaté concert series. These events, made possible by funding to Rova:Arts, have engaged Bay Area musicians and composers—as well as musicians from around the world. Rova:Arts projects are often reproduced in other parts of the world, thereby bringing the work to a broader audience. Also, many Rova:Arts events have been recorded, resulting in releases which have been enthusiastically celebrated.
Click here to find out more and to Join Rova:Arts. If you are interested in getting involved in a more hands-on-way, feel free to contact us: www.rova.org. Thanks for being part of the art.

:: WATCH FOR MORE ROVA NEWS IN APRIL ::
Be sure to visit us online:
Rova.org

RovaMySpace
RovaFacebook
CDBaby
---
[TOP]