April 2007
---
---
We're on the verge of another Rovaté 'season', our annual concert event in which we collaborate with other artists to present new work—this year presented in two mixes (April 22 and June 10). And, join us for in depth conversations with artists cutting their own paths as Improv:21 continues. And, check out what Bruce has been fueled by in the art department lately.
---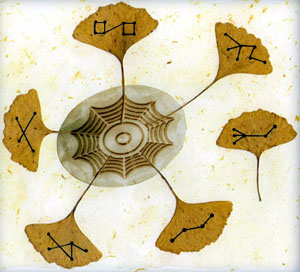 from Jon Raskin's Gingko
In the last few years we've been exploring graphic scores in Rova. It's been very interesting investigating the possibilities there, and checking out the history and resonances of the idea.
Note: Graphical music notation is characterized by non-traditional musical symbols arranged in a visual design rather than conventional musical syntax.
Graphic notation emerged in the early twentieth century because of a growing feeling among some composers that traditional Western notation was inadequate for their musical ideas. See: Picture s of Music at the Block Museum
This season we have invited seven compelling performers and a guest composer to work with Rova to take a visual point of departure.
Join us for Rovaté 2007: Mix 1 on April 22, and Mix 2 on June 10
Eye Music for Ears - MIX 1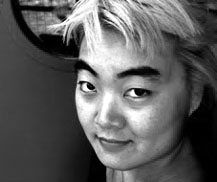 cellist Theresa Wong
April 22 at 8 pm
ODC Theatre
3153 17th Street at Shotwell Street
San Francisco
Rova – saxophones
with
Joan Jeanrenaud
– cello
Theresa Wong
- cellos
Mark Dresser
- bass
Mark Trayle
– electronics
Performing new works by Steve Adams, Jon Raskin and visual artist Amy Trachtenberg.
ODC Theater Box Office
Hours: Wed-Sat 2-5pm
Tel - 415/863-9834
info@odctheater.org
Tickets Online
www.odctheater.org/
Steve Adams cites the following as influences on his thinking about composing with graphic imagery:
Agon Orchestra: Graphic Scores and Concepts by Petr Kofron and Martin Smolka - This book with accompanying CD documents the graphic pieces that this Czech group has played and gives detailed explanations of how they developed their interpretations of scores that range from clarity to complete ambiguity. It's a real eye and ear opener.
Kandinsky: Watercolors and other Works on Paper by Frank Whitford - Kandinsky has been a huge inspiration to both Jon and me. There are lots of good books covering his work but this one is of particular interest since I work largely in watercolor on my scores. His use of rhythm and form and his many ways of expanding a personal language never fail to excite.
The Splendor of Islamic Calligraphy by Abdelkebir Khatibi and Mohammed Sijelmassi - The idea of calligraphy connects to traditional music notation and has been a way for me to think about new notational possibilities. Islamic calligraphy has been developing in many surprising ways for centuries.
Brion Gysin: Tuning in to the Multimedia Age edited by José Férez Kuri - Gysin was a collaborator of William Burroughs and Steve Lacy and is probably best known as a writer. But he also had an equally interesting career as a visual artist, including a large series of paintings that are working from calligraphy. He took the idea to some unique and beautiful places.
Hans Richter: Activism, Modernism and the Avant-Garde edited by Stephen C. Foster - Richter did many things in his long career including, like Kandinsky, creating visual art that connected to music. I'm fascinated by the development and variation in his Constructivist pieces.
[TOP]
---
Produced by Rova:Arts, Improv:21 is an ongoing series of "informances" on twenty-first century music exploring the connections between composition and improvisation. San Francisco Performing Arts Library & Museum (SFPALM), in association with Other Minds , is pleased to co-sponsor the 2006-2007 season. The series is led by master improvisers and composers from the Bay Area and beyond. Hosted by Derk Richardson
Monday, May 25 - 7:00 pm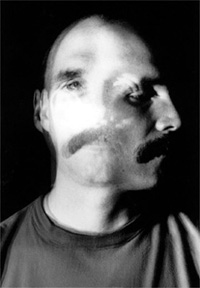 BOB OSTERTAG will discuss with you and host Derk Richardson the themes that have been the focus of all his work for 30 years: the intersection of art, politics, and technology. The conversation will touch on his disappointment with the direction of electronic music; his recent decision to put his catalog of recorded works in the public domain; his experiments with using technology to create new relationships between musicians. Over the last two decades, much of Ostertag's work has considered the tensions between machines and the human body in art, and has attempted to open a lens through which to view those tensions in society—tensions that are increasingly central to our time.

Composer, performer, historian, instrument builder, journalist, activist, kayak instructor Bob Ostertag's work cannot easily be summarized or pigeon-holed. He has published 21 CDs of music, two movies, two DVDs, and two books. His writings on contemporary politics have been published on every continent and in many languages. Electronic instruments of his own design are at the cutting edge of both music and video-performance technology.


All Improv:21 informances are at

7:00 pm

and take place at:

San Francisco Performing Arts Library & Museum (SFPALM)

401 Van Ness Avenue (@ McAllister)

Veterans Building, 4th Floor

Directions

to SFPALM

Admission is $10. Space is limited and paid reservations are recommended.
Call 415-255-4800 or purchase online at ww w.sfpa lm.org. Watch for details on future Improv:21 informances with:

Bob Ostertag, Joan Jeanrenaud & Willie Winant and others.

rova.org/improv:21


[TOP]
---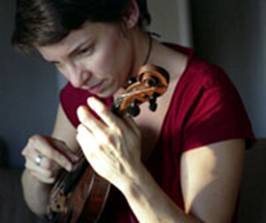 Watch an informance with Kihlstedt and Derk Richardson
On September 14, 2005, Derk Richardson interviewed singer/violinist/composer Carla Kihlstedt at The Thick House in San Francisco. Kihlstedt studied music at Oberlin where her interests expanded from the classical repertoire to more improvisational and avant-garde music. In 1997 she co-founded the group Tin Hat Trio with Rob Burger and Mark Orton, and has also played with 2 Foot Yard and Sleepytime Gorilla Museum. In this interview she speaks about her influences and her improvising concepts in a far-reaching discussion including excerpts of rare recordings and audience Q+A.
View Run Time: 02:00:00
Radiom.org
[TOP]
---
2 + 2 Concert Series
For the second year in a row, saxophonists Phillip Greenlief (founder, Evander Music) & Jon Raskin (ROVA Saxophone Quartet) will present a series of concert in which the 2 saxophonists invite a pair of "like instruments" to join them to explore new directions in composition and improvisation.

April 26, 2007 – 8 pm

Phillip Greenlief & Jon Raskin - saxes
Ignaz Schick & David Kendall – electronics, turntables


Harris Eisenstadt's Ahimsa Orchestra


May 9, 2007 – 8 pm
Phillip Greenlief & Jon Raskin - saxes
John Hanes & Gino Robair – drums, percussion
Dan Plonsey's Daniel Popsicle
21 Grand
416 25th Street (near Broadway)
Oakland
(510) 444-7263
http://www.21grand.org/
Tickets prices are $8 - $15, sliding scale
[TOP]
---
Here's rambling sampling of input that's made an impact on me, my listening and playing, in recent months.

RECORDINGS
Morton Feldman – Piano and String Quartet
Kronos Quartet with Aki Takahashi, piano
Nonesuch – 1993
Feldman nearly always charms and delights me, but this disc is particularly well wrought. I keep coming back to it.

Evan Parker – withBirds
Treader – 2005
Evan put this enchanting piece together with John Coxon and Ashley Wales—known as drum 'n' bass duo, Spring Heel Jack. It's dedicated to Steve Lacy.

Ray Nance – The Complete 1940 – 1949 Non-Ducal Violin Recordings
(featuring BEN WEBSTER on clarinet!!)
Ab Fable CD – 2005


Duck Baker turned me on to this gem. Imagine that husky and brutish tone of Webster's tenor but on Bb clarinet. The 7 clarinet tracks from a swing jam session in 1941 included on this CD are ear-opening and the only known recordings of Ben Webster on clarinet. Nance, as usual, is cool too.
FILMS
Harlan County, U.S.A. – Barbara Kopple (1976)
Criterion recently issued this Academy Award winning documentary film, first released in 1977. Kopple created a chilling and intimate story of working class Americans in the throes of a modern labor struggle in rural Kentucky. It's gorgeously shot and the music she used is great too.

Wanda – Barbara Loden (1971)
Written, directed by and starring Barbara Loden, this realistic and startling portrait is akin to John Cassavetes best work—but perhaps better. It's the only film Loden directed (although she played Warren Beaty's sister in Spleandor in the Grass).

Black Narcissus – Michael Powell (1947)
British director Powell was the creator of The Red Shoes, and this movie has some of that same surprising exoticism. The acting, lighting and sets all make it worth seeing.

BOOKS
Slowly – Lyn Hejinian
Tuumba Press – 2002
I've slowly come to this—another deeply engaging piece by a very special poet.

Steve Lacy: Conversations – Jason Weiss
Duke University Press – 2006
Second to Lacy's solo recordings, his interviews over the years have provided the clearest insights about his thinking. The editor has put together some of his best talk, and has delivered a valuable rendering of Lacy's development as an artist.

Harmony Book – Elliott Carter
Carl Fischer – 2002
I'm struggling to really swing with this, but always get a fresh look at intervals and note schemes after spending time with this compositional master's compendium of chords and intervals.

The Grand Piano – Parts 1 & 2 San Francisco, 1975-1980
An Experiment in Collective Autobiography
Mode A – Detroit 2006 and 2007
These are the first two volumes of what will be a 10 book piece chronicling some creative adventures and interactions of a group of innovative writers who called San Francisco home during this period. Rova was born in this era, and these writers give us an informed view of times shared 30 years ago.

VIDEO
Cheese and Crackers - Chris Haslam and Daewon Song
Touted as 'not your average skate video' this over-the-top slice of skateboard virtuosity is a breathtaking balletic duet by some awesome skate dudes.

See you after the show……….

[TOP]