---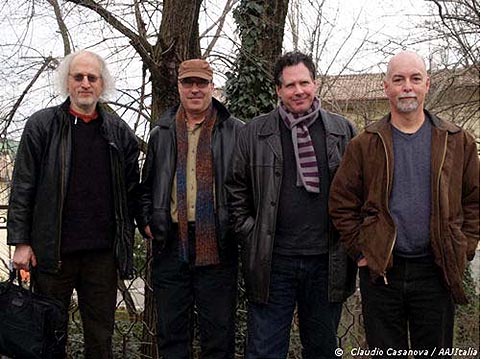 Rova in Forli, Italy ? March 2008
---
---
An especially satisfying March European tour in artistic terms has initiated our 2008 season. The playing was focused and energetic and the audiences were responsive. Jon and Steve's graphically scored compositions, which were the subject of last year's Rovaté, were central to our sets and to the lecture-demonstration we conducted in Tours, France. And, Larry's The Mirror World (Rovaté 2005) was presented in collaboration with two Continent-based percussionists in two cities. It's exciting when homegrown, Rova:Arts funded, projects are exported to other cities. Your interest and support for our Bay Area activities has an impact on the international music scene.
---
Steve Adams offers 'the blow by blow' of Rova's recent tour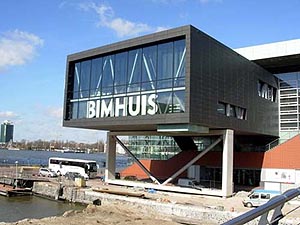 The Bimhuis Jazz Club, Amsterdam
Our tour began in Forlí, Italy, a small town outside of Bologna, where we played at a cultural center called the Area Sismica – the Seismic Area, an apt location for a San Francisco band. A discovery there was Liky, a liquor tasting somewhere between molasses and licorice. After an enjoyable two days there we went to Rome, where we played at the Casa del Jazz, a very impressive new venue there that was previously the grand villa of a "gangster" and which was seized by the government. It has been converted into a beautiful facility for jazz performance and recording. The Casa was a project of the former mayor of Rome, Walter Veltroni, who is now running for President against incumbent Silvio Berlusconi. Then on to Padova, Rova's second home in Italy. Our concert there was in a beautiful movie theater. We happened to be in the town square there when Veltroni was giving a campaign speech.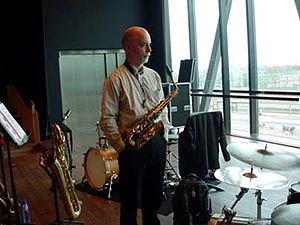 Steve Adams ponders his next move backstage at the Bimhuis
Then a long train ride across the continent took us to Amsterdam. The Bimhuis, the long-time cornerstone of the scene there, has moved into a beautiful new location in a cultural zone in the center of town being developed by the Dutch government. Our concert there was the first of two in which we were joined by the wonderful drummers Michael Vatcher (originally from NorCal, now living in Amsterdam) and Tony Buck (from Australia, now residing in Berlin--drummer for The Necks) to perform Larry Ochs' piece The Mirror World, as well as Jon Raskin's African Tulip, my piece, Testimony, and John Coltrane's Living Space. Michael and Tony are the sixth pair of drummers we have done this music with, and they were a joy to play with. We met them two days later in Groningen, Holland for another performance at the Grand Theater. We visited a CD shop there called Swing Masters, reputed to be one of the best in Europe, but the weak dollar kept the buying in check.
We also played as a quartet in Münster and Saarbrucken, Germany at cultural centers. The tour ended in Tours, France, at Le Petit Faucheux, another presenter that has moved into a beautiful new facility since the last time we played there. We did a lecture/demonstration in the afternoon for a large group consisting mostly of young musicians, discussing our use of hand signals in improvisation and our graphic scores, and then played a concert that evening to a large and enthusiastic audience, ending the tour in a memorable way.
[TOP]
---
WEDNESDAY, APRIL 16, 7:30 pm
The Marsh
San Francisco
All Improv:21 informances start at 7:30 pm and take place at: The Marsh 1062 Valencia Street (between 21st and 22nd Streets, near to 24th Street BART). Admission is $10. For advance tickets: BrownPapertickets.com.
Information line: 415.641.0235
The excavation of musical possibilities from the double bass is the subject of Mark Dresser's informance. Exploring the micro details of string vibration through improvisation, recording, analysis, codification, and composition has led to the development of a custom made electro-acoustic pick-up system and a rich body of music. Expect minutiae and the macro view through musical, acoustic and metaphoric lenses.

Mark Dresser (born 1952) is an internationally acclaimed bass player, improviser, composer, and interdisciplinary collaborator. He is documented in over one hundred recordings including nearly thirty CDs as a soloist, band-leader or collaborator including his recent solo CD, UNVEIL, and the cooperative, TRIO M with Myra Melford and Matt Wilson, and Air Walkers duo with trombonist Roswell Rudd.

For eighteen years he lived and worked in New York City where he recorded and performed with some of the strongest personalities in contemporary music and jazz including nine years with Anthony Braxton. This group was documented in Graham Locke's Forces in Motion and numerous recordings. He has also performed and recorded with Ray Anderson, Jane Ira Bloom, Anthony Davis, Dave Douglas, Fred Frith, Satoko Fujii, Gerry Hemingway Bob Ostertag, Joe Lovano, John Zorn, and many others.
Rova:Arts is pleased to present Improv:21, a series of "informances" on twenty-first century music that explores the connection between predetermined structure (composition) and performer interpretation (improvisation). Led by master improvisers and composers from the Bay Area and beyond, and hosted by critic and KPFA radio host Derk Richardson, Improv:21 programs look at the many ways of organizing improvisation through a shifting (i.e. "improvised") combination of onstage lecture and dialogue, musical demonstration and performance, and audience question-and-answer forum.

Reasonably priced and easily accessible, these two-hour events are designed to inform, inspire, challenge, and enlighten a wide-ranging audience, from professional and amateur musicians to listeners of all backgrounds and levels of experience. All these informances are also being documented on video for future availability to students and fans alike.
[TOP]
---
Wednesday, April 9, 9:00 pm
Jon Raskin & Kanoko Nishi Duo
Bluesix
3043 24th St. at Treat St.
San Francisco
http://www.myspace.com/bluesixcenter
Thursday, April 17, 2008, 8:00 pm
Mark Dresser, Vladimir Tarasov, & Larry Ochs
Freight & Salvage Berkeley
1111 Addison (near San Pablo Ave.)
Berkeley
510.548.1761
www.thefreight.org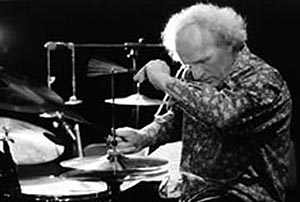 Vladimir Tarasov
Thinking About Morton Feldman
Three world-class improvising musicians team up for 2 meditative sets of music. Vladimir Tarasov (percussion), the Lithuanian veteran of the USSR jazz scene and founding member of the legendary Ganelin Trio, joins with Mark Dresser (bass), and Larry Ochs (saxophones) to reflect upon and improvise with the possibilities suggested in the mind-expanding work of composer Morton Feldman.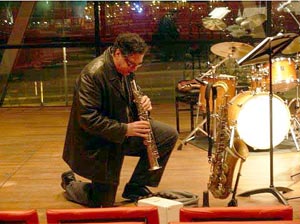 Rova's Bruce Ackley joined by Jen Baker, trombone; Damon Smith, bass; and Weasel Walter, percussion investigate the possibilities.
Wednesday, April 23, 8:00 pm
Ackley/Baker/Smith/Weasel
Artists' Television Access
992 Valencia Street
San Francisco
415.824.3890
http://www.atasite.org/
Performing first:
Moe! Staiano
Murder Murder
Saturday, April 26, 8:00 pm
Blow, Strike, Atto! Duvet meets the Pearly Whites
Matthew Goodheart
, piano
Jon Raskin
, saxophones
Vladimir Tarasov
, drums
Johnston / Ochs / Nordeson
Darren Johnston
, trumpet
Larry Ochs
, saxophones
Kjell Nordeson
, drums
San Francisco Community Music Center
544 Capp Street (between 20th and 21st Sts.) San Francisco 415.647.6015
[TOP]
---
The ROVA / Nels Cline Celestial Septet
Yoshi's San Francisco
Yoshi's
May 28
8 and 10 PM shows
Rova Sax Quartet and the Nels Cline Singers join forces for an explosive two sets of music premiering at Yoshi's SF on May 28, followed by northern California concerts on May 29 in Santa Cruz (Kuumbwa Jazz Center) and May 30 in Winters (The Palms).
The Septet music will include arrangements of music by John Coltrane, original music by members of the band, featuring a special piece dedicated to Albert Ayler.
Nels Cline ? electric guitar
Scott Amendola ? drums + electronics
Devin Hoff ? bass
Larry Ochs ? tenor, sopranino
Steve Adams ? alto
Jon Raskin ? baritone, alto
Bruce Ackley ? soprano, tenor
Tickets are available in advance, and for this one we do recommend advance purchase for the San Francisco concert.
[TOP]
---
Recordings:

The seminal music of Archie Shepp has been front and center for me in the past couple of months. Although his tenor sound is never far away from my imagination, I?ve been especially focused on it lately. Below are listed the classic recordings (most of which are available on CD) that have been an inspiration to me, all of which were recorded on the Impulse label in the 1960s.

Fire Music

I think this was Shepp's first Impulse record from 1964. Reggie Workman is the bassist. The tune Los Olvidados was where I first heard about Buñuel's Mexican films. (The movie of that title is very powerful.)

Four for Trane

This is a masterpiece, due in part to the thoughtful arrangements of Roswell Rudd. John Tchicai is brilliant here too. The Trane tunes are more nuanced here, brought into sharper harmonic focus with four horns. When poet/activist John Sinclair was honored at San Francisco's City Hall in 2005, the head of the Board of Supervisors, Matt Gonzalez played this record over a lunch served in his office.

On This Night

Christine Spencer's soprano is especially engaging, and provides an unexpected prelude to a very slippery Shepp blues. ?In a Sentimental Mood? is the best reading of that song I?ve ever heard.

Live in San Francisco and Three for a Quarter, One for a Dime

These two albums are two sets played during an evening at the old Both/And Club on Divisadero. ?Live? is the first set and offers a variety of settings for Shepp and Co. to work ? blues, ballad, poetry, R & B; ?Three for a Quarter? is all out terror on tenor. Shepp stretches in the most vicious way for the whole set. No one else has a word to say.

Mama Too Tight

This is large band complete with clarinet, trumpet, 2 trombones and tuba along with the rhythm section. The music is dense and rich, with voices emerging from layers of riffs and gorgeous melody. The title track is a solid sender.

The Way Ahead

"Damn If I Know (The Stroller)"...

My intention is not to give an overview of Archie Shepp's music, but to cite his groundbreaking work that has lead the way for me. I regret that I?m out of touch with his current work, but would love to know what's worked artistically for him in the intervening years. Anyone know?
[TOP]
---
Want to sample some of the earlier Improv:21 informances? We will be uploading one show every two months to (the web site of Other Minds) until the entire series is online. And there is a lot of information in each show. Gino Robair's informance has just been added.

Here's what's available at the moment:

Rova
Nels Cline
Fred Frith
Carla Kihlstedt
Gino Robair
Oliver Lake
To get news from Other Minds click here.
[TOP]
---
Extensive interview with innovative saxophonist and composer John Butcher

Vancouver journalist Laurence Svirchev in conversation with John Butcher:
Part 1
Part 2



Contribute to Rova:Arts

Formed in 1977, Rova's been in a state of continual artistic renewal for over 3 decades. Rova:Arts, formed in 1986 to support the activities of Rova, has been instrumental in producing local projects and advancing an ongoing cultural exchange between local Bay Area artists and the international scene through its Rovaté concert series. These events, made possible by funding to Rova:Arts, have engaged Bay Area musicians and composers as well as musicians from around the world. Rova:Arts projects often are reproduced in other parts of the world, thereby bringing the work to a broader audience. Also, many Rova:Arts events have been recorded and enthusiastically celebrated.

Rova:Arts has produced the Improv:21 series, providing a forum for innovative musicians like John Zorn, Fred Frith, Oliver Lake, Miya Masaoka, Roscoe Mitchell, Zeena Parkins and others to share their artistic visions and unique paths to creativity, with you the audience, in an intimate setting.

Click here to find out more and to Join Rova:Arts. Thanks for being part of the art.



::WATCH FOR MORE ROVA NEWS IN EARLY MAY::


myspace.com
cdbaby.com