:: ROVA NEWS: JUN-AUG 2011 ::
The Quartet just played two out of town shows—one in Albuquerque at one of our favorite venues, the Outpost, and one in LA at a new place, The Blue Whale. The gigs gave us a chance to revisit repertoire pieces and also to work up new things, including a new version of the Rova group composition, Contours of the Glass Head—a tour de force of Rova devices and strategies.
We're now in rehearsals prepping for the SFJazz – Rova:Arts co-production celebrating Rova's 331/3rd anniversary. New work for our collaboration with DJs P-Love and Olive has been a kick to put together, and promises to provide ideal foils for the two master turntablists. Don't miss the June 4th show and please spread the word!
In conjunction with our anniversary, we are making available a limited edition, LP-only release of our quintet concert with John Zorn at Yoshi's SF last August. Later this summer we'll head into the studio to record quintet music with Russian percussionist, Vladimir Tarasov, a long time Rova co-conspirator for many years.
Ever dreamt about re- or de-constructing one of your favorite recordings—just to explore possible alternate mixes? Read below to find out about an opportunity to mess with our stuff in the REMIX Rova contest.
[TOP]
---
Rovaté 2011: "331/3 "
Saturday, June 4, 8:00 PM
ROVA MEETS DJ OLIVE & DJ P-LOVE
Sponsored by Rova:Arts and SF Jazz
Swedish American Hall (above Café Du Nord)
2174 Market Street
San Francisco
Tel 415. 861.5016
In keeping with the "33 1/3 " theme, Rova will team up with groundbreaking iconoclasts and maestros of the wheels of steel, DJ Olive and DJ P-Love, to create an evening of new sextet music. Working with improvising DJs is not new for Rova (many performances of Electric Ascension featured turntablists, including Marina Rosenfeld, Otomo Yoshihide and Tom Recchion), but this performance will be our first time working as quartet-only with two DJs. The material we're cooking up for our partners should excite some tight blends and get us all, including you the listener, into some fresh territory. This show will be co-presented by Rova:Art and SFJazz as part of their Spring Season 2011.
http://www.sfjazz.org/
Here's information on the show from SFJazz:
"In 1977, four adventurous reed experts came together in San Francisco to form the Rova Saxophone Quartet. Exactly 331/3 years after the quartet's first gig, Larry Ochs, Jon Raskin, Steve Adams and Bruce Ackley are celebrating the release of a limited edition live LP of last summer's landmark collaboration with John Zorn. An LP that spins at 331/3 rpm! Coincidence? Nothing in Rova's vast and enthralling creative world is happenstance, though chance figures prominently in the group's aesthetic. Deeply versed in an array of improvisatory strategies, they draw widely from an international palette of popular and traditional musical forms. For "331/3" the quartet is working with two seminal turntablists, DJ P-Love, who's provided grooves and inspiration for situations as diverse as Kid Koala, the Orchestre Métropolitain de Grand Montréal and Amon Tobin, and DJ Olive, a supremely musical artist sought out by sonic explorers such as Dave Douglas, Zeena Parkins, Sexmob, Uri Caine and Medeski Martin and Wood. With grooves from two of the leading turntablists, consider this a happening!"
---
NEW LP!! Rova:Zorn "The Receiving Surfaces"
The Receiving Surfaces —a multi-track recording of the Rova-John Zorn sax quintet in concert at Yoshi's San Francisco in August, 2010. The HQ-180 vinyl LP is a limited edition of only 300 copies, with no CD or other digital release to be made available now or in the future. The package is beautifully designed by Tania Kaç, and is graced by a deeply compelling photo by our man in Finland, Lauri Nykopp.
Recorded by Eric Moffatt; mixed by Moffat and Larry Ochs; mastered by Kevin Gray; and pressed on virgin vinyl at RTI: the sound is amazing!
The LP exudes a feeling of trust and daring that makes listening to the Rova-Zorn quintet a thrill—explosive, introverted, hair-raising, intuitive, carefree and carefully crafted all at once. The 2010 concert and resultant recording both celebrate a nearly four-decade relationship between Rova members and John Zorn, whom we regard as one of the great visionary musicians and thinkers of our milieu. Even in pre-Rova days we were closely allied with John, and as Rova formed and evolved, our intimate connection with him was maintained through conversation, concerts, recordings, collaboration and friendship. This release may be the culmination of our years in the trenches.
The Receiving Surfaces may be purchased through the Rova:Arts website: http://www.rova.org/. $30 for all US buyers. Payment via PayPal or send a check or money order to Rova:Arts, 115 Central Avenue, San Francisco, CA 94117. All international buyers should contact rova@rova.org for international shipping costs
[TOP]
---
REMIX Rova
To celebrate Rova's upcoming 331/3 Anniversary concert with special guests DJ Olive and DJ P-Love, and to celebrate the release of The Receiving Surfaces, we'd like to make the tracks from Rova's quartet recording of Steve Adam's piece "Flip Trap" available to you to rethink, remix, and manipulate as you'd like.
Since the 33 ⅓ Anniversary Concert features 2 turntablists remixing Rova live, and since we have a new vinyl release out, we think it will be cool to see who in the improvised music and DJ communities wants to take a crack at rethinking the recorded, original "Flip Trap" track.
For Remix: We're making the individual tracks for "Flip Trap" available,plus a host of files from Rovamatic (the Rova-samples CD ROM).
Dig into the individual parts and pieces, chop, flip, rearrange, corrode, and remix them to your heart's content. Rova dub? Ambient Rova? Hell yeah! We want to hear what you got. We're encouraging remixes that use Rova samples as the only source material, so let us know if you've pulled that off. But if something else seems absolutely essential to include, go for it.
The winning remixwill be chosen in August 2011 in voting by our friends on Facebook after our internal brain trust picks their favorite three. The winner will receive a free copy of Rova's most recent release, Planetary, that includes "Flip Trap", a copy of the limited edition LP, TheReceiving Surfaces (featuring John Zorn with Rova), plus another collector's item: the CD ROM Rovamatic, a sample library featuring the Rova Saxophone Quartet. The top three participants will all receive a copy of the CD Planetary.
We'll host all submitted tracks on Rova.org for the length of the contest and will feature the top three mixes on our web site for an additional 6 months.
Deadline for submissions: 31 st July/2011. For more details—including rules of engagement, see: http://www.rova.org/projects/.
---
Other Upcoming Shows
The Monday Makeout Presents
Monday June 6 @ the Makeout Room
STEVE ADAMS TRIO (10:30)
Steve Adams, saxes
Scott Amendola, drums
Lisa Mezzacappa, bass
The Makeout Room
22nd Street at Mission
San Francisco
No cover but bring $$ for the 'pass the hat'.
http://www.makeoutroom.com/

Also appearing:
Jim Ryan's Forward Energy (8:30)
Doug Stuart's Catfish (9:30)
Thursday June 9, 9:45 pm
Aram Shelton 4tet
w. Larry Ochs, Scott Walton, Kjell Nordeson

El Valenciano
1153 Valencia Street
San Francisco

Also appearing:
Inner Ear Brigade (10:30) Ruins filled with Magma in the Sun Ra....
Cristina Orbe (9:00) Seattle singer/songwriter with a velvet alto
The Luggage Store Gallery New Music Series Presents
Thursday June 9, 9:45 pm
Phillip Greenlief & Jon Raskin's 2+2 (9:00)
featuring Mark Dresser and Barre Phillips
Luggage Store Gallery
1009 Market Street
San Francisco
(Walking distance from Civic Center or Powell Street BART)
Also appearing:
Josh Allen, saxophone solo (8:00)
---
Favorite Street – Jon Raskin
A rare clip of Grant Green
Grant Green - Barney Kessel - Kenny Burrell
http://www.youtube.com/watch?v=2p95lksHE5U
Harrison Birtwistle demonstrates the unpredictable properties of his pebble
http://www.youtube.com/watch?v=GbtspU4aGx0
The legendary Ethiopian musician Mahmoud Ahmed
http://www.youtube.com/watch?v=exHYkiFkbHU
The master musician of the shenai, Ustad Bismillah Khan
http://www.youtube.com/watch?v=R9_Fkbg7QBY
A clip from a movie about tenor man Jean Baptiste " Illinois" Jacquet
http://www.youtube.com/watch?v=EMbjIc2DLSE
Benny Goodman Orchestra "Sing, Sing, Sing"
http://www.youtube.com/watch?v=b6zwI8aaJ4Q
"Take the A Train", Billy Strayhorn tune interpreted by Charles Mingus Sextet in Oslo
http://www.youtube.com/watch?v=SzqVXvwMHCU
A Science video that explains how everything in your life ends up happening at the same time
http://www.youtube.com/
National Juke Box
(Wonderful site for early recordings)
"Saxophobia" - Rudy Weifdoft alto
sax
http://www.loc.gov/jukebox/
"Sax-O-Phun" - Rudy Weifdoft alto sax
http://www.loc.gov/jukebox/
Paul Biese, tenor sax, Chicago, 1919
http://www.loc.gov/jukebox/
http://www.loc.gov/jukebox/
Eubie Blake, piano, 1921
http://www.loc.gov/jukebox/
Books
You Are Not a Gadget
Jaron Lanier
A manifesto questioning the technology age by an insider. Questions you hadn't considered, answered clearly.
http://www.jaronlanier.com/
Atomik Aztex
Sesshu Foster
What if the Aztecs conquered the Spanish? Find out.
This Time We Are Both
Clark Coolidge
"The poet asks 'who has fallen in with the sound'…"
Ugly Duckling Press
http://www.uglyducklingpresse.org/
[TOP]
---
RadiOM - Improv:21 Archives
Want to sample some of the Improv:21 informances?
We will be uploading one show every two months to RadiOM (the archive website of Other Minds) until the entire series is online. There is a lot of stimulating information in each show.
Scott Amendola
Mark Dresser
Roscoe Mitchell
Chris Brown and Tim Perkis
Zeena Parkins
Bob Ostertag
Wadada Leo Smith
Lawrence "Butch" Morris
Rova
John Zorn
Cheryl Leonard
Nels Cline
Fred Frith
Carla Kihlstedt
Gino Robair
Miya Masaoka
Ned Rothenberg
Oliver Lake
Ben Goldberg
To get news from Other Minds click here.
[TOP]
---
Join the Rova:Arts Community
Become a Fan on Facebook!
Already a fan? Encourage your Facebook friends to become Rova:Arts fans. When we hit 1,000 Facebook fans, we'll give every fan access to a video of the 40-minute Rova + San Francisco Taiko Dojo collaboration from the 1989 Leverkeusen Jazz Festival (in Germany)! This is the only video recording of the extended piece Dance of the Maroons, composed by Jon Raskin and Rova for this special ensemble in 1988. Long thought to be lost, this uncut footage is something special; it will not be shown until we reach 1000 fans—and then will only be available online for two weeks before being taken down. The only notice of the video's availability will be posted on Facebook .
http://www.facebook.com/pages/RovaArts/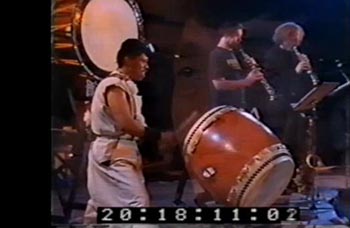 Stay Tuned


You can stay in touch with all Rova:Arts activities through our website, the Rova newsletter, and our FaceBook and MySpace pages. See links at the bottom of the page. Also, check out Rova on YouTube! Subscribe to our channel and be notified when there are new Rova videos for you to watch. Go to http://www.youtube.com/user/ROVAARTSSF and click the subscribe button.
Contribute to Rova:Arts
We want to express our deepest gratitude to all the generous private and public donors who contribute to Rova:Arts. Your support has been essential to the successful presentation and documentation of our projects over the years. As Rova enters our 34 th season of adventurous improvised music making, we hope those of you who do contribute to the arts annually will consider making a donation to Rova:Arts.
About Rova:Arts
Rova:Arts, formed in 1986 to support the activities of Rova, has been instrumental in producing local projects and advancing an ongoing cultural exchange between local Bay Area artists and the international scene through its Rovaté concert series. These events, made possible by funding to Rova:Arts, have engaged Bay Area musicians and composers—as well as musicians from around the world. Rova:Arts projects are often reproduced in other parts of the world, thereby bringing the work to a broader audience. Also, many Rova:Arts events have been recorded, resulting in releases which have been enthusiastically celebrated.

Click here to find out more and to Join Rova:Arts. If you are interested in getting involved in a more hands-on-way, feel free to contact us: http://www.rova.org/contact.html. Thanks for being part of the art.
:: WATCH FOR MORE ROVA NEWS IN AUGUST 2011 ::
Be sure to visit us online:
Rova.org
RovaMySpace
RovaFacebook
CDBaby
---
[TOP]